WRITTEN BY
Editor, Travelogues
PUBLISHED ON
February 05, 2018
LOCATION
Maldives, Philippines, Indonesia, Oman
As winter melts away, much of Southeast Asia is experiencing some of the best diving it will have all year. Places like Oman are the right temperature, and places like Raja Ampat have just a few more dry months. Whether it's snorkeling with octopuses or diving with whale sharks, curious divers will find their answer in Asia this year.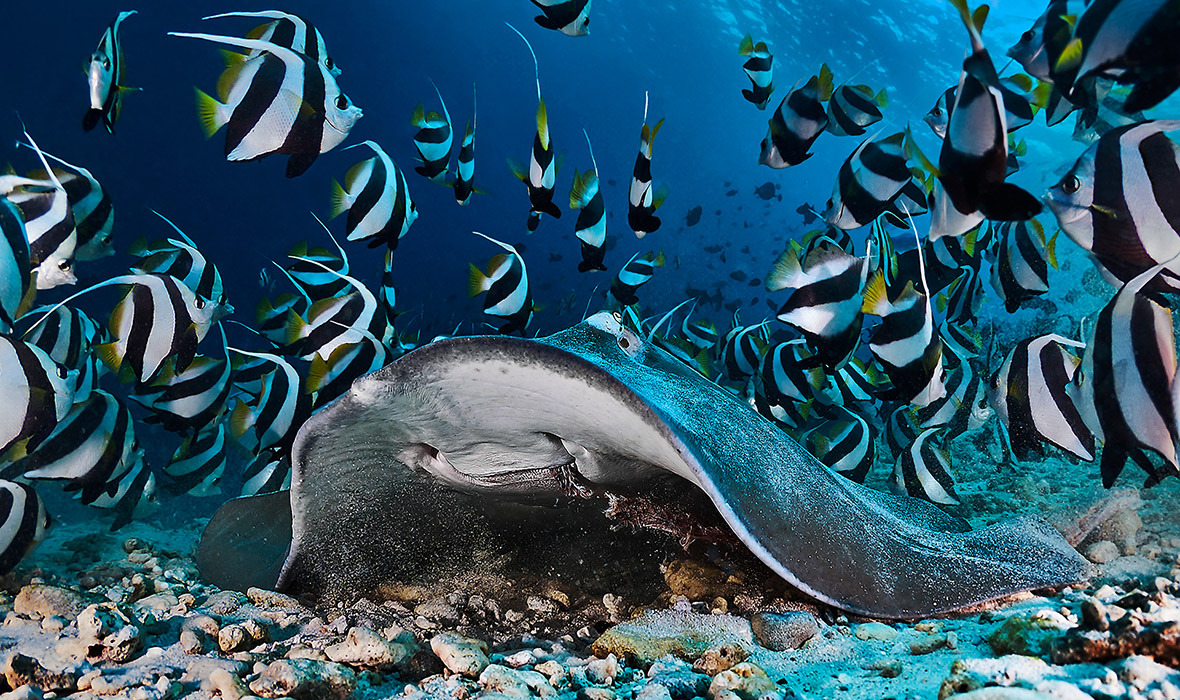 Eagle rays, Napoleon wrasses, and even hammerhead sharks are possible encounters for the diver in the Maldives this spring. Composed of 1,200 islands, these waters have a visibility of 65 to 130 feet in the right season.
Best visibility is from December to March, during dry season, with March being a favorite. In many areas, drift diving is the norm, which is suitable for qualified divers, but beginners will find more peaceful waters in lagoons and atoll hideaways.
Ari Atoll has a reef of its own where scuba divers can spot whale sharks, hawksbill turtles, and white and black tip sharks. Dive sites around Kundolhu Island include Maaya Thila and Fishhead.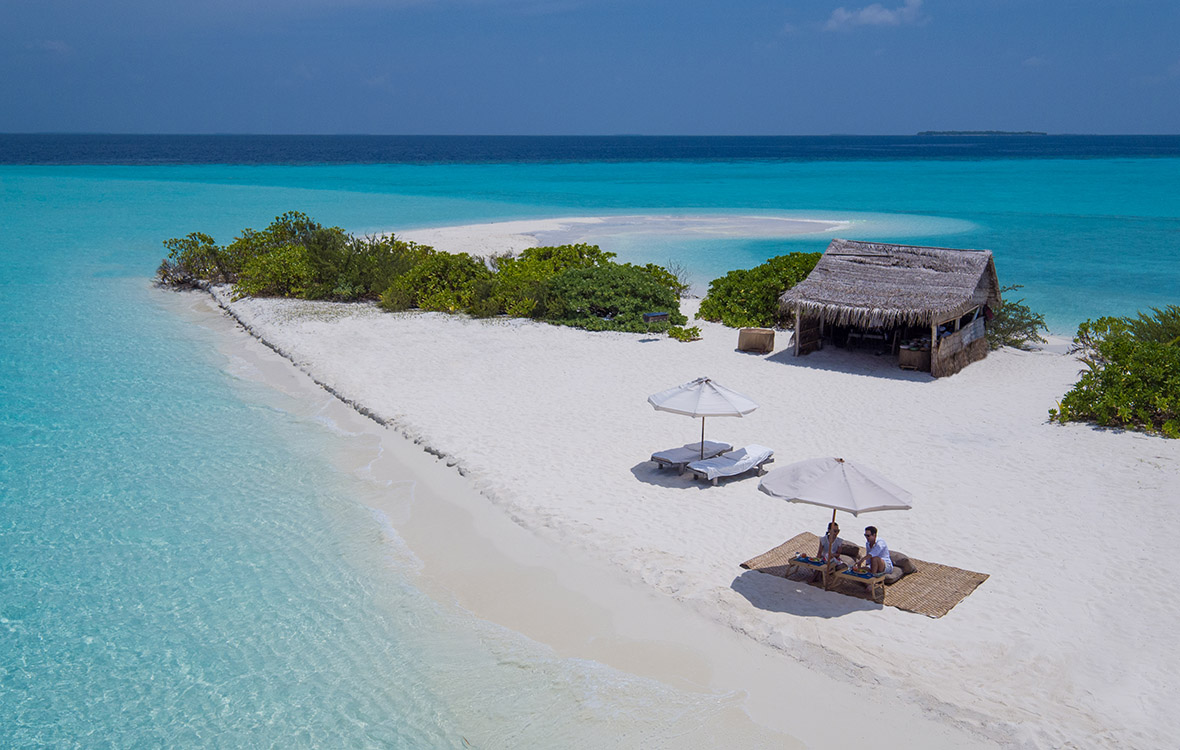 Another pristine, private island is Baros. With a coral reservation program and EcoDive Center, Baros Maldives brings focus to marine sustainability amid luxury. Its house reef boasts diverse underwater life, and the hotel is within a 50-minute reach of more than 30 unique dive sites.
At Soneva Fushi, visitors can engage in free-diving: the practice of holding one's breath underwater for long periods of time, and learning to move through the water with dexterity and speed. The onsite marine biologist at Soneva Fushi Resort can take guests on a snorkeling tour of the Baa Atoll with an expert to answer questions. Later this month, world record holder Umberto Pelizzari is on hand for lessons.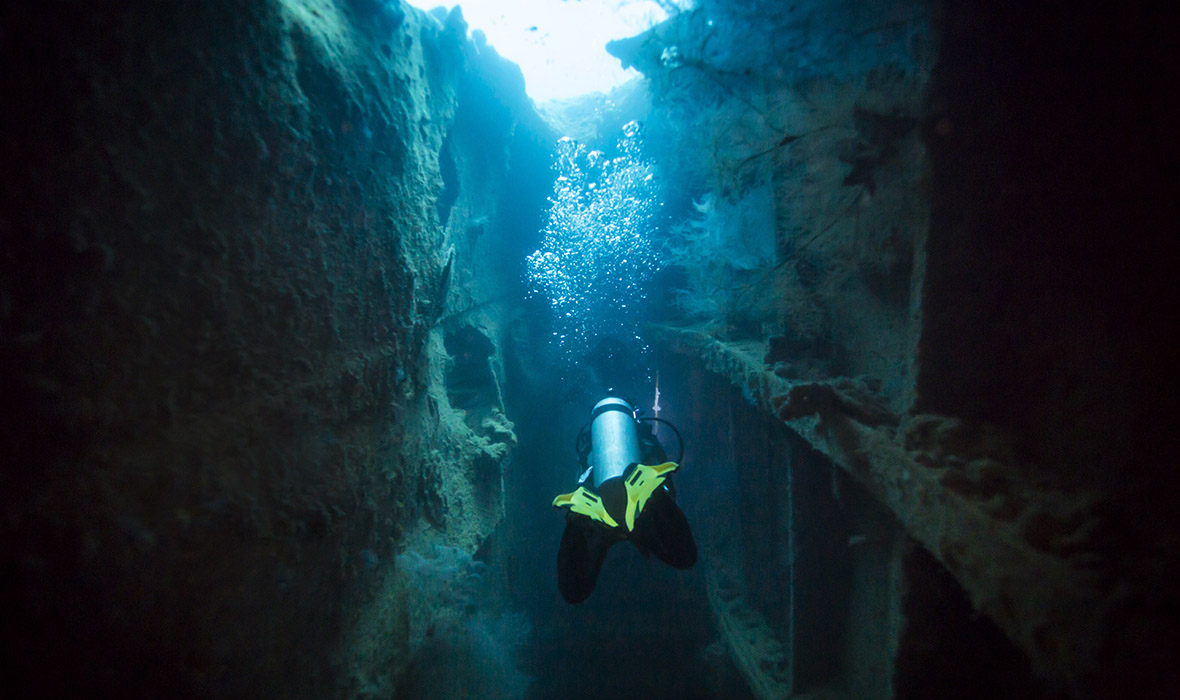 Thousands of world travelers seek out the Philippines and its 7,000 islands in search of the perfect dive spot every year, and new transportation routes are making it easier to get to the more secluded areas. November to April, dry season, are the months for diving the Philippines.
On Palawan island, El Nido is a notable dive destination for its unbeatable seascape, and El-Nido Pangulasian Island, found southwest of El Nido, is a luxury resort with a five-star diving center. Here, guests can rely on the help of professional staff with expert experience on any one of the 20 easily accessible surrounding dive spots – as well a level of service commensurate with a 5-star resort.
Further north of El Nido on Palawan, places like Coron boast some of the finest wreck diving in the world.
South Miniloc Reef is a recommended spot in the Miniloc area, and attracts a wide array of species: parrot fish, bullseye, puffer fish, trumpet fish, unicorn fish, yellow snapper, and large turtles are common.
Another destination to put on the diving itinerary is Yapak on Boracay Island. Yapak Beach is also known as Puka Beach, for its large amount of Puka Shells. Though it's hardly a hidden beach destination, the diving here is commendable. Barracudas and tunas are known here, and the lucky diver can also spot hammer sharks and manta rays. Yapak offers good visibility, but many of the better dives are best left to more experienced divers.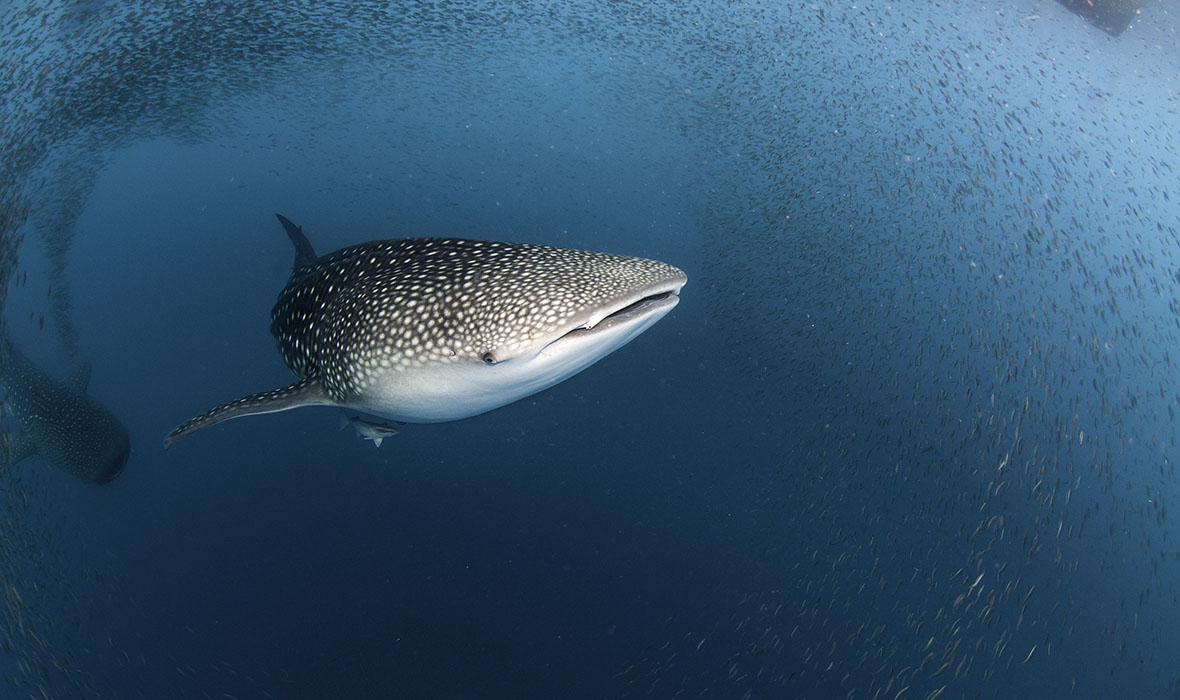 Composed of more than 1,500 islands in West Papua, Raja Ampat is a largely uninhabited archipelago with diverse diving opportunities. As part of the Coral Triangle, Raja Ampat has one of the richest marine biodiversities in the world.
Drift divers can spot manta rays, sharks, and huge schools of fish or discover WWII wreckage on the ocean floor. Located just south of the equator, water temperatures are in the vicinity of 82-86° Fahrenheit year round. October to April is dry season, and visibility is highest in March.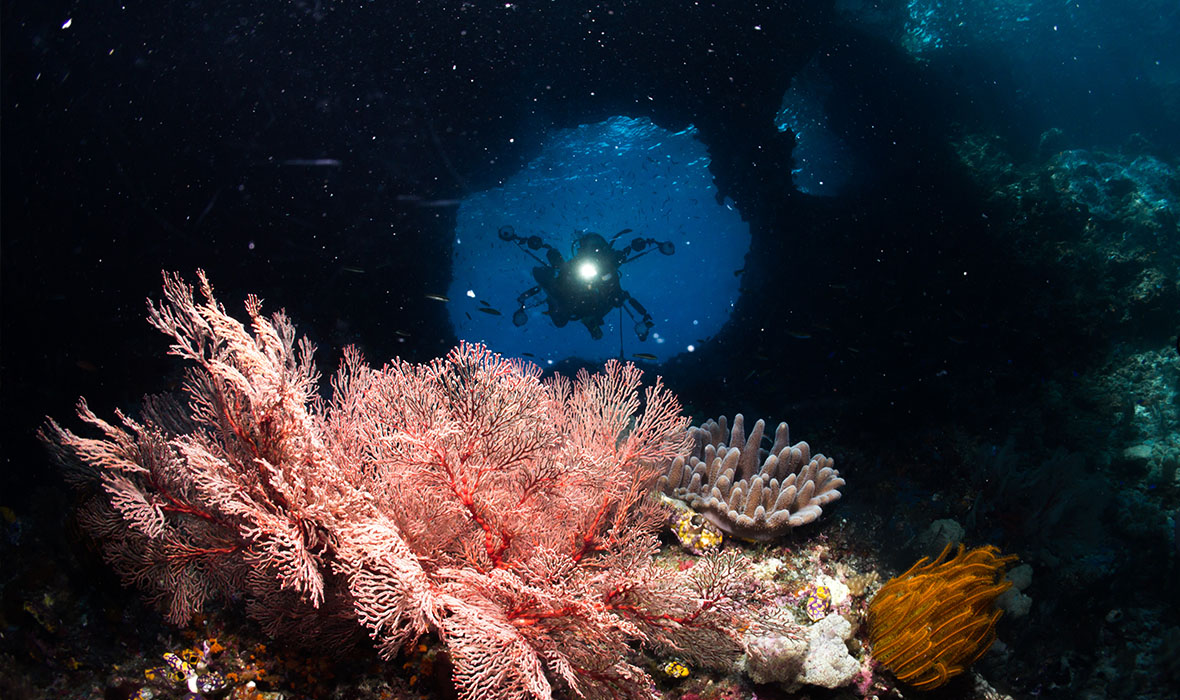 Misool Eco Resort was built on the surface of the aquamarine waters, with eight above-water cottages of built to an excellent standard. Sustainability and preservation of coral reefs is a key element of Misool Eco Resort's values, and its own 300,000-acre Marine Reserve is a reflection of this. The resort offers three boat dives per day as well as a dusk or night dive, with excellent opportunities to bring media equipment for underwater photography.
For those wishing for absolutely clear visibility, another option would be a liveaboard boat. Remote Lands has a wide range of luxury schooners suitable to the purpose of diving.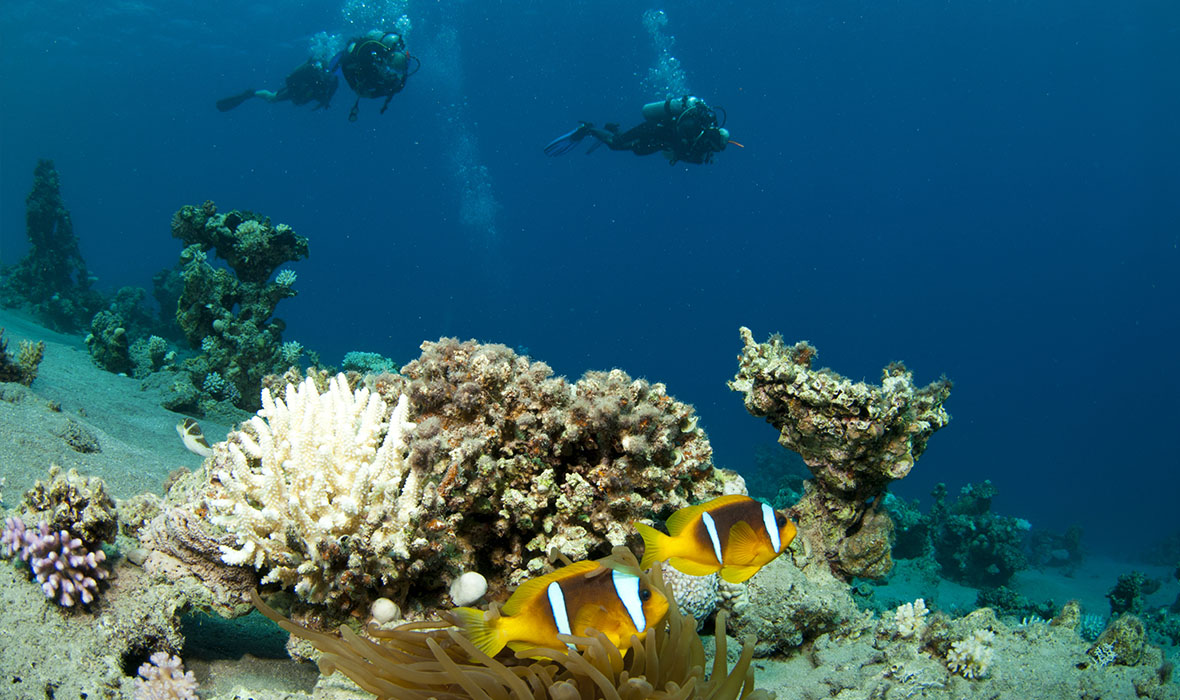 Stretching more than 1,000 miles, Oman's coastline has been a destination for divers since the country opened to tourism in the 1970s. The region of Salalah is known for its remarkable beaches and abundant marine life. However, the most prodigious diving destination in Oman is the Daymaniyat Islands.
Getting there is easy from the capital, Muscat, and the waters around the well-preserved islands are calm and clear, with healthy coral reefs. Daymaniyat is the first marine reserve in the region and eagle ray, nudibranches, eel, stonefish, and sea turtle thrive here. But the main attraction is the opportunity to see whale sharks.
July to September see whale sharks around Oman, but the weather is often too hot for most. In spring, the area around Muscat is pleasantly cool, giving divers the opportunity see Oman's wonders in a little more comfort.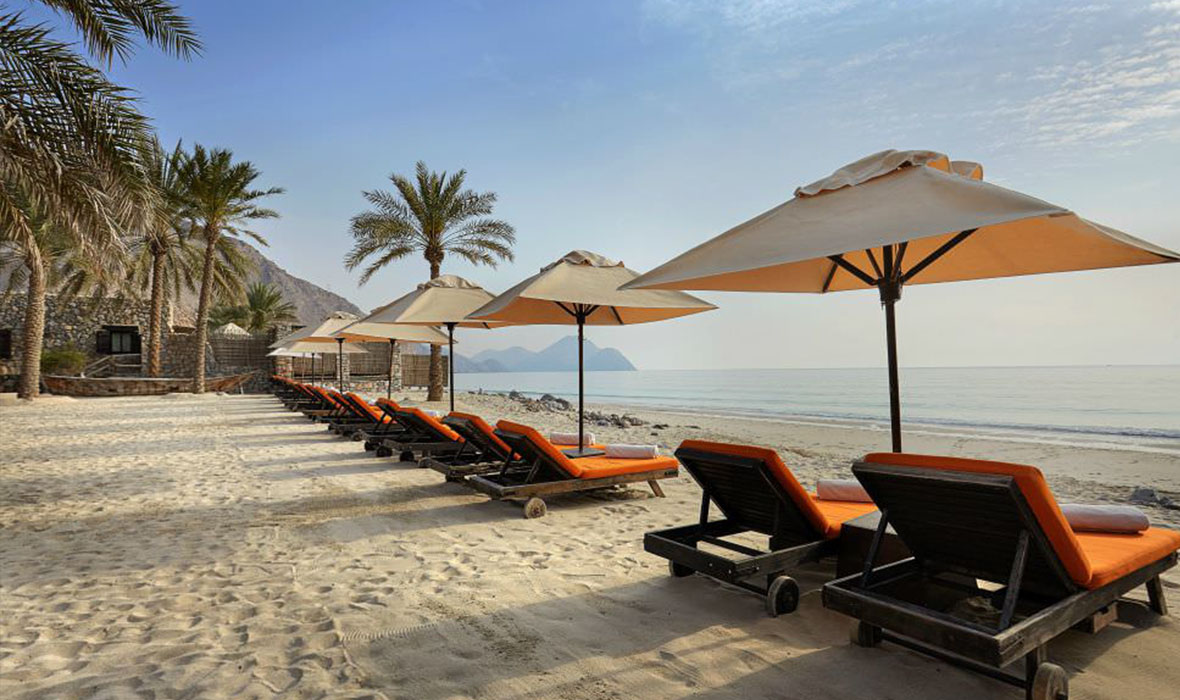 Six Senses Zighy Bay is an option for those wishing to explore Oman's waters. Privacy and excellent service, as well as tailored diving trips at the resort's marine center, are to be expected. Another hotel suitable for a diving holiday is the Shangri-La's Barr Al Jissah's Resort and Spa. This oasis is reached in a mere 15 minutes from Muscat's airport, and is within reach of Bandar Al Khayran and Fahal Island, where guides from the resort can help explore the best of these diving hotspots.