With its fairy-tale karst formations, the seascapes of Bai Tu Long Bay are full of uplifting revelations. Another of these is about to hit me as I pilot my kayak through a narrow passage that spears through the heart of one of the outcrops that stud the emerald oceans of northern Vietnam.
I've been paddling for a good ten minutes in the pitch-black tunnel, using my oar to fend off attention from encroaching stalagmites and stalactites. Suddenly, shards of sunlight penetrate the darkness and seconds later I am drifting out into a giant lagoon hemmed in by steep cliffs.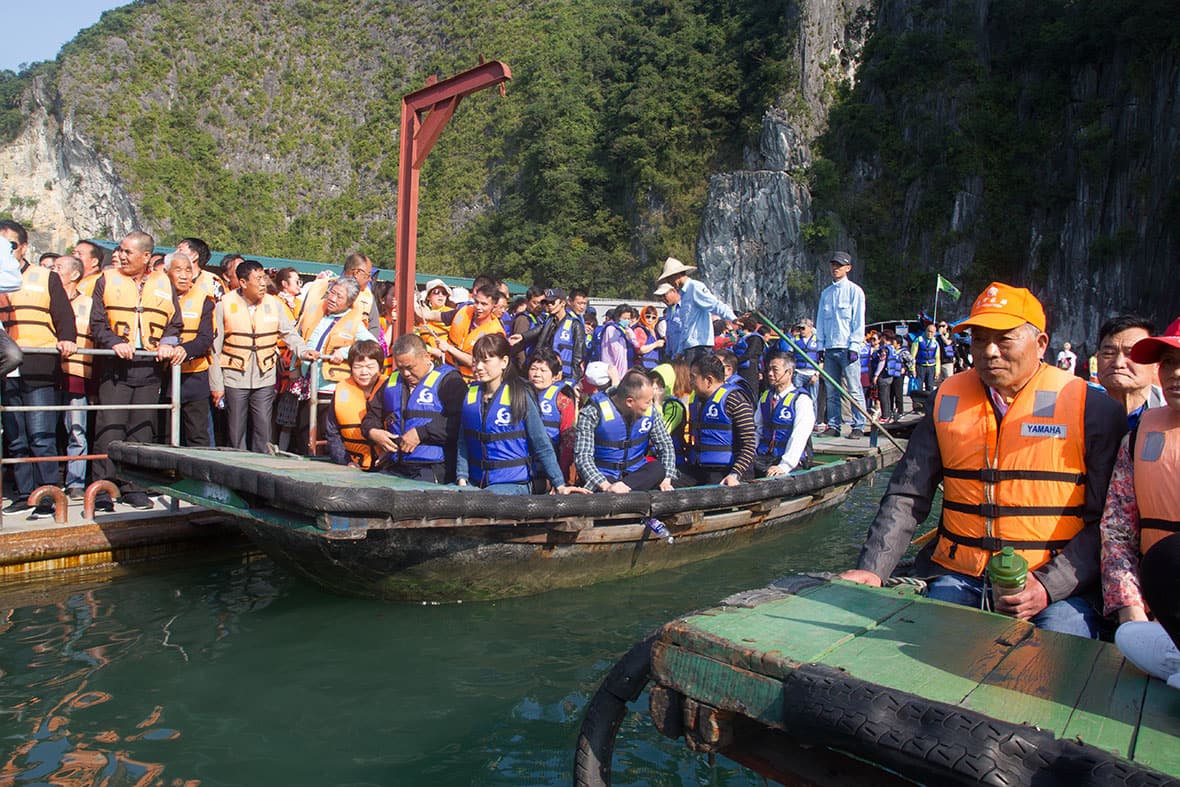 Apart from my fellow intrepid explorers from the junk I'm travelling on there's not another soul in sight. As eagles soar high above, it is impossible not to be thrilled by a destination that has, almost miraculously, escaped the gaze of the estimated 5.5 million tourists who flock to neighboring Halong Bay every year.
In densely populated Vietnam, true solitude can be difficult to find – even when you are adrift on an ocean miles from the nearest city. That's especially true of Halong Bay, a destination that has never been hotter. The UNESCO World Heritage Site played a starring role in the recent Hollywood movie Kong: Skull Mountain.
Tourism chiefs in Vietnam, meanwhile, have made the bay the focus for their 2018 marketing efforts. There are many though who would argue that it is now a victim of its own success, with the hundreds of boats that plough the jade-green waters all following a handful of identical routes.
That's where Bai Tu Long Bay comes in.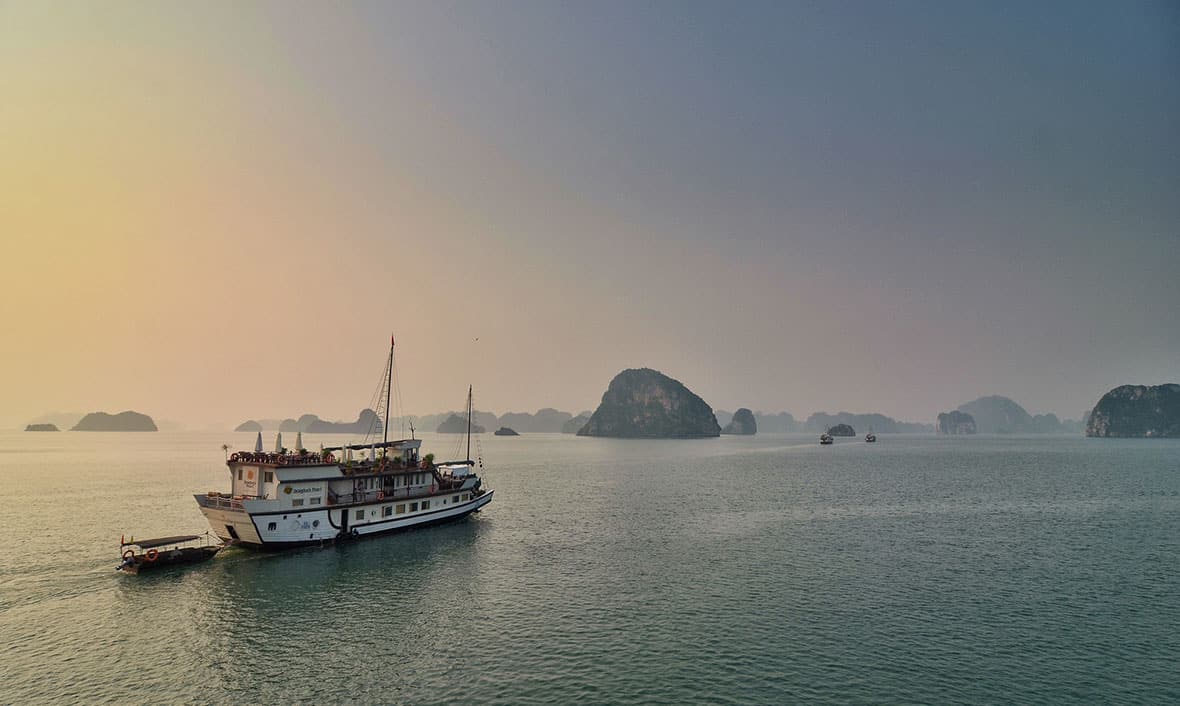 Some say that the outcrops in Bai Tu Long – which occupies the easternmost portion of the sinking limestone plateau that shapes the seascape in the upper Gulf of Tonkin – are not quite as lofty as the ones at Halong. However, you would need to be very seriously obsessed about karst formations to spot the difference. Even better: with a tiny fraction of its westward neighbour's traffic, visitors can experience it in near solitude.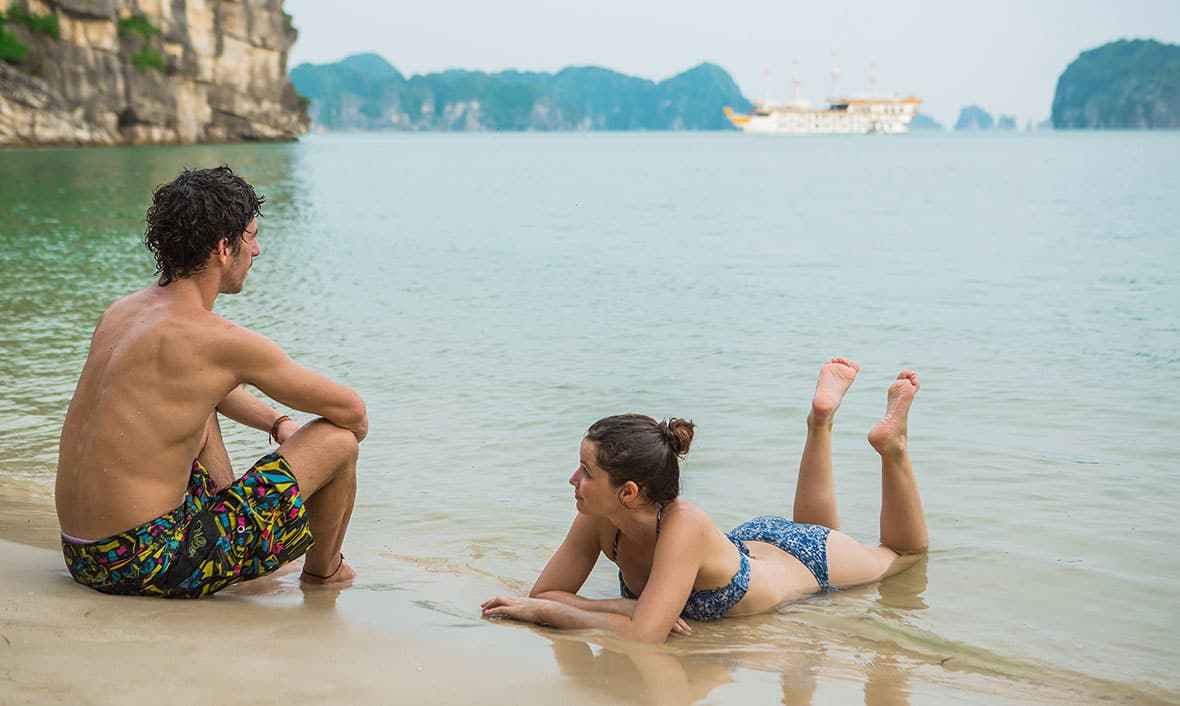 With pristine seascapes and precious peace on the cards, it makes it even easier to settle into the groove in Hanoi – the jumping off point for trips to Bai Tu Long. It doesn't hurt that I'm bedded down at the Sofitel Legend Metropole Hanoi, the city's most prestigious digs.
Built by the French in 1901, the Metropole was described, with typical Gallic fanfare, on opening as the 'largest and best appointed hotel in Indo-China'. Previous patrons include Somerset Maugham, Graham Greene and Charlie Chaplin. And it is impossible not to feel just a little bit special while residing here. From giant clawfoot bathtub to the venerable French restaurant Le Beaulieu, the hotel supplies a crash course in prime Indochinese indulgence.
The hotel may be steeped in lore, but it's nothing compared to the back story of Halong Bay (and, by extension, Bai Tu Long). According to local legend, the gods sent a family of dragons to help defend the country from invaders from the north.
The serpents spat out jewels and jade which turned into the thousands of islands and islets dotting the bay, linking together to form a great wall against their enemies.
The truth is almost as evocative as the legend, and the sight of these limestone hulks jutting out of the water is one of Asia's most beguiling scenes.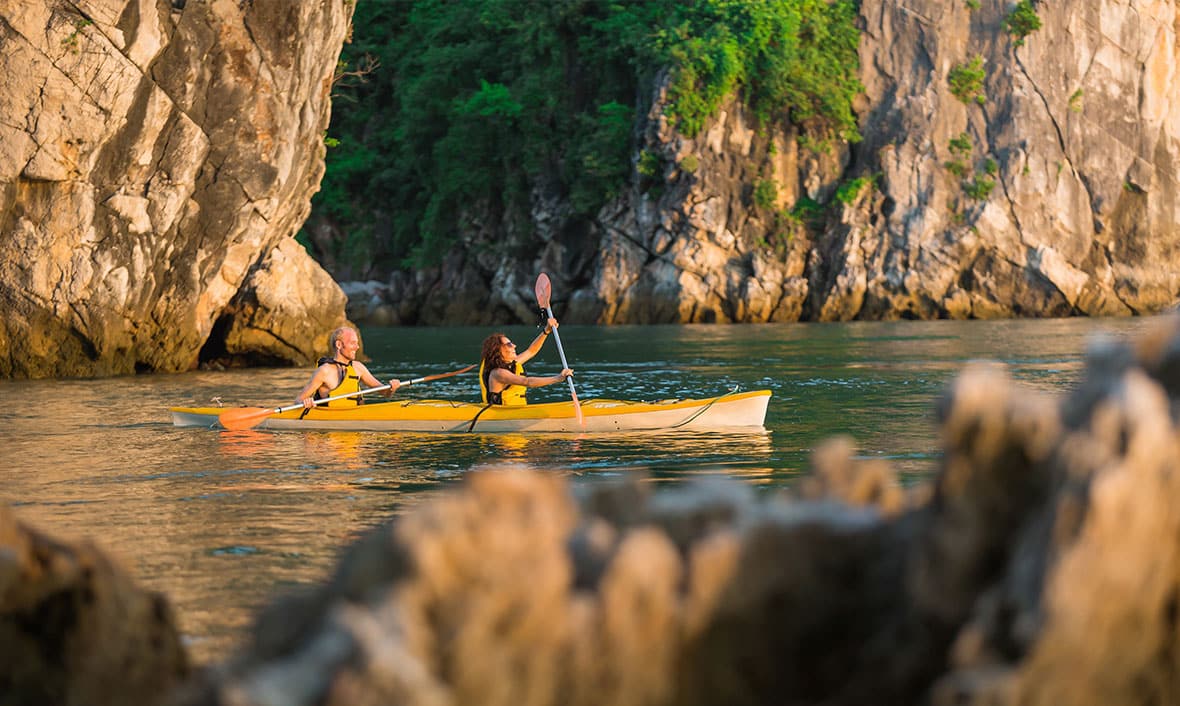 There are many options to explore Bai Tu Long, with private one or two bedroom charters being the most preferable. There were only six of us on our boat, Prince 4, and we were not beholden to any schedule except from mealtimes when our talented chef supplied a succession of multi-course Vietnamese banquets. That leaves us with less than stressful dilemmas like choosing between a languid paddle through the karsts or a horizontal session with a book on the boat's sundeck.
Things are equally amenable back on the boat. Few things in life are quite as agreeable as watching a sunny day slip by while posited horizontally on a junk. It is a formula that would work anywhere in the world. In the spectacular surrounds of Bai Tu Long, however, this prosaic pleasure is nudged even further towards the stratosphere.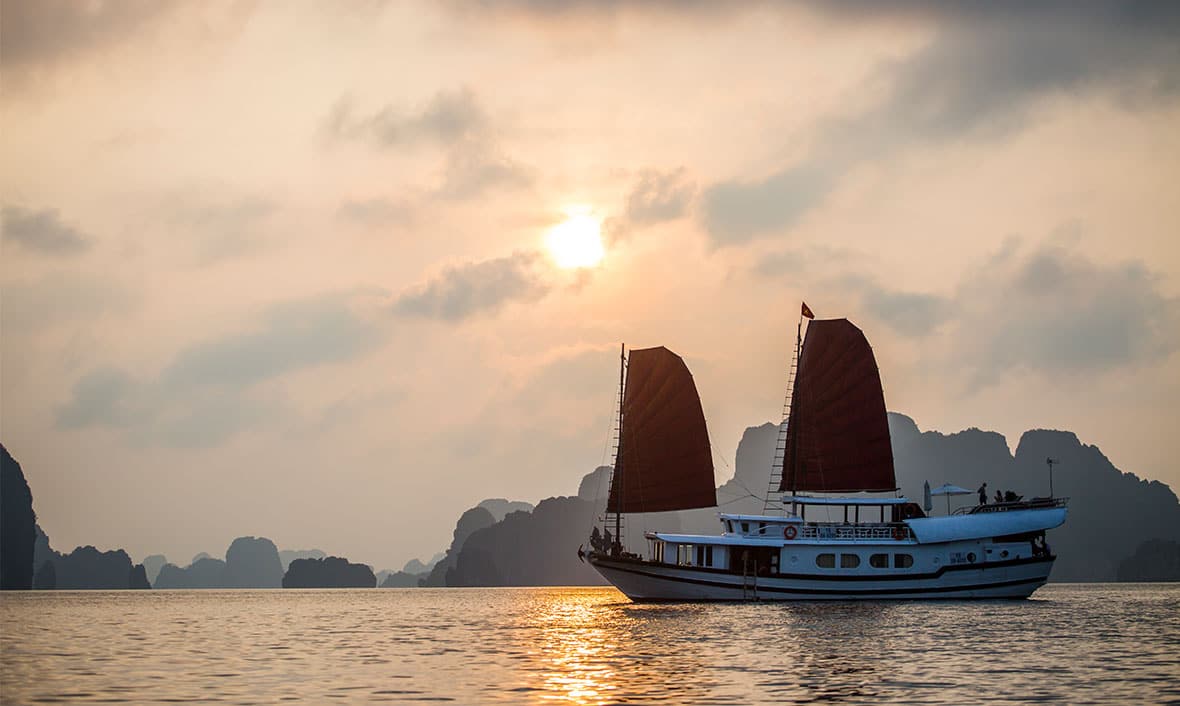 Lounging on deck with a gin and tonic, I engage in some conversation with my fellow guests. "I feel truly at peace here," says Aaf, a 56-year old art teacher from the Netherlands. "Bai Tu Long is different. There are a lot of activities to do, like if you want to hike or kayak or do some rock climbing. But equally it is possible just to do nothing and read your book, which is why I am enjoying it so much. Of course, it doesn't hurt that it is so beautiful."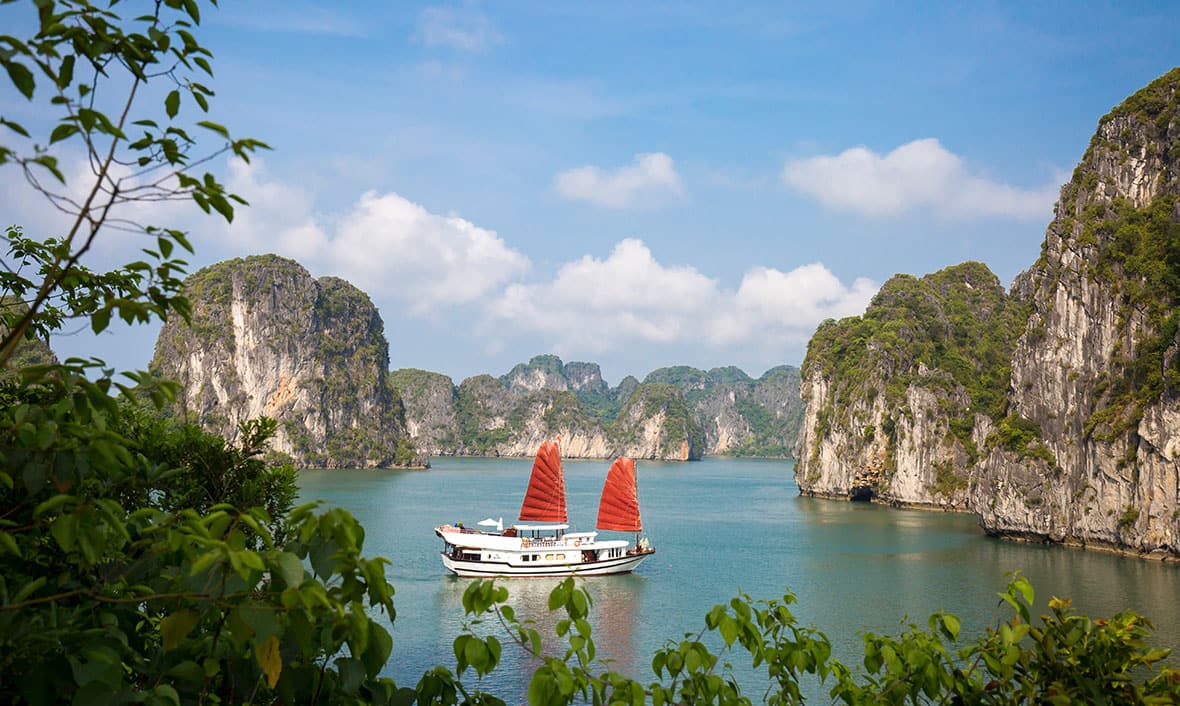 With the memory of the previous evening's sunset, which could have been lifted from the big book of Southeast Asian clichés, still fresh in my mind, it is difficult to argue with her assessment.
The end of the second day is spectacular. The ocean and the jungle-clad karsts that rise vertically from the sea are so beautiful that it is hard to tear myself from the scenery.
Today, the skies are a spotless blue and the sunset goes through a vivid repertoire of red, gold and purple shades. The scene is familiar from a million tourist postcards sold in Hanoi's Old Quarter. Missing, however, is the array of junks that crowd the karsts. In Bai Tu Long it is subtle shifts like these that make a world of difference.