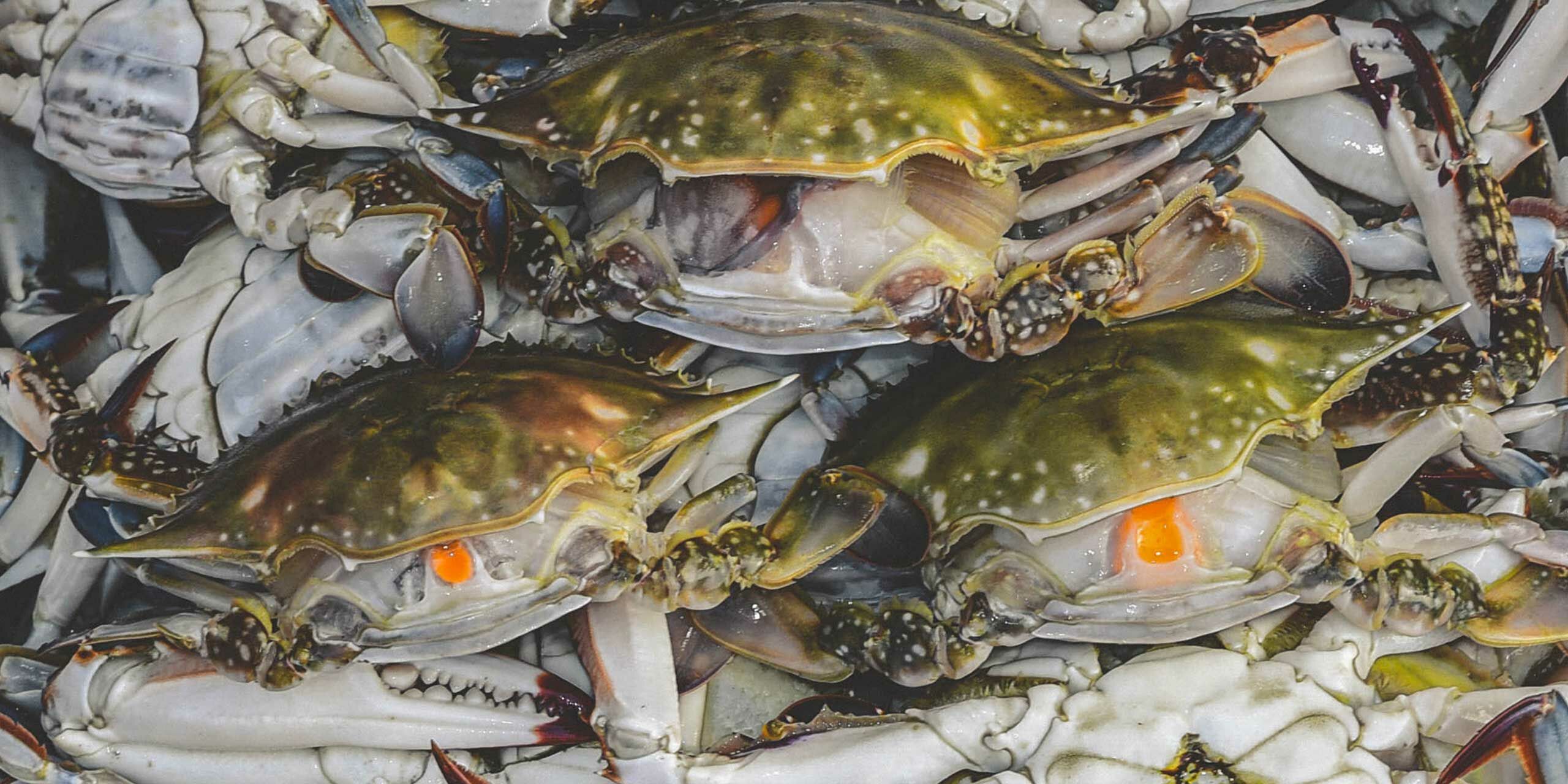 Surrounded on all three sides by the ocean, South Korea adores seafood. Nowhere is this more evident than in the beachfront city of Busan, home to one of the world's largest fish markets. Hundreds of seafood stalls, shops and restaurants line the streets and alleys adjacent to Busan harbour. This is the Jagalchi Fish Market. Up to half of South Korea's seafood moves through this monstrous open-air bazaar in Busan, which is the country's second-largest city after Seoul, and is located in its deep south.
The action starts at 4:00am each morning when hordes of fishing boats begin to arrive at the large dock adjacent to Jagalchi. These commercial vessels have been trawling fertile stretches of the East China Sea for dozens of different types of seafood. When they pull up at Jagalchi, the fishermen unload bulging hauls. They have everything from sea urchins to eel, salmon, trout, mullet, abalone, mussels, clams, prawns, cuttlefish and red snapper.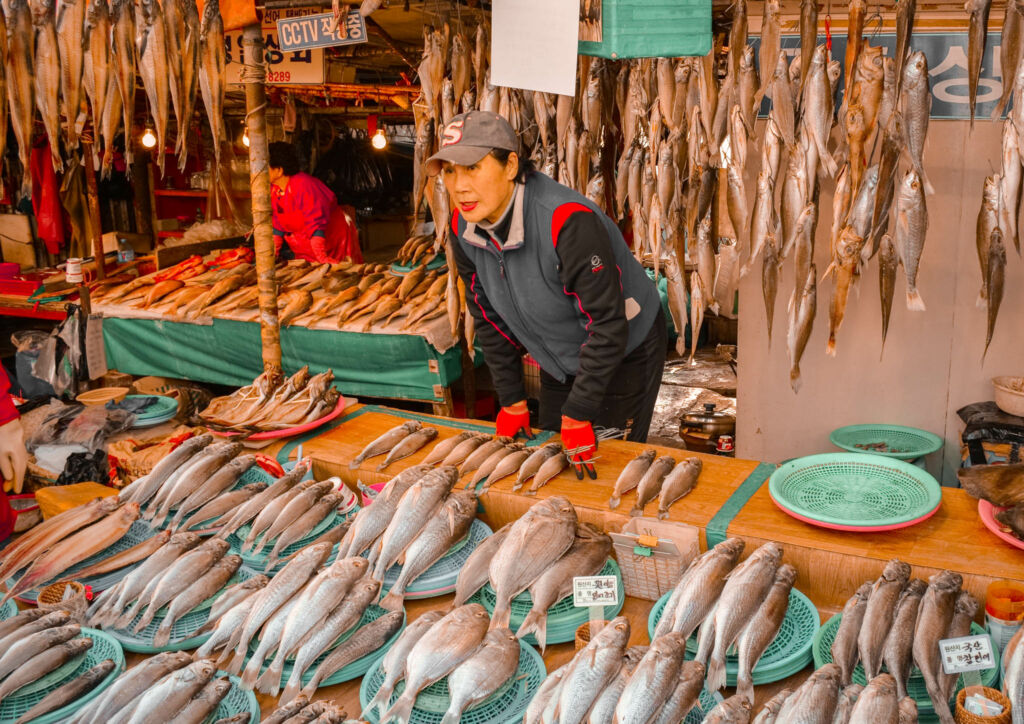 By 6:00am Jagalchi becomes truly boisterous. This is when the booming voices of auctioneers echo across this sprawling market as the latest catch goes under the hammer. Tokyo's Tsukiji Fish Market, which has now been replaced by Toyusu Market, became a major tourist attraction due, in part, to the lively spectacle of its daily auctions.
While the Japanese buyers and sellers became famously annoyed by the presence of tourists, who were discouraged from attending its sales events, I found the opposite to be true at Jagalchi. When my wife and I rose early one morning to watch its auction, we received the friendliest of welcomes. In fact, a few sellers were intent on sending us home with giant fish that would barely fit in our suitcases. We politely declined but enjoyed the show.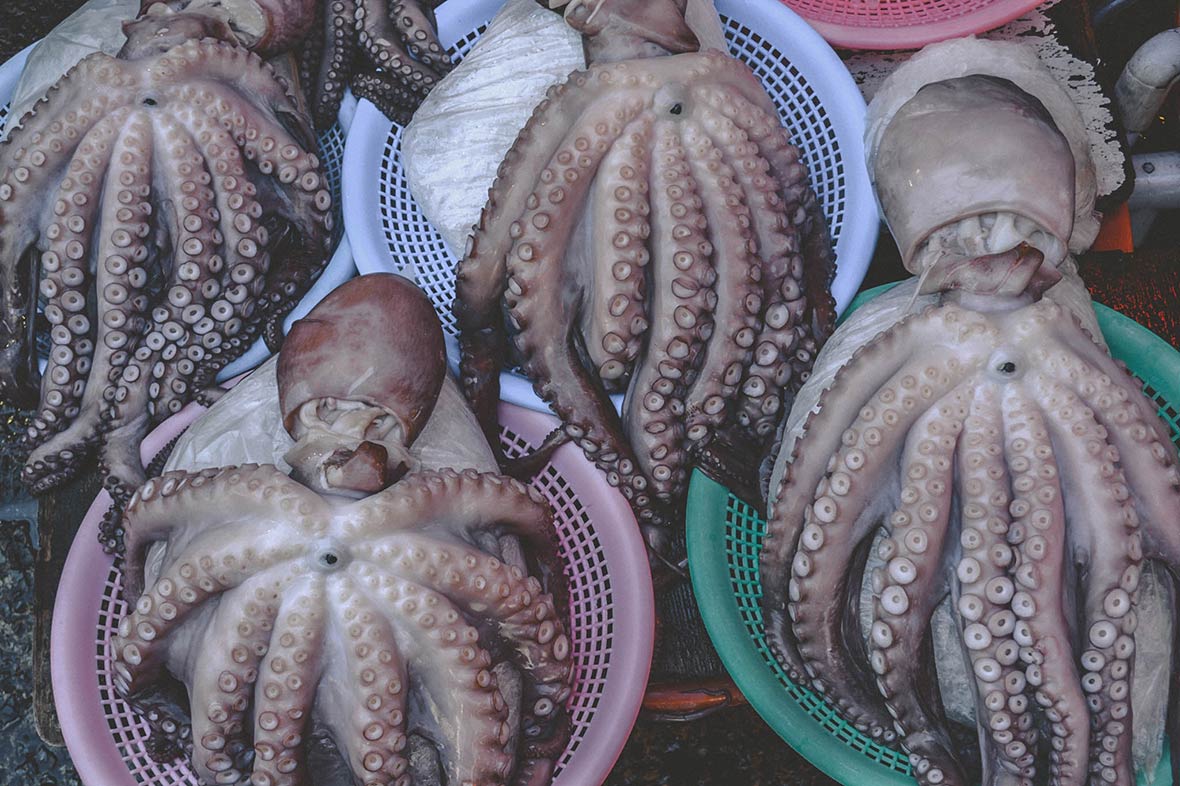 Once this frenzy of bidding ends, the purchased seafood is put in the hands of the "Jagalchi Ajumma" or "Busan wives". While it is the men who do the fishing, for decades now the seafood sales have been managed by these hardy women. For more than 50 years, the Jagalchi Ajumma have manned the market's stalls, from behind which they sell the ocean-fresh catch.
They're such an intrinsic part of Busan culture that these women have become icons of the city, famous throughout South Korea. As we quickly discovered, behind their wide smiles lurks fierce competitiveness. We bartered with one Jagalchi Mamma over a kilo of tiger prawns. When we started too low she laughed. When we lifted our bid too slowly she bristled. And when we walked away empty-handed she yelled out to a fellow Busan wife at another stall.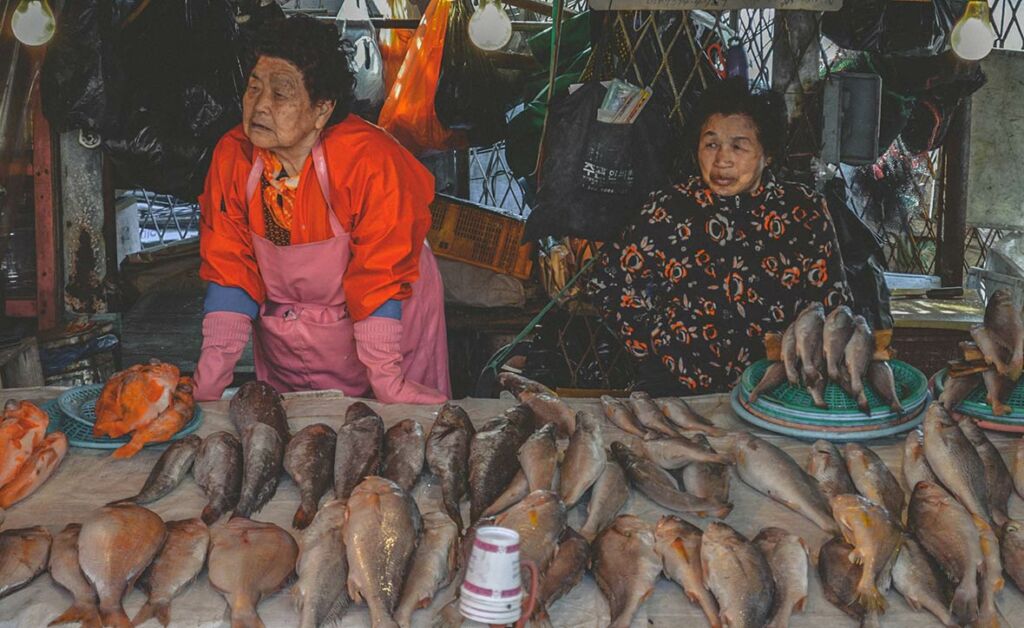 That second lady caught our attention and gestured over our shoulders. There, right behind us, was our haggling friend, already having bagged up our prawns and happy to accept our last offer. She gave us a wink, we completed the transaction and left with a thumbs-up. This is how the Jagalchi Mammas do business – firm but fair.
It has been this way for generations. During the Korean War (1950-53), a huge proportion of South Korean men were in battle. Their wives needed to find a way to financially support themselves and their children. In Busan, some of these women took to selling products in the downtown markets. In the years after the war ended, the city's fishing industry hit its stride once more and many of those wives transferred their selling skills to jobs in Jagalchi Fish Market.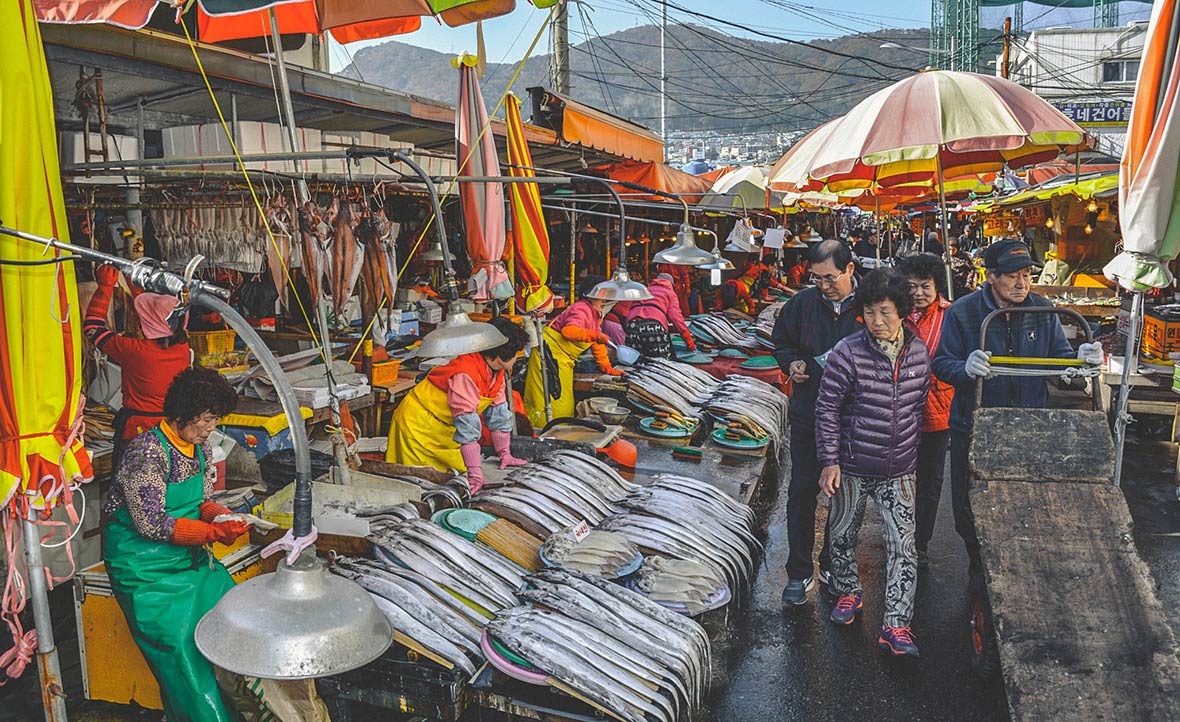 Over the following decades, more and more Jagalchi Mammas were needed as this market grew and grew. The adjacent Busan Port became one of the largest in the world, with the seafood catch here no longer just feeding South Koreans, but consumers across Asia.
As international tourism to South Korea has flourished in the past 20 years, Jagalchi has become more than just a buzzing commercial site. Now it's one of the city's key attractions. Not only can visitors wander freely through this huge complex, ogling fish, watching auctions, and bargaining with Jagalchi Mammas, but they can buy fresh seafood and then have it cooked on site.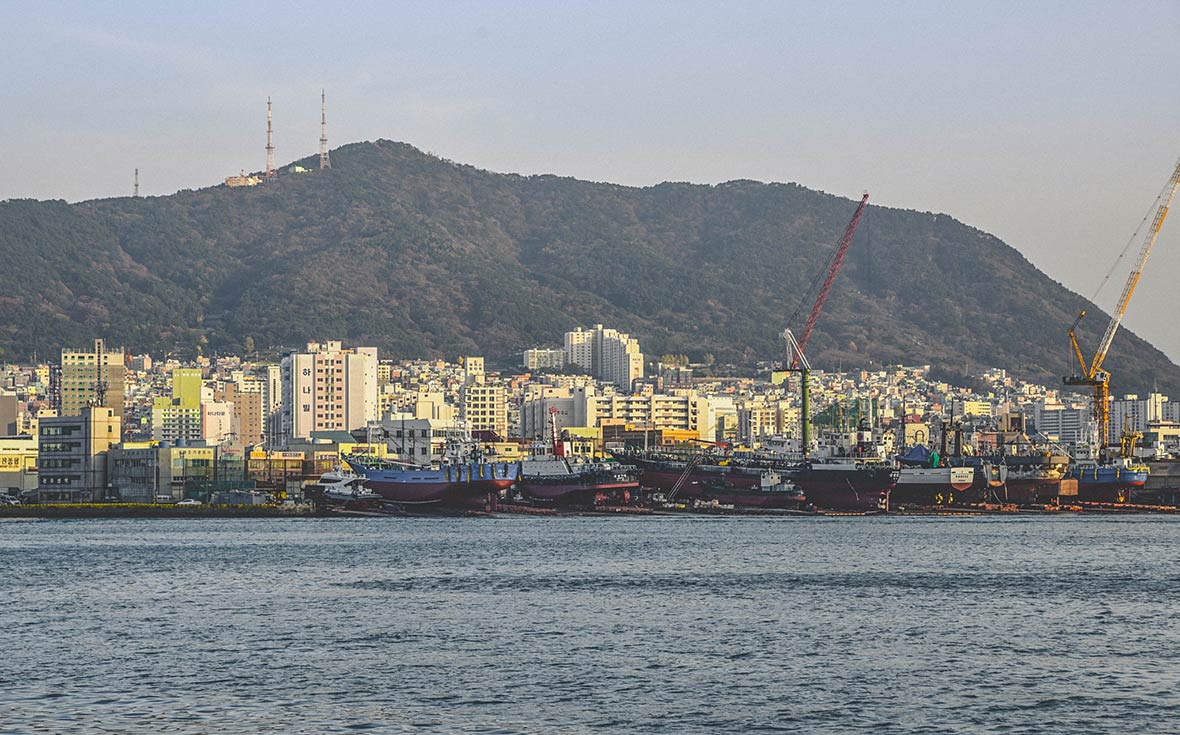 This is a favourite activity for Busan people. Many of them descend on Jagalchi in the evenings after work to pick out live fish which is prepared for them at one of the market's dozens of restaurants. Washed down with a cold Hite beer, or some strong soju, the hugely-popular distilled alcohol, these fresh seafood meals are a rite of passage for any visitor to Busan.
Tourists looking for the ultimate Busan seafood experience should visit during the annual Jagalchi Festival. Held over four days each October, this event celebrates Busan's rich seafood culture. As well as fish feasts, live cooking displays, and talent competitions, there is live music and dancing to enhance the vibrant atmosphere. And in the background, the Jagalchi Mammas keep doing what they do. They're a vital organ of the enormous, breathing creature that is the Jagalchi Fish Market.