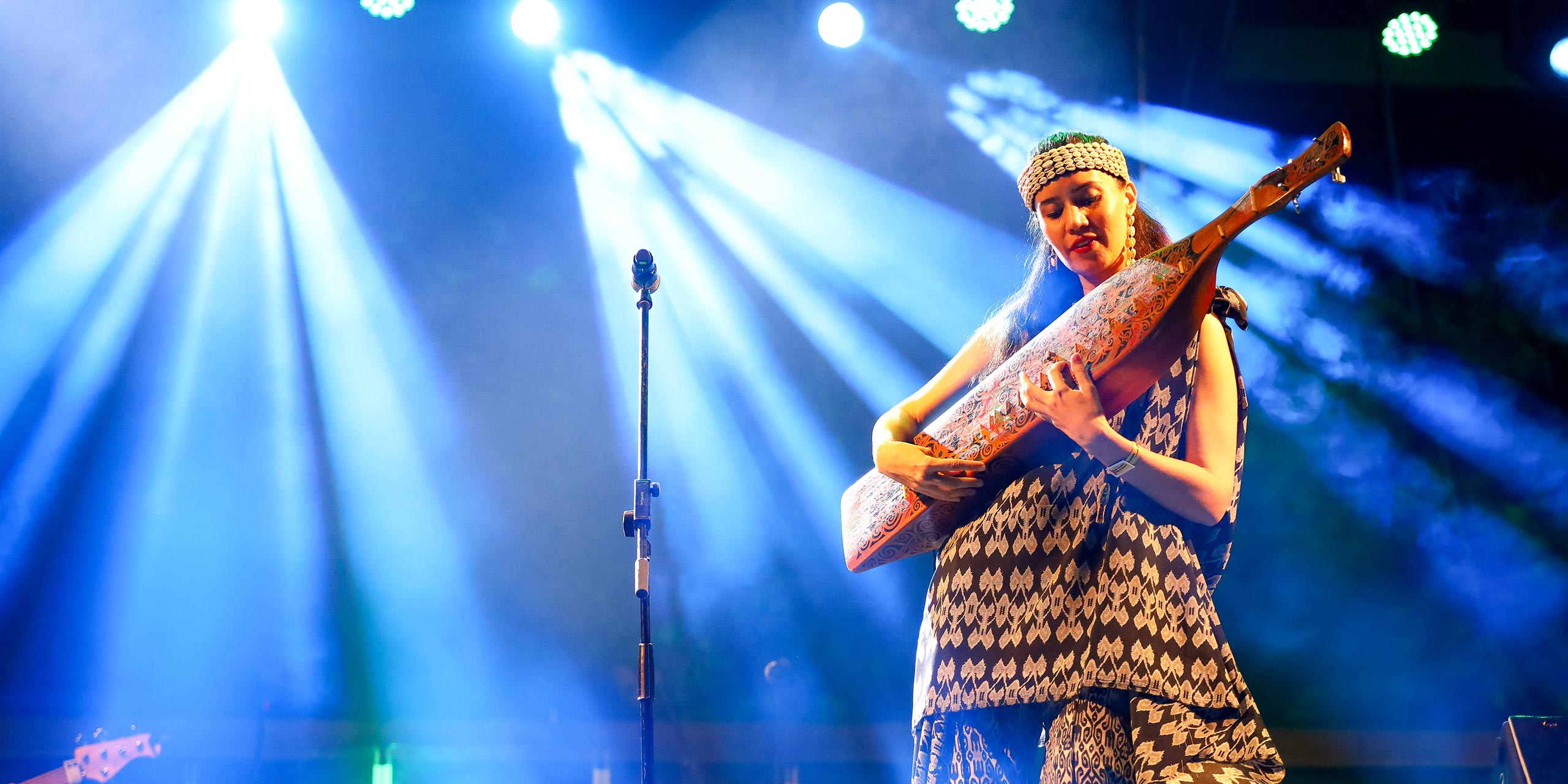 Oblong, colorful and able to emit a haunting, ethereal sound, the sape of Sarawak — the Malaysian state's iconic lute-like instrument — has traditionally been played by men. But it's a young woman, Alena Murang, who has taken it out of Borneo's misty highlands and brought it around the world.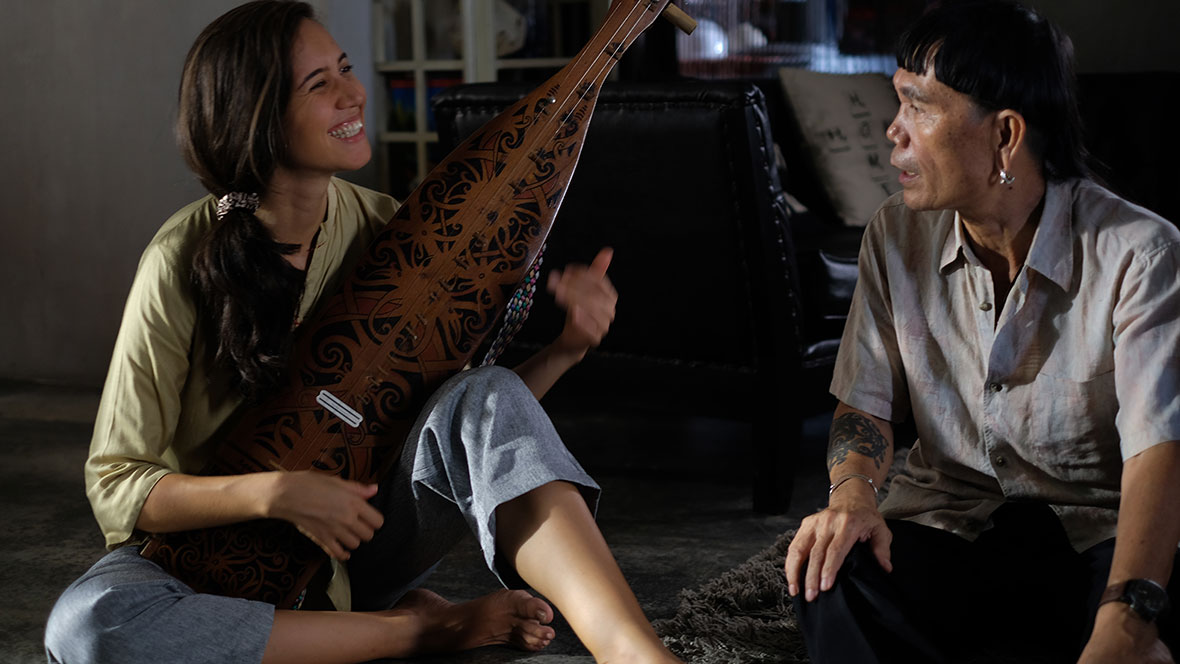 With a Kelabit father from the highlands of the Ulu Baram river in north-eastern Sarawak, and an Anglo-Italian anthropologist mother, Dr Valerie Mashman, who spent most of her life researching in Borneo, Murang established herself as one of the first women to play the Sape.
"I started at the age of ten," says Alena, who studied with the master Mathew Ngau Jau from Sarawak's Kenyah tribe. "People were surprised and very encouraging. I've never encountered resistance from the elders. They would only resist to pass on certain songs and traditions that came from the old belief systems."
Both men and women are encouraged to pass on Kelabit culture — whether it's dancing, singing, fixing fishing nets, beadwork, hunting, planting rice, or languages. "But I think that in many cultures it's women, as mothers and nurturers, who play a vital role in passing on heritage".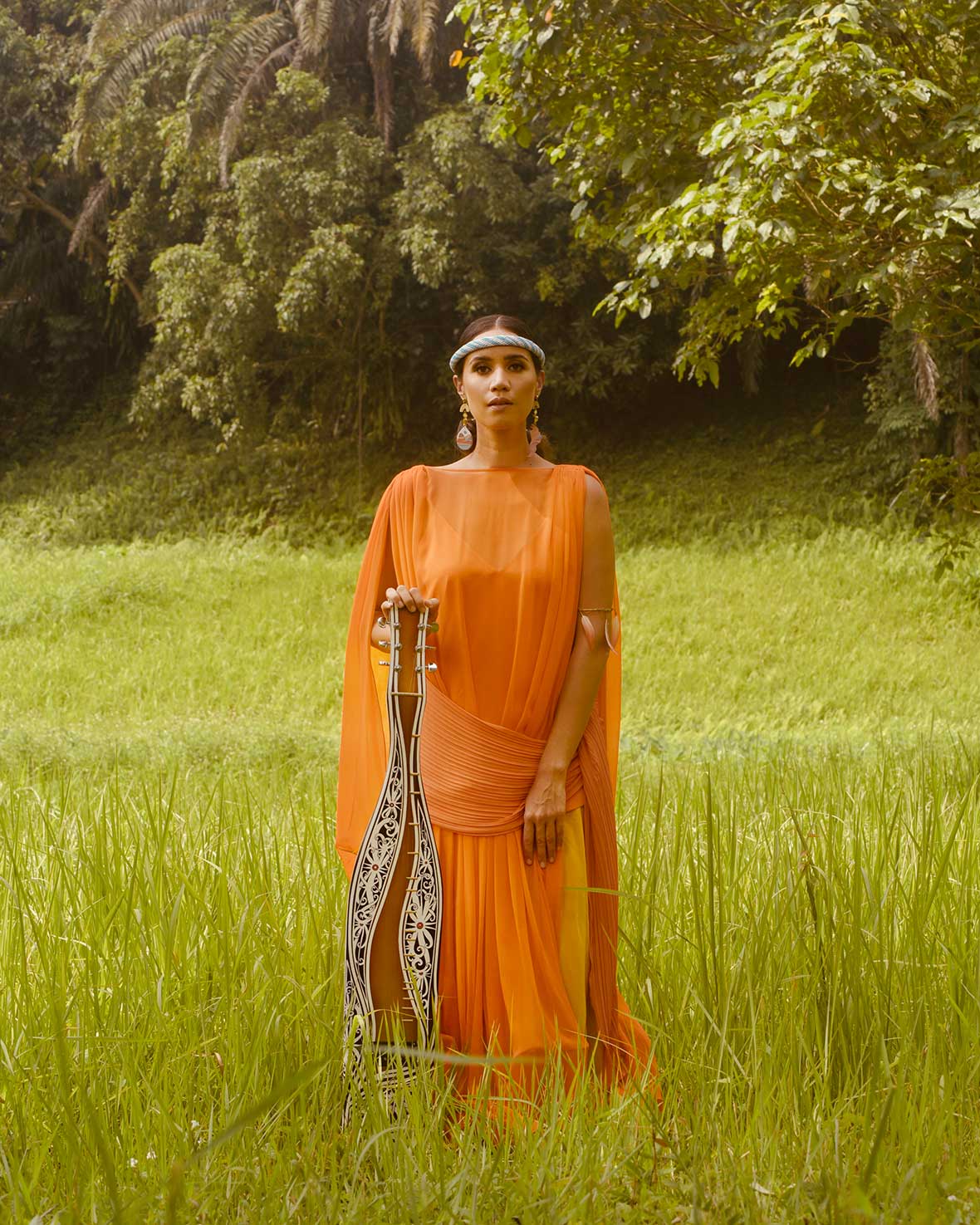 Alena's debut mini album "Flight" (2016) got her name out there with five songs recollected by her Kenyah and Kelabit elders and turned into modern compositions sung solo and accompanied by the sape.
"I specifically wanted that album to be as close to the roots as possible," she says. "My producer tracked the drums on one song, Liling, which sounded good. But I said 'no' because I wanted that album to really focus on the sape and its melody and rhythms."
Now based in Kuala Lumpur, Murang returned in April 2021 with "Sky Songs", an eight-track album that complements the drone-like strumming of sape with a backing band. The contemporary spin helps her popularize her sound and continue her mission of conserving the endangered traditions and languages of tribal Borneo, which are most often excluded from mainstream Malaysian narratives.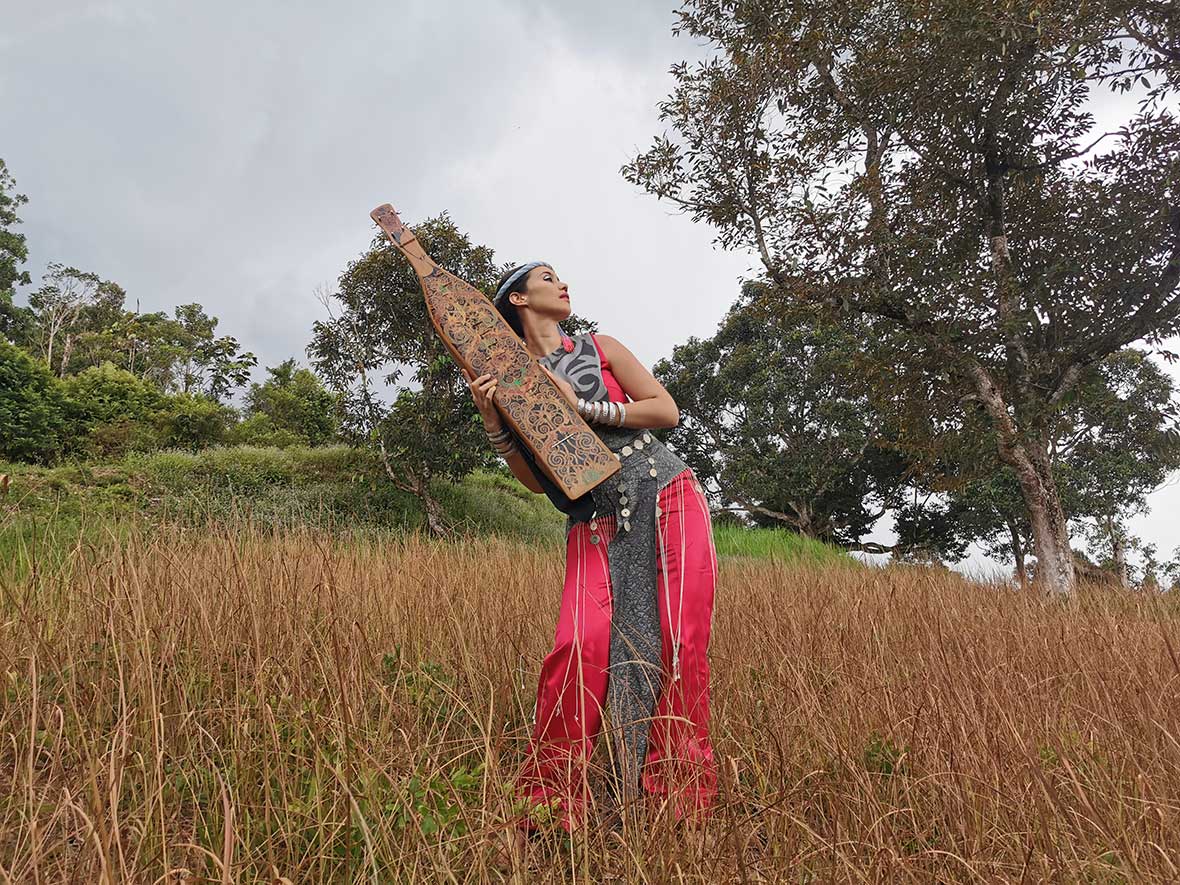 Supported by the Dayak Cultural Foundation and the Ministry of Communications and Multimedia Malaysia, Sky Songs is a mature album, which blends dreamy, lullaby-like vocals over a sape driven bedrock that remains the music's most fundamental element.
The opening Gitu'an and closing Meno' — a song about missing home that her ancestors sang when embarking on long journeys away from the village, which Murang fittingly released as single in January when Malaysia entered a second Covid-19 lockdown — are filled with melancholic hooks and hope.
In Maya', a dream-like soundscape, the lead is given to Murang's sweet and soulful vocals that are reminiscent of Irish star Enya. The next atmospheric instrumental Warrior Spirit is a duel between the sape and the electric guitar. They push and shove in a barrage of twin solos that nod to Mali's desert blues and the hard-rock flamboyance of Thin Lizzy. Sunhat Song, the album's only English-language track, is a funky, radio-friendly earworm tinged with rock swagger.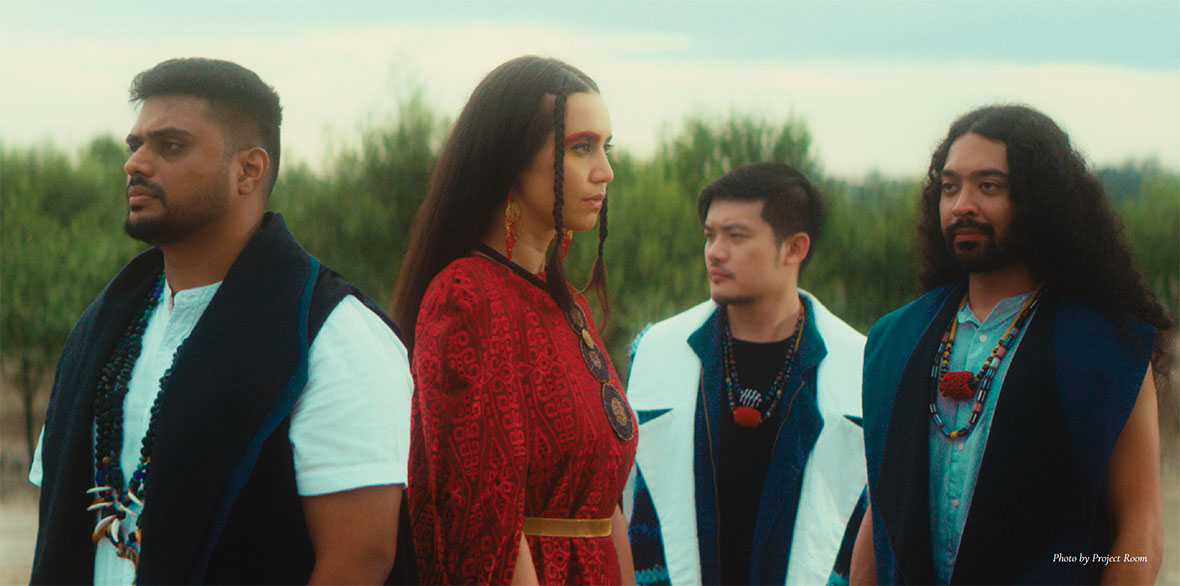 "The band has developed over the last three years and the core band members come from different disciplines — rock, metal, traditional Chinese music, and R+B," says Murang. "Through it all, we understand that the sape is the main element of this music and the band supports it."
Beyond the catchy melodies, however, Murang music's importance is its cultural significance. The songs are sung in the endangered Kelabit and Kenyah languages of the Kelabit Highlands — a 1200-meters-high borderland wedged between Brunei and Indonesian Kalimantan in northeastern Sarawak and inhabited by about 6,600 native people as of 2013. Indeed, these Sky Songs are inspired by tribal ancestral beliefs of how sacred lives on Earth are under the sky. To the local Kelabit, it represents the "big sunhat dome" beneath which all earthly creation lay.
"I've always felt close to the natural environment — the rivers and rainforests in particular and looking at the sky as the big dome that cradles all of that," says Murang. "I [also] wrote a lot of the lyrics when I was travelling in planes, because in pre-covid times, I was flying a lot and that was the only time I had space to myself."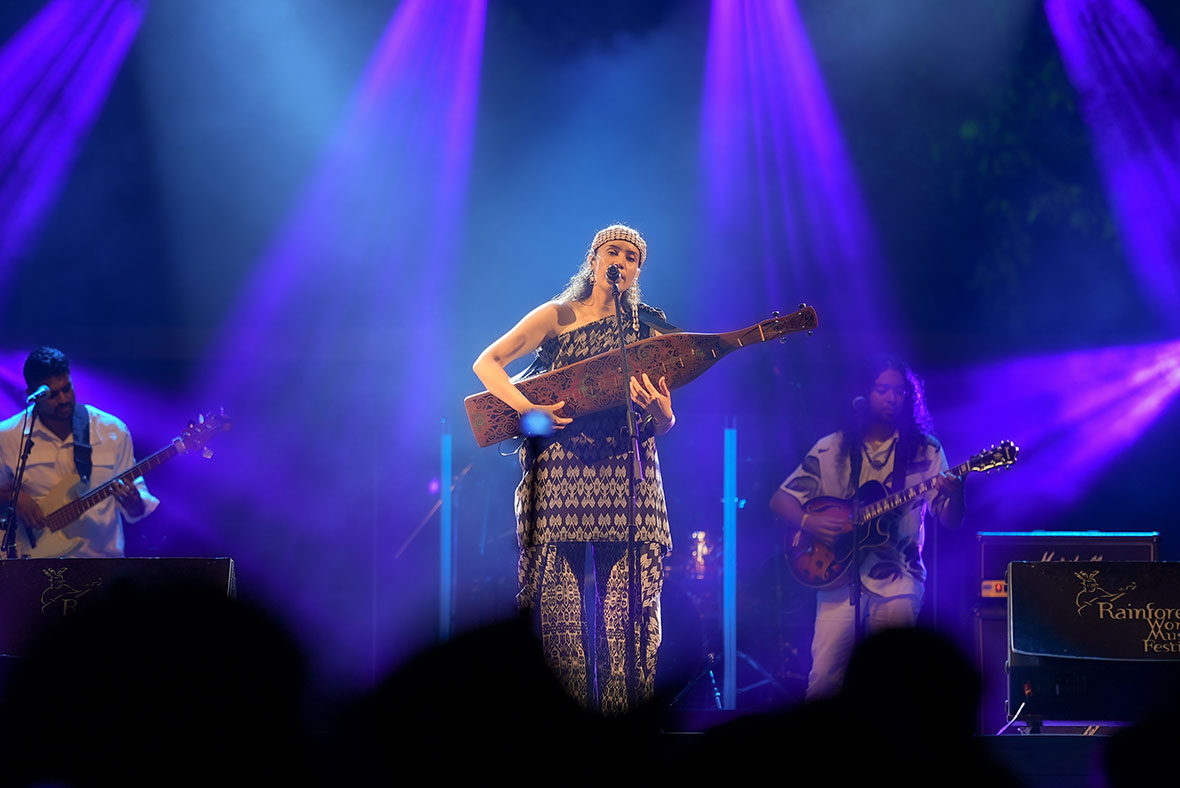 Indeed, Murang spent the past few years touring and turning heads internationally, including in Europe and Central America. Her music video Midang Midang won the Best Styling Award at the Buenos Aires 2020 Music Video Festival, where it was also nominated as Best International Video alongside Madonna. "I wrote a lot of lyrics in the sky," recalls Murang.
Alena Murang also performed and was assistant artistic director at the 25th edition of the landmark Rainforest World Music Festival in Kuching. "It's been a fun challenge of navigating SOPs, international bands and the hybrid nature of the festival," she says. "It's really forced the team to be creative and to think outside of the usual festival set up."
Next, Alena is trying to finally organize an international tour. "It's still in the works," she says. "It's definitely not as straightforward as traveling pre-pandemic."
"People abroad tend to link Borneo with head-hunting, which is our history, but it's no longer practiced. I want to show people that we are modern, contemporary Dayak people with a modern upbringing, in the contemporary world, just like you," says Murang. "I want to create a bridge of understanding."