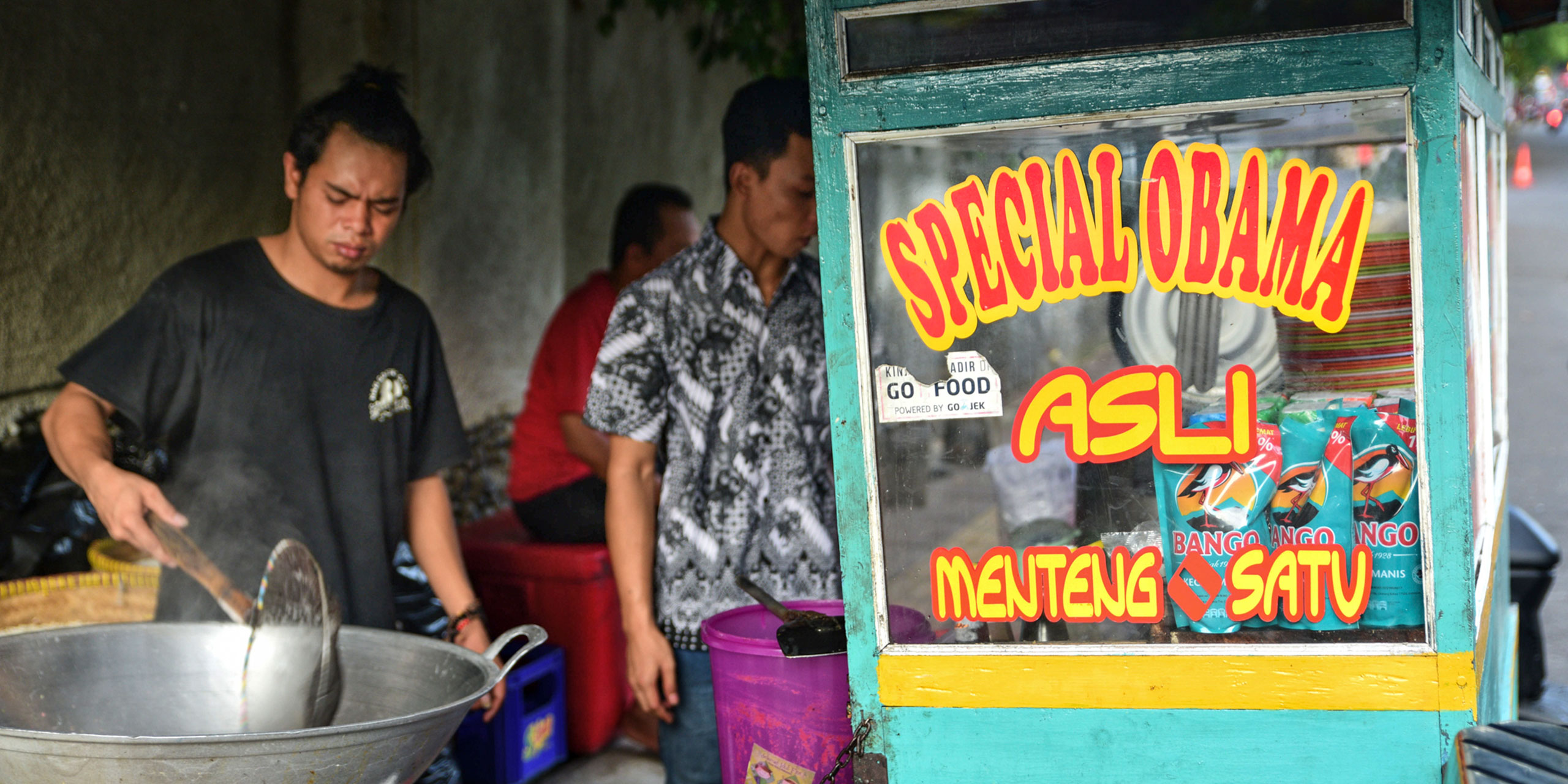 In a serene pocket of Jakarta, I'm eating a bowl of power noodles. It would be easy to mistake my dish for simple mee goreng, the stir-fried egg noodles that are a staple in Indonesia. Then I look back up to read a sign on a street food stall that reminds me these are different. These are rare. These are "Special Obama" noodles.
"President food," says the grinning male vendor who just sold me this freshly cooked dish. This young man has certainly got a knack for marketing. Greater Jakarta is the second-largest urban area in the world, home to about 30 million people. Within it would be hundreds of other street vendors selling mee goreng, but perhaps only one who claims his version is linked to a former US President.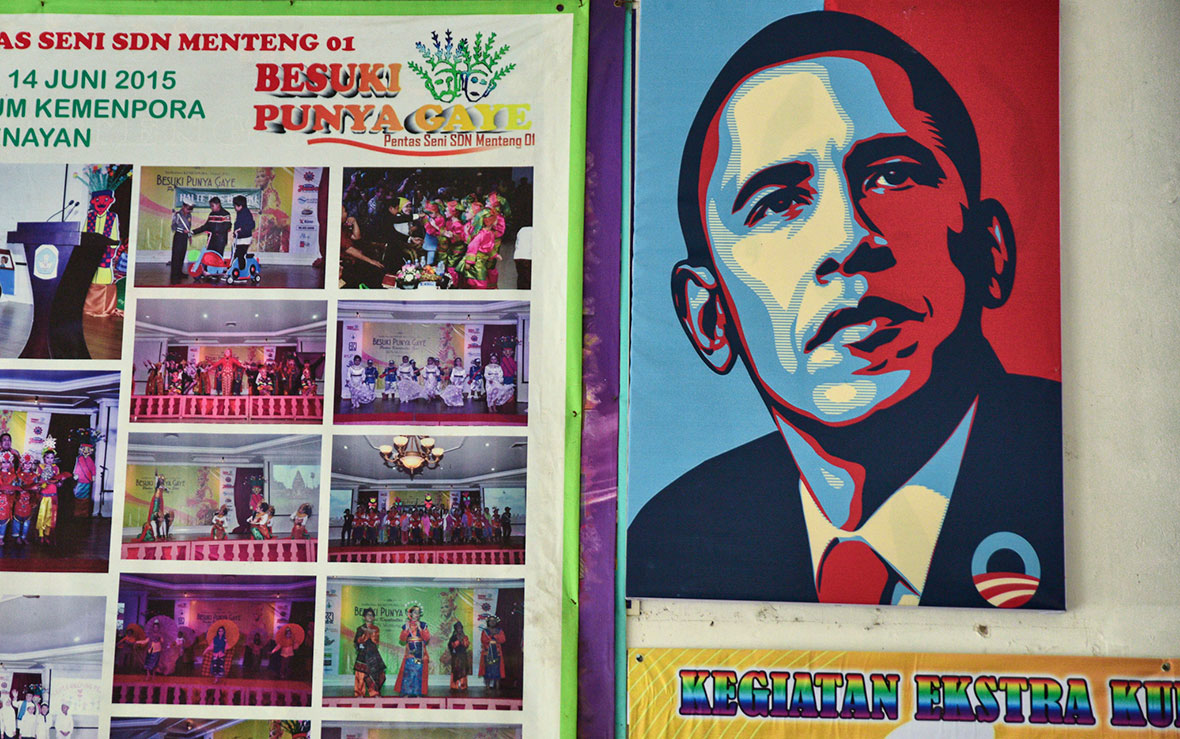 I'm savoring this snack in Menteng, a wealthy suburb just south of Merdeka Square, the large green space which is home to the city's towering National Monument and is essentially the dead center of this gargantuan city. These days Menteng is arguably the most expensive area in Jakarta, a clean, leafy enclave lined by mansions.
Yet none of its rich and influential residents will ever be more famous than the boy who once lived here five decades ago. Back then, he was known locally as Barry. Now, he is known globally as Barack Obama.
Obama was born in Honolulu in 1961 to Kenyan-born man Barack Obama Senior and American-born woman Stanley Ann Dunham. Soon after, his parents divorced, and his mother got remarried to an Indonesian man Lolo Soetoro. In 1967, Barack, his mother, and his stepfather made the big move to Jakarta, where they lived in Menteng.
This six-year-old boy was delighted by his exotic new environment, according to the book Barack Obama: The Making of the Man, by David Maraniss.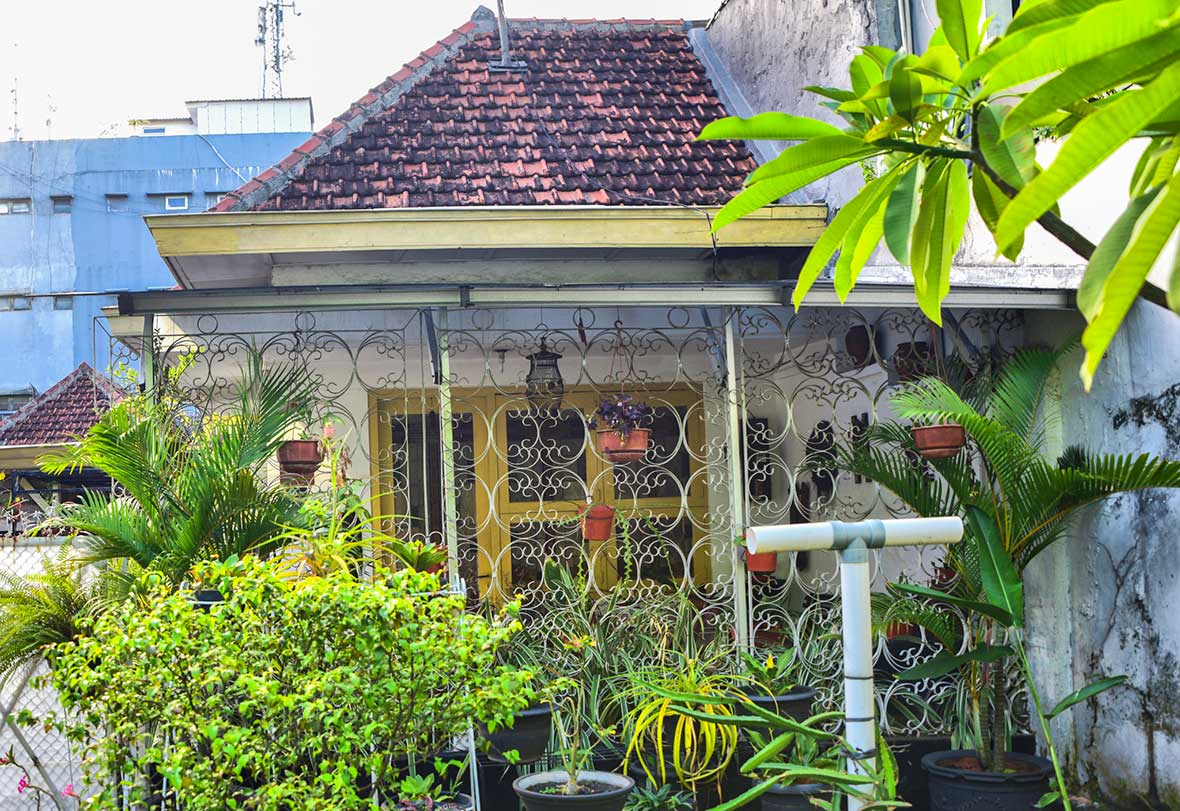 "At Lolo's house, Barry found baby crocodiles in the backyard, as well as an ape, specially bought as a pet for Barry," Maraniss wrote. "Birds of paradise, trailing extravagant plumage, perched in the trees. There were also chickens in the backyard. One of them, Barry was astounded to learn, would be slaughtered for their dinner. There was no end of exciting things to do: playing in rice paddies, riding on water buffalo, flying kites in fierce contests."
Obama had landed in Indonesia without an understanding of its language. That barrier disappeared quickly, however, as he learned to speak Bahasa at Menteng 01 State Elementary, opposite which I met that opportunistic mee goreng vendor.
"Obama favorite food," the vendor told me, his two thumbs pointed at the sky, as I slurped my noodles. I couldn't confirm that claim in any of the Obama books I scoured. But surely this young man wouldn't tell such a lie in front of Obama, who stood just behind me in inanimate form.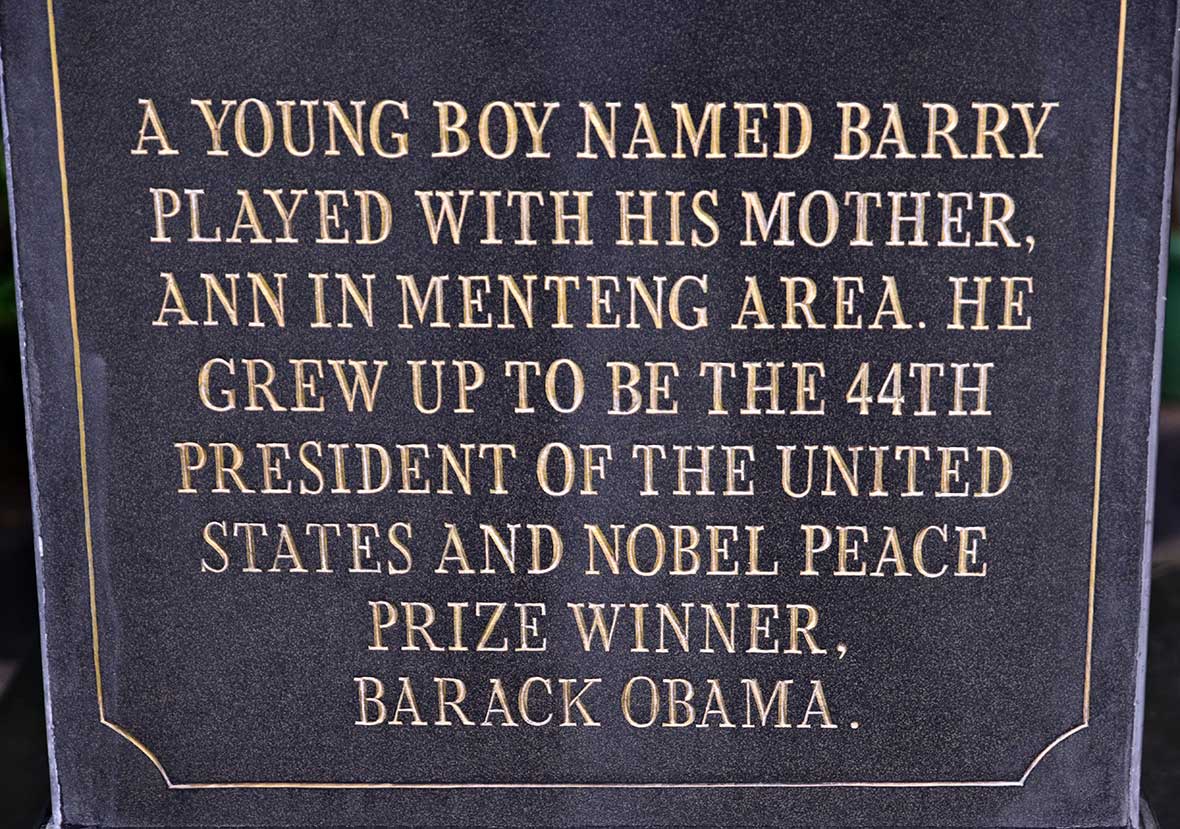 Taking pride of place outside the entrance to this still-functioning school is a bronze statue of the young Obama. He is depicted with a broad smile, his left arm raised high, and a butterfly perched on his thumb, why exactly I'm not sure. Beneath it was a plaque that explained how "Barry" loved to play with his mother in the streets of Menteng.
More than 50 years on, it remains an attractive area. Most of Jakarta is overwhelmingly noisy and busy, even for someone like myself who has lived on and off in Bangkok for a decade. But Menteng is a welcome nook of serenity in a giant hive of bedlam.
Coupled with its unique presidential history, this makes it an appealing tourist destination. At its core are three small green spaces, clustered close together. The manicured Menteng Park has lush lawns, a children's playground, walking paths, and sports facilities. Taman Suropati is a similarly green and shady hideaway. And Taman Situ Lembang is a large fishing pond encircled by trees, under which locals relax on benches.
I found wandering those three parks a wonderfully peaceful experience, after several days of being battered by Jakarta's hectic pace. With the help of a local or two, I soon located the modest wooden home where young Obama once lived.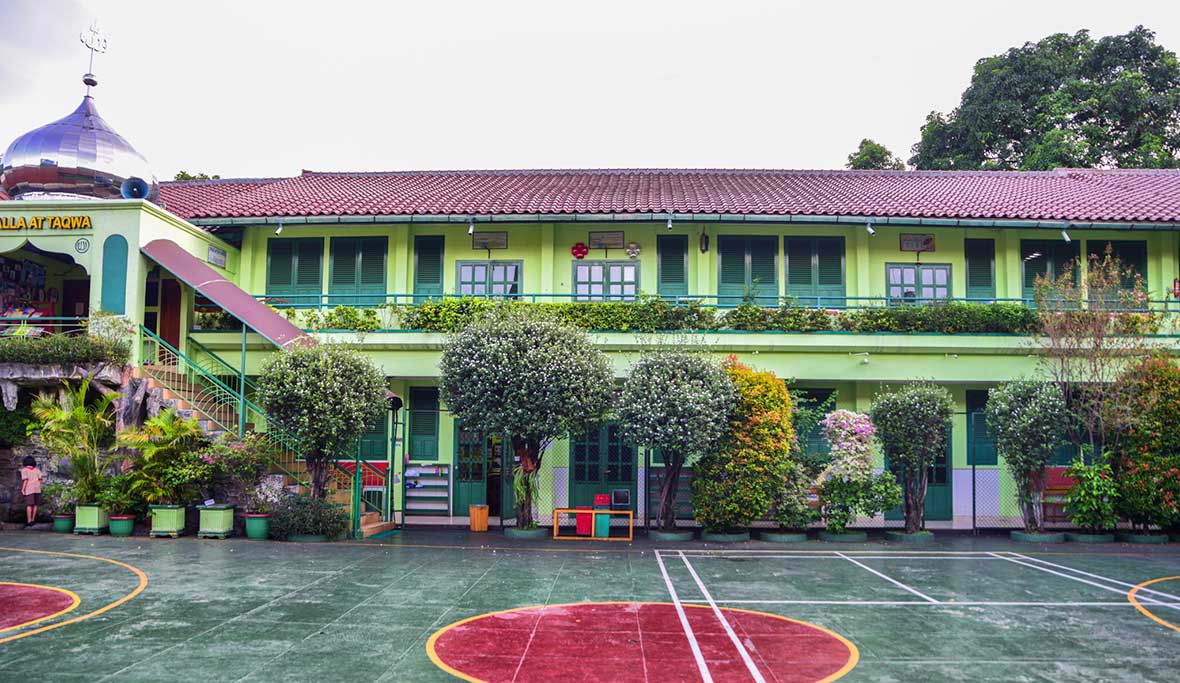 There is little to see there. It is occupied and there are no signs or plaques outside. This is, after all, an expensive area so it's understandable this home's owner wants to enjoy the peace for which they would have paid handsomely.
But Menteng 01 State Elementary is like a shrine to the former president. Aside from the statue in his honor, inside is a host of Obama memorabilia. At first, I was shy to enter, but when a school staff member saw me lingering outside, they waved me in and pointed to a covered assembly area, where Obama in many forms takes up a large part of a wall.
There are lots of photos from his terms in office, and from his Presidential inauguration. Dominating this space is a giant copy of the iconic blue-red-and-white stencil portrait of Obama. Students see this image every day as they enter the school.
It is, you would hope, a regular reminder of what these young Indonesian children can achieve if they strive. They might not end up in the White House, of course, but the tale of "Barry", and the legacy he's left here in Menteng, makes it an uplifting, fascinating, and unique location.