Example Itinerary
Classic Indonesia
This 13-day luxury Indonesian adventure is replete with unforgettable experiences. With time spent in Bali and Java and a private cruise around the islands of Komodo National Park, your days are packed with one amazing activity after another, from white water rafting to diving with manta rays to biking through rice paddies. Exploring off the beaten path, you'll have plenty of opportunity to learn about Indonesian history and culture and spend time away from the crowds.
This itinerary is an example. It's designed to inspire you and provide you with thoughtfully curated ideas. You can choose to do this exact itinerary or completely personalize it. All trips are 100% bespoke.
Highlights
Rice, A Way of Life: Besides admiring the lush rice terraces that bedeck the lands during hikes and bike rides, learn more about this essential crop from the farmers and, if you like, join them in the paddy fields.
Private Schooner Exploration: Take to the bio-rich waters of Indonesia on your own private schooner. Get familiar with marine life in some of the best diving waters in the world as well as the famed dragons of Komodo island.
Borobudur: The ancient site of Borobudur is one of Indonesia and the world's most valuable treasures, a marvel of design that was built without any kind of cement or mortar, only massive interlocking stones.
Day-by-Day
Day 1
Borobudur
Start your journey on the island of Java, the country's most populous island. You will arrive in the special region of Yogyakarta where you will be met at the airport and privately transferred to your luxury hotel, Amanjiwo. This grand hotel featuring dramatic domes and curved colonnades sits in a covetable location, just minutes away from Borobudur Temple. Spend the rest of the day unwinding and enjoying the hotel and enchanting rural landscape at your leisure.
Day 2
Borobudur
Wake early to witness the sunrise from the world-famous Borobudur. Without a doubt this is the best time of the day to explore this massive Buddhist temple, the largest in the world, and discover its magic. It was the Shailendra dynasty that embraced Mahayana Buddhism in the early 9th century and the temple took almost 100 years to be completed. From its 150,000-square-foot base, you have to climb up six tiers to the top. The top level is dotted with 72 small, latticework stupas, each with a statue of Buddha inside, visible through the grates. Head back to your hotel to freshen up and have breakfast. Then, you'll head to Candirejo Village, a traditional Javanese village where you can learn about Javanese culture and daily life, including farming, art performances and local food. Take a traditional andong (horse and carriage) around the village.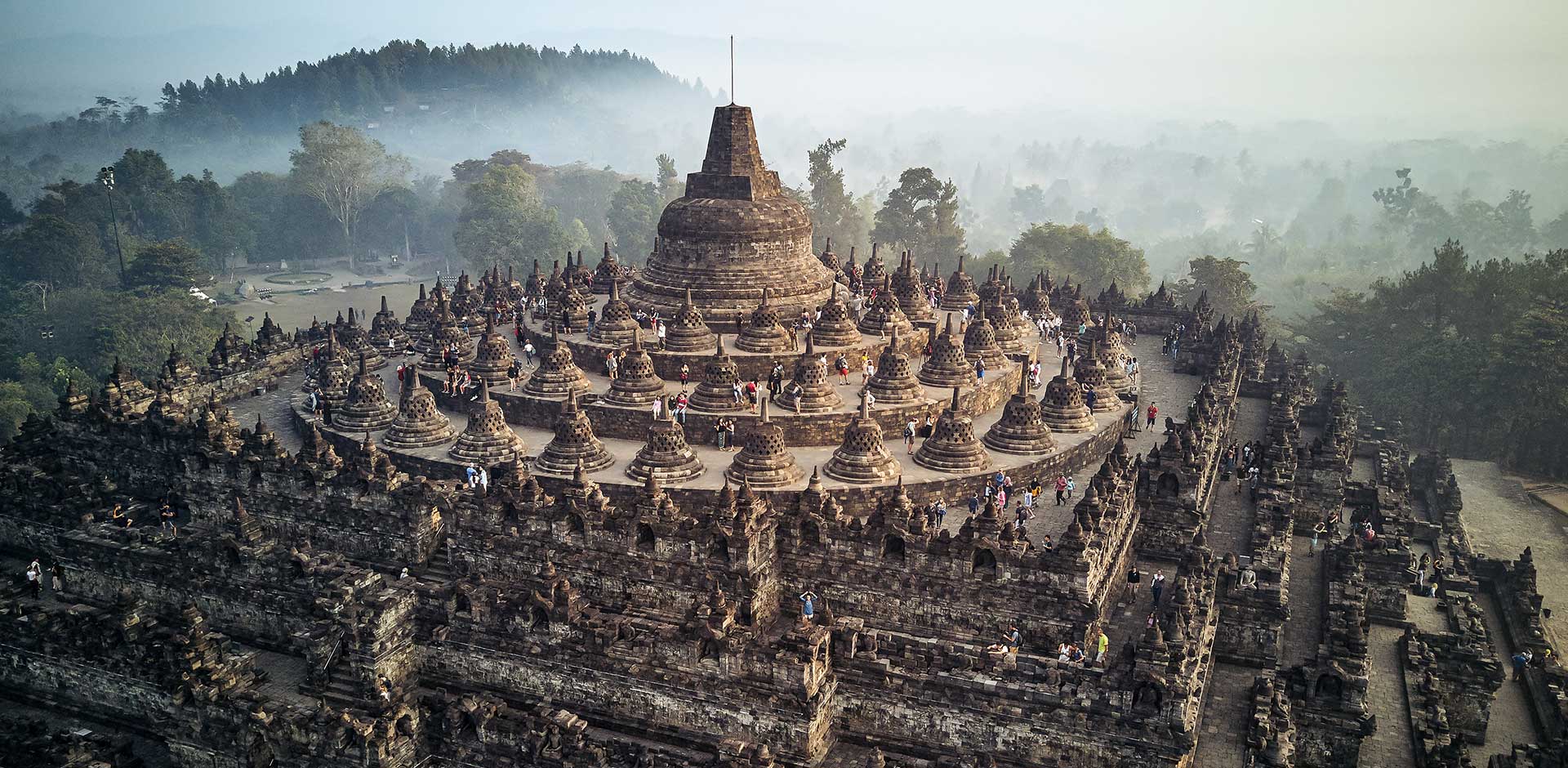 Day 3
Borobudur
Take a day-trip to explore Yogyakarta city, considered the heartland of culture on the island. As one of the oldest cities in Indonesia, Yogyakarta has many heritage buildings and monuments. Begin at Keraton, the Sultan's Palace, which was built between 1756 and 1790 and is a splendid example of traditional Javanese court architecture. Also, visit Taman Sari, also known as the Water Castle. Built in 1758 as an elaborate retreat, the Water Castle is two-story mansion built on an elevated mound arising out of an artificial lake. It features is the underwater tunnel, sunken bathing pools, meditation chambers and 18 lavish tropical gardens. Saved for last is the main attraction, the UNESCO-designated Prambanan, an impressive collection of massive Hindu temples. Time permitting, check out the contemporary art galleries; Yogyakarta's creative scene has a down-to-earth community approach that welcomes everyone to learn and connect.
Day 4
Ubud
Leave Java behind and head for the island paradise of Bali. You will be met at the airport and transferred via private car 1.5 hours north to Ubud, a small town in central Bali. Upon arrival, step into the quintessential traditional Balinese scene: green hillsides, rice terraces, sounds of the gamelan, and processions of colorfully dressed people holding umbrellas, offerings, and wafting incense.
Day 5
Ubud
Begin the day with an adventure - white water rafting. The Ayung River provides a thrill that begins the moment you push off from the riverbanks. On the more leisurely stretches through tropical forests you will see Hindu shrines brightly decorated on ceremonial days of prayer. Discover hidden waterfalls, swim in the pristine water and enjoy the spectacular scenery of the Ayung River valley. In the afternoon, visit the Sacred Monkey Forest Sanctuary, a 27-acre space of cool and dense jungle in the Padangtegal area of Ubud. The mysterious temple complex is home to a tribe of grey-haired long-tailed macaque monkeys. Round out the day at Ubud's bustling market which specializes in artisan handicrafts. Ubud, like Yogyakarta, is also a cultural heartland and where traditional arts thrive. The market is a treasure trove of wicker baskets and boxes, ikat and batik textiles, gold and silver jewelry, straw hats, and more.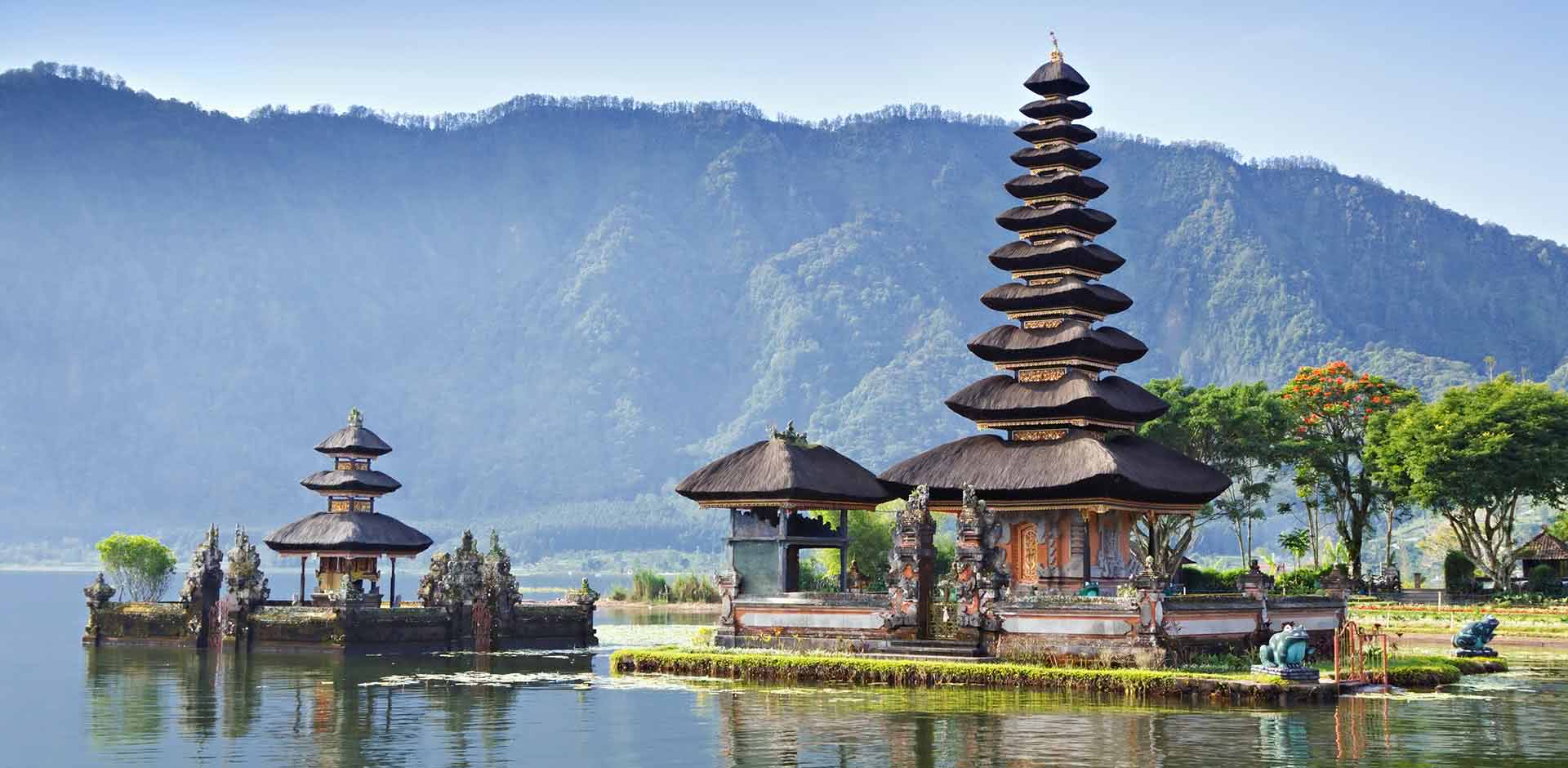 Day 6
Ubud
Begin another early morning with a 45-minute drive to the peaceful village of Sebatu Village. On the way, you'll make a short stop in Tegalalang Village, known for its beautiful rice terraces, tropical rainforest and as a home to Balinese artists. Take a walk through rice paddies and learn how rice is grown, cultivated and harvested. Depending on the season, meet farmers ploughing or planting. They will be happy to invite you to join them. Pause to visit local artist's workshop, where you can join and practice the art of wood carving or local painting styles. Once at Sebatu Village, head to Gunung Kawi Sebatu Temple for a blessing ceremony. A Hindu Priest will perform a purification ceremony which requires you to take a bath in the Holy Spring Water Plunge Pool, which is believed to purify the body and soul. In the late afternoon, set off a a walk along a mountain ridge trail where you can take in a panoramic of the sun setting on the lush landscape.
Day 7
Komodo National Park
From rice fields to open sea, today you begin the sailing portion of your journey. Fly from Bali to Labuan Bajo where you will board your private charter vessel. There is a wealth of luxury boats to choose from, ranging from traditional phinisis to modern yachts and everything in between. After a quick boat orientation, begin cruising to Kalong Island. A late lunch on your boat will be served on the way. You'll anchor near Kalong Island, literary Bat Island, home to thousands bats which you will witness flying around the island during sunset. Enjoy a leisurely dinner on the deck under the stars.
Day 8
Komodo National Park
Sail on to Rinca Island where you'll visit the ranger's station for an encounter with the famed Komodo dragons. These giant lizards can only be found at Komodo National Park and on a few islands, including Rinca and Komodo. Aside from the formidable dragons, you are likely to encounter buffalo, deer and wild horses. From the top of the Rinca hills, the scenery is spectacular. Returning to the yacht for lunch, you'll then set sail for Padar island. A deserted island with great views, here you can enjoy snorkeling, diving, swimming, kayaking, or simply strolling along the beach. In the meanwhile, enjoy drinks and nibbles on the beach at sunset, and the boat will anchor here for the night.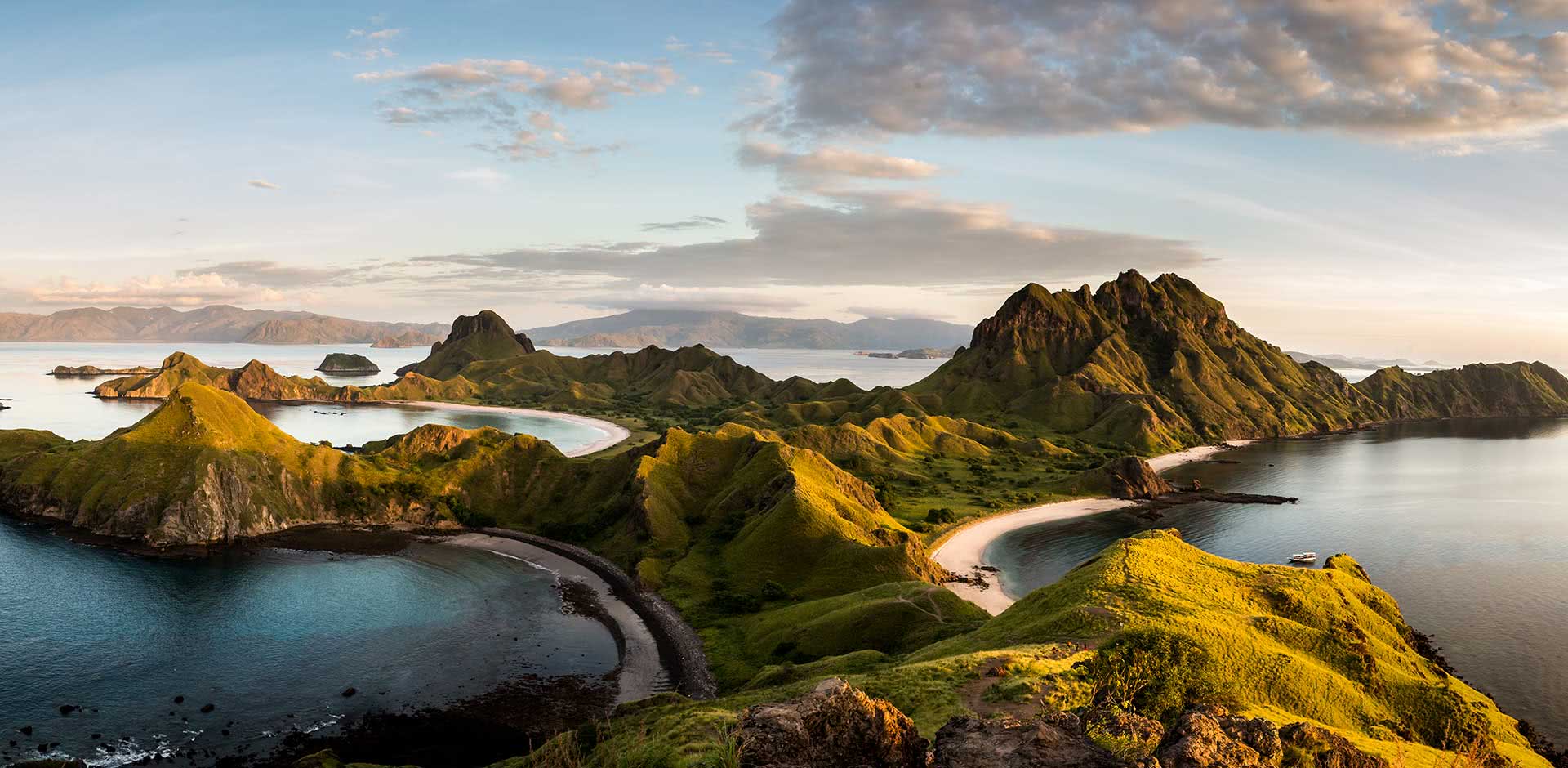 Day 9
Komodo National Park
After breakfast, the vessel will navigate to Karang Makassar, known as Manta Point. Dive into the waters and encounter manta rays, snapper and turtles in amongst the pristine reef. The waters of Komodo are rich with marine life and have some of the most stunning coral gardens in the world. Later in the afternoon, you'll sail onwards to the uninhabited island of Gili Lawa Darat where you can go on a short trek to a viewpoint for a breathtaking panorama of the entire island.
Day 10
Manggis
Arise early this morning for a day of snorkeling and sailing around the island of Gili Lawa Darat. Take one last opportunity to swim in the seas around your own isolated isle before heading back to Labuan Bajo. Then, you'll catch a flight back to Bali where you will make your way to Amankila.
Day 11
Manggis
Start the morning with a 1.5-hour drive to Iseh Village, where you'll hop on a bike. Explore the colorful landscape of eastern Bali which boasts dramatic volcanic valleys, rice terraces, and lush tropical rainforest. Along the way, you can also view the ocean and Agung Mountain. Stop at Sibetan village, where snakeskin fruit grows and you can join the farmer to pick and taste this plant. The Sibetan village is also known for its rice wine production. Your final destination is Prasi Beach, located on a secluded coast between two hills and two villages, Prasi and Bugbug. Unlike other beaches in the east of Bali, Prasi Beach offers white sands stretching along the bay and great swimming spots. Spend time here to take a refreshing swim and bask on the sands before returning to your hotel.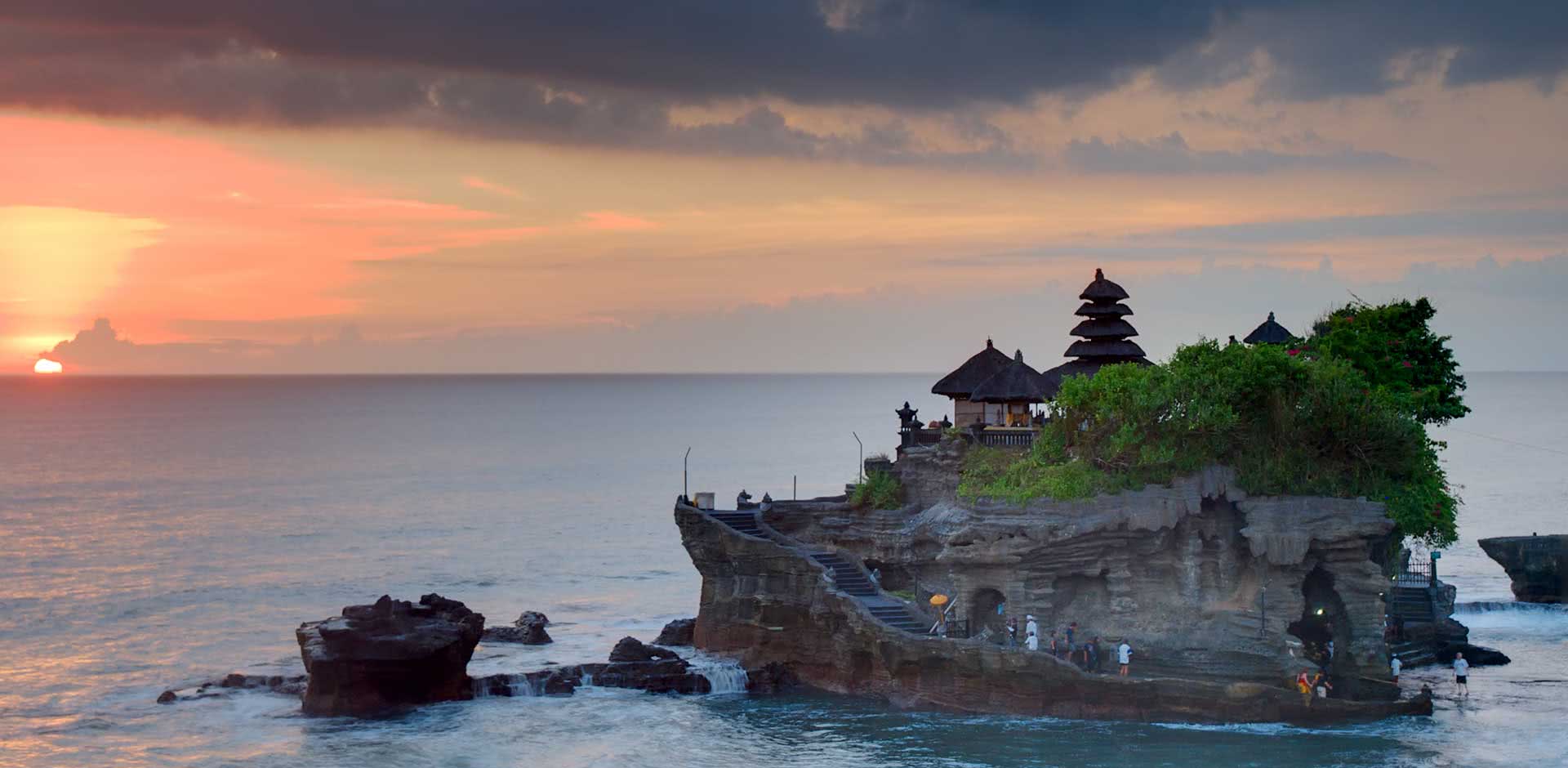 Day 12
Manggis
There is no shortage of spectacular sunrises in Indonesia and today you will witness a tranquil one at Lempuyang Temple, known to the Balinese as a place of great spiritual power. There are actually seven temples within the grounds but the most popular sight is the famous "gateway to heaven," a dramatic stone gate that perfectly frames Mount Agung in the distance. Next, you'll head to Taman Ujung Complex, a curious yet beautiful combination of Balinese and European architecture with three large ponds connected by long elegant bridges and pathways. The enduring architecture and superb mountain backdrop to the north, and sea to its southwest, make it a favorite location for wedding photos. Finally, you'll head to Tirta Gangga, which translates to mean "Water from the Ganges," and is a holy site often used for religious ceremonies. Tirta Gangga is a maze of pools and fountains surrounded by manicured gardens, stone carvings, and statues. The centerpiece of the palace is an eleven-tiered fountain.
Day 13
Departure
Enjoy one last breakfast in this tropical paradise before checking out. A private transfer will take you to Denpasar Airport for your onward journey to your next destination.
TERMS AND CONDITIONS
Price is based on double or twin hotel room occupancy and includes accommodation, transfers, car/driver, English-speaking guide, activities and entrance fees, breakfasts and some casual lunches while touring. Flights and optional special activities will be quoted separately. Most personal expenses, including dinners, alcoholic beverages, spa treatments and gratuities can be paid on the spot while traveling. Prices may vary depending on season, choice of accommodation and other factors.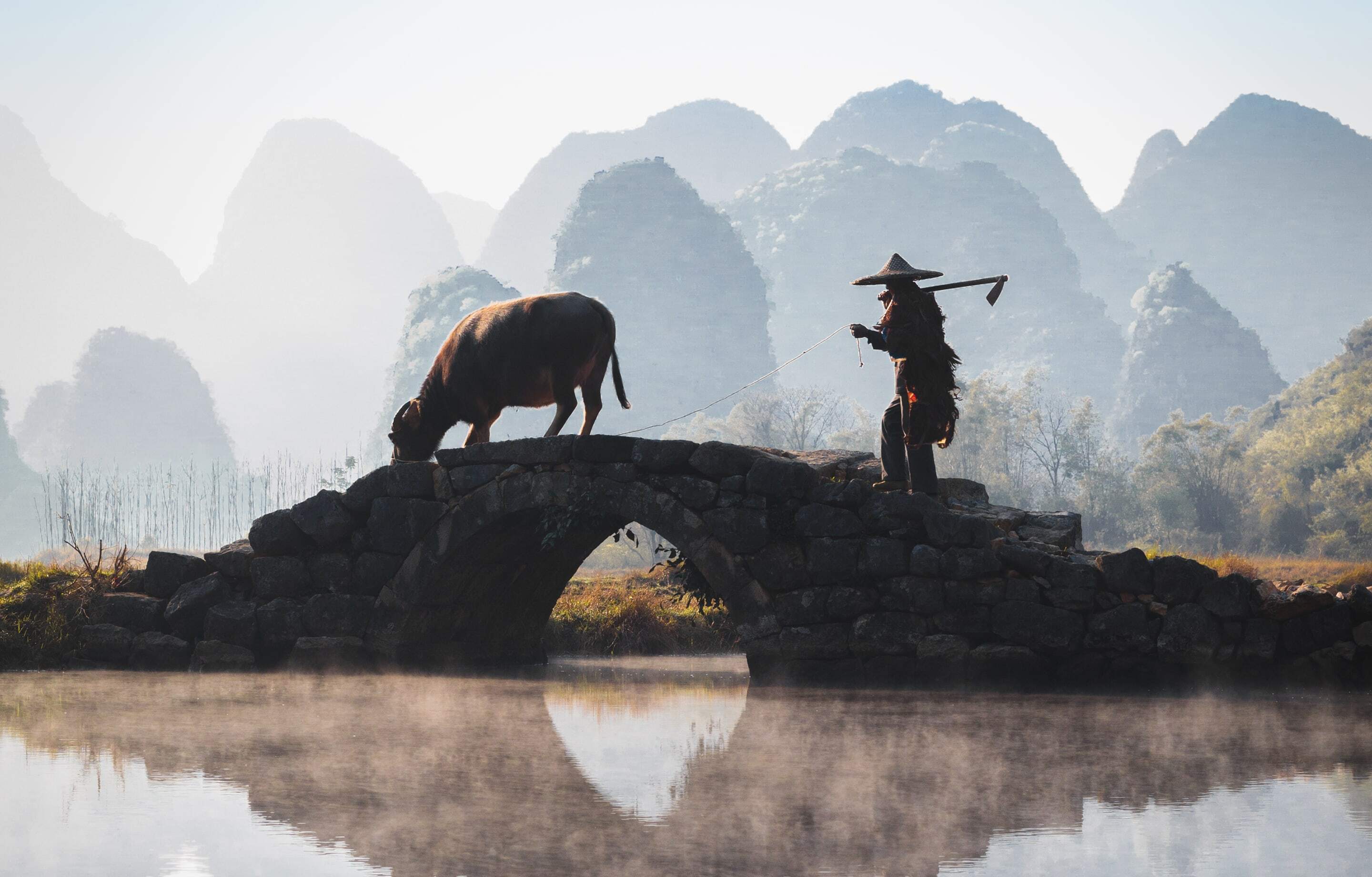 Why Remote Lands?
Exclusively Asia
With Remote Lands you'll travel with people who have made Asia the solitary focus of their own lifelong adventure. As our guest, you'll discover Asia on a journey that is completely, authentically your own, adapted from our own remarkable experiences and adventures over the years.
With Remote Lands you'll travel with people who have made Asia the solitary focus of their own lifelong adventure. As our guest, in the continent that our north American founders Catherine and Jay have adored and explored for decades, you'll discover Asia on a journey that is completely, authentically your own, adapted from our own remarkable experiences and adventures over the years.
Travelogues
An Asia-focused magazine brought to you by Remote Lands – a platform for adventure, luxury, and authenticity from experts and explorers around the continent.
What Others Say
Here is a small selection of the kind words our guests have said about us, as well as features by journalists and travel writers.
From the moment I happened upon the REMOTE LANDS website over a year ago, browsed the options, I knew that this would be well worth it. The entire staff is nothing less than professional with service that made us feel like royals.
This was truly the trip of a lifetime. Magical destinations, the most luxurious hotels in the world, and the most wonderful travel companions we could've wished for. We were treated like family everywhere we went and we have 14 new best friends.
We have used some of the top rated travel specialists all over the world and, without question, Catherine Heald and Remote Lands are at the very top of the list!