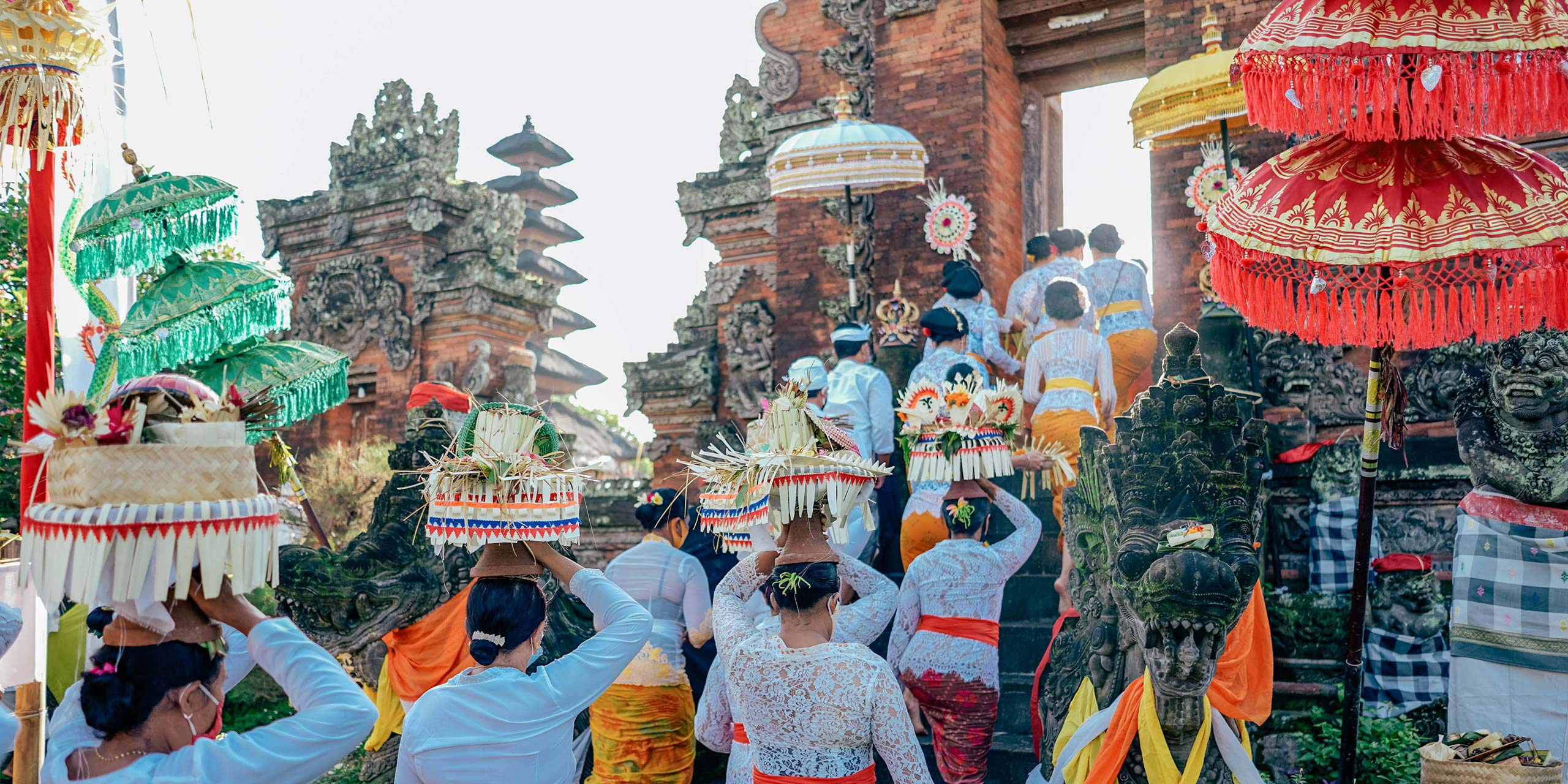 As I kneel before a Hindu deity, water flows over my head and drips onto my hands, clasped together in prayer. Across Bali, at this same moment, demons are dancing through villages, protective mountains are decorating streets, traditional artisans are busily weaving, and Balinese families are welcoming beloved ghosts. It is Galungan time.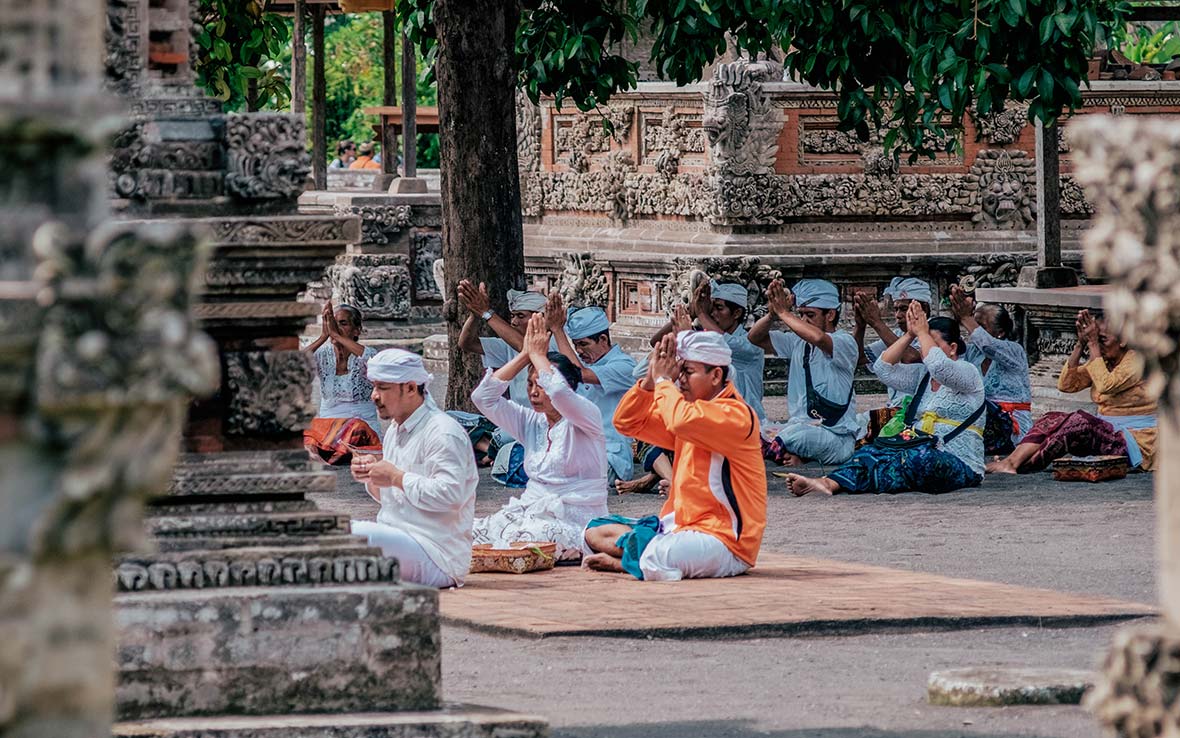 The island is renowned for its number and variety of ancient festivals. Perhaps none is as visually arresting as Galungan, a 10-day Hindu event (which occurs every 210 days) during which ancestral spirits return to Bali to celebrate the victory of light over evil. During Galungan this past June, I joined a water blessing ceremony, completed ritual offerings, and met artisans creating the deeply-symbolic craftworks that decorate villages during this festival.
My first experience of this festival occurred at the Hindu shrine inside Jumeirah Bali, a new five-star resort in Uluwatu designed to resemble Indonesia's 700-year-old Majapahit Empire. The roots of Galungan stretch back to this era when, in Balinese lore, the Majapahit army encountered a seemingly-invincible and godless foe. Its name was Mayadenawa.
The Balinese were powerless to prevent Mayadenawa from razing Hindu temple after Hindu temple, so sought the help of the king of Hindu gods, Indra. Galungan marks the defeat of Mayadenawa by Indra, following a monumental battle between this powerful pair.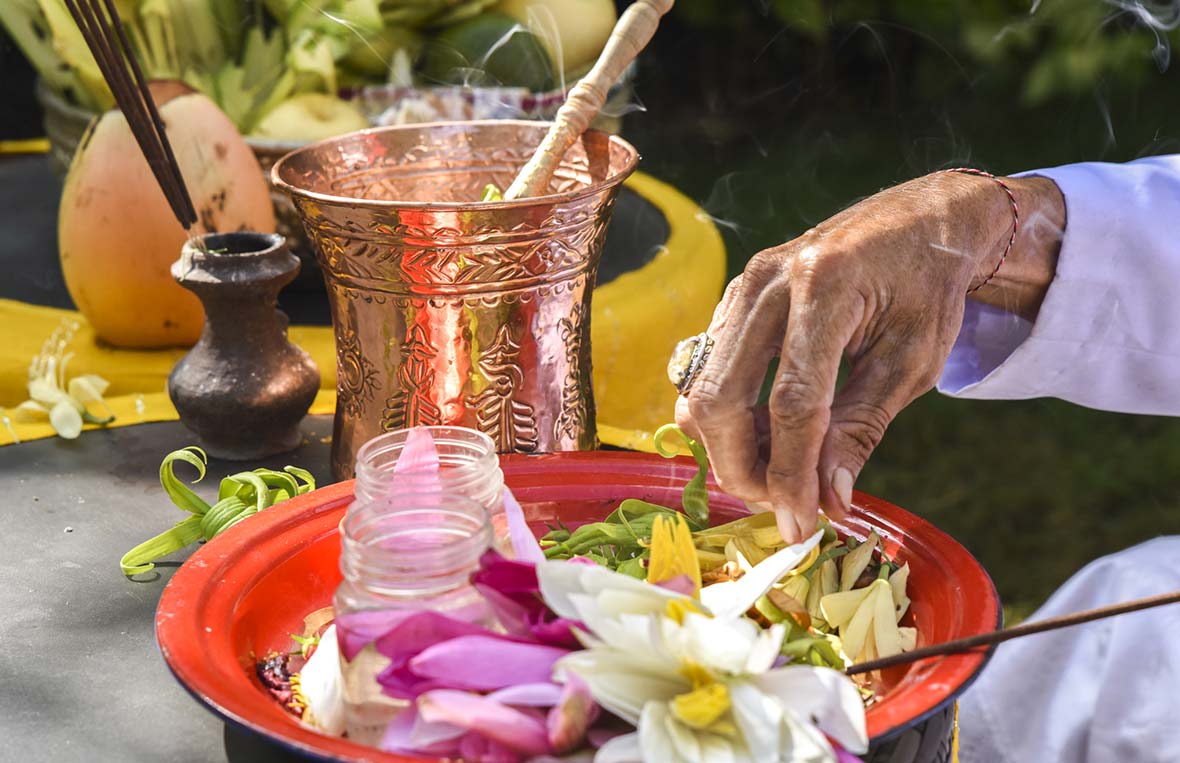 Jumeirah Bali offers guests a range of cultural experiences, including Melukat, a cleansing ceremony performed by Hindu priest Mangku. It was Mangku, chanting quietly with his eyes closed, who poured the water over my head as I prayed during Galungan.
Behind Mangku, two young Balinese women in traditional Kamben dresses held ornate, pink umbrellas. Called tedung, these items provide symbolic protection from negative energy, which is also what the Melukat ceremony aims to purge.
Balinese Hindus are typically wary of the dangers posed by malevolent spirits. So much so that traditional Balinese homes are embedded with multiple layers of design elements intended to confuse, deter or block demons. The most famous of these devils is Rangda, queen of witches.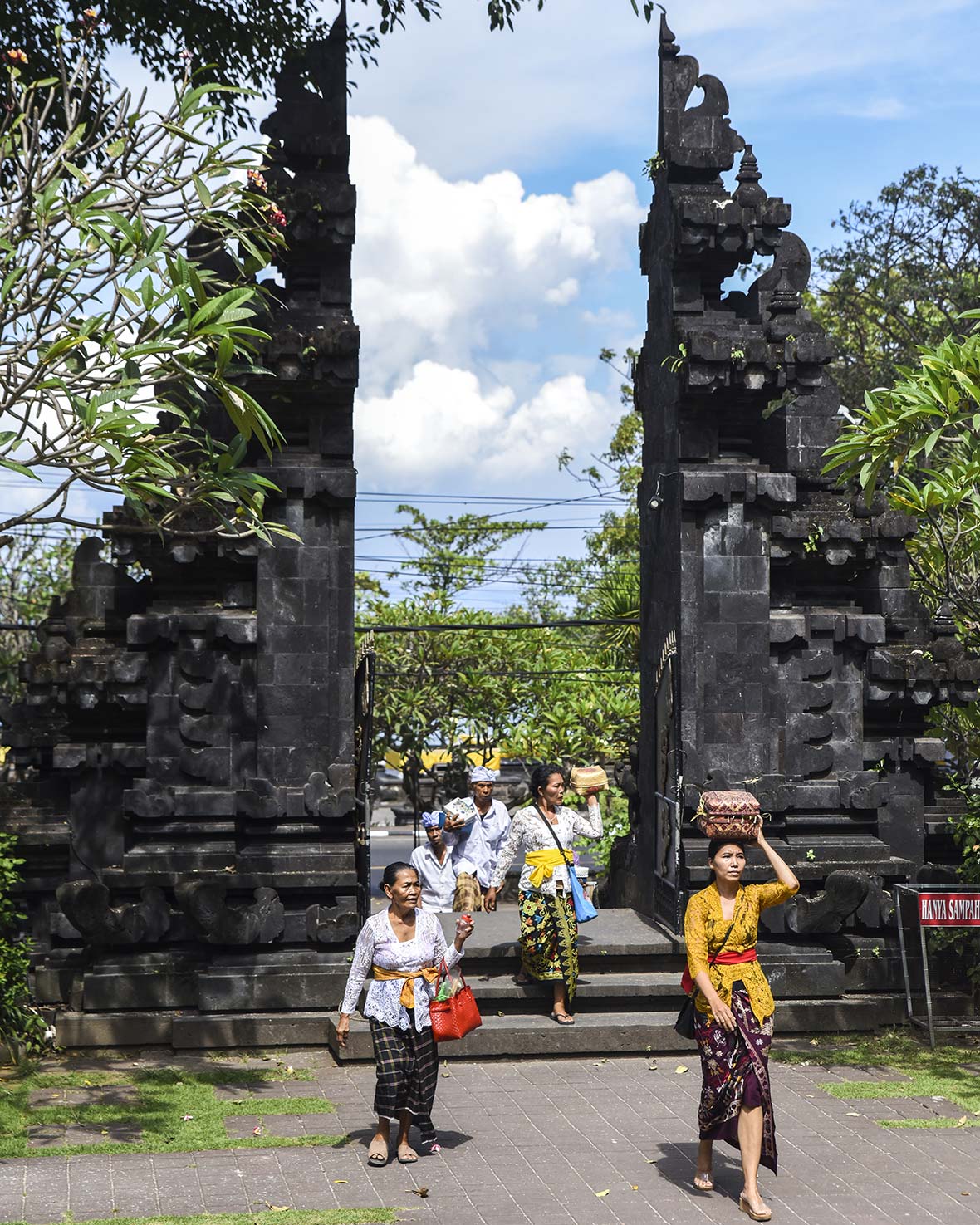 Rangda's perpetual tussle with Bali's guardian spirit, Barong, is theatrically depicted in Barong dances. These vibrant performances are especially common during Galungan, when tourists can see groups of costumed youths performing in temples or streets.
This war between Rangda and Barong represents the neverending, earthly battle between good and evil. I lost count of the number of Barong displays I saw in Ubud and villages across Bali during Galungan. Even more commonplace was another symbol of Bali's attempt to balance negative and positive forces — penjor.
Galungan sees Bali embellished by thousands, if not tens of thousands, of these decorative poles, which hang over its streets. In Ubud and villages throughout eastern Bali I saw men and women preparing fresh penjor. Meticulously hand carved and woven from bamboo, cloth, blossoms, and coconut shells, penjor for centuries have provided the Balinese with fortune, prosperity, and protection from demons.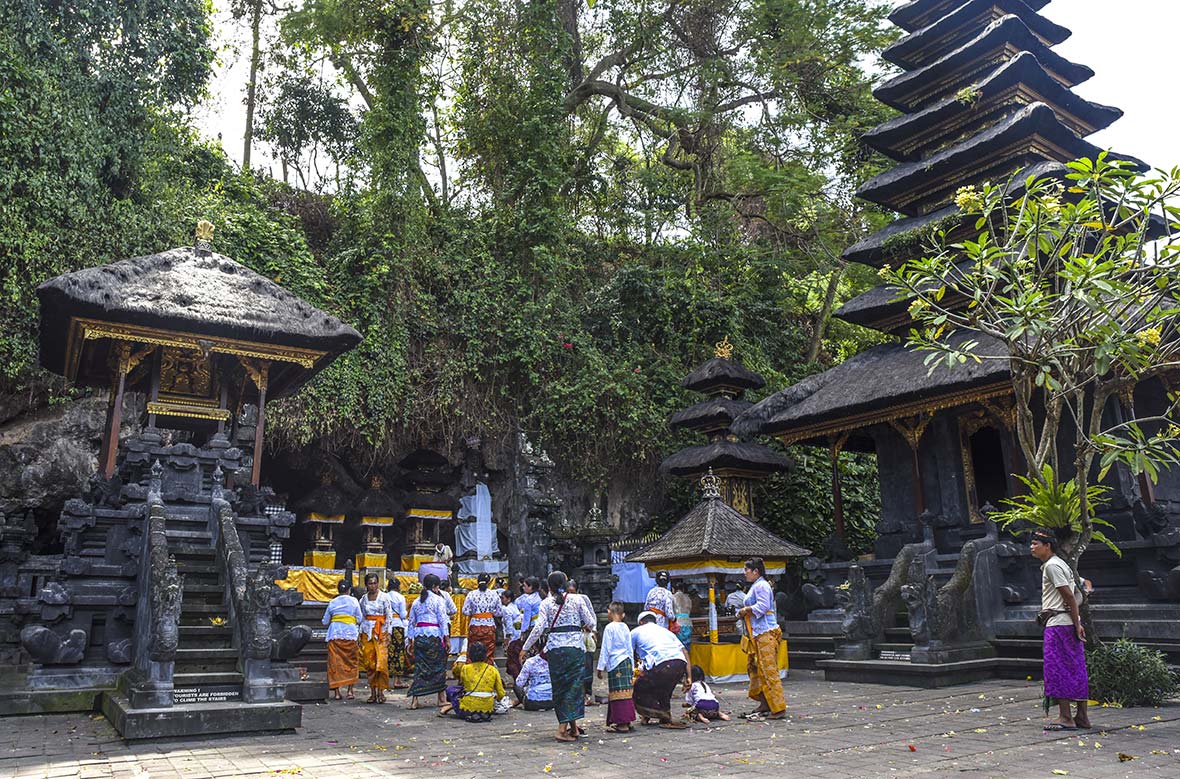 These temporary decorations are a spiritual icon of the mountains and volcanoes that dot Bali, and a symbol of human triumph over not just dangerous spirits, but also daily trials and temptations. In Balinese lore, volcanoes are the home of ancestors.
During Galungan, which next takes place in January, these deceased relatives emerge from their lofty residences to visit the living. This descent to earth is said to represent the heavenly intervention of Mayadenawa. Galungan sees ancestors visit their old homes or family temples, where they receive gifts, blessings and entertainment from their earthly relatives.
These take the form of prayers, barong dances, and offerings, the latter commonly left on small trays attached to penjor. Those presents of fresh fruit, flowers, and woven palm leaves are also left inside temples. I came across dozens of such gifts to the spirits piled inside a Hindu temple in Keliki, a small village 7km north of Ubud.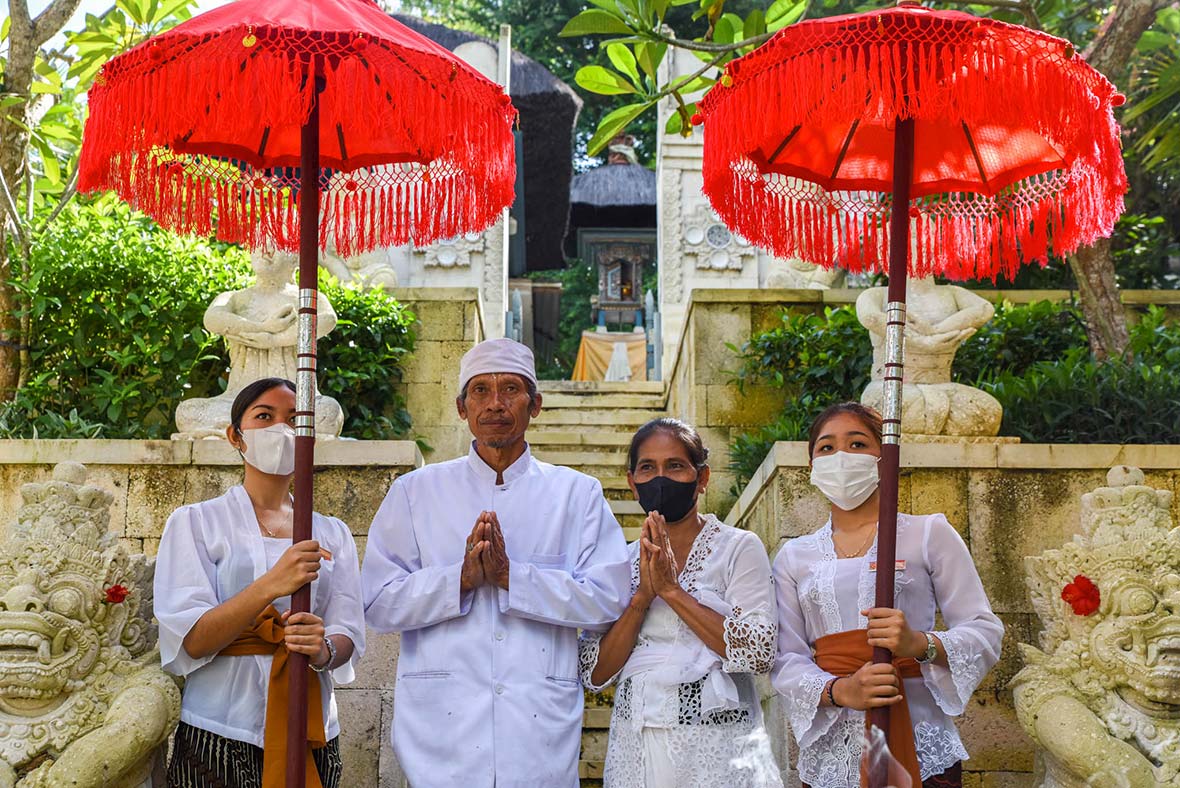 My tour guide, from Capella Ubud, explained that during Galungan each family in Keliki went to their local temple to leave such an offering for ancestors. Soon after, as darkness enveloped Keliki, we watched children perform a barong dance in the grounds of the temple. We then joined a procession through the streets of Keliki, a mass display of respect for the spirits who'd come to visit.
To be immersed in these Balinese rituals was an enchanting experience. This was enhanced by the rich welcome I received. Despite being an outsider I was never made to feel like one. If possible, be sure to time your trip to coincide with the return of Bali's ancestors. Because traveling through Bali during Galungan is beguiling and memorable.