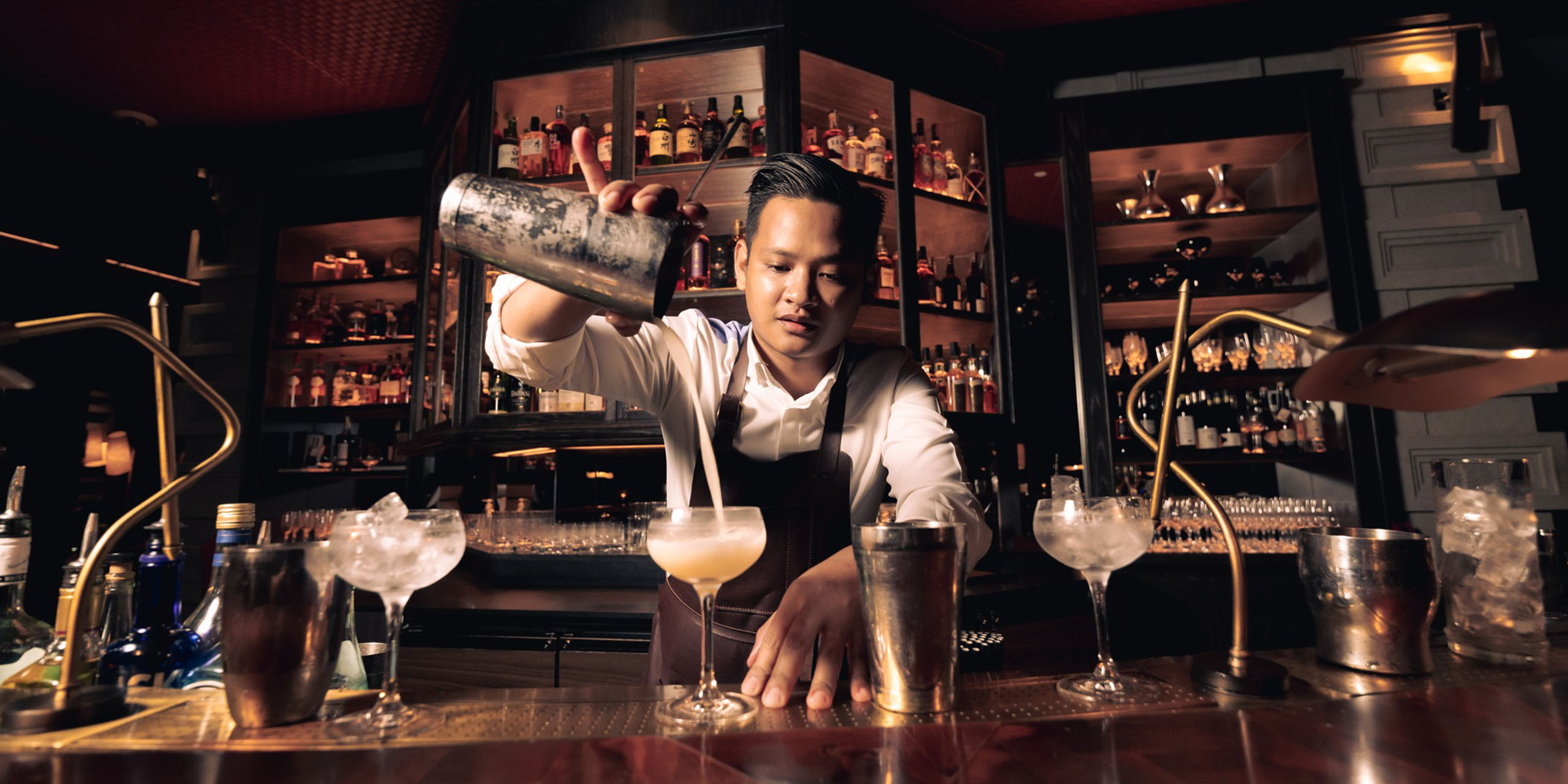 A range of world class drinking venues are ready to play their part in post-pandemic renaissance as Phnom Penh regains momentum as a hub for tourism.
In common with destinations around the world, Cambodia's capital has suffered as the global health crisis slowed international arrivals to a virtual standstill for the past two years. But with the country now fully open to travelers, it is ready to showcase its credentials as one of the most dynamic draws in Southeast Asia.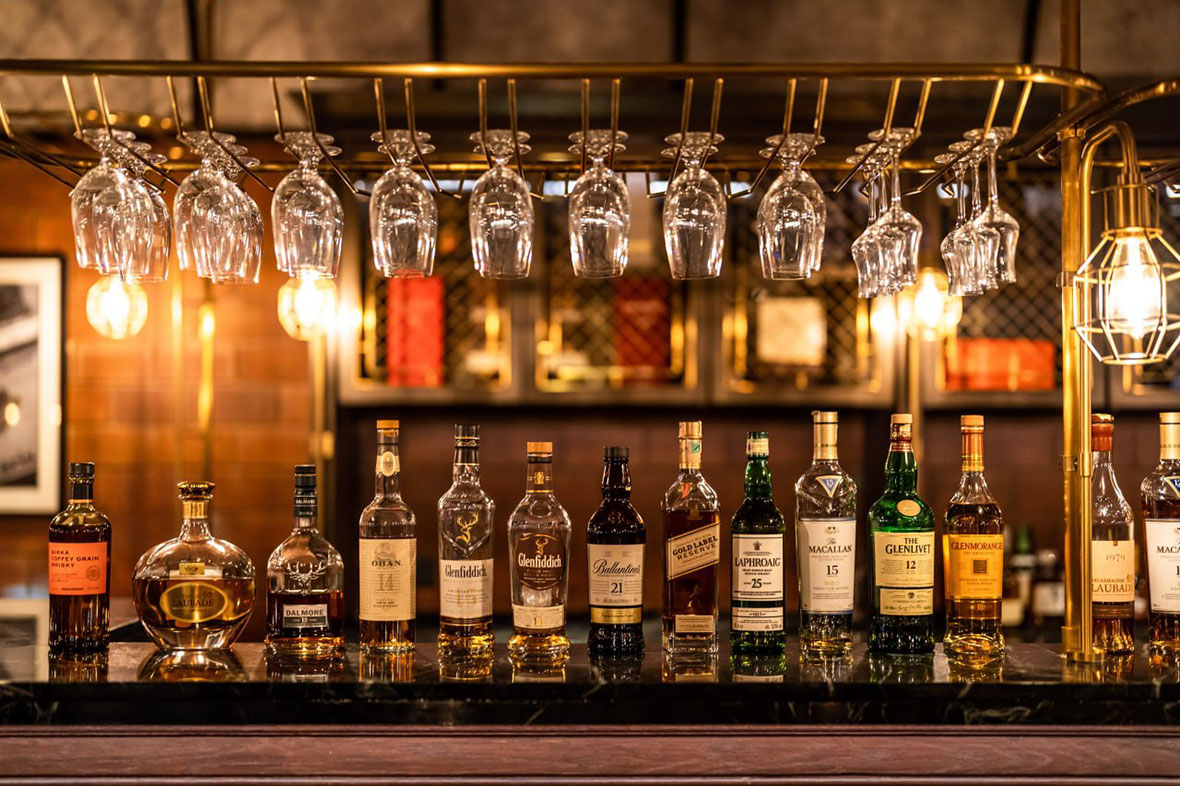 "Before the pandemic, Phnom Penh was making great strides as one of Southeast Asia's rising capitals," said Herman Kemp, general manager of the Hyatt Regency Phnom Penh. "It's a dynamic metropolis that balances modernity with tradition. There's alluring café society, bustling bars, and a thriving and eclectic restaurant scene. On the other hand, there's historic architecture, bustling markets, a stunning location on the banks of the Mekong River and classic Khmer culture and hospitality."
Here are a few of the spots you should check out next time you are in town.
Yiqi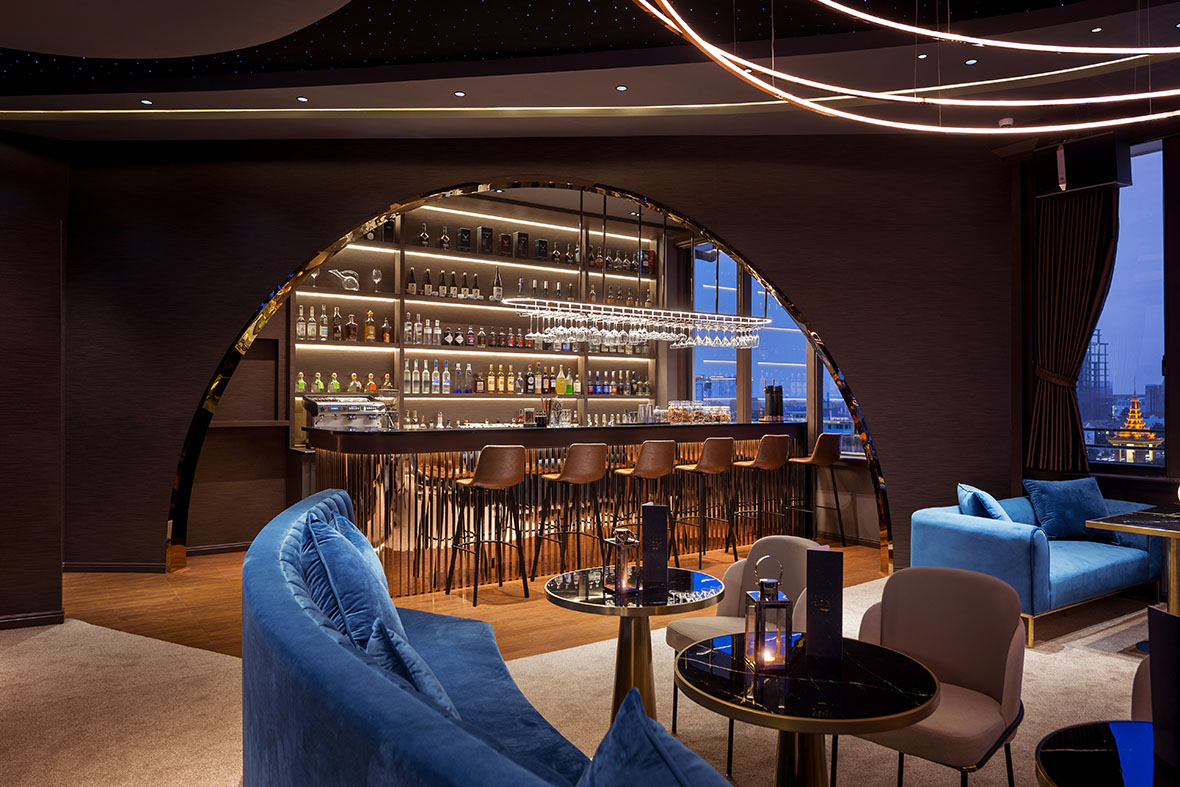 The name, which means "brotherhood" in Mandarin, was selected by founder Nicolas Sirey because he expected to draw a primarily male clientele when his "speakeasy" opened a little over a year ago. Instead, Yiqi is attracting as many woman as men, and they're a decade younger than the demographic he anticipated.
Yiqi is located on the 7th floor of a nondescript office building on Street 282. It doesn't even have a sign.
Sirey puts his success down to design, lighting that creates privacy at each table, and his decision to eschew VIP sections and minimum charges for tables.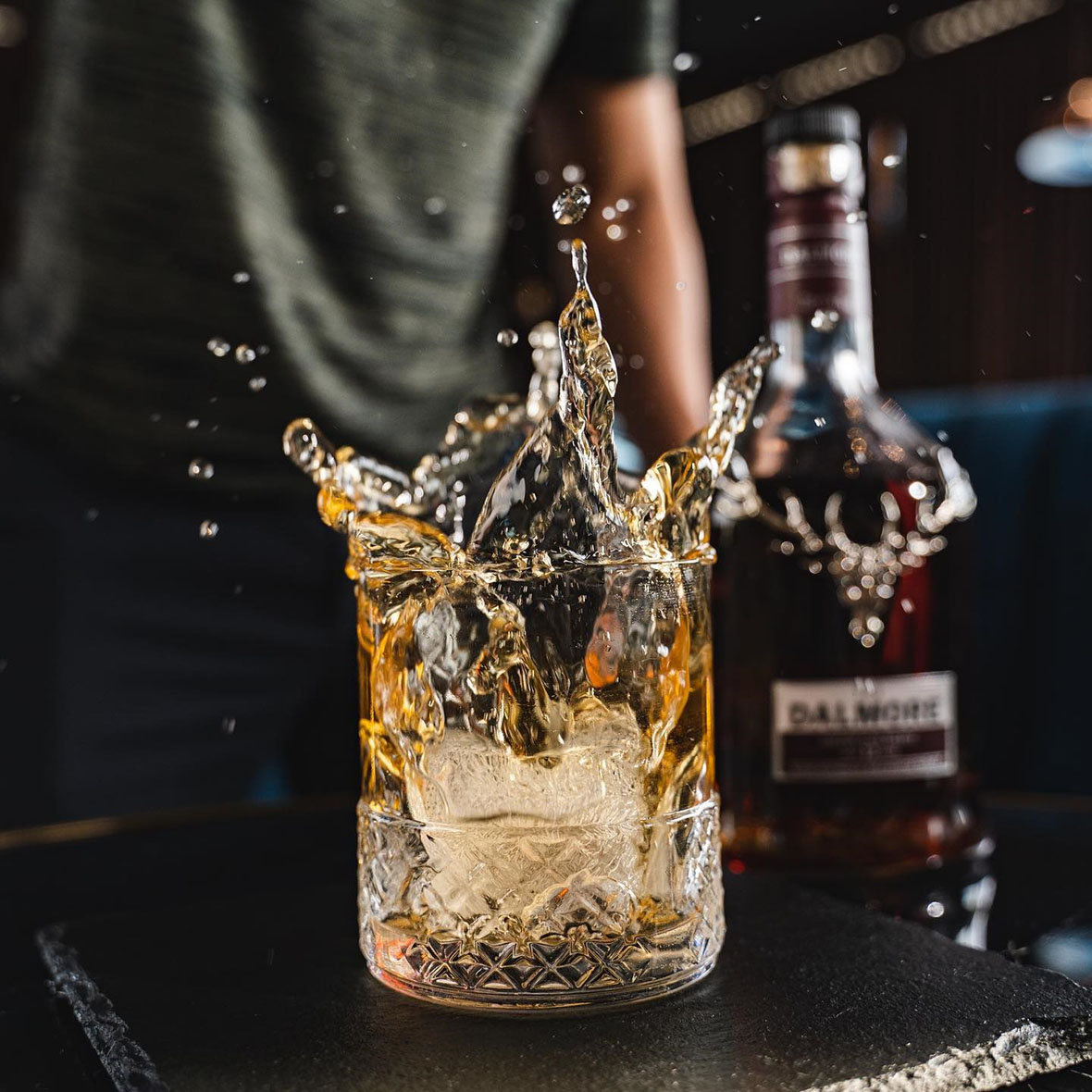 "We strived to create harmony rather than isolating guests according to their social status. This removes the stress Cambodians often feel at high-end venues … they waste their evening worrying about whether they're seated near the right crowd," he explains.
Celebrities and models are regular guests. "What they want is a place where they can have fun like normal people, instead of being cordoned off and gawked at," says Sirey. He does not hire social media influencers to promote Yiqi, explaining: "My guests do it for me."
Metropole Underground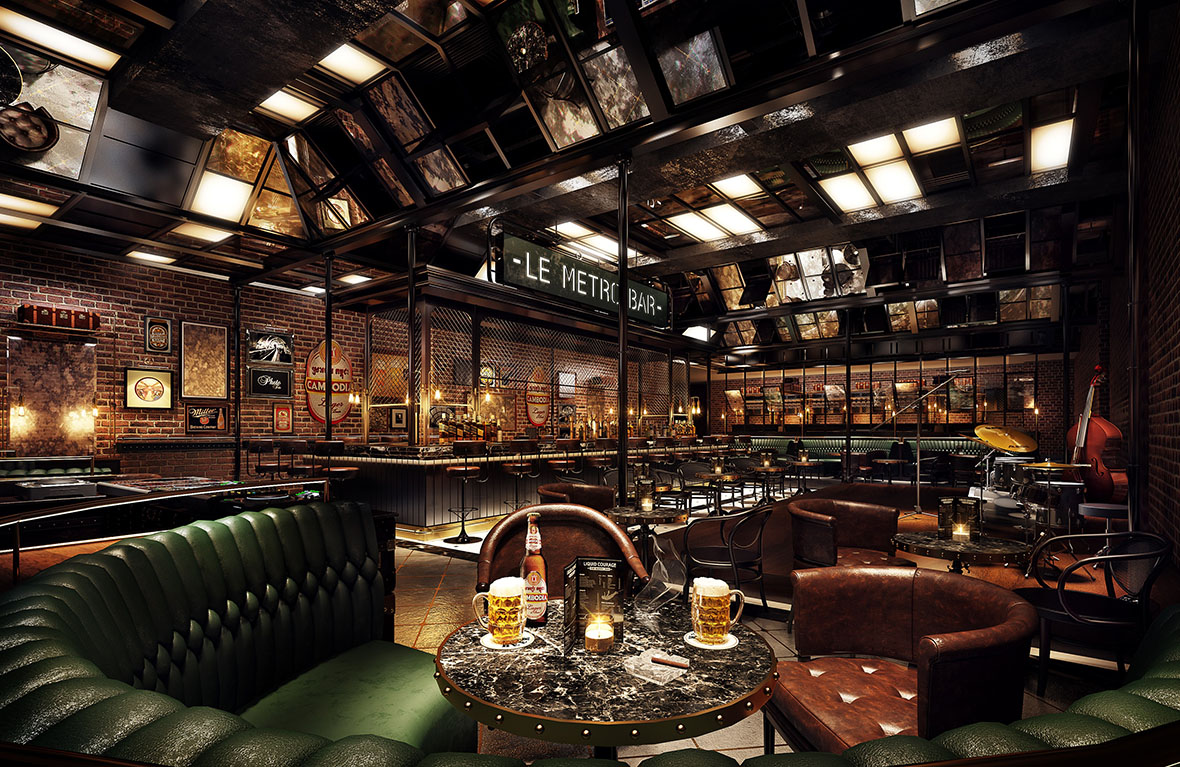 Phnom Penh's first luxury underground lounge opened last November a few steps inside the regal entrance of the Hyatt Regency Phnom Penh. But it was not the global cache of the hotel brand that drove the swift success of this vintage-inspired lounge.
Inspired by the louche, chic vibe of early 20th Century Paris, it's is a unique addition to the bar scene.
The sophisticated space offers premium drinks, light gourmet bites, and nightly live entertainment spanning bands and DJ beats.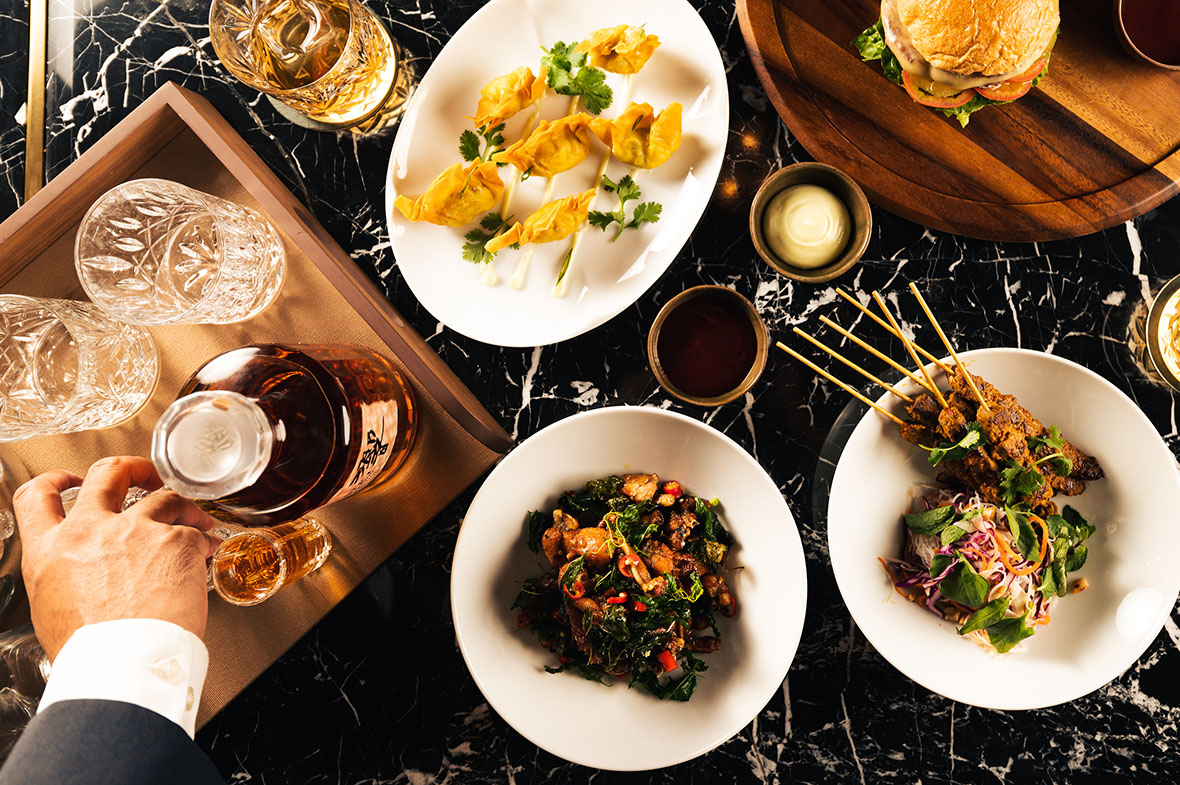 The metro system in the French capital was a major inspiration for the bar, with replicas of cast iron detailing from the original Paris Metro integrated into the space and transformed into sculptural and decorative elements.
The result is a compelling blend of European and Khmer influences.
"Phnom Penh is widely known for the vibrancy of its bar scene. Therefore we are proud that we can add something new to the mix with Metropole Underground," said Herman Kemp, general manager of the Hyatt Regency Phnom Penh. "The design team has done a marvelous job and we've got a great roster of live entertainment for guests to enjoy. When you step down into the basement it's really like entering a different world."
Sora Sky Bar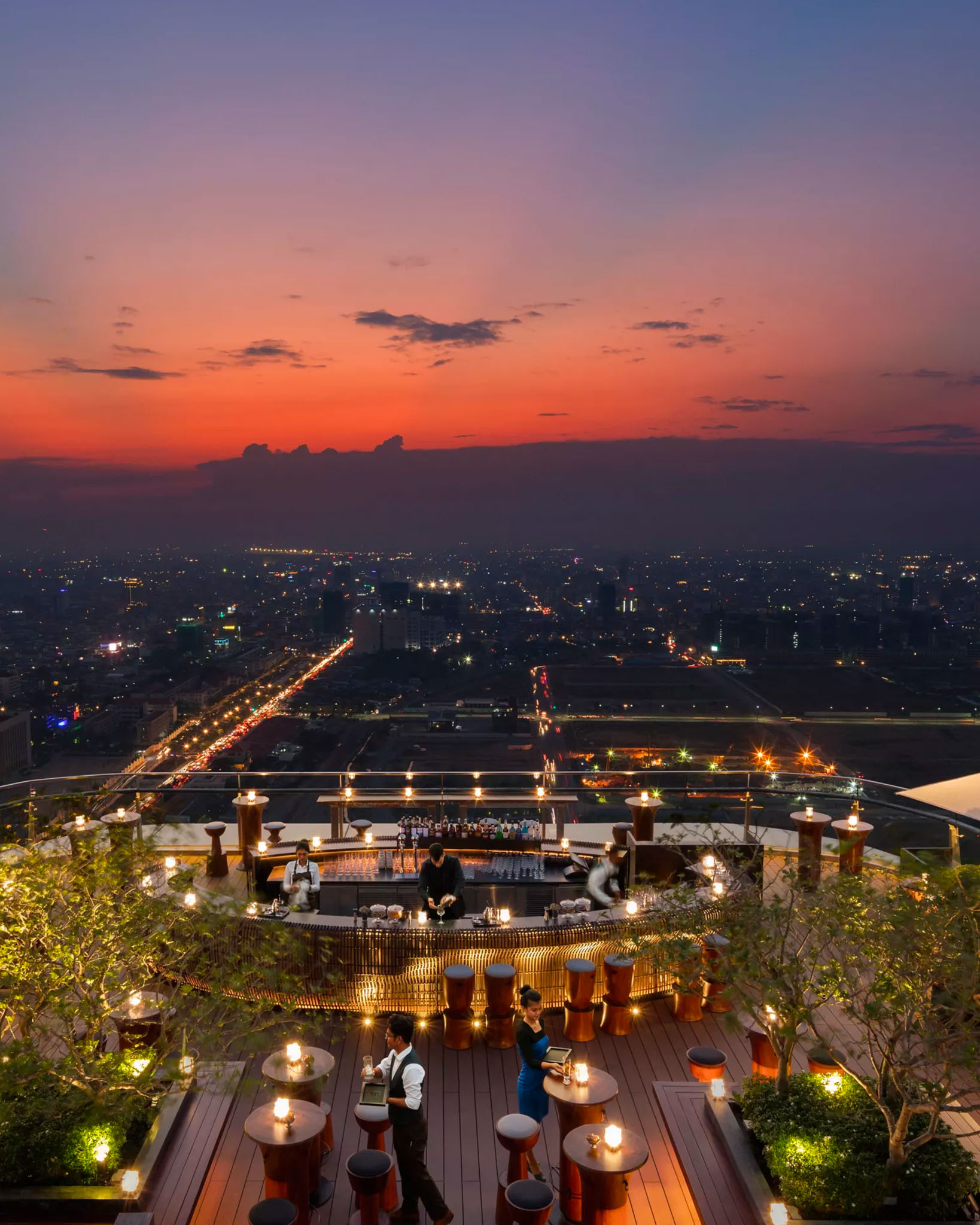 The Phnom Penh skyline's most striking landmark is the 38-storey Vattanac Tower, with the swish Rosewood Hotel– which opened in February – taking up the top 14 floors.
Sora is a skybar located on the 37th floor, where you can sip on a Cambodian 53 (gin, absinthe, Prosecco, cucumber) and drink in panoramic views of the city.
The venue still rules the skies above Phnom Penh with its spacious open-air terrace jutting out from the hotel. Its labyrinth of private rooms offer everything from an American Whisky Tour to Japanese tapas.
Its latest additions include guest mixologists from some of the best venues in the world, an eco-friendly cocktail menu and Cambodia's first "carbon-neutral cocktail," as the sky bar aims to join the ranks of the world's top bars in The World's 50 Best Bars awards next year.
HighGround Sky Lounge Bar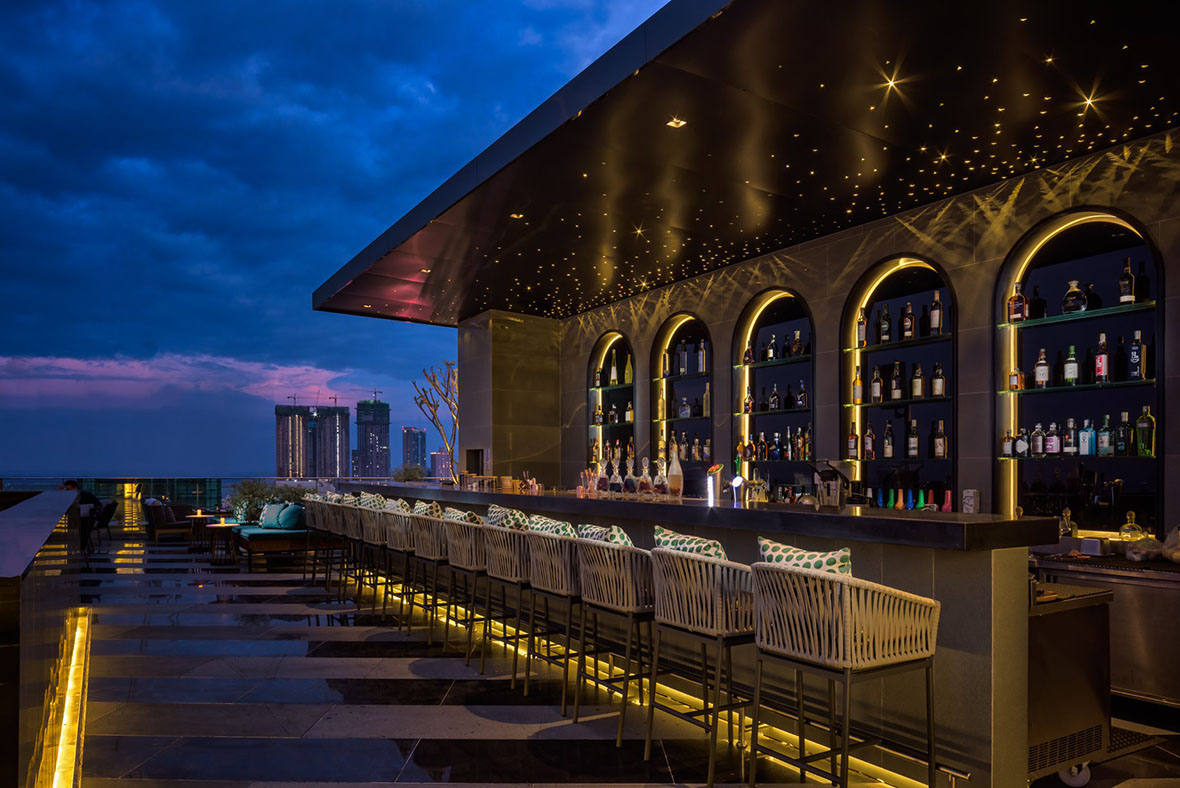 This elevated venue aims to rival Sora in its opulence and swanky clientele. It surpasses Sora, however, with 360 degree panoramic views from each of its three levels atop the Amass Building in Phnom Penh's most cosmopolitan neighborhood.
Floor to ceiling windows define the first level, TWENTY.FIVE, which includes private meeting and KTV rooms and — coming soon — an indoor music lounge to amplify its sensory appeal.
The open-air ROOFTOP on the 26th floor is one of the city's most coveted spaces for panoramic views and celebratory beats from guest and in-house DJs. The cuisine (a mix of single and shared dishes, with plenty of tapas) is eclectic. Its inspired signature cocktails, wines from around the globe, wide range of spirits and expansive selection of cigars elevate the lavish decor.
Two flights of stairs lead up to THE BREEZE, the VIP level, for groups of up to 40. A second HighGround will open next year, but management is tight-lipped about the location.
Vehaa Restaurant and Bar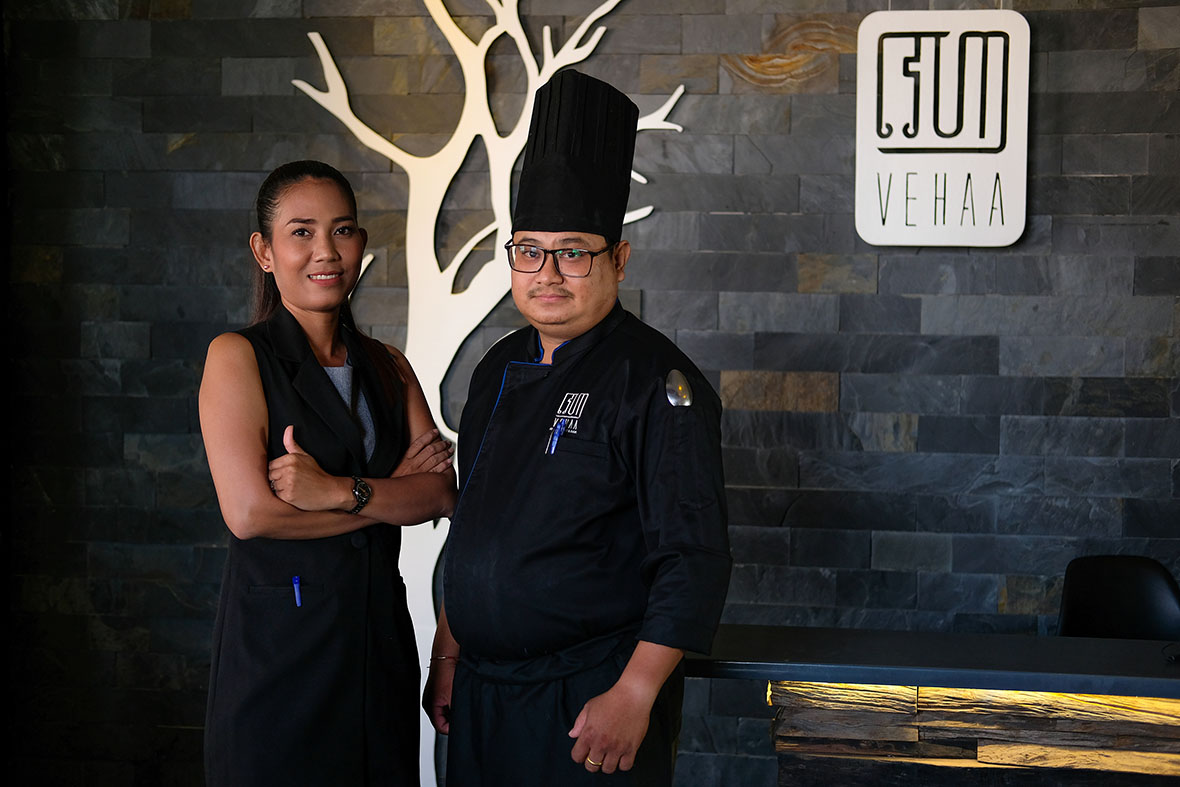 Vehaa is also adding another sky bar next, nearly 20 floors higher than its current two-level venue atop the Tronum Building's eco-inspired serviced apartments.
Vehaa, which means "sky," radiates natural charm. There's not a gaudy detail in sight. The design echoes the New Khmer Architecture that blossomed in the 1950s. Natural light, communal spaces, open air instead of air-con, and plenty of greenery and natural wood can make you forget you're on one of the busiest streets in city.
The menu, which elevates rural cuisine, is constantly updated by Ren Nara, its ebullient chef (also a judge on Master Chef Cambodia). Vehaa also operates its own organic garden for produce and herbs.
Both floors include bars well-stocked with wines and spirits. The clientele is primarily Cambodian, but expatriates and tourists are made to feel more than welcome.
Samsara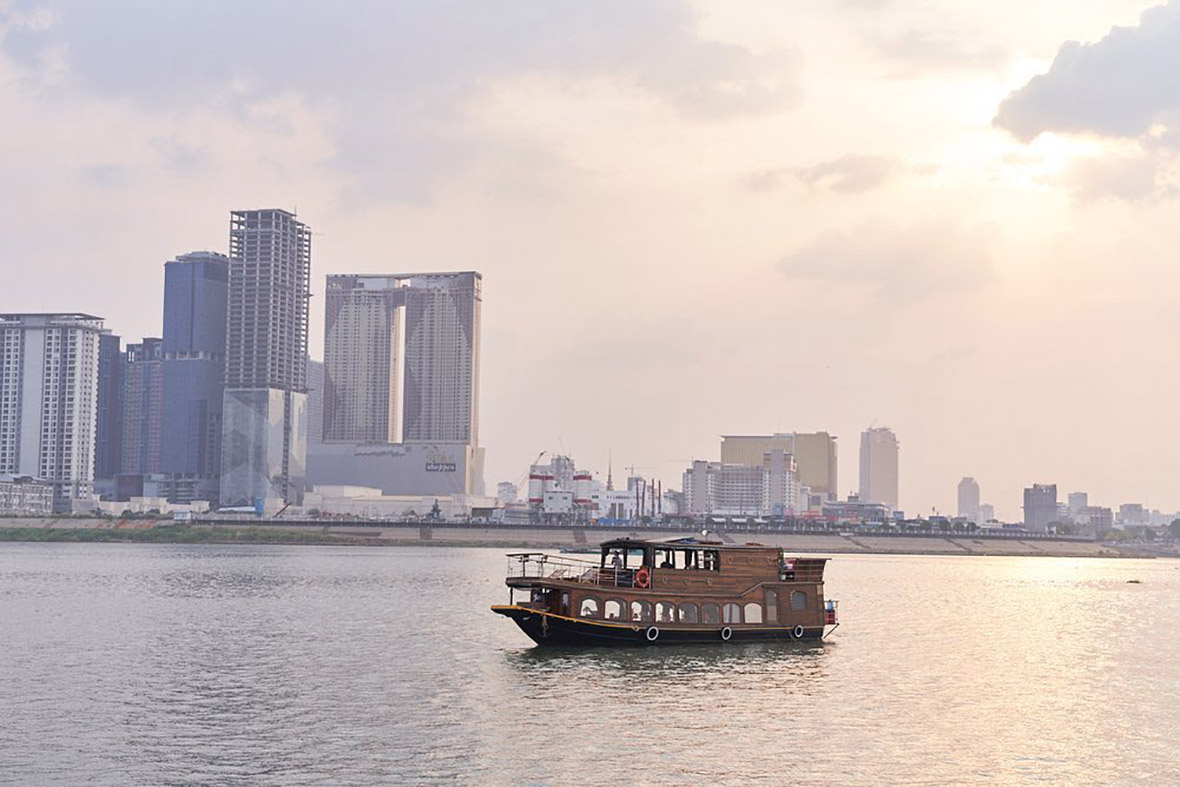 Samsara's vintage-inspired dining room echoes the 1960s when Phnom Pehn — then in what many Khmers class its "golden age" attracted global celebrities. It is also modeled after the Orient Express, while its ceilings display the constellations as they align above the world's largest religious complex — Angkor Wat — at midnight on the final night of the year.
Add a slow-moving cruise around the confluence of the Mekong and Tonle Sap rivers, an award-winning chef and the only cocktails in Phnom Penh that include herbal Kulen Gin — made with traditional medicinal herbs — and the etymology of the vessel's name ("reborn" in Sanskrit) verges on understatement.
Samsara anchors after sunset—which arrives suddenly—so that guests can contemplate the startlingly swift proliferation of stars.