Example Itinerary
Asia's Unspoilt Wilderness: A Journey Through Mongolia & Siberia
The Altai mountain range that divides Siberia and Mongolia remains one of the most undiscovered areas of Central Asia. This region comprises of a complex mountain system that maintains an untouched appeal and is visited by few foreigners. Although very little is known about this region, it is famed for its petroglyphs that date back 5,000 years, hidden amongst its secluded peaks, with new finds constantly being uncovered. This journey is a great opportunity to gain unique cultural and historical perspective, with memorable overnight stays in traditional Kazakh-style felt gers. Find yourself as you overlook panoramic views on desolate mountain passes, swept by austere alpine winds.
This itinerary is an example. It's designed to inspire you and provide you with thoughtfully curated ideas. You can choose to do this exact itinerary or completely personalize it. All trips are 100% bespoke.
Highlights
• Eagle Hunters: Cross the border into Mongolia and visit with a Kazakh eagle hunter to learn about one of the most amazing traditions in all of the Altai and Central Asia. These hunters raise majestic golden eagles and train them to hunt game for fur.
• Sleep in a Ger: Luxury accommodations are hard to come by in the mighty Altai, but travelers can have comfort in the form of a ger, or yurt. These circular, wooden tents keep travelers safe, heated, and comfortable from the winds and wild weather of the Mongolian Altai.
• Altai Air: Through lush landscapes and past crystal-clear rivers, travelers will climb to 14,783 feet in the Siberian Switzerland for alpine meadows, clear lakes, and panoramic vistas along the most photogenic route in North Asia.
Day-by-Day
Day 1
Novosibirsk
A guide will greet you upon your early morning arrival in Novosibirsk Airport and take you to a modern hotel. Enjoy breakfast and rest at your leisure before meeting again at 2pm to sample traditional Siberian cuisine followed by a guided tour around the city. The tour covers popular attractions including the iconic Novosibirsk Railway Station, traditional Siberian architecture on Gorkogo street and the lively farmers market. In the evening there is free time to explore the city center and dine before returning to your hotel.
Day 2
Altai Mountains
Following an early breakfast, embark on a 300-mile drive to the Altai mountains, through lush landscapes and past crystal-clear rivers. The mountain range is the highest and largest in Central Asia with majestic rising peaks that reach impressive heights of 14,783 feet. Known as the 'Siberian Switzerland', this region features verdant alpine meadows and striking lakes. The journey is broken up with a stop in the historic city of Biysk for lunch. Tonight is an opportunity to connect with nature with dinner and an overnight stay in a charming eco chalet.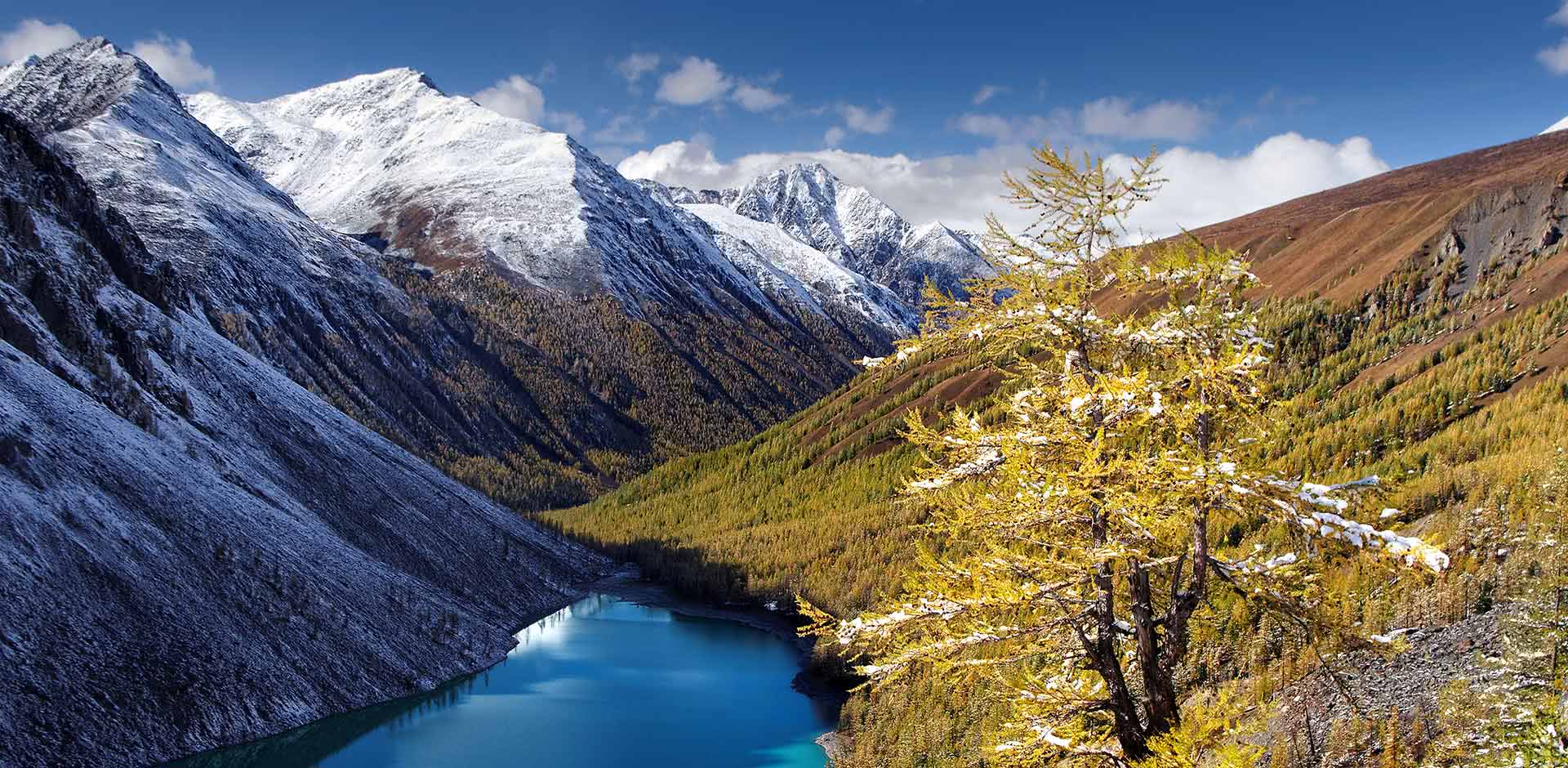 Day 3
Chibit
After an early-morning breakfast, travel 143 miles to the Chibit Settlement via the Chuysky Tract Highway. This expansive stretch of road boasts a surreal landscape that is abundant in pure, natural beauty, previously ranked as the 5th most scenic road on the globe by National Geographic. Each turn unveils more breathtaking rural scenes that are filled with rustic Altian villages and snow-capped peaks under an azure sky. There will be a number of stops en-route to Seminsky pass at 5,705 feet and Chiket-Aman Pass at 4,248 feet where you can take in the unspoilt views. The day will end at a nomad camp for dinner, followed by an overnight stay in wooden chalet.
Day 4
Sagsai
Prepare to cross over to Mongolia with an early morning breakfast. A 93-mile ride will bring you to the Tashanta Settlement to then be brought over the border by a Mongolian guide and continue the journey south westerly to reach Kazakh Eaglehunter's family. Here, you will have the chance to gain insights into eaglehunting culture. Spend the night in traditional Kazakh felt gers with sleeping cots that are typical of this region.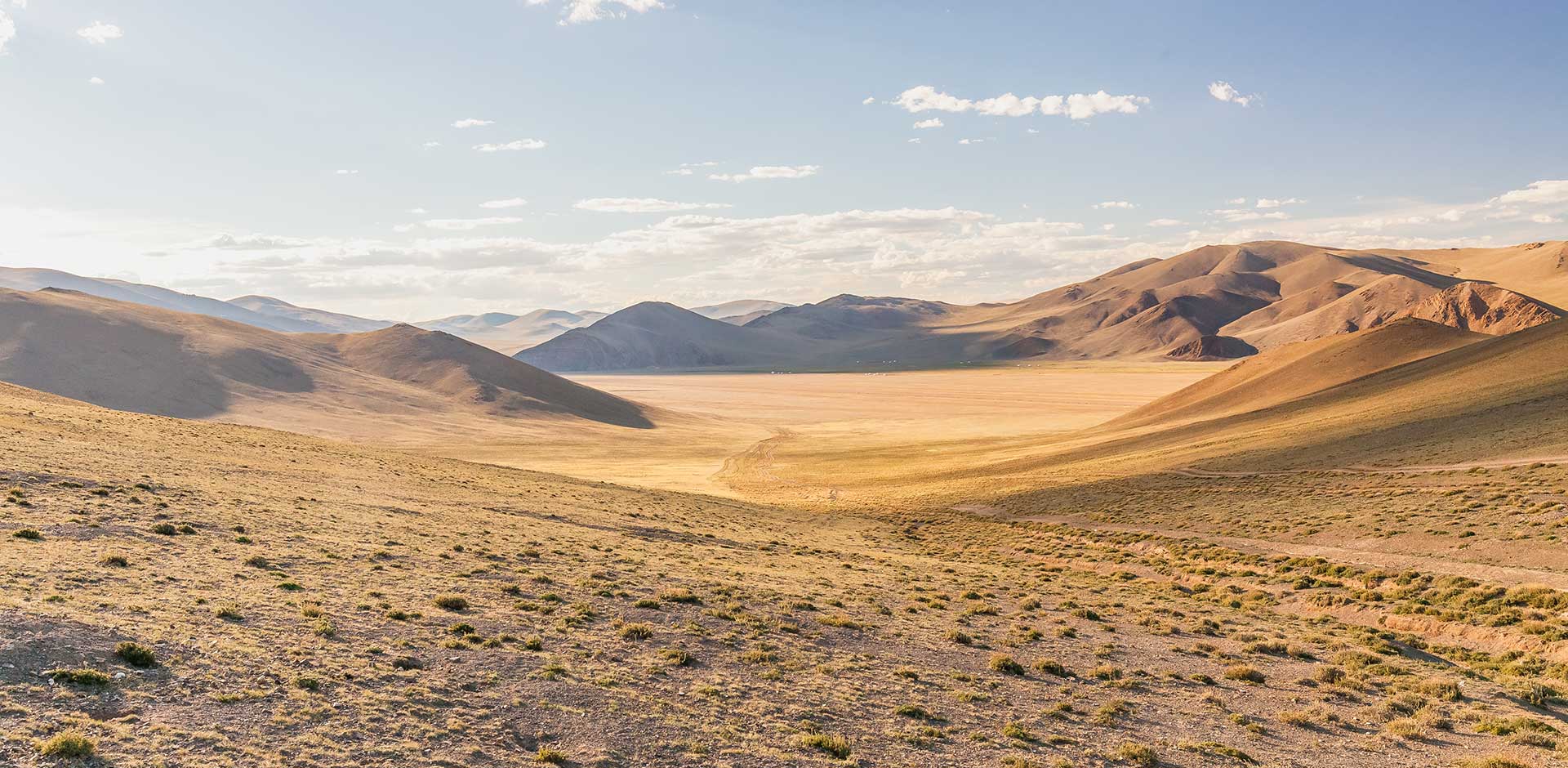 Day 5
Altai Tavan Bogd National Park
Setting off from the rustic ger camp, you will be taken over sparse desert mountains towards Altai Tavanbogd National Park. Rich in archaeological remains, the Bayan-Ölgii province is a stark reminder of eras gone by, including the Bronze Age and Huns and Turkic invasions. Shiveet Hairhan within the National Park is where you will stay tonight, in a Kazakh felt ger. Also known as the 'Sacred Mountain', this area is inhabited by numerous Tuvan Nomads that consider it holy and features a large rock painting site that dates back to around 200 BC.
Day 6
Lake Hoton and Lake Hurgan
Embark on a drive to the nearby sites of Hurgan Nuur and Hoton Nuur after an early breakfast. Ancient Turkish stones line the road along the way and the snow-capped mountains that divide China and Mongolia make picture-perfect scenes on the right. After five-to-six hours, stop at Biluut Tolgoi mountain to explore the numerous rock-printings displayed here. Opt for an afternoon of fishing for the largest subspecies of Mongolian Grayling or soft hiking along the lake. Enjoy a home-cooked dinner and overnight stay in a Kazakh felt ger.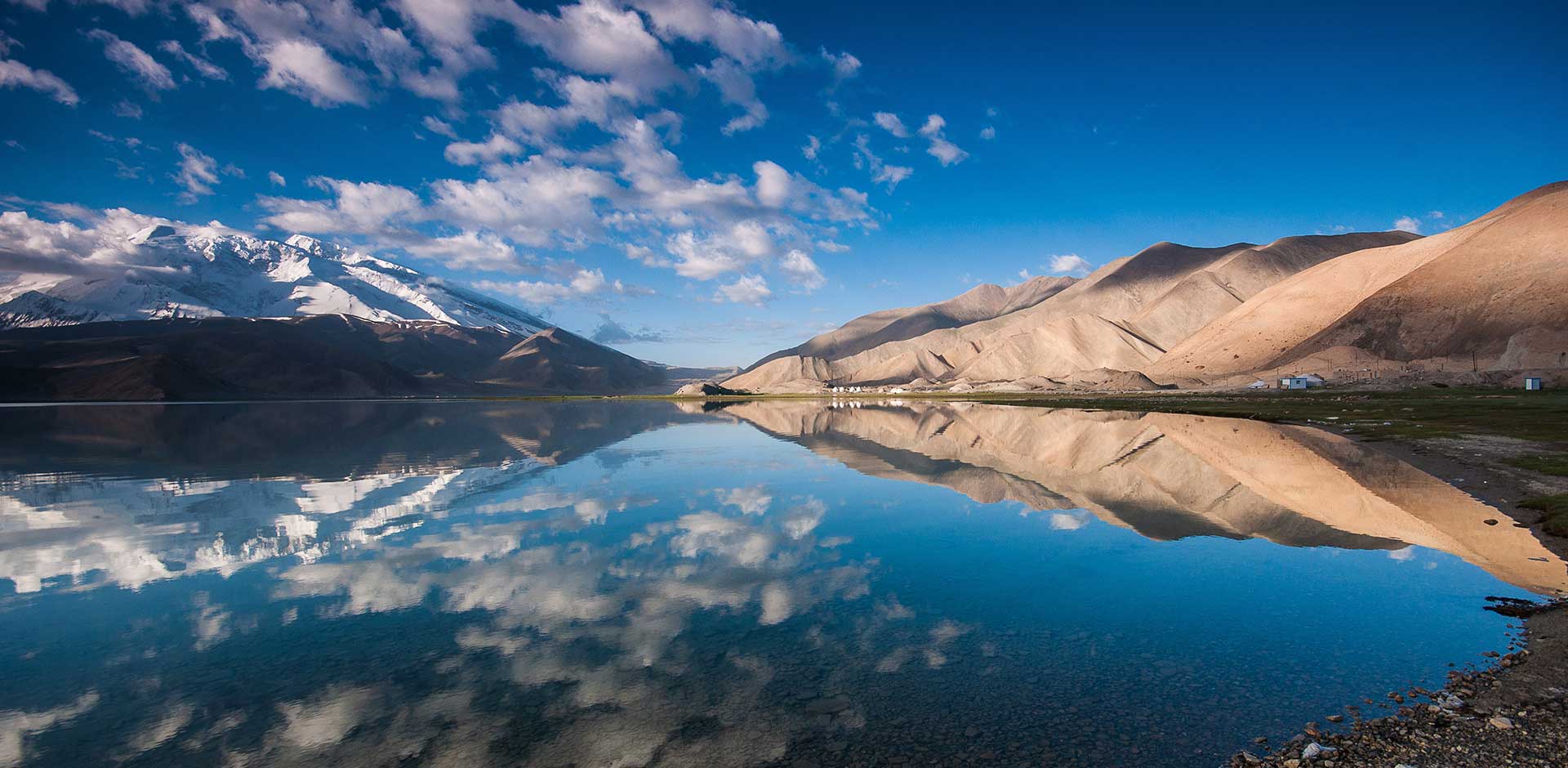 Day 7
Tsambagarav National Park
Today is reserved for relaxing and enjoying the picturesque remote scenery along a six-to-seven hour journey to the national park of Mongolian Altai-Tsambaragarav, which covers a huge area of 430 square miles. Pitch camp on the northern side of the sacred Tsamba-Garav Uul, one of the highest peaks in Mongolia, standing a grand 13,737-feet high. Dine amidst stunning scenery and admire breathtaking alpine views before spending the night in a felt ger.
Day 8
Hovd
A three-hour drive over 93 miles will take you to Hovd town, located on the northern part of the infamous Silk Road. There are a number of historical charms to uncover here, including the Sagin Cherem fortress built in 1763. Spend the afternoon exploring the local sights of the town and visit Hoomii-man, a local throat singer, who will teach you a few basics of his art. Tonight, savor one last night under a beautifully lit Mongolian night in a felt ger.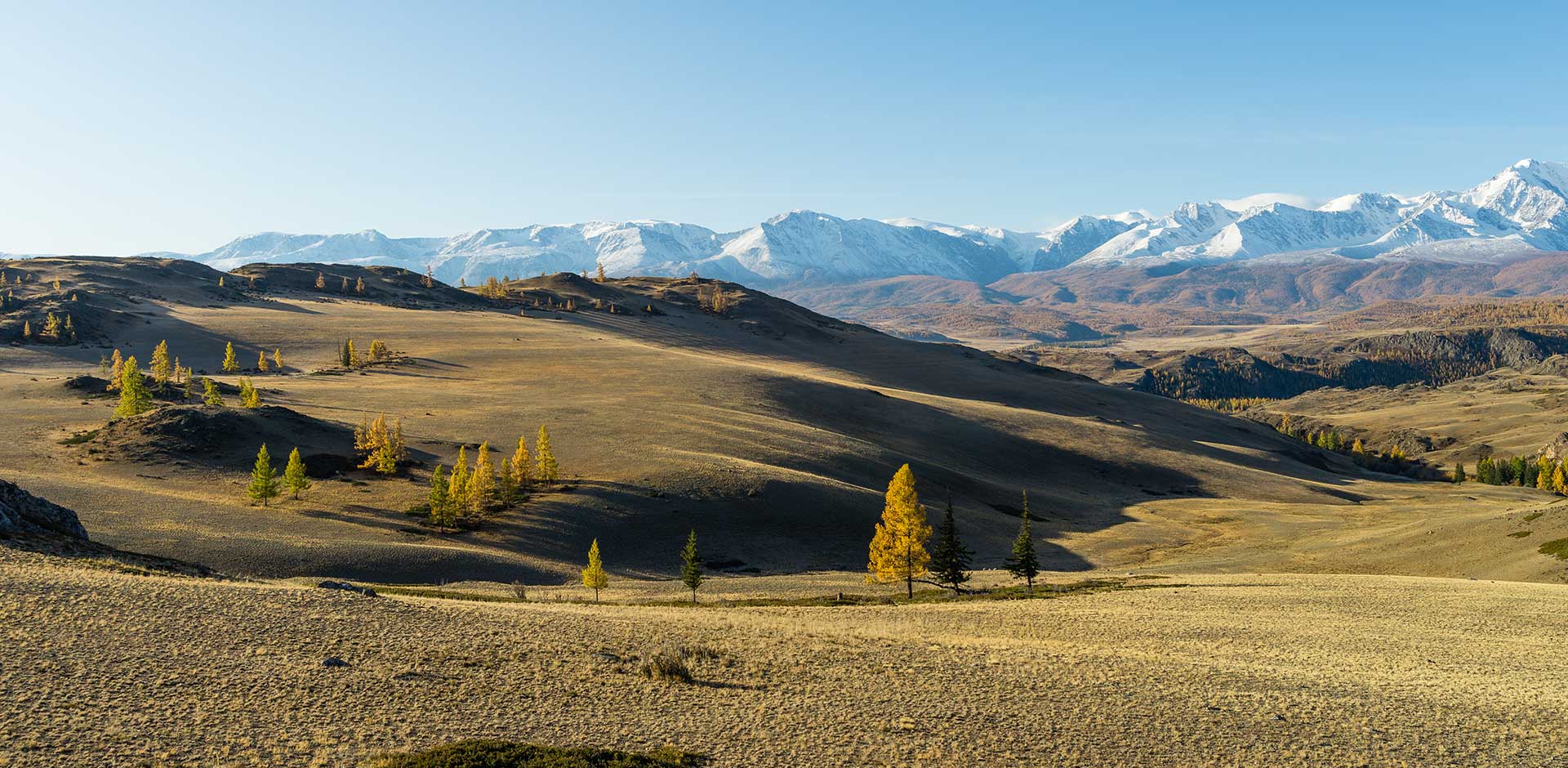 Day 9
Departure
Your last breakfast in this colorful province is followed by a transfer to the domestic airport. From here, catch a flight to the alluring and charming Mongolian capital of Ulaanbaatar and to your onward destination.
TERMS AND CONDITIONS
Price is based on double or twin hotel room occupancy and includes accommodation, transfers, car/driver, English-speaking guide, activities and entrance fees, breakfasts and some casual lunches while touring. Flights and optional special activities will be quoted separately. Most personal expenses, including dinners, alcoholic beverages, spa treatments and gratuities can be paid on the spot while traveling. Prices may vary depending on season, choice of accommodation and other factors.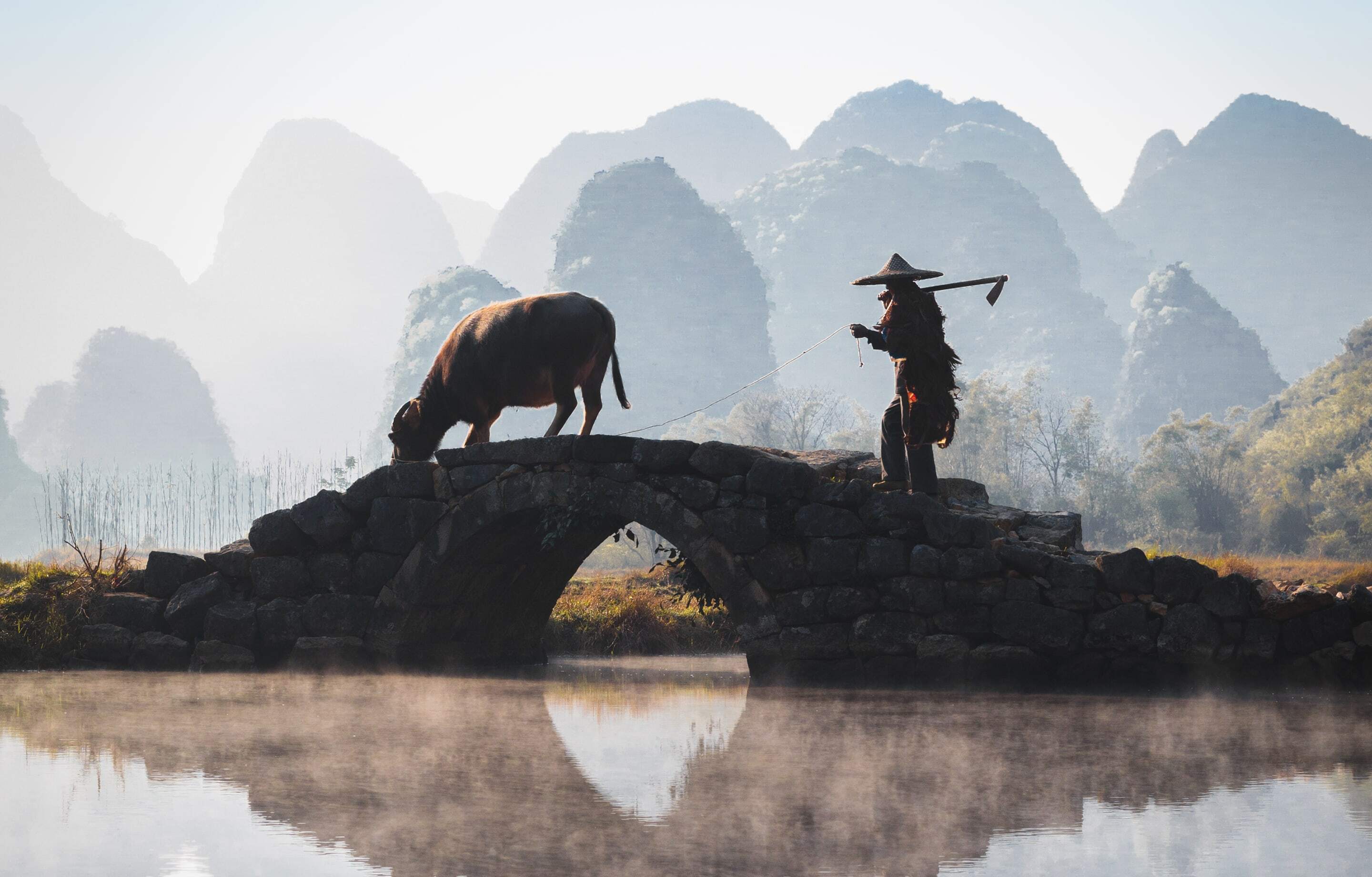 Why Remote Lands?
Exclusively Asia
With Remote Lands you'll travel with people who have made Asia the solitary focus of their own lifelong adventure. As our guest, you'll discover Asia on a journey that is completely, authentically your own, adapted from our own remarkable experiences and adventures over the years.
With Remote Lands you'll travel with people who have made Asia the solitary focus of their own lifelong adventure. As our guest, in the continent that our north American founders Catherine and Jay have adored and explored for decades, you'll discover Asia on a journey that is completely, authentically your own, adapted from our own remarkable experiences and adventures over the years.
Travelogues
An Asia-focused magazine brought to you by Remote Lands – a platform for adventure, luxury, and authenticity from experts and explorers around the continent.
What Others Say
Here is a small selection of the kind words our guests have said about us, as well as features by journalists and travel writers.
From the moment I happened upon the REMOTE LANDS website over a year ago, browsed the options, I knew that this would be well worth it. The entire staff is nothing less than professional with service that made us feel like royals.
This was truly the trip of a lifetime. Magical destinations, the most luxurious hotels in the world, and the most wonderful travel companions we could've wished for. We were treated like family everywhere we went and we have 14 new best friends.
We have used some of the top rated travel specialists all over the world and, without question, Catherine Heald and Remote Lands are at the very top of the list!