Example Itinerary
Temple Hopping And Elephant Excursions in Northern Thailand
Duration

7 days / 6 nights
Price Per Person
Destinations
Northern Thailand is famous for its dense forests populated by ethnic hilltribes, scenic mountains, native wildlife and glistening temples. Thailand is an incredibly diverse country with much to offer and the north makes a perfect haven for those with an appreciation of culture and a taste for adventure and authenticity. The people of the north are considered some of the most friendly and hospitable in Thailand, which will make your experience of rural village life all the more interesting and enjoyable. Stroll through vibrant markets, discover ancient ruins of bygone eras and learn commands for elephants in the native tongue of their trainers throughout your incredible journey in Northern Thailand.
This itinerary is an example. It's designed to inspire you and provide you with thoughtfully curated ideas. You can choose to do this exact itinerary or completely personalize it. All trips are 100% bespoke.
Highlights
• Ethical Elephant Encounters: Thailand is home to the most captive elephants in the region; many are victims of the logging industry and cannot be released back into the wild. Meet the gentle giants with peace of mind, as Remote Lands recommends only the most responsible elephant sanctuaries.
• Historic Ruins: Visits to Ayutthaya and Sukhothai whisk you back through the centuries, to a time before modern borders were drawn up between today's Southeast Asian countries, and ancient kingdoms were won and lost.
• Living Heritage: Chiang Mai's famous temples are a feast for the senses, with orange-robed monks, burning incense, and echoes of chanted prayers.
Day-by-Day
Day 1
Uthai Thani
Depart bustling Bangkok and drive to the historic city of Ayutthaya. Explore the stone stupas of Wat Mahathat and Wat Phra Sri Sanphet via the local mode of transport – tuk tuk. Continue to visit Wat Chai Wattanaram and then begin the journey up north to Uthai Thani, stopping in Angthong to see the impressive 50-metre-long reclining Buddha.
Day 2
Sukhothai
Explore Uthai Thani and enjoy a cruise on the Sakae Krang river. Visit Wat Chantaram (Wat Tha Sung) with its unique glass pillars, then stroll through the local market and get a feel for the rural village life. After lunch, drive to Kamphaeng Phet to visit the historical park and marvel at the beautiful stone elephant carvings. Visit the The Kamphaeng Phet National Museum and then continue your journey on to Sukhothai.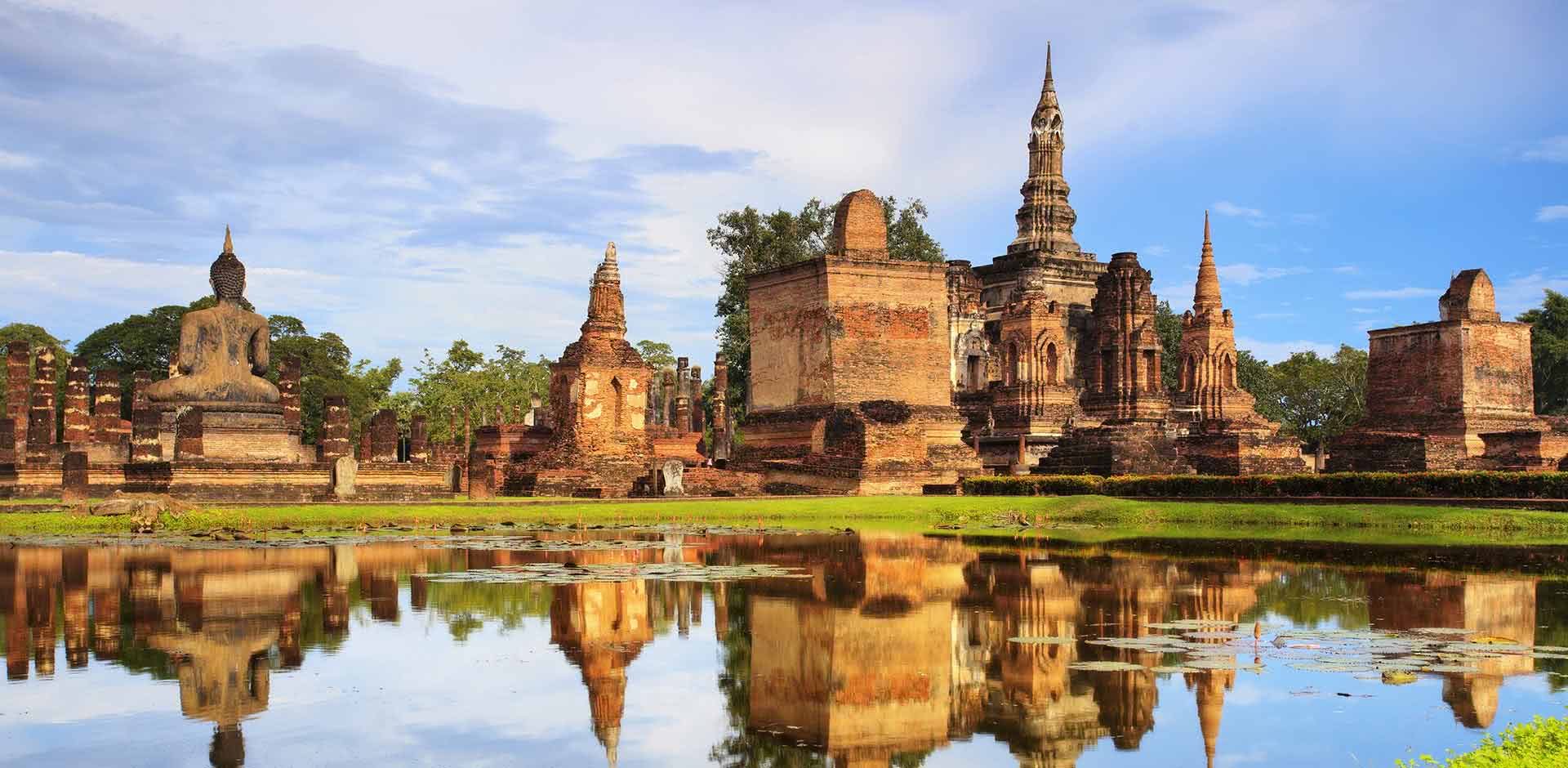 Day 3
Sukhothai
Roam Sukhothai Historical Park and visit the three famous temples there – Wat Mahathat is iconic for the stone Buddha head entwined in the roots of a Banyan tree, Wat Sri Chum for the striking Phra Achana Buddha statue it houses and Wat Sri Sawai for the remarkably well-preserved Khmer Prangs (tower-like spires). Peruse the excavated artefacts at the Ramkhamhaeng Museum then drive north to the Si Satchanalai Historical Park.
Day 4
Chiang Mai
Depart Sukhothai and drive north to Lampang – once a major city of the Lanna Kingdom – where a traditional horse and cart will collect you to explore the old town. Next, drive to Wat Phra That Lampang Luang, one of the best examples of Lanna architecture. Make your way to Chiang Mai, stopping for a short visit to The Thai Elephant Conservation Centre.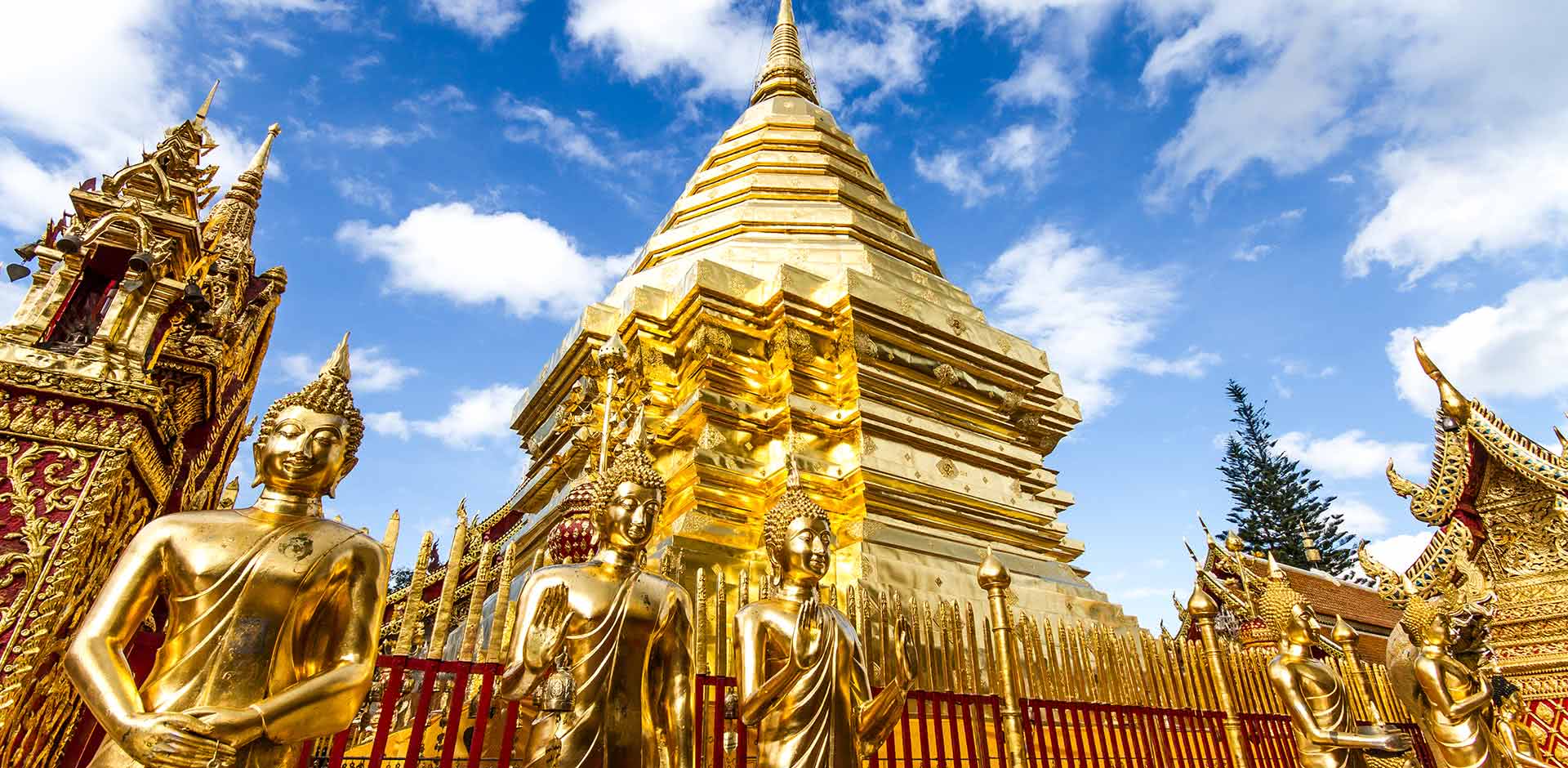 Day 5
Chiang Mai
In the morning take a traditional method of local transport – a samlor (three-wheeled rickshaw) – to see the city of Chiang Mai. Explore the stunning temples of Wat Chedi Luang, Wat Phra Singh and Wat Chiang Man. In the evening enjoy the famous street food from the plethora of Chiang Mai's night markets.
Day 6
Chiang Mai
Spend the entire day interacting with majestic Asian elephants at either Elephant Life Experience or Patara Farm. Enjoy interacting with these beautiful creatures by feeding them and participating in bathing with the elephants in the river; you'll also learn Thai commands and receive traditional mahout attire that you can take home.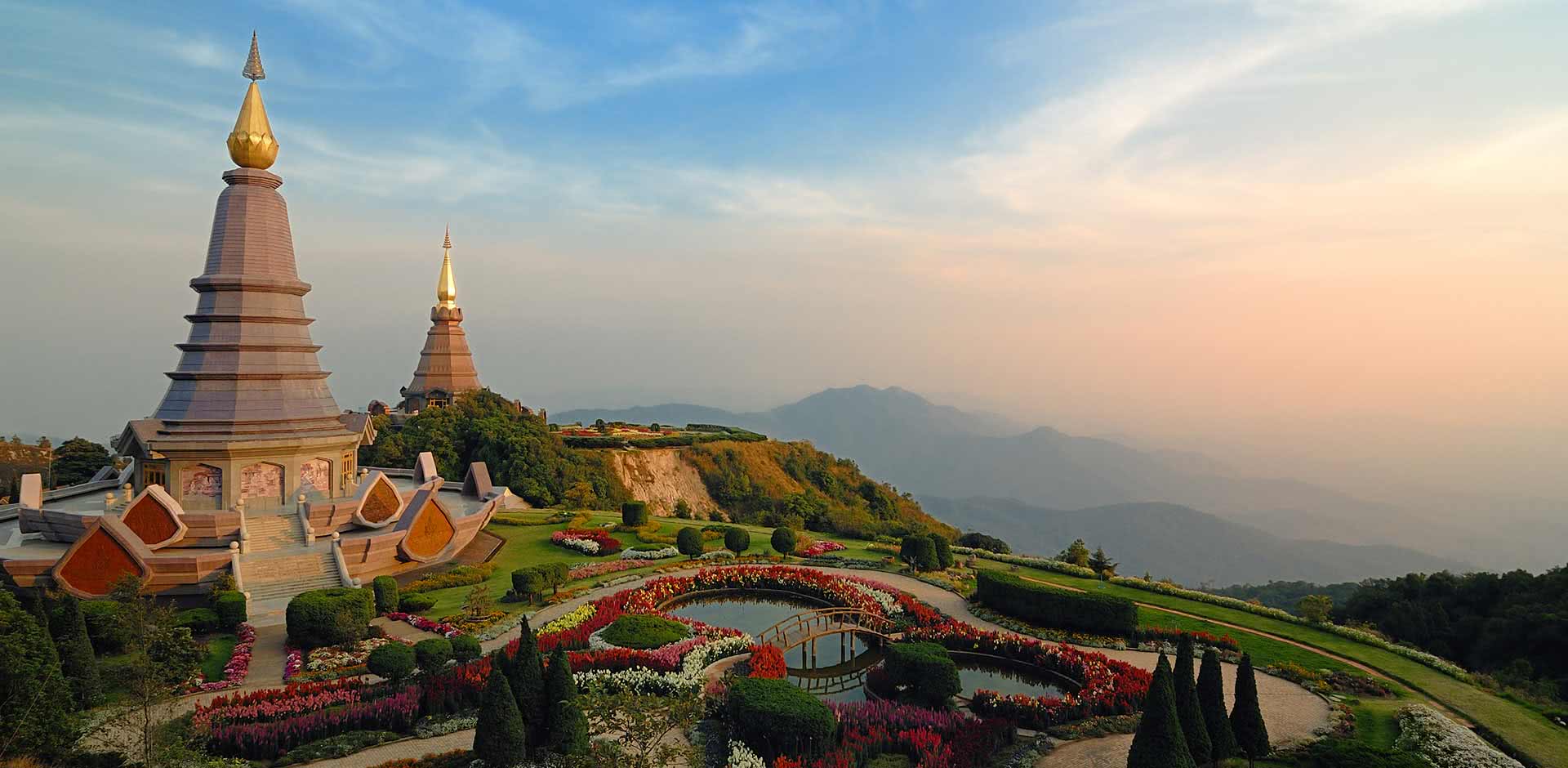 Day 7
Departure
After breakfast, your private transfer will take you to the airport where you can either carry on your Asian adventure, or depart Thailand, with some magical memories.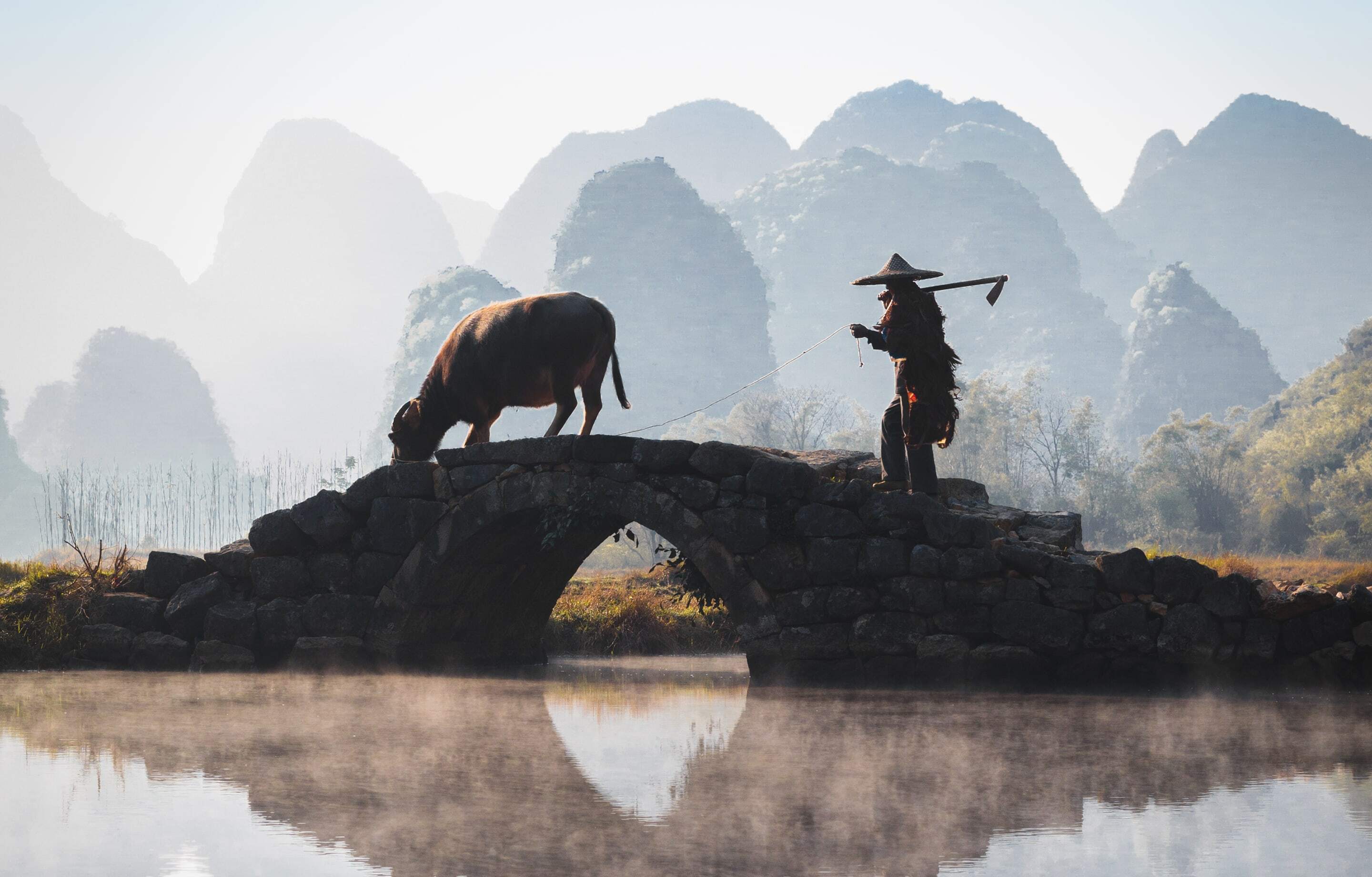 Why Remote Lands?
Exclusively Asia
With Remote Lands you'll travel with people who have made Asia the solitary focus of their own lifelong adventure. As our guest, you'll discover Asia on a journey that is completely, authentically your own, adapted from our own remarkable experiences and adventures over the years.
With Remote Lands you'll travel with people who have made Asia the solitary focus of their own lifelong adventure. As our guest, in the continent that our north American founders Catherine and Jay have adored and explored for decades, you'll discover Asia on a journey that is completely, authentically your own, adapted from our own remarkable experiences and adventures over the years.
Travelogues
An Asia-focused magazine brought to you by Remote Lands – a platform for adventure, luxury, and authenticity from experts and explorers around the continent.
What Others Say
Here is a small selection of the kind words our guests have said about us, as well as features by journalists and travel writers.
From the moment I happened upon the REMOTE LANDS website over a year ago, browsed the options, I knew that this would be well worth it. The entire staff is nothing less than professional with service that made us feel like royals.
This was truly the trip of a lifetime. Magical destinations, the most luxurious hotels in the world, and the most wonderful travel companions we could've wished for. We were treated like family everywhere we went and we have 14 new best friends.
We have used some of the top rated travel specialists all over the world and, without question, Catherine Heald and Remote Lands are at the very top of the list!