I'm in the powder blue-and-white synagogue that's the center of Jewish life in Mumbai, Keneseth Eliyahoo, just a few blocks from the Taj Mahal Palace hotel and the Gateway to India arch on the Arabian Sea. Built in 1884 in the Colaba district, it's one of several synagogues in India's biggest city, which elected a Jewish Mayor, Dr. Elijah Moses, back in 1937. India's tiny Jewish community, now numbering 5,000 at most, has had a wide impact on the India's financial capital and the home of Bollywood.
"We Jews never failed in conserving our identity and not giving in to idol worship, though we accepted local traditions," says Nathaniel Jhirad, a young Bene Israel member and accounting student in Mumbai.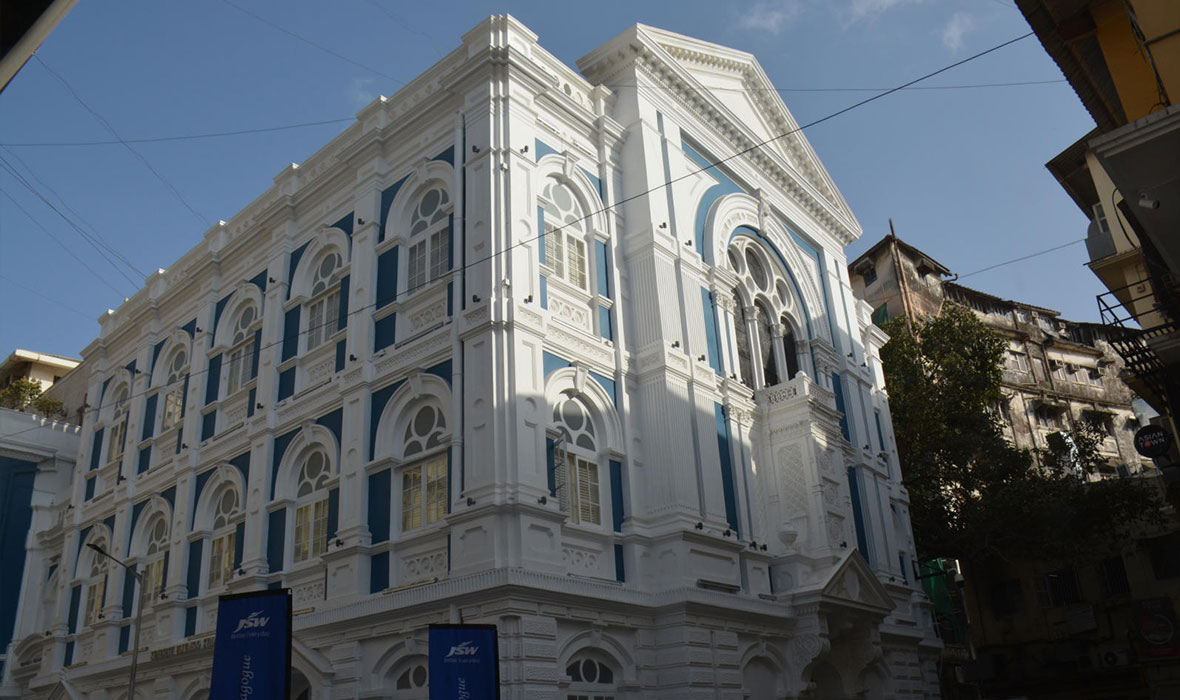 The wealthy Sassoon family, who built Kenesth Eliyahoo, were philanthropists who also built Sassoon Docks, the location of a big open-air fish market, in 1875, and Sassoon Library, Mumbai's first public library, a beautiful Venetian Gothic-style building that opened in 1847. Fittingly, a Jewish heritage walk is held on Sundays at Sassoon Docks. The Sassoons were Baghdadi Jews, whose patriarch, David Sassoon, fled to India in 1828 from Iraq by way of Iran and founded a business empire.
Bollywood's first woman superstar, who dominated India's silver screen during the 1920s (so famous an Indian postage stamp honoring her was issued after her 1983 death), was also Baghdadi Jewish. Renamed Sulochana, meaning "the one with the beautiful eyes," she was born Ruby Myers in 1907 in Kolkata. The bedroom-eyed Myers, whose silent films were re-done as talkies in the 1930s and 1940s, was reportedly the first owner of a Rolls Royce in India.
But she was far from Bollywood's only Jewish star in its early days, due to the taboo against Hindu and Muslim women appearing on-screen that didn't end until the late 1940s, as the fascinating documentary Shalom Bollywood points out.
There was Pramila, born Esther Abraham in 1916, who became the first woman movie producer in the Hindi film industry – not to mention the first winner of the Miss India beauty pageant in 1947, India's first. And Miss Rose, born Rose Musleah in 1911, a glamorous 1940s star who ended up as a housewife in Los Angeles after marrying an American. Both actresses were Baghdadi Jews from Kolkata who moved to Mumbai.
Pramila's son, an actor and screenwriter, and the grand-daughter (film editor Rachel Reuben) and daughter (Cynthia) of Miss Rose tell their families' stories in the 2017 film. The documentary by Australian director Danny Ben-Mosh was screened at the San Francisco Jewish Film Festival, among others, in 2018.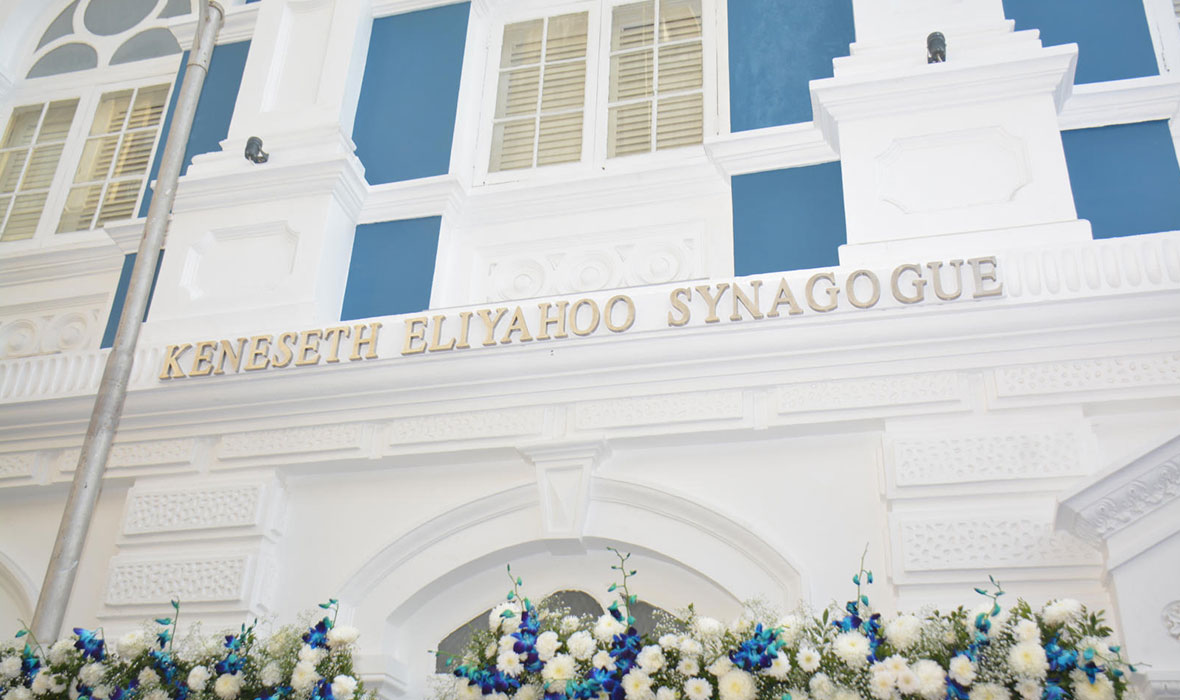 But the Baghdadi Jews are just one of two Jewish communities in Mumbai. The Bene Israel are a 2,000-year-old community believed to be descendants of Jews shipwrecked off the coast of India's Maharashtra state near Mumbai, anywhere from 175 – 163 BCE to 740 – 500 BCE.
Living in small villages and rural areas on the Konkan coast, totally isolated from other Jews, they adopted some Hindu-style customs to fit in with their neighbors. The Bene Israel decorated their houses of worship with flower garlands and in the malinda ceremony dedicated an offering of rice, coconut, and five symbolic fruits to the prophet Elijah in weddings, other festive occasions, and at times of crisis. They kept the Sabbath, but spoke the local Marathi language.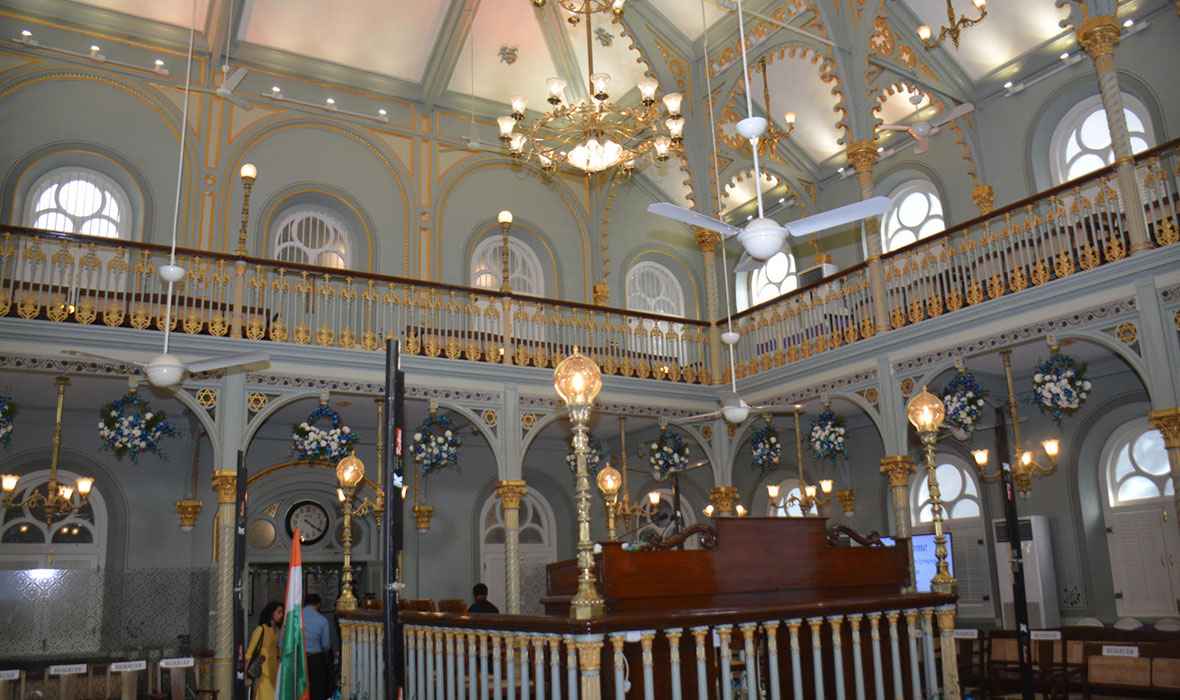 Many Bene Israel moved to Mumbai in the mid-18th century for work. In Mumbai their synagogues include Shaar Harahamin Razon (their first, founded in 1796; the current building was built in 1860), Shaar Rason, and Etz Hayim.
The World Monuments Fund funded the restoration of the Keneseth Eliyahoo Synagogue, where I met Nathaniel Jhirad. Re-opened in February 2019, the Classical Revival-style synagogue, which boasts Victorian stained-glass windows and Burmese teak staircase and furnishings, badly needed repairs due to water damage. It's Mumbai's second-oldest Sephardic synagogue, and foreigners are welcome to attend its three-course Sabbath meal if they sign up online.
One of three synagogues belonging to the Sir Jacob Sassoon Synagogues and Allied Trust, it's joined by Magen David, Mumbai's first Sephardic synagogue, built in 1864 by the Sassoon family, and Ohel David in the city of Pune.