The creative collective teamLab is turning heads the world over at the Mori Building Digital Art Museum. This new digital space is bringing the digital age to the gallery room floor, allowing patrons to winnow their way through otherworldly sights and sounds. This paradigm shift in Tokyo's art world is putting a new and likely permanent marker on every art lover's guide to Tokyo.
Located in the Odaiba Palette Town, the Mori Building Digital Art Museum is teamLab's flagship, with 50 installations sprawling over 100,000 square feet of digitally immersive space. The museum opened on June 21, 2018 and within days sold out its 4,000-ticket daily allotment through the end of July, which led to a new goal of 10,000 admissions each day.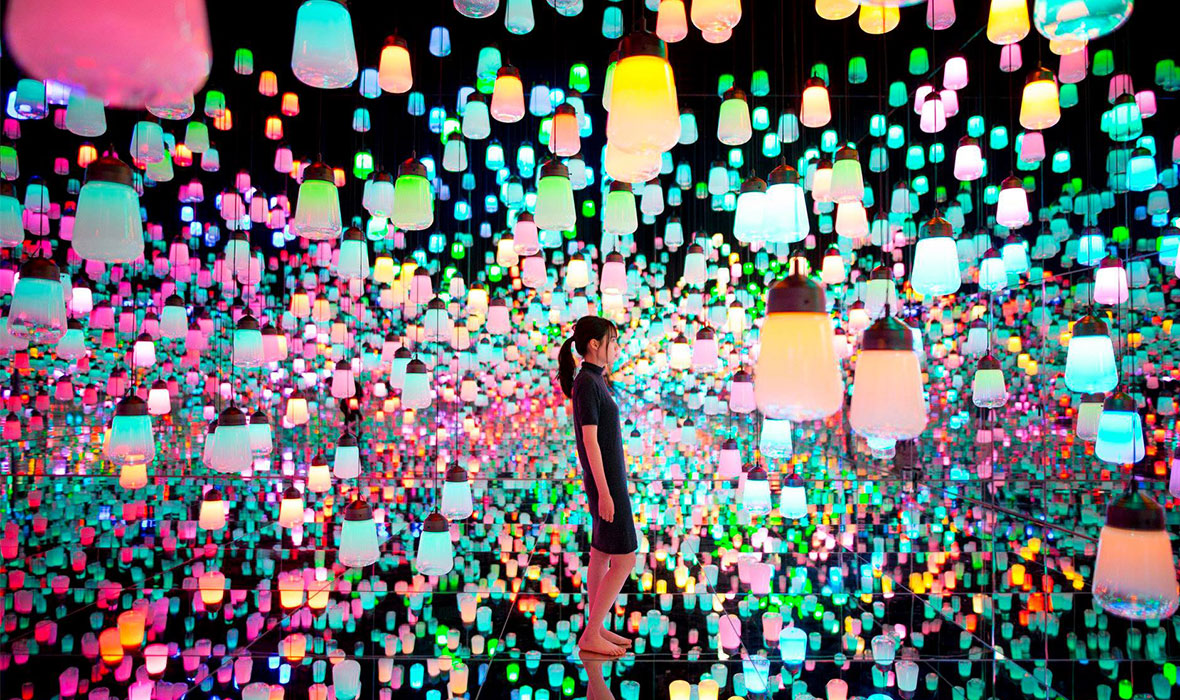 Visitors can explore five virtual exhibitions generated by 520 computers and 470 projectors. With digital flora and kaleidoscopic light patterns that spill from one room to another, the main exhibit, Borderless, evokes an undelineated, pre-cartography natural world. Museum-goers are invited to scatter butterflies with a glance of the hand or bend waterfalls around their bodies.
No mere simulacrum, the living environment responds organically in real-time to movement and touch, adjusting not only to the visitor's presence, but forever altered by the interaction.
In the Athletics Forest, more active explorers can jump through star-strewn spaces and climb through shimmering forests. Families will appreciate the collaborative, child-friendly digital art and games at the Future Park. The Forest of Lamps houses 1,000 picturesque lanterns that shift colors and luminosity with the proximity of meandering guests. At EN TEA HOUSE, patrons can sip tea from cups that bloom digital flowers until the last drop.
The museum is the latest venture of a company that is involved in information technology business projects, product development, architecture, and art. The visionary behind teamLab, Toshiyuki Inoko, founded the art collective with his four best friends while completing his graduate studies in mathematical engineering and information physics at the famous University of Tokyo in 2001.
With a mission to blend art, science, technology, design, and the natural world, teamLab began exhibiting digital artwork in 2005 and has since placed works in the permanent collections of many prestigious museums and esteemed private collections throughout the world. In 2014, their installation in Tokyo's National Museum of Emerging Science and Innovation brought almost half a million visitors in five months, shattering the museum's prior attendance records.
The ultra-technologist group has retained its five founding members as "directors," but eschews official titles and hierarchies for the rest of its 500 full-time employees, which consist of artists, engineers, designers, mathematicians, programmers, architects, and CG animators. Artworks are authored by the collective, never by individuals.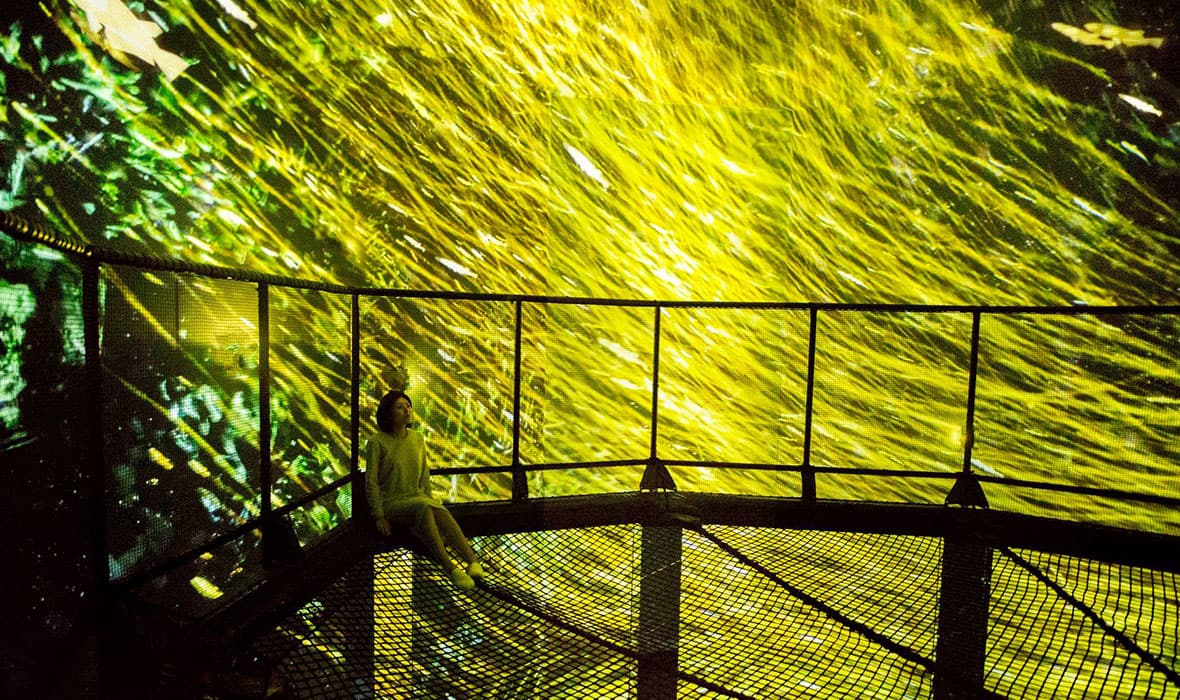 Currently, teamLab features permanent exhibits in Singapore; Dubai; Xiamen, China; Torino, Italy; and Kyushu and Tokushima, Japan. The art collective also has plans for several new exhibits. As part off their Digitized City project, on October 26, teamLab will transform the forest and pathways surrounding Usa Shrine in the Oita Prefecture into an interactive digital art space. On November 22, Japan's Kochi Castle will become digital art without any physical alterations.
In China, Crystal Fireworks is a three-dimensional display of thousands of light points controlled by visitors' smartphones, premiering in December 2018 in Shanghai and April 2019 in Wuhan. Crystal Forest Square, a copse of stippled-light pillars, is set to debut in Shenzhen at an undisclosed future date.
For the artistic vanguard, teamLab's Mori Building Digital Art Museum can serve as a digital gateway into dazzling, uncharted virtual territories.Tokyo is already leading Asia in much of the art world, and taking that into the digital sphere is sure to get art lovers through the door.