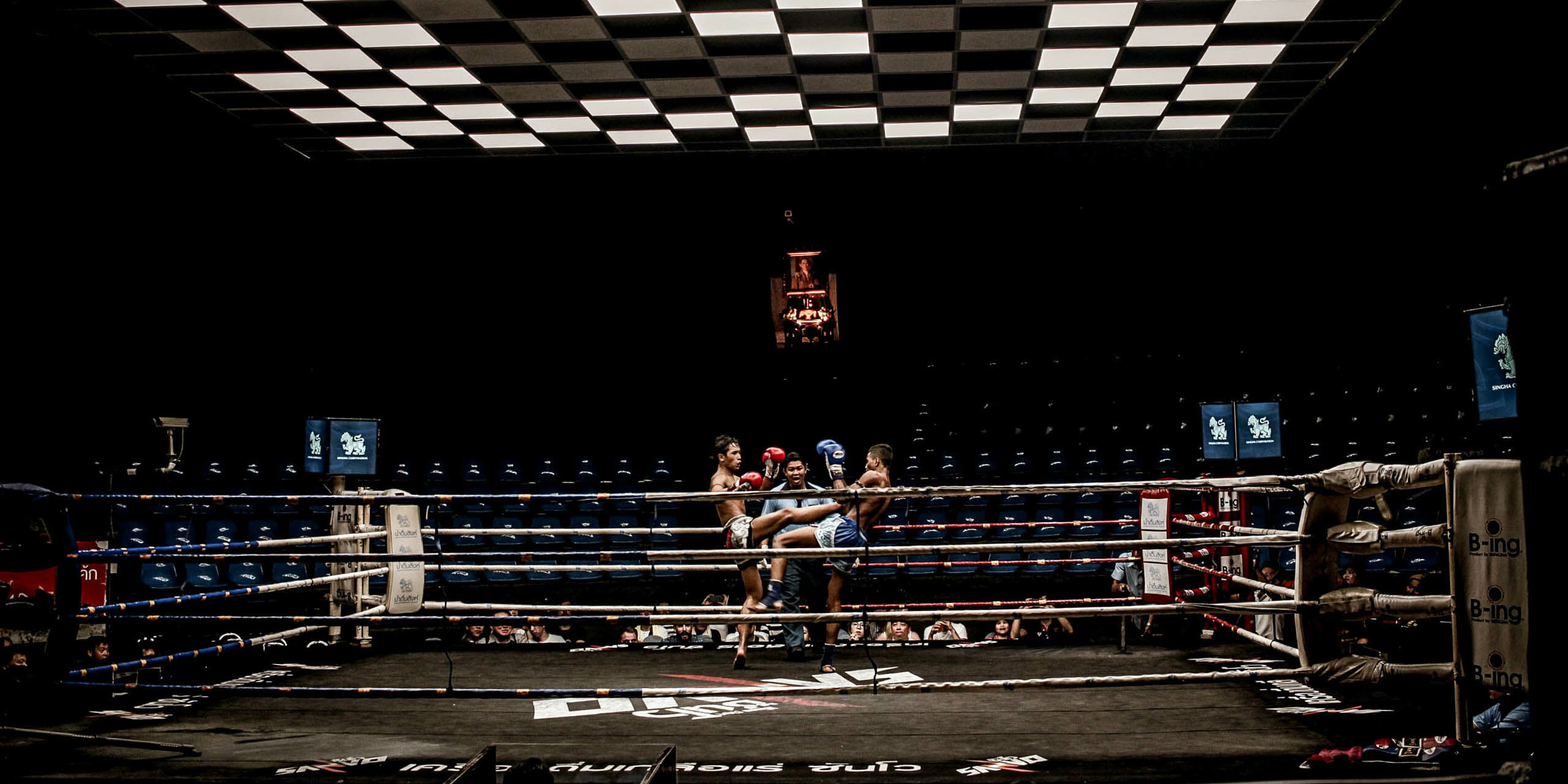 Bangkok has never been a place that lends itself to ruthless focus. The urban equivalent of ADD, Thailand's capital pulses with a hyperactive energy that can often make it difficult to concentrate.
Nevertheless, I'm doing a decent job of blocking out extraneous noise as I prepare to step into a boxing ring for the first time.
In the busy street outside the open-air gym at Mankong Phranai Muay Thai school, rush hour traffic is polluting the atmosphere with emissions of fumes and sound. I, however, am a man on a mission from which no amount of honking horns will distract me. I apply some herbal lotion to my joints, don a pair of gloves and make my way purposefully toward the elevated stage.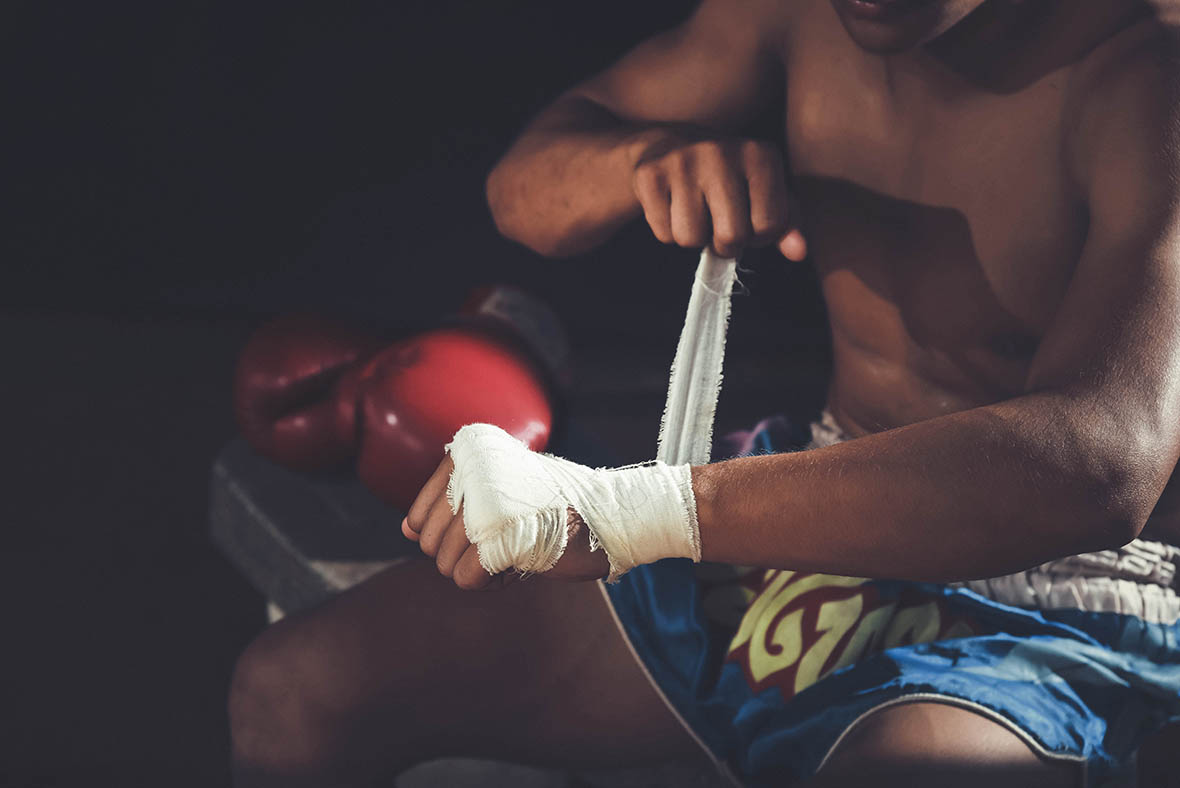 At the side of the ring, my trainer Pok calls up a playlist on an IPad before facing me. The familiar intro of Eye of the Tiger by Survivor clicks into gear. This is my moment to shine. I am Rocky, Floyd Mayweather, and George Foreman rolled into one. I am Mike Tyson. I am…….
"You are like a ladyboy," laughs Pok as I throw a succession of limp-wristed punches and hooks that all seem to fizzle out with a pathetic splat on the pads I am supposed to be pulverizing.
In truth, I've never been much use as a fighter. As a good middle-class lad growing up in the affluent Scottish town of Perth, the closest I came to a ruck was on the rugby pitch. It was a place where a few verbals and the odd jab in a ribcage were considered to be part of the game.
My pugilistic skills have barely improved in the intervening years. A couple of unedifying stand-offs aside, I've never had reason to unleash my inner Muhammed Ali.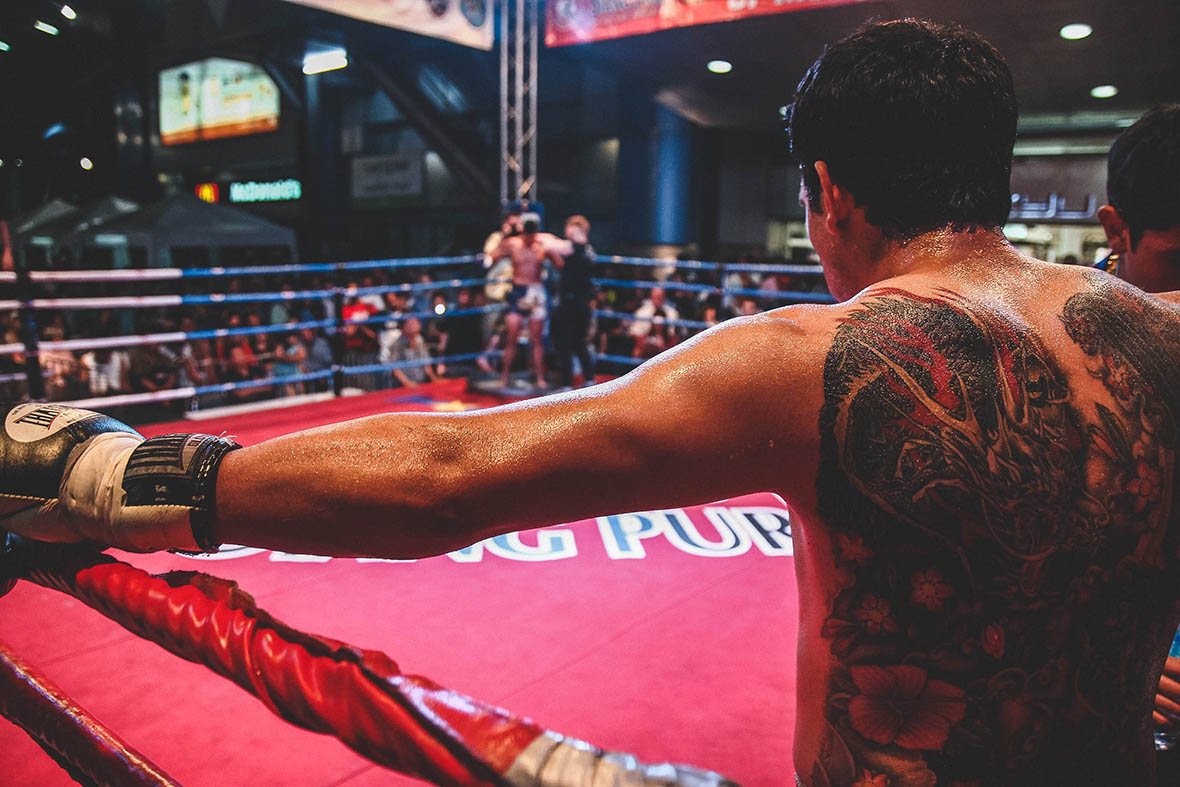 It's perhaps unsurprising then that my initial stab at Muay Thai – Thailand's beloved national sport – is more reminiscent of a catfight in Bangkok's red-light districts than the graceful stealth and often vicious power the martial art is famous for.
Known as the "art of eight limbs" Muay Thai is characterized by the use of fists, elbows, knees, shins, and feet.
Muay Thai as we know it today is said to have originated in the middle of the 16th century.
Its popularity spread when the Burmese took prisoner thousands of Thai soldiers after the downfall of Thailand's former capital Ayutthaya. While incarcerated the best Thai boxers had to then fight against Burmese boxing champions. The ultimate champion was a Thai fighter Nai Khanomtom. He was granted his freedom by the Burmese king after shocking one of Burma's best fighters.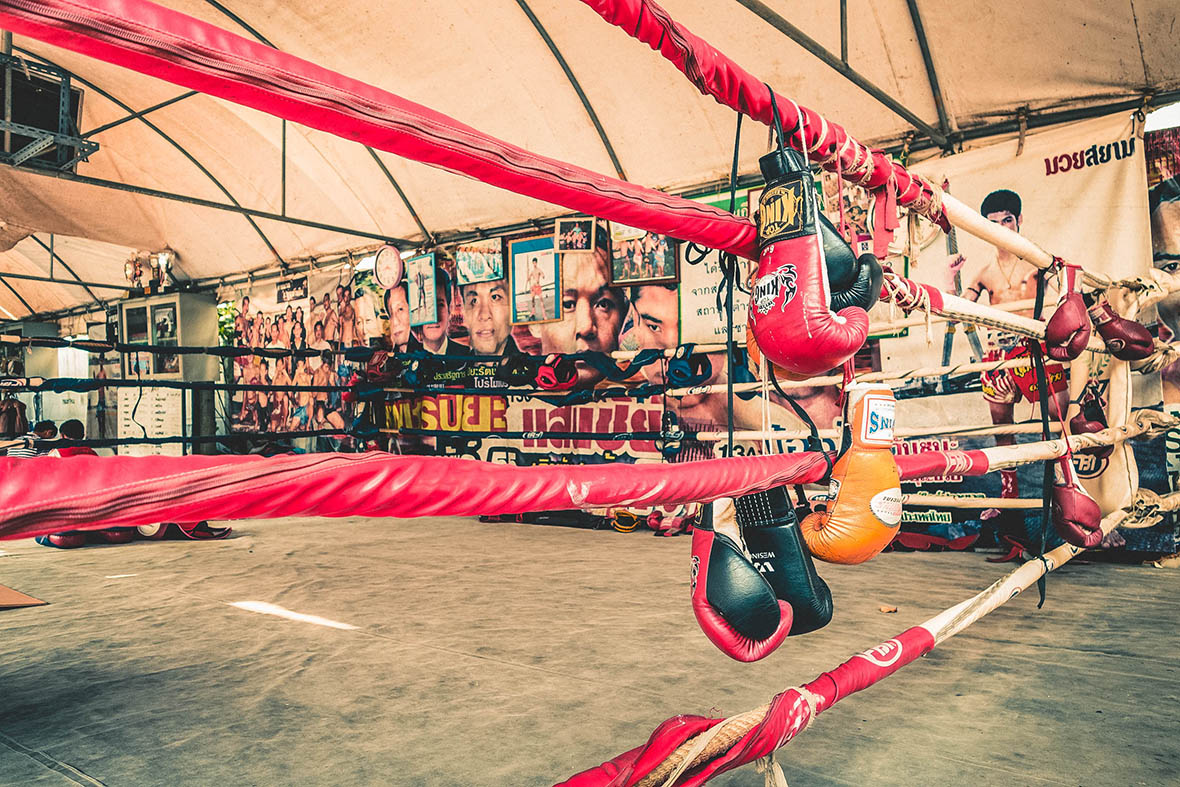 Over the centuries, the sport has grown in popularity with everyone from upcountry farmers to Thai movie stars and celebs tuning in to Channel 7 – the national Muay Thai channel – to watch bouts beamed out from prestigious venues such as Rajadamnern Stadium in Bangkok.
It was there that I first viewed the sport first-hand. As an ingénue backpacker fresh off the boat, I recall being thrilled by the cacophonous atmosphere in the arena as gamblers laid rolling bets on the fights and impressed (and slightly appalled) at the sound of knee hitting knee and fist connecting with face in the ring.
Despite witnessing several bouts since then, and reporting on the sport as a writer, it was not until last year that I decided to give it whirl myself.
Almost a decade of easy living in Asia tends to take a toll unless you are exceedingly disciplined. Unfortunately, my definition of abstinence generally involves stopping only after the first bottle of wine.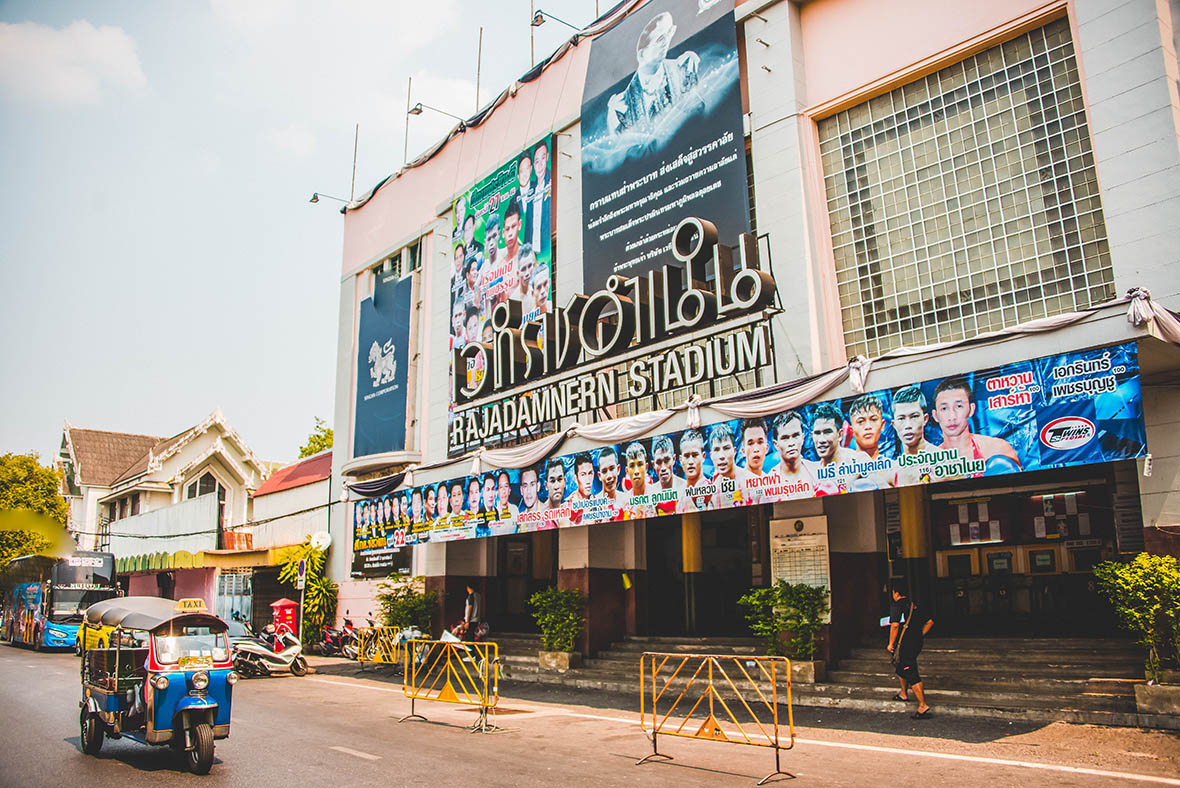 With a young kid to set an example for, I was determined to cut my crap and kick, punch and elbow my way clear of flabbiness.
My initial efforts were stop-start. Despite the gym's proximity to my apartment, I found I was often away for work or unable to attend. The upshot was minimal weight loss and a ring debut to remember: for all the wrong reasons.
I end up finding the solution to this scattiness in the mountains of northern Thailand, in the hippy haven of Pai. A friend had told me about a gym up there called Charnchai. He was enthused about the quality of the training, the reasonable weekly rates, and the idyllic rural setting. So persuasive was he that he even managed to make the gym's twice-weekly 7k morning runs sound appealing.
His sales pitch doesn't seem quite so compelling as I drag myself up the last of the 353 steps that lead to Wat Phra That Mae Yen – the halfway point of the 7 am jog. Nor do I thank him when I'm castigated once again for my loose-limbed punching style.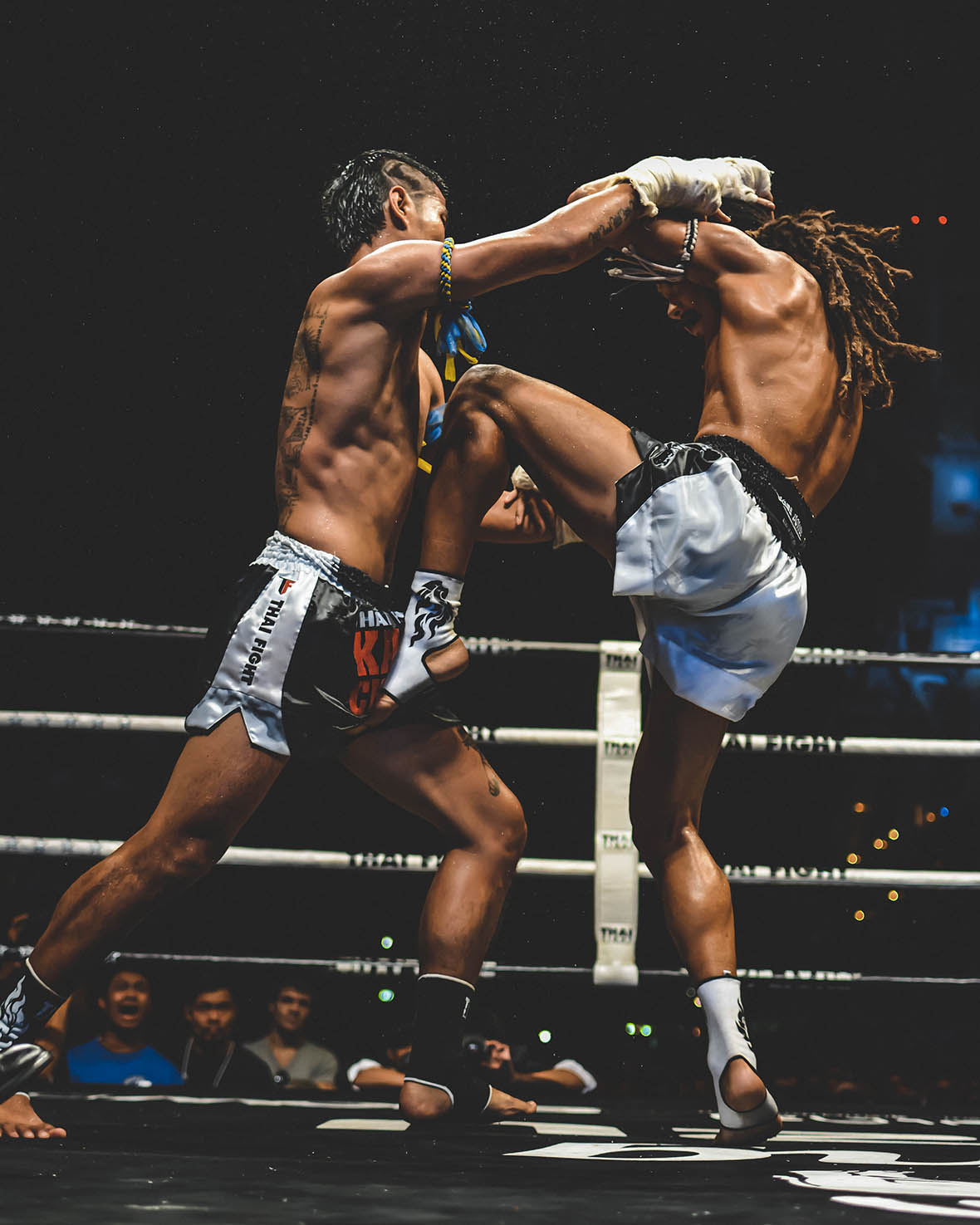 Over the week, however, I find my rhythm. Lengthy warm-up exercises feel meditative rather than murderous and I even find myself actively enjoying raining repetitive kicks onto a punching bag with all the give of a hanging pillar of concrete.
Under the watchful gaze of the gym's trainers, I learn how to maneuver my feet, use my shins while kicking, and keep my arms straight as I move in for the kill.
After seven intensive three-hour sessions I've shed a relatively respectable total of 2 kilograms. The sculpted bodies of the trainers and many of the students remain way beyond my grasp. But I've learned to appreciate camaraderie and discipline.
"The workouts you do while learning Muay Thai are beneficial," says Charnchai owner "Bee" Sitthepitak, a former champion. "They help increase speed, agility, strength, and cardiovascular endurance. And they are also good for the mind. They aid focus and help you to relax."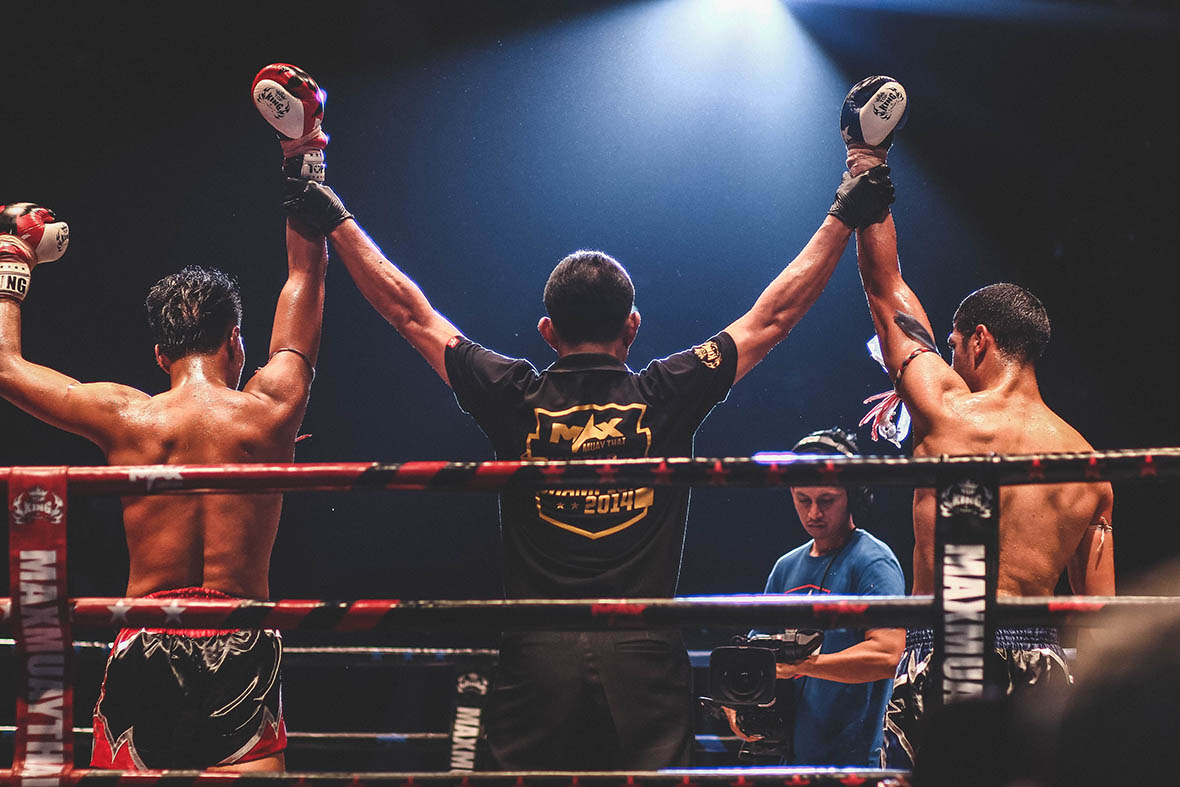 I utilize my improved stamina and newly learned skills back in Bangkok. As the familiar strains of Eye of the Tiger pour from the speakers, I circle Pok and block kicks with my legs and parry jabs with a solid guard.
My attack has achieved another level of dynamism. Kicks land on the pads with a pleasing thwack. Punches and elbows have an added crispness to them. One left jab, in particular, comes right out of the top drawer. Pok stumbles back onto the ropes with practiced theatricality. He is play-acting. But he seems genuinely pleased at my progress, giving me a big thumbs-up as we exit the ring.
"Punch and kick good," he says, giving me a hearty pat on the back. "No more ladyboy."
I'm thrilled. The first rule of the Muay Thai club is to lose weight and have a good time. And the second rule is to not look like too much of an idiot while doing so.