A hotel from the son of the founder of Italy's sexy luxury sports car brand can be expected to be sophisticated, stylish, and graceful, with precise attention to detail. The Tonino Lamborghini Hotel Suzhou, an exquisite boutique hotel in China that fuses glamorous Italian style with Chinese design, lives up to that promise. Located in the city of Suzhou, known for China's most famous classical gardens and traditional art forms like silk-making and embroidery, the hotel is found a mere half-hour from Shanghai by bullet train; its design is fittingly inspired by those UNESCO-designated gardens.
Nestled in a garden of its own with waterfalls, moon gates, camphor trees, azaleas that bloom in season, and pavilions for relaxation or reading, the hotel is pagoda-style with gently-upturned roofs. Right on Lake Jinji, China's biggest urban lake park, it's a peaceful oasis that seems far removed from urban bustle.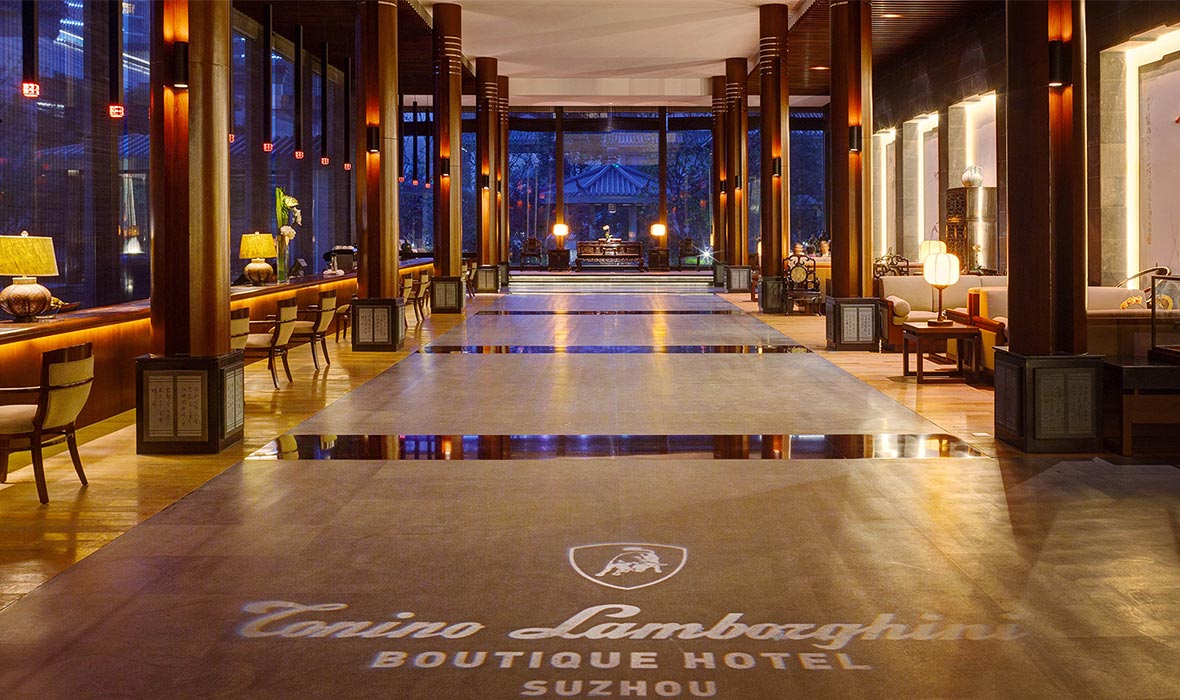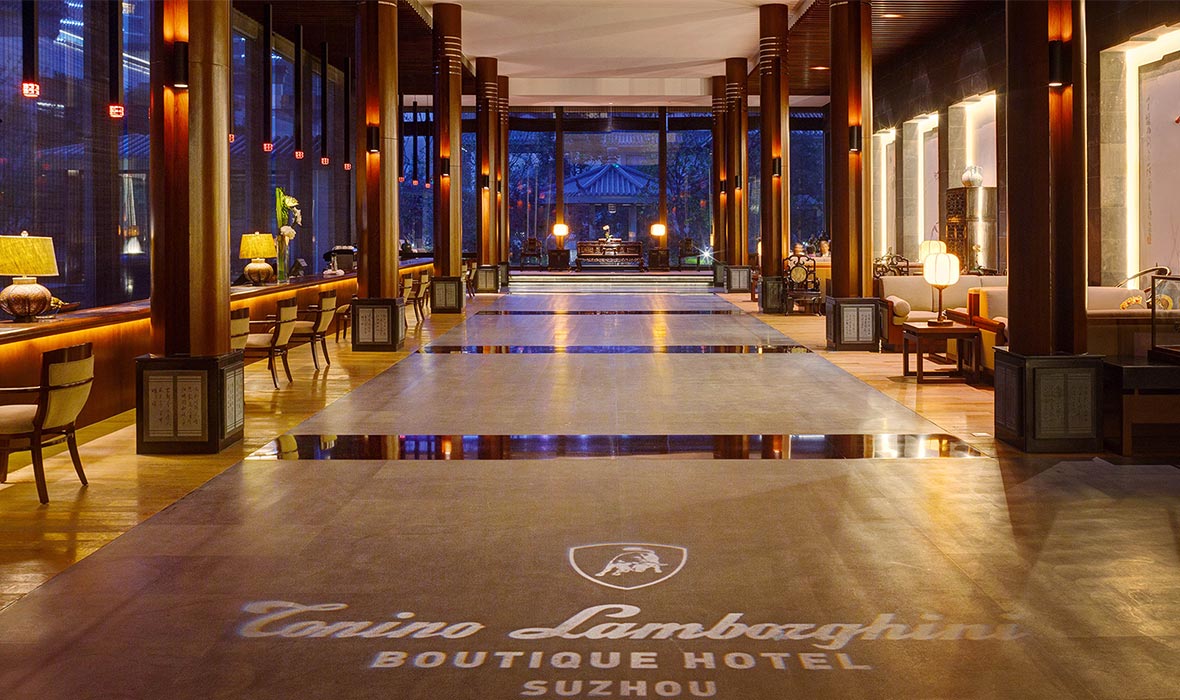 The Tonino Lamborghini is only a 15-20 minute drive to the historic Humble Administrator's Garden, where Giorgio Armani launched the Pivoine Suzhou perfume honoring the city and the peony, a beloved Chinese symbol of happiness and prosperity. This garden isn't far from Suzhou's Old Town, Pingjiang Road, which is lined by canals and traditional whitewashed, black-roofed structures housing tea rooms, shops, and eateries.
But for shiny modernity, just walk a few minutes to restaurants, bars, cultural centers, a London Eye-like observation wheel, and shops, all located in the same entertainment, retail, and hotel complex, Suzhou Industrial Park, built with help from the government of Singapore.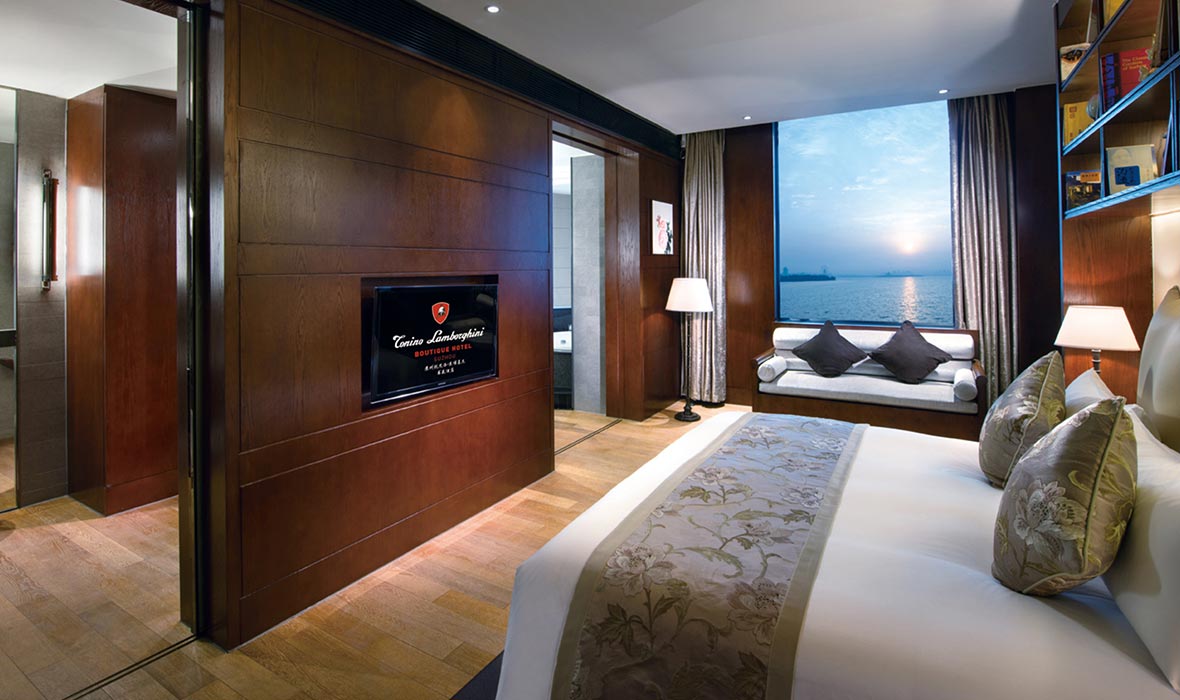 Currently, Tonino Lamborghini Hotels and Resorts has three hotels, all in China, with Chinese partner Join.In Hospitality Management Co., and more are planned. But the Tonino Lamborghini company, founded by the Lamborghini car heir of that name, also owns restaurants and coffee bars, and sells luxury goods from watches, eyewear, and accessories to leather goods.
"We cannot give you Italy – but we can give you the feeling," according to Mr. Lamborghini. Sure enough, a taste of Italy appears as soon as visitors enter the hotel. The lobby, with moody lighting that lends a nightclub-like quality in the evening, features a super-long black counter flanked with Chinese-design, almost guaranteeing you won't need to wait on line and don't need to stand if you do. It's such a thoughtful idea, you wonder why more hotels don't implement it. A "La Dolce Vita" photography exhibit showing Hollywood stars like Elizabeth Taylor and Claudia Cardinale frolicking in Italy around 1960 was found just off the lobby on my visit.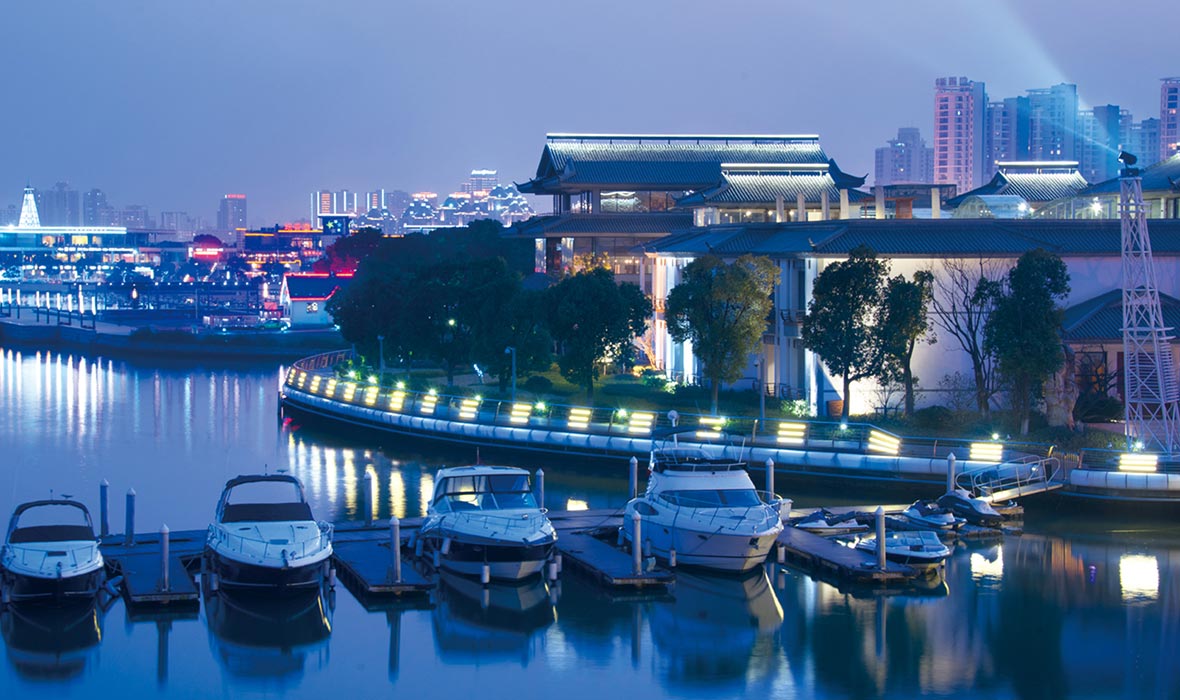 Elegant, spacious, and chic, the 95 guest rooms and suites are decorated in Suzhou or Japanese style, and each is a bit different. The Suzhou-style rooms have accents like gold silk brocaded throws and pillows, plus antique Chinese ceramics on shelves that, at night, are dramatically back-lit. The open-plan bathrooms feature long counters and sleek Italian-design bathtubs.
Almost half the rooms have lake or garden views through big picture windows, while some have balconies. Even the smallest room is 323 square feet; the biggest is a 2,047-square-foot two-bedroom. A pillow menu offers 10 choices, including fragrant (lavender and chrysanthemum scented). Executive-class rooms have complimentary drinks and snacks in the Library lounge daily.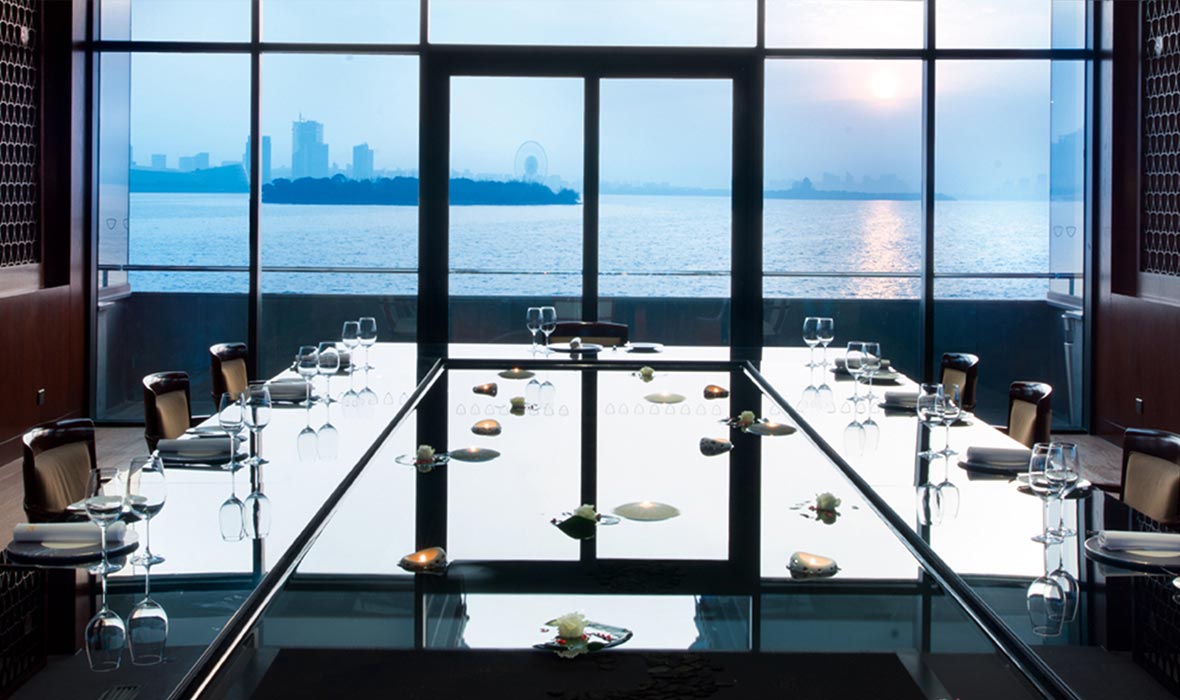 At romantic Le Lac restaurant, which boasts a reflecting pool in the center with floating tea lights and flowers that mirrors the shimmering lake view, the menu is French specialties only, such as pan-fried pigeon with foie gras or steak in red wine sauce with mushrooms. The international wine list has over 50 choices. At Al Fresco, Mediterranean food is served at lunch, while its breakfast buffet ranges from dim sum to Western favorites.
The heated indoor pool is paved with seashells and illuminated by star-like lights. At the spa, guests will find Chinese, Thai, and European treatments among the moon gates and Chinese art.
You can't miss the hotel: A Lamborghini car and bull sculpture are in front – the latter due to the bull logo honoring the zodiac sign of car brand founder Ferruccio Lamborghini. A shop selling Tonino Lamborghini products is inside. The Italian-Chinese hybrid may seem odd at first, but the concept works. After all, it was a certain Marco Polo from Venice who, back in the 13th century, dubbed Suzhou the "Venice of the East" for its many canals, even a Grand Canal that flowed from Beijing through the city.