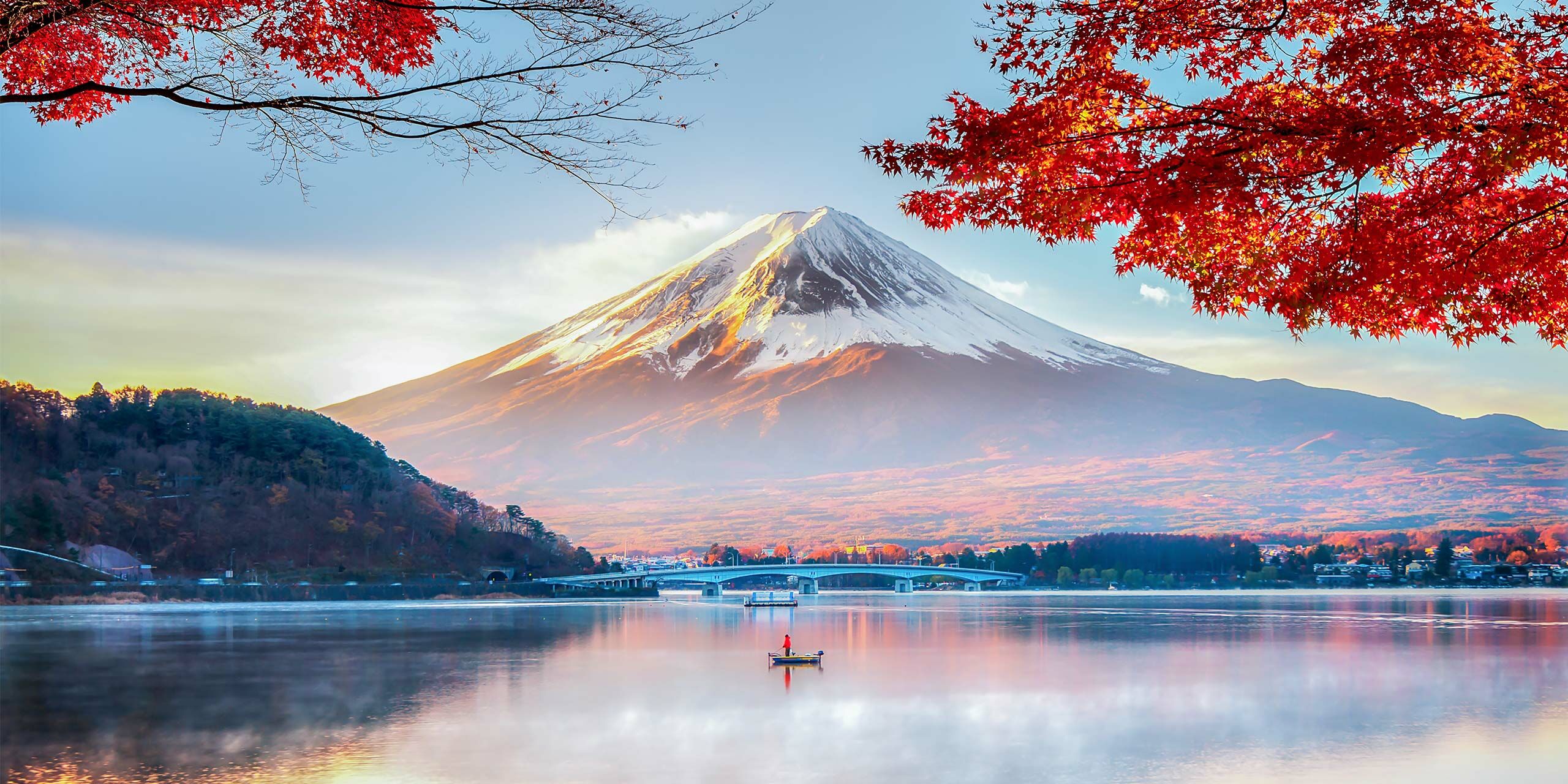 Snow-laden forests in the north, pink sakura blooming through the countryside, bright oranges and reds of maples in autumn, and verdant mountain peaks of a steamy summer — Japan's seasons are alive with color and culture. Whether you'd like to ski in Niseko or lounge on the beaches of Okinawa, Remote Lands has a bespoke journey just for you.
Winter
Journey to Japan's wild north, Hokkaido, to explore nature at its best. From the vantage of luxury ryokans and onsens, travelers will embark on an exciting adventure to see eagles, cranes, and board an icebreaker cruise through scenic Shiretoko, pushing through the frozen Sea of Okhotsk to encounter other wildlife. With the right timing, visitors can attend the Sairinka Light Festival, celebrating the arrival of more than 1,000 white swans which fly into Tokachigawa Onsen every year.

About 1200 red-crowned cranes call Hokkaido home, with many regularly stopping at Akan International Crane Center's grounds to feed. Those willing to brave an early wakeup and frigid temperatures will be rewarded with a view from Otawabashi Bridge of the tancho cranes roosting in the Setsurigawa River. As the dawn sun rises, it  illuminates the mist coming off the water that partially shrouds the flocks of sleeping cranes. The birds take flight and soar across the lake and welcome the new day with their distinctive calls.
Spring
To experience Japan's most famous seasonal treasure, explore Japan in the spring. Jet set through Osaka, Kyoto, Kobe, and Hiroshima on a whirlwind adventure of castles, nature, and the modern and ancient history of East Asia's most dynamic destination. For next year, enjoy the ultimate Japan foodie expedition with the Aman Japan Culinary Journey. Take helicopters and bullet trains to the three Aman properties on this 9-night adventure from Tokyo to Kyoto, beginning on May 15, 2022, featuring the most exclusive dining and libations experiences from sushi with master chefs to Yamazaki whisky tastings.
Summer
Start your summer adventure in Kyoto and embark on a journey through Japan's great outdoors. Hike to Arashiyama bamboo forest, climb Kuma Kogen on the Shikoku Pilgrimage, and cycle through the stunning scenery of Shimanami Kaido, an impressive 37-mile cycling expressway that connects Onomichi, Hiroshima and Imabari, Ehime, and nine of the Geiyo Islands.
Fall
Take to the stunning colors of fall on an adventure through rugged Tohoku. Explore Matsushima Bay dotted with pine-filled islands and red-lacquered traditional bridges and climb Mt. Hakkoda to indulge in the gentle autumnal scenery of Lake Towada. In late September 2020, don't forget to take in the fine arts of the Seto Inland Sea for the Setouchi Triennale.