Example Itinerary
Tokachigawa to Sapporo: Hokkaido Winter Magic
Explore nature at its best, in a journey through some of the most spectacular and nearly untouched hot springs that lie amongst families of majestic and wild cranes, surrounded by fresh snow and sparkling ice blanketing the ground. Eight days in the wilderness between Eastern Hokkaido and Sapporo, although in temperatures well below freezing, will be an unforgettable breathtaking trip as you taste some of the freshest food, in the most exquisite hotels with outstanding service, under the clear, star-filled sky above. Experience a winter wonderland bound to inspire, where the beauty of natural elements appears in some of their purest forms, as you hear the rumbles of active volcanoes that surround.
This itinerary is an example. It's designed to inspire you and provide you with thoughtfully curated ideas. You can choose to do this exact itinerary or completely personalize it. All trips are 100% bespoke.
Highlights
• Onsen: A dip in the pools at Moor Hot Spring Baths is not only relaxing, but also nourishing for the skin as the mineral-rich waters naturally moisturize like lotion.
• Festivals: Attend the Sairinka Light Festival, a light and sound extravaganza that celebrates the arrival of 1,000+ white swans, which fly into Tokachigawa Onsen every year.
• Ice Cruise: Enjoy an ice breaker cruise through scenic Shiretoko, pushing through the ice of the frozen Sea of Okhotsk to encounter wildlife.
Day-by-Day
Day 1
Tokachigawa Onsen
Arrive in the beautiful northernmost Japanese Island of Hokkaido, where a driver will be ready to transfer you to your hotel in Tokachigawa Onsen, roughly three hours' drive away from the airport in the stunning Tokachi planes. Enjoy a traditional Kaiseki Dinner at the hotel before having your first natural experience in a peaceful-yet-exhilarating bath in the Moor Hot Spring. When the time feels right, slowly make your way back through the snow-coated terrain to enjoy a unique spectacle of the "Sairinka" light festival, where you'll be amazed by incredible lights and sounds.
Day 2
Kushiro
This morning, you'll leave Tokachigawa, and be transported into the 'heart' of Douto, renowned for its wild crane observatories, nestled in the Kushiro Marshlands. Start your day at the Ikeda Wine Castle where you will be able to taste a variety of fruity, dry and sparkling flavoured wines, before heading to the Akan Crane Centre where you will hear the natural music of singing cranes as they seek to impress their partner during the mid-winter months. Experience local food in the fresh market - you'll be given a bowl of rice at the entrance, and may then stroll around to select the fresh catch of the day, fresh veggies, and more, as a topping. Return to your luxury hotel to freshen up, before catching the magical Lake Akan Winter Festival, with its stunning fireworks.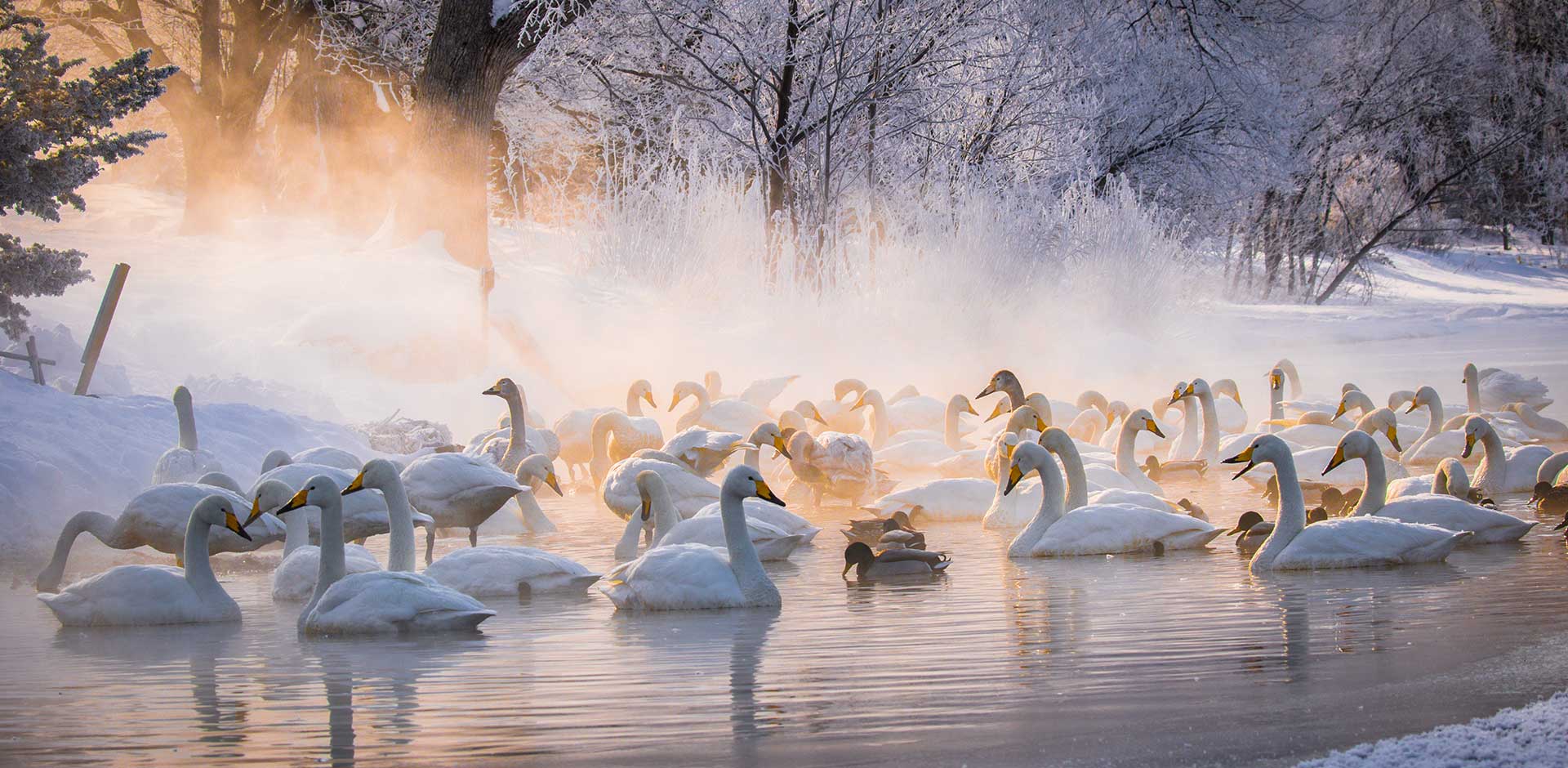 Day 3
Shiretoko
Wake up to glittering snow as the sun's rays shine down onto the crispy fields, and enjoy a hearty breakfast ahead of this spectacular day. Today, you'll visit Shiretoko - considered one of the most beautiful places in Japan. Registered as a World Heritage Site, this natural setting is home to an array of wild animals who happily reside in this unspoilt land and ocean. Experience the thrill of an ice breaker cruise that pushes its way through the solid planks of ice floating on the frozen Sea of Okhotsk. You can often see white-tailed sea eagles and seals from on board. You'll also get the unique opportunity to witness the wild flocks of birds, penguins, and other mammals that congregate in their respective habitats, before heading back to witness the amazing Shiretoko Fantasia Light Show spectacle. A 20-minute display starting at 8pm daily, illuminates the sky with beaming lights that create incredible images of swans and other features, synchronized to the beat of music.
Day 4
Abashiri
Get your adrenaline pumping as you race your way across the sculpted mountains and carved out valleys, densely coated in white powdery snow, on an exhilarating snowmobile ride. After a soothing hot lunch, embark on a scenic tour of the east coast as you travel on the Norokko Train towards the town of Abashiri. Capture the magical view of the frozen ocean and the Shiretoko mountain range in the distance as you sip a steaming cup of coffee on this phenomenal journey. Complete your scenic day at the Abashiri Winter Ice Festival that is symbolic of winter in this region of Hokkaido. At night the ice sculptures are lit up in a rainbow of colored lights and turn the area into a world of fantasy; a view that is quite different from daytime.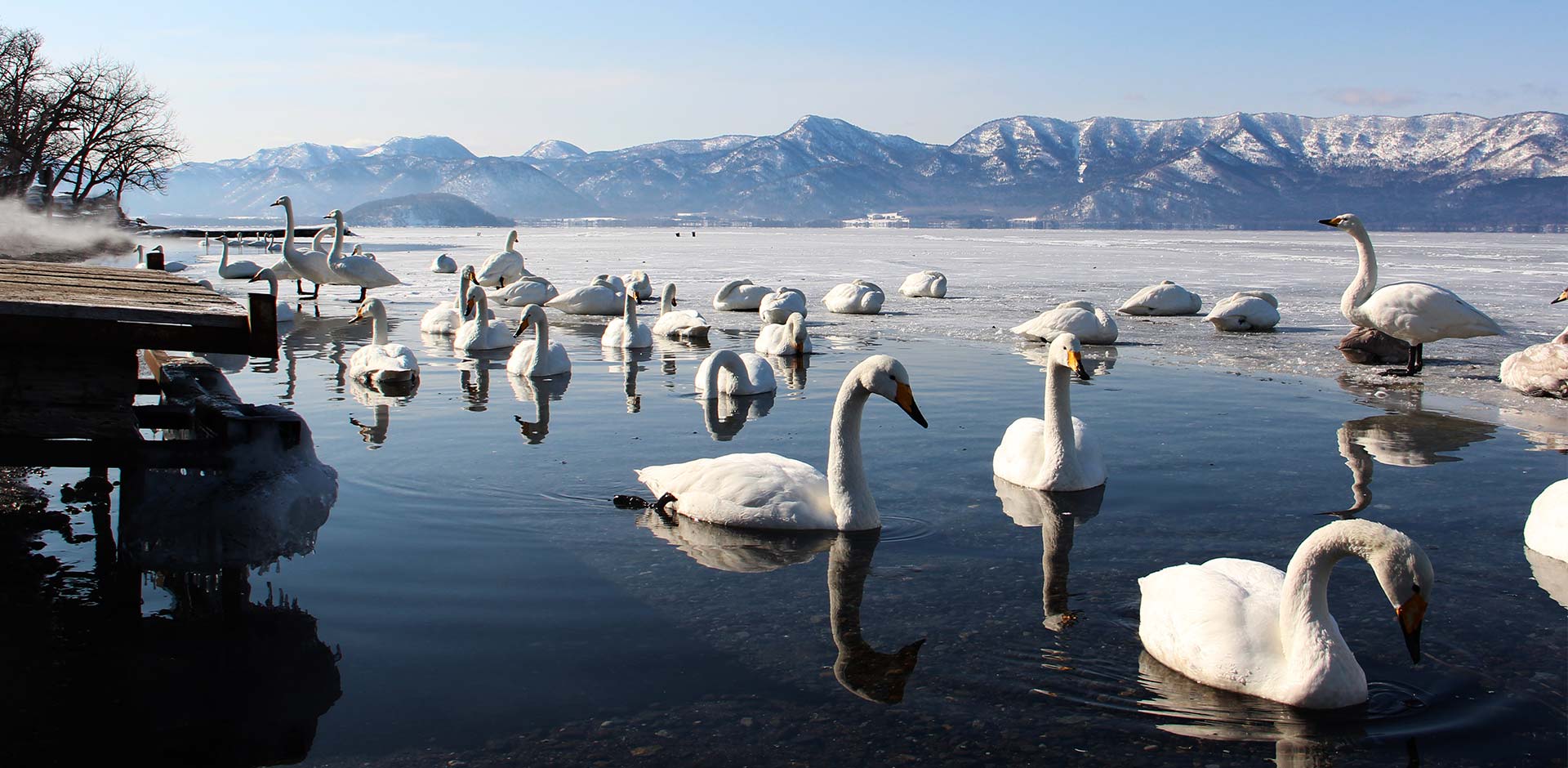 Day 5
Sounkyo
After a relaxing train ride from the day before, you're bound to feel rested and ready to make the drive from Abashiri to Sounkyo. Off the beaten path, away from typical tourists destinations, immerse yourself in cultural and natural surroundings of the vast plains and large forests from the top of the Hills of Märchen. There is a high likelihood you may be lucky to experience a brief visual encounter with the famous deer, squirrel or fox here. After capturing this visual paradise on film, enjoy a lunch break as you stare into the white forest. You will then be taken to the amazing Fox Farm, where you'll get up close and personal with one of the spectacular animals. This evening, settle into your comfortable new hotel.
Day 6
Sapporo
Today you will get the chance to see more of nature's wildlife as you drift through Asahikawa, and the intriguing Asahiyama Zoo. Although not big, this zoo is highly creative in the way of displaying the animals. One of the highlights is the 'Penguin Parade', where these cute birds stroll through the whole park to find their way to their pool. Watch as they wade to the water and unwittingly go about their daily business, while other animals from the colder global regions make a wonderful display of their natural, adoring selves. Enjoy a cultural visit into the Asahikawa Ramen Village where you can explore an interesting collection of ramen shops, as well as the Otokoyama Sake Museum. Fly to Sapporo and make your way to cozy hotel of your choice to relax for the evening.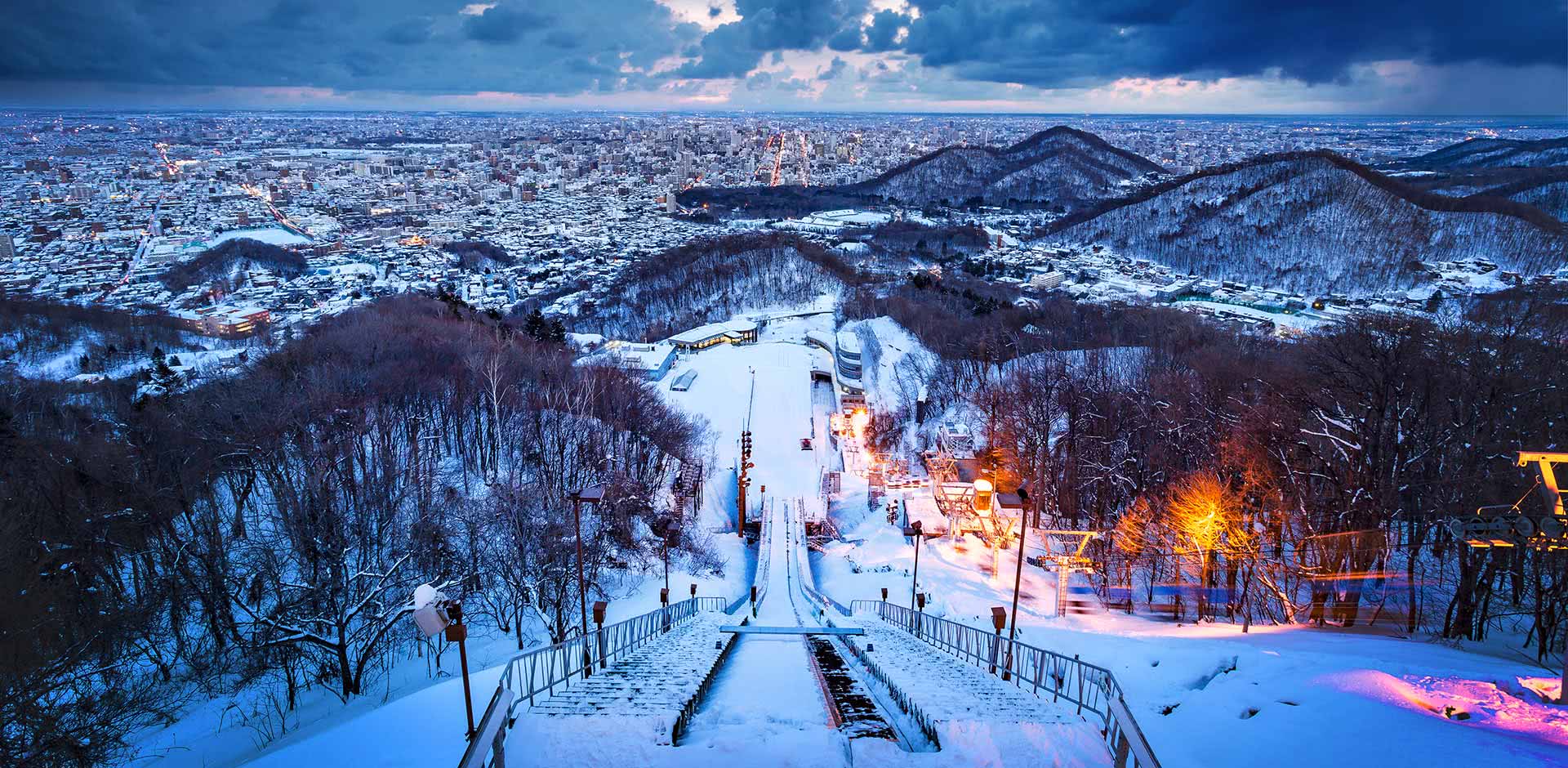 Day 7
Sapporo
Wake up early on your last full day to gallivant around Sapporo as you please. Explore the several shopping facilities, from market stalls to developed malls in this big city. Make a trip to visit the TV tower, Sapporo Beer Breweries or enjoy one of Japan's biggest events - the Sapporo Snow festival. The Sapporo Snow festival showcases hand-sculpted, life-sized temples and castles that can be walked through, and other incredible designs, such as dinosaur statues that look like something out of Jurassic Park. Immerse yourself in the beautiful surroundings and make a fun landmark by creating a good old snowman just outside the city centre. Day trips to Otaru, a nostalgic port roughly 40 minutes away by train on the outskirts of the city, can also be organized and highly recommended for a fantastic day out. Here you can enjoy the seafood and scenic walking opportunities as you meander through this beautiful town. Purchase some souvenirs and mingle with locals, as you explore the wildlife and enjoy romantic views of the white winter wonderland.
Day 8
Departure
With the natural tranquil atmosphere, make an early move to walk along the white crispy snow from a fresh evenings snowfall. If you did not get a chance to explore the commercial side of Sapporo, now is your final opportunity to go shopping downtown and buy any last minute goodies. In particular, visit Mitsui and Rera Outlet, before a decent lunch. If shopping is not your scene, enjoy one last walk around the beautiful ice sculptures that are unique to Sapporo, before heading back to the airport for your onward flight to your next destination.
TERMS AND CONDITIONS
Price is based on double or twin hotel room occupancy and includes accommodation, transfers, car/driver, English-speaking guide, activities and entrance fees, breakfasts and some casual lunches while touring. Flights and optional special activities will be quoted separately. Most personal expenses, including dinners, alcoholic beverages, spa treatments and gratuities can be paid on the spot while traveling. Prices may vary depending on season, choice of accommodation and other factors.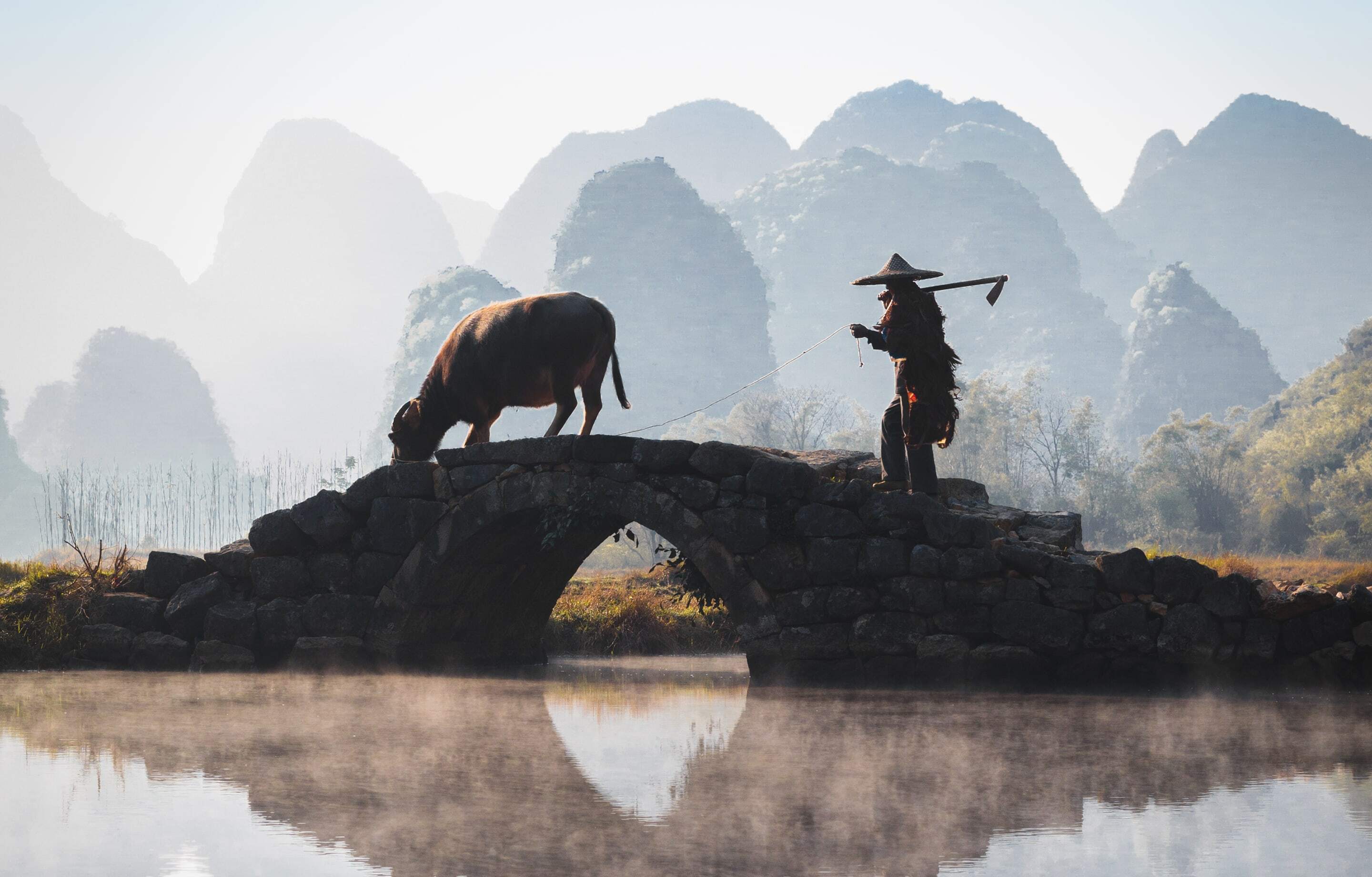 Why Remote Lands?
Exclusively Asia
With Remote Lands you'll travel with people who have made Asia the solitary focus of their own lifelong adventure. As our guest, you'll discover Asia on a journey that is completely, authentically your own, adapted from our own remarkable experiences and adventures over the years.
With Remote Lands you'll travel with people who have made Asia the solitary focus of their own lifelong adventure. As our guest, in the continent that our north American founders Catherine and Jay have adored and explored for decades, you'll discover Asia on a journey that is completely, authentically your own, adapted from our own remarkable experiences and adventures over the years.
Travelogues
An Asia-focused magazine brought to you by Remote Lands – a platform for adventure, luxury, and authenticity from experts and explorers around the continent.
What Others Say
Here is a small selection of the kind words our guests have said about us, as well as features by journalists and travel writers.
From the moment I happened upon the REMOTE LANDS website over a year ago, browsed the options, I knew that this would be well worth it. The entire staff is nothing less than professional with service that made us feel like royals.
This was truly the trip of a lifetime. Magical destinations, the most luxurious hotels in the world, and the most wonderful travel companions we could've wished for. We were treated like family everywhere we went and we have 14 new best friends.
We have used some of the top rated travel specialists all over the world and, without question, Catherine Heald and Remote Lands are at the very top of the list!