Why We Love This Hotel
Nature: Aman Kyoto's palette is the inviting green of forest scenery and the warm, woody tones of shelter. So aligned with its surroundings, the hotel changes with the seasons; Taka-An's menu puts the spotlight on seasonal produce, while the floor-to-ceiling windows showcase how the passing months shape the landscape.
Culture: Kaiseki banquets, matcha and mochi afternoon tea, tranquil and contemplative gardens, indoor and outdoor onsen bathing facilities, options for futon bedding and tatami mat flooring – the entire property has been designed with an immersion in both nature and culture in mind, so guests can experience true Japanese hospitality.
Wellness: A stay at the Aman Kyoto is not just a quiet retreat to return to after a day of sightseeing in Kyoto, but also an oasis designed to replenish the body and mind. The in-house spa specializes in Shiatsu massage, onsen pools are fed by the mineral-rich waters of local hot springs, while private yoga sessions in a forest clearing release stress and tension.
Read More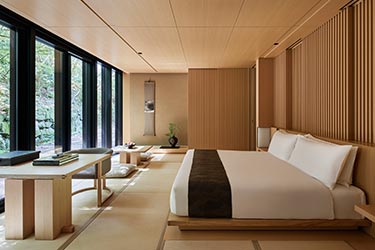 Preferred Hotel