Why We Love This Hotel
Location: Situated in the heart of Kita, one of Osaka's two main city centers, there is no shortage of tourist attractions, shopping destinations, and sights to see that are all easily accessible from the Conrad Osaka.
Dining: Osaka has a reputation as a city of foodies, and the dining options at the Conrad Osaka live up to this reputation with everything from traditional Japanese dishes to cloud-like gourmet cakes available.
Comfort: Beds are comfortable and inviting, bathrooms come with indulgent bathtubs and luxury amenities, and the expansive views set one's mind at ease.
Read More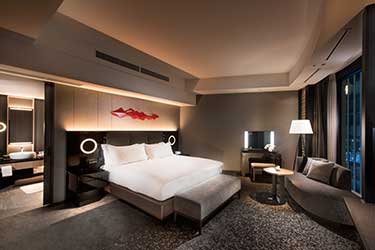 Preferred Hotel