Example Itinerary
Classic Myanmar
This 10-day classic journey showcases Myanmar's complex history, visiting important and iconic sites such as the temples and stupas of Bagan, the colonial buildings of Yangon, and the stilt-house villages of Inle Lake. Accompanied by expert guides and translators, you'll gain insight into the tapestry of ethnic cultures that form modern-day Myanmar and see some of the country's most breathtaking scenery. Visits to different ethnic communities and private time with local families, artists and experts are part of this enlightening journey.
This itinerary is an example. It's designed to inspire you and provide you with thoughtfully curated ideas. You can choose to do this exact itinerary or completely personalize it. All trips are 100% bespoke.
Highlights
Temples Galore: Myanmar's deep spirituality can be felt - and seen, everywhere. A temple can be found a stone's throw away no matter where you are. From the large gilded Shwedagon Pagoda that stands proudly in the middle of Yangon to the thousands of temples in Bagan and humble wooden pagodas at Inle Lake.
Ballooning over Bagan: What could possible top the experience of marveling at Bagan's temple-studden plains slowly from above on a hot-air balloon? Answer: Doing it at sunrise. Watching the dawn break over the horizon and its light unfurl majestically across the land and temples below.
Ethnic Diversity: Although the Burmese are now the majority ethnic group in Myanmar, it wasn't always that way. This diverse nation has 135 distinct ethnic group that are sprawled across the land. At Inle Lake, visit several villages and meet a few of the ethnic minorities.
Village Life: Despite modernizations in the major cities, village life is the reality for the vast majority who live outside of these cities. In many respects, a Myanmarian farmer and his wife still live in the way their forefathers did, working with oxen yoked to ploughs. As Myanmar's development accelerates, this way of life will diminish. For the time being, you can visit and see the authentic rural village life as it is and has been for generations.
Day-by-Day
Day 1
Yangon
Your 10-day classic journey begins in the capital, Yangon. Upon arrival at the airport, you will be met and transferred to your hotel to check in and freshen up. This afternoon, get acquainted with the city formerly known as Rangoon on a colonial architecture walking tour. Myanmar became a colony of Britain in 1824 and remained so until 1948, leaving behind the highest concentration of colonial buildings in the world. Though many of these beautiful structures now stand in disrepair, they are still stunning and tell of the history they have seen over the years, including colonial control, a Japanese invasion, military rule, and the struggle for peace. In the late afternoon enjoy sunset over Shwedagon Pagoda's beautiful golden spires. It is said four Buddhist relics that belonged to previous incarnations of Buddha are preserved at this sacred temple.
Day 2
Yangon
Have a light breakfast at the hotel and save room for a crash course in Burmese cuisine this morning. Led by a local expert on the streetfood scene, roam the city's favorite haunts on rickshaw and sample signature dishes such as tea leaf salad, mohinga rice noodles, homemade tofu, and a plethora of curries. Walk it all off with visits to popular temples, Botataung Pagoda and Chauk Htat Gyi Pagoda, followed by a local nunnery where families admit their young daughters to become nuns. Speak to the studious students to learn about their daily chores and lessons. Stop at the busy Bogyoke Aung Sun market, also known as Scott's market, where you'll find local tea, silk, and rattan products. Finally, have your fortune read at the fortune-telling pagoda before ruminating your newly-revealed, if not slightly vague, fates over snacks and sights in Chinatown.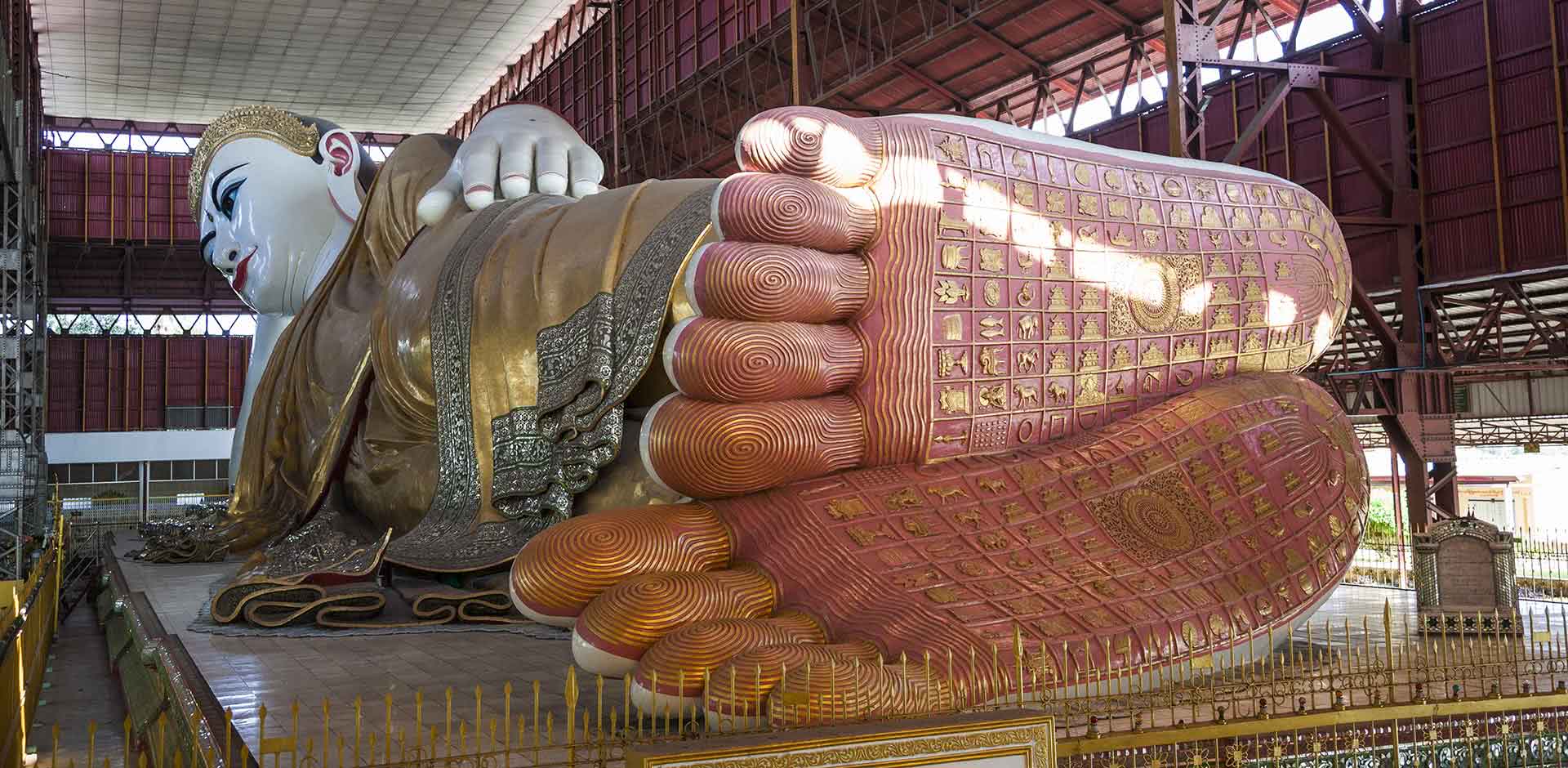 Day 3
Bagan
Travel to the old capital of Bagan early this morning, landing at an airport that is barely more than an air strip and humble terminal building. Bagan has an intriguing history, and here you'll see it unravelled in its architecture. You will be traveling between the temples by electric bicycle, arguably the best way to enjoy the serene atmosphere and hundreds of small and large pagodas littered everywhere you look. After this fascinating tour through the old city, check into your hotel in Bagan.
Day 4
Bagan
Get up early today for a sunrise hot-air balloon ride, available in from October to April. This unforgettable experience allows you to appreciate the true extent of Bagan's beauty, its thousands of temples and its serene countryside. After breakfast back at the hotel and time to rest, head back out to see Bagan's signature sites such as Ananda Temple, Shwezigon Pagoda, and the Minnanthu village temples. Ananda Temple was built nearly a thousand years ago and features a spectacular gold spire and four standing Buddha statues. Shwezigon Pagoda was constructed for Theravada Buddhism, with its immense circular gold-leafed stupa, one of Bagan's most compelling and iconic sights. At Minnanthu Village, learn about their staple handicrafts, lacquerware. Lacquer is naturally skillful work. In Bagan, artisans laboriously coat 7-16 layers of lacquer over a frame made using bamboo strips, wood, or horse hair. This profession is practiced by families in Bagan for generations.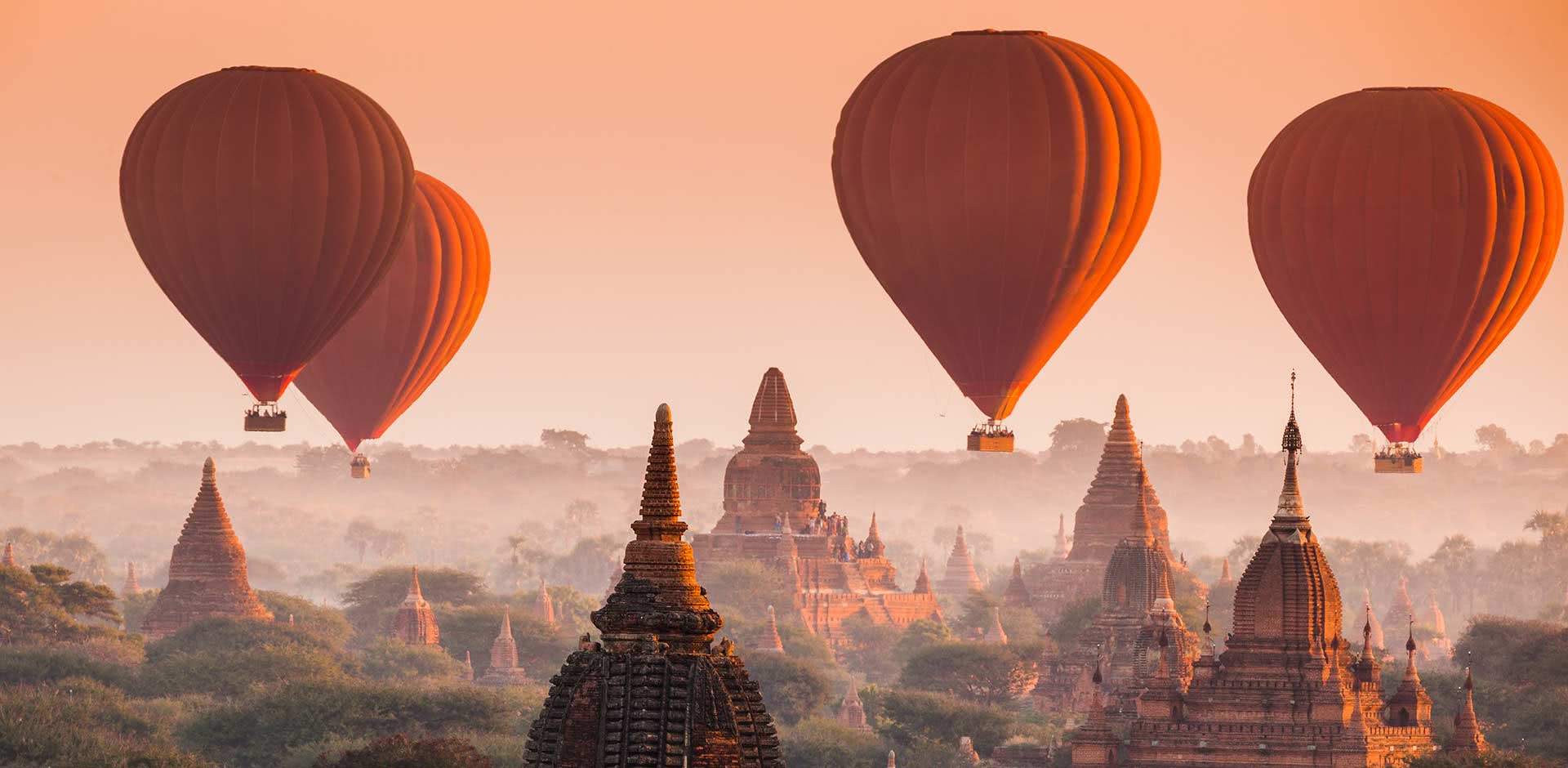 Day 5
Mandalay
Today you'll fly to Mandalay to explore the city's historic highlights. Start with the Mahamuni Paya and see the famed Buddha, covered in gold leaf by pilgrims every day. Following is Kuthodaw Pagoda, one of Mandalay's most striking locations. This 19th-century complex is home to the "world's largest book", comprising 729 white marble tablets engraved with Buddhist scriptures. The tablets are arranged in groups, each crowned by a white stupa, making for a remarkable sight. Finally, survey the city and surrounding lands from the top of Mandalay Hill, a popular site in the city to watch the sunset. It also hosts a cluster of moansteries and convents, of course.
Day 6
Mandalay
Start the day with a short trip to Amarapura, a former capital of Myanmar which is now a part of Mandalay city, a result of urban sprawl. Regardless, Amarapura remains distinctively its own town and is known for its traditional silk and cotton weaving in the indigenous Burmese style of achiek textile. Also visit the nearby town of Inwa, another ancient imperial capital. Though much of it was destroyed by a series of major earthquakes, the remaining traces of its former grandeur can still be observed. Then, visit a couple of stunning monasteries built entirely of teak wood and renowned for the quality of wood carvings and harmonious layout, Shwe in Bin and Shwenandaw Kyaung. Finish the day at U Bein Bridge, the longest teakwood bridge in the world spanning over half a mile.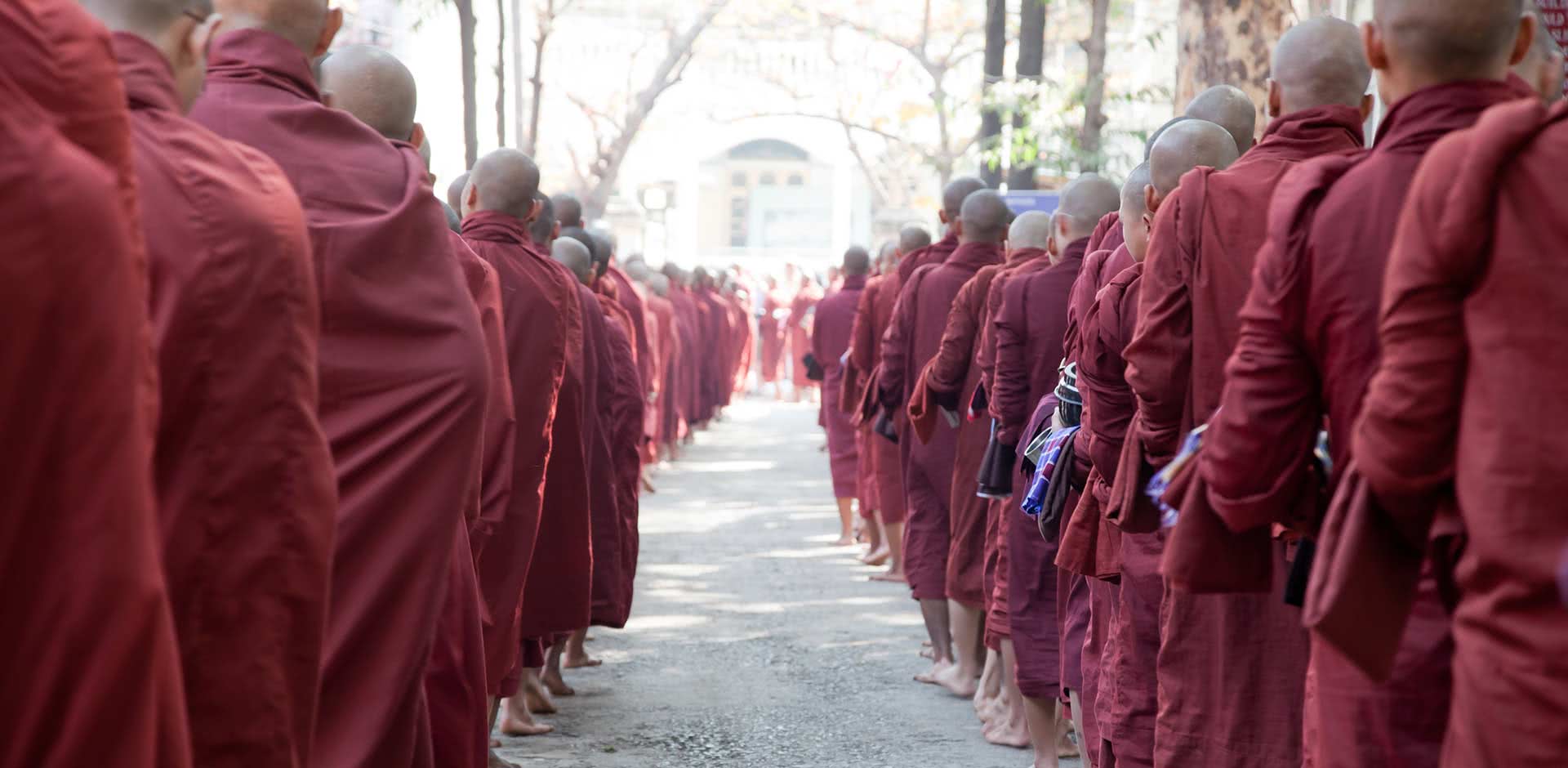 Day 7
Inle Lake
Travel to the peaceful Inle Lake today - another must-see destination in Myanmar. This is the site of floating farms and stilt-house villages where more than 70,000 people of different ethnicities call home. Get a feel for river life with a visit to the floating markets and villages. Kaylar village is known for its aquaponics, plant and vegetable farms also grown on the water. As you explore the lake, you will see one of Inle's unique sights: fishermen who use their legs to row their boats. These leg rowers expertly use one leg to row their boats so their hands are freed up for fishing. They use a special fishing net draped over a bamboo cone frame which they quickly plunge down into the water, trapping large fish.
Day 8
Inle Lake
This morning, visit Phaung Daw U Pagoda, located on the lake. Phaung Daw U Pagoda is one of three main shrines in the country, housing Buddha statues from the 12th century. Nearby is the Nam Pan morning market where all commerce takes place on boats. Then, make your way to Inthar Heritage House, a traditional Shan home utilizing traditional craftsmanship and decorations rarely seen today. We recommend lunch at the Heritage House which also has a restaurant serving a menu inspired by local Inthar cuisine and is one of the best restaurants in the area. If you wish, take a cooking lesson here and learn how to make the dishes you just had. Finally, see something unique in the country - a local vineyard. Enjoy a tasting flight of the local wines while enjoying the countryside, a sublime way to end the day.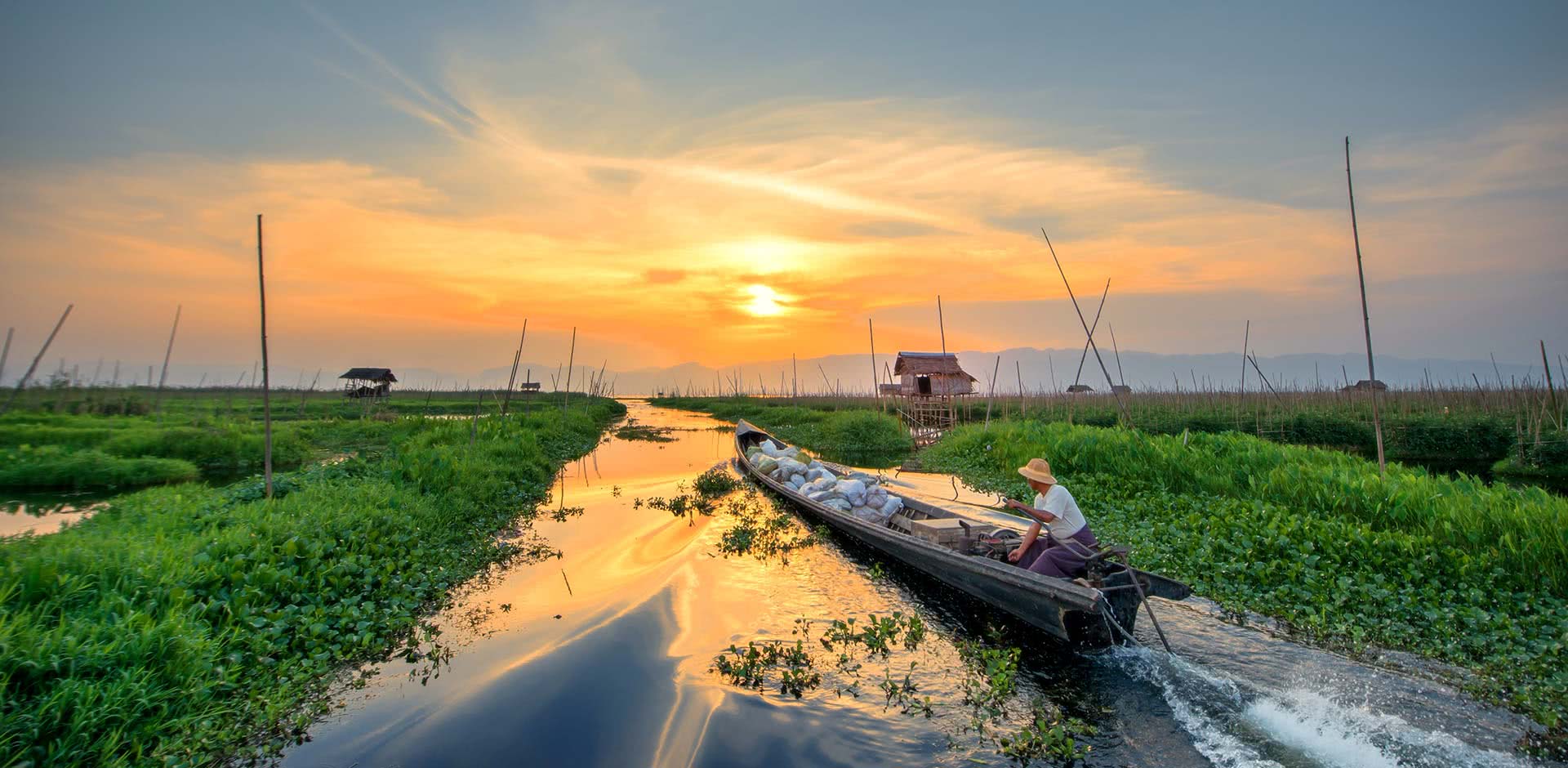 Day 9
Inle Lake
You'll begin your day with a hike to the village of Pa-O, where traditional farming methods are still used to cultivate tobacco and mustard. In Pa-O, you can visit the local markets to observe village life and find out from the locals what it's like to live so remotely. Continue on to Ywama and Indain villages, the latter which is reached by narrow passage north of the lake. At Indain, see a series of unrestored pagodas and if a breezy day, you can hear the wind chimes on the pagodas produce a peaceful sound.
Day 10
Departure
As you head for the airport, take a worthwhile detour to the Kakku Pagodas complex. Similar to Indain's cluster of pagodas, the ones at Kakku are impressive in sheer number with over 2,500 pagodas. This hidden gem is remote and rarely visited, making it a terrific farewell treat on your classic journey through Myanmar. Continue on the airport and fly to Yangon where you can connect to your international flight onward.
TERMS AND CONDITIONS
Price is based on double or twin hotel room occupancy and includes accommodation, transfers, car/driver, English-speaking national guide, activities and entrance fees, breakfasts while touring. Hot-air balloon ride, fortune telling, and wine tasting experiences are included. Flights and optional special activities will be quoted separately. Most personal expenses, including dinners, alcoholic beverages, spa treatments and gratuities can be paid on the spot while traveling. Prices may vary depending on season, choice of accommodation and other factors.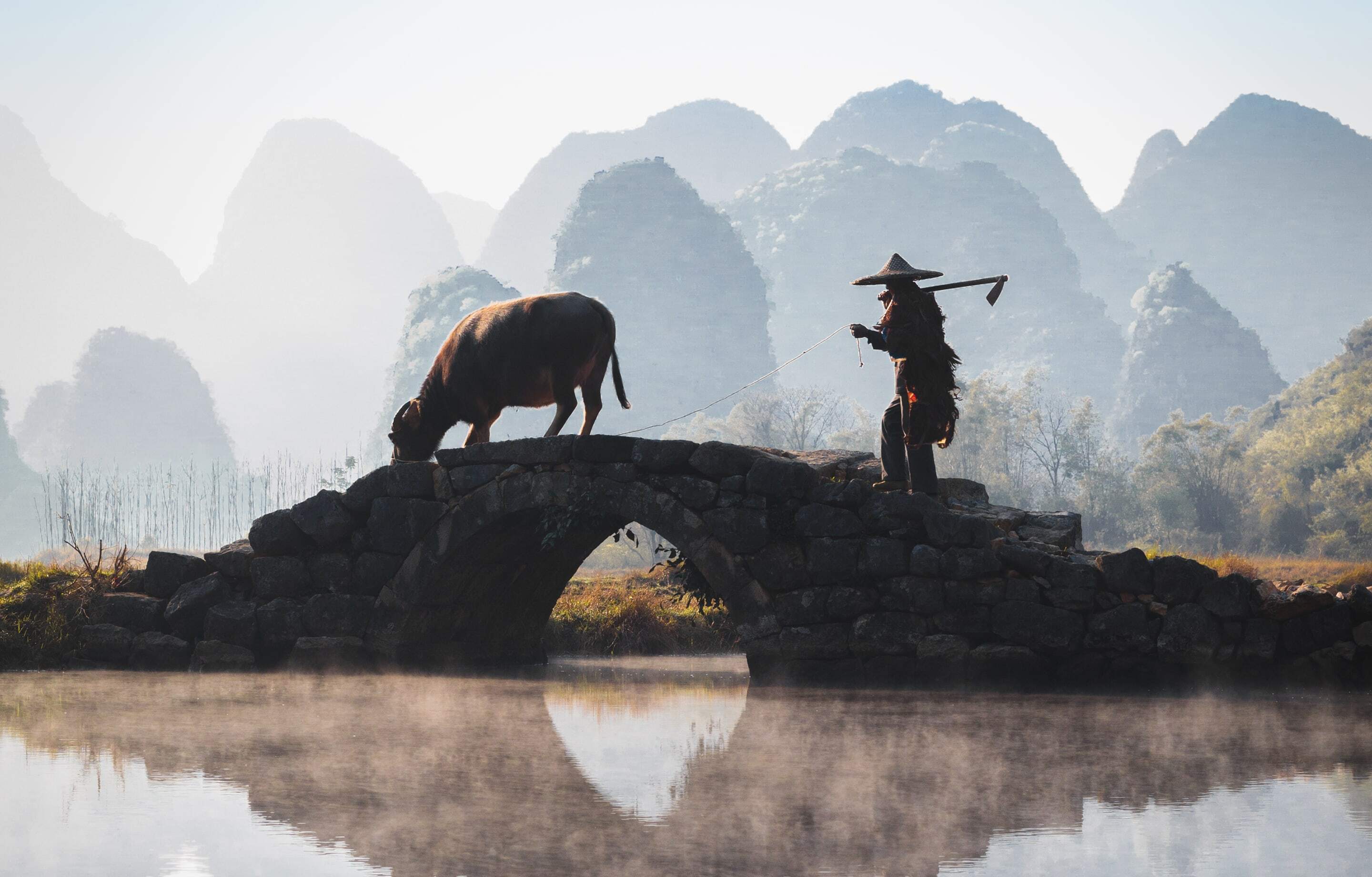 Why Remote Lands?
Exclusively Asia
With Remote Lands you'll travel with people who have made Asia the solitary focus of their own lifelong adventure. As our guest, you'll discover Asia on a journey that is completely, authentically your own, adapted from our own remarkable experiences and adventures over the years.
With Remote Lands you'll travel with people who have made Asia the solitary focus of their own lifelong adventure. As our guest, in the continent that our north American founders Catherine and Jay have adored and explored for decades, you'll discover Asia on a journey that is completely, authentically your own, adapted from our own remarkable experiences and adventures over the years.
Travelogues
An Asia-focused magazine brought to you by Remote Lands – a platform for adventure, luxury, and authenticity from experts and explorers around the continent.
What Others Say
Here is a small selection of the kind words our guests have said about us, as well as features by journalists and travel writers.
From the moment I happened upon the REMOTE LANDS website over a year ago, browsed the options, I knew that this would be well worth it. The entire staff is nothing less than professional with service that made us feel like royals.
This was truly the trip of a lifetime. Magical destinations, the most luxurious hotels in the world, and the most wonderful travel companions we could've wished for. We were treated like family everywhere we went and we have 14 new best friends.
We have used some of the top rated travel specialists all over the world and, without question, Catherine Heald and Remote Lands are at the very top of the list!