Example Itinerary
The Charms of Southern Laos
Explore beautiful Southern Laos on this 9-day luxury journey through sleepy cities, coffee plantations, temple ruins, and river villages. Enjoy breathtaking mountain scenery by visiting the stunning Tad Fane waterfall, with its dizzying drop, and taking a dip in the pools of Tad Yeung. In the 4,000 Islands, enjoy the laid-back pace of Don Khone and Don Daeng Islands, explore local villages, and gain an inside peak into local Lao culture.
This itinerary is an example. It's designed to inspire you and provide you with thoughtfully curated ideas. You can choose to do this exact itinerary or completely personalize it. All trips are 100% bespoke.
Highlights
• Waterways: Hike to Tad Fane Waterfall from Pakse, stay on the banks of the Mekong at Don Daeng (4,000 Islands), then kayak and cruise looking for endangered Irrawaddy dolphins.
• Coffee: The Bolaven Plateau is home to a number of coffee plantations and therefore the best place to sample a cup of Lao joe.
• Ancient Temples: Given the nod by UNESCO, the temple remains of Wat Phu predate neighboring Cambodia's Angkor Wat by some 500 years.
Day-by-Day
Day 1
Pakse
You'll start your 9-day luxury tour of Southern Laos in Pakse. This former administrative French colonial city is located at the junction of the Mekong and Xe Don rivers, and sports stunning water and mountain views. Home to ancient temples, French colonial architecture and lazy riverside restaurants, Pakse is a fantastic launch point for exploring the laid-back Southern Laos region. There is a selection of international hotels here – we recommend the Champasak Palace Hotel or the Champasak Grand Hotel.
Day 2
Pakse
The Bolaven Plateau, which presides over Pakse, is home to a growing number of coffee plantations, and today you'll embark upon an excursion to the agricultural village of Ban Katuu. Here, you'll get a glimpse of local coffee production and sample fresh Lao coffee. Go on to visit Talat Dao Heung Market near the Japanese Bridge, where you can bargain for coffee and browse colorful stalls of spices, dried fish, fresh fruits, and Lao sweets. In the evening, relax and enjoy a dinner at a local restaurant before retiring to your hotel.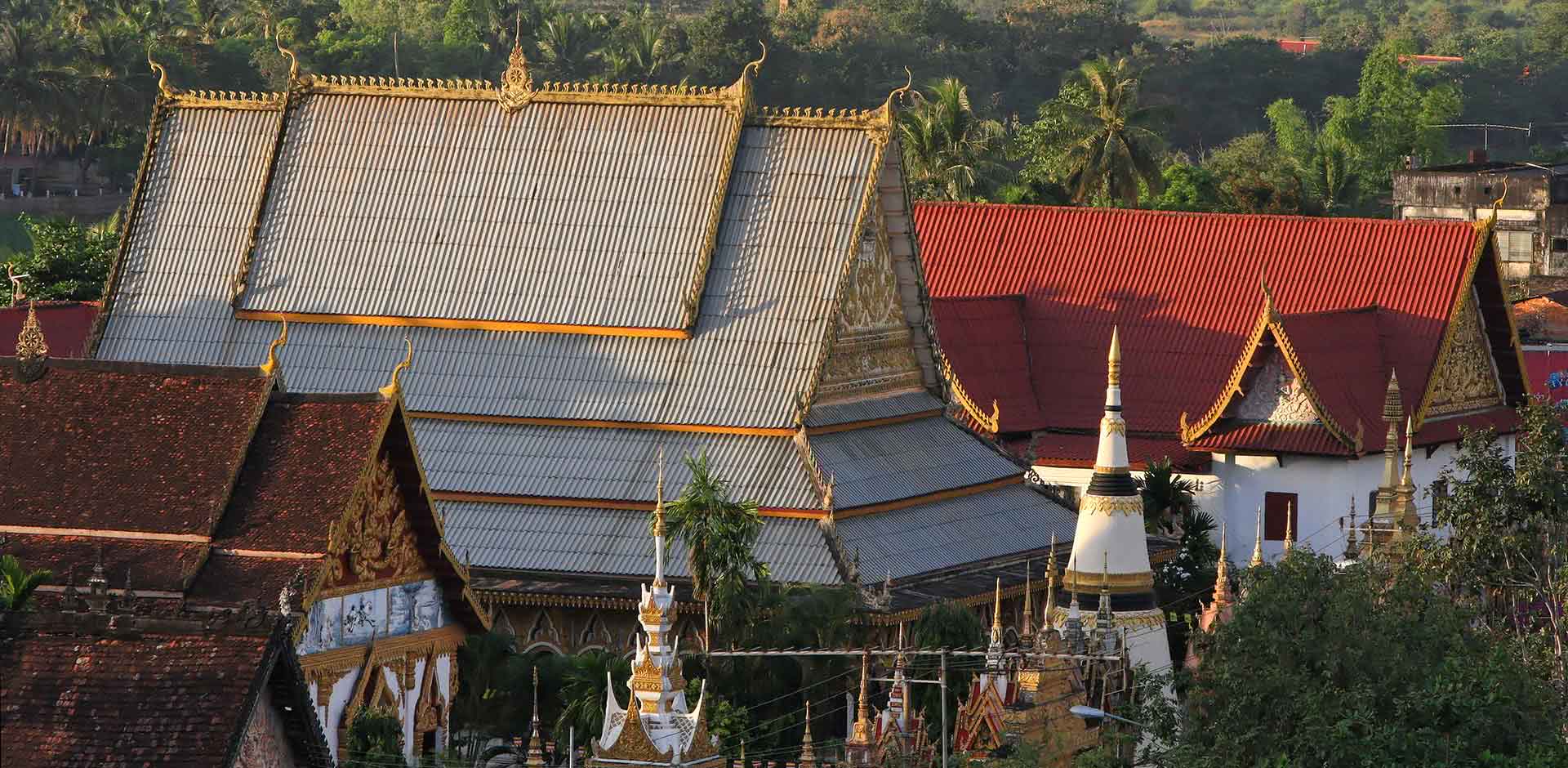 Day 3
Pakse
Today you'll explore another of the Bolaven Plateau's famous features: Tad Fane waterfall. Situated in dense rainforest, this waterfall has twin streams that plunge from an impressive height of 800 feet. Next you'll drive to Tad Yeung waterfall and the surrounding coffee plantation and enjoy a swim in its cool, clear waters. Return to your hotel in Pakse this evening.
Day 4
Champasak
Make your way to Champasak today (1 hour's drive) to visit the ancient ruins of Wat Phu. Outdating Angkor Wat by almost 500 years, these ruins offer insight into the region's cultural heritage and still function today as a Buddhist worship site. This UNESCO World Heritage Site features intricate stone carvings bearing Hindu deities and moss-covered remains of shrines and courtyards. After exploring the site, you'll make your way to La Folie Lodge, on the banks of the Mekong. La Folie Lodge's wooden bungalows offer fantastic water, garden, and mountain views.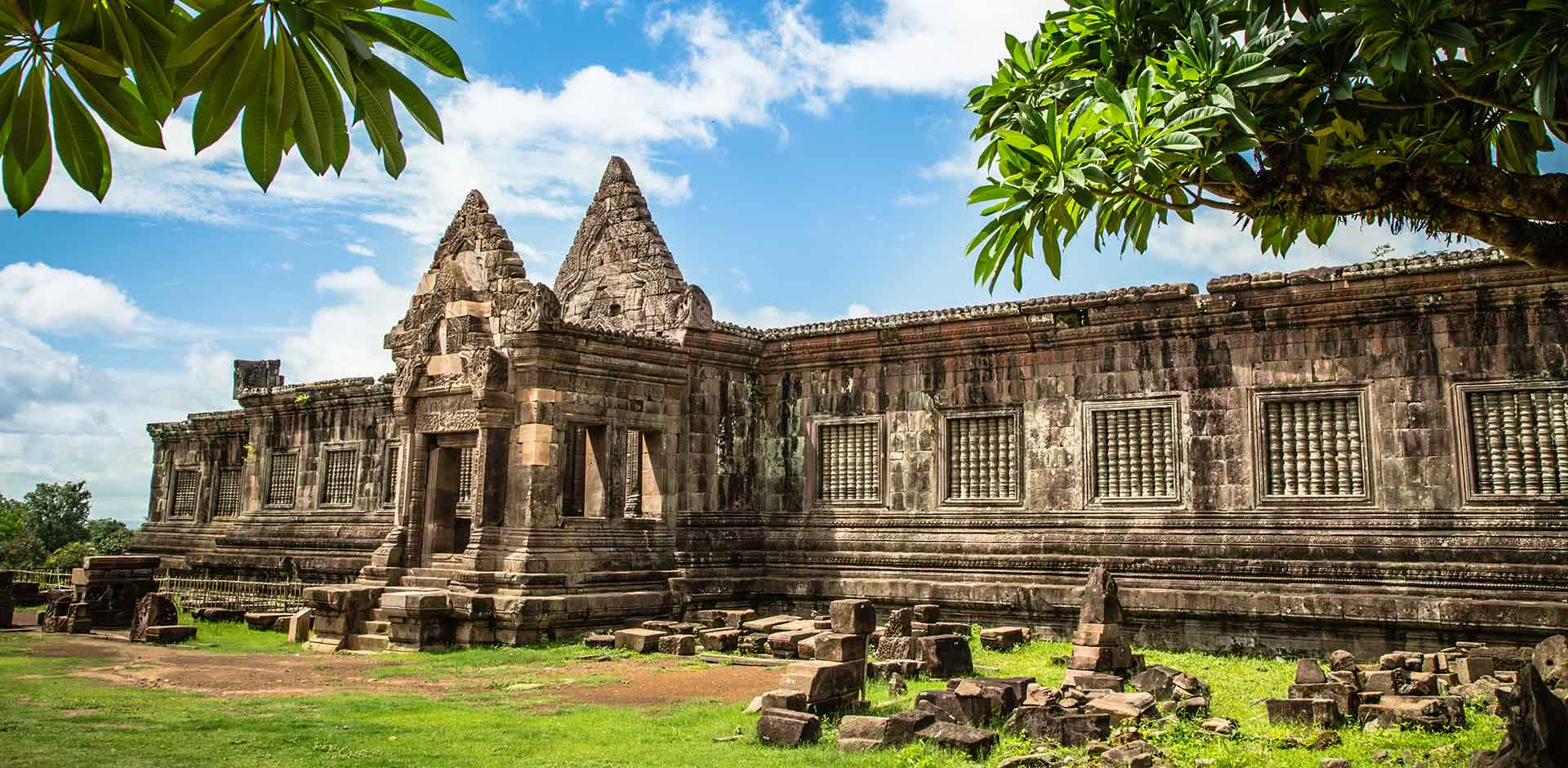 Day 5
Champasak
Today, intrepid travelers can enjoy a tour of the river communities of Don Daeng. This area in the Mekong comprises more than 4,000 islands of various sizes, characterized by their laid-back pace the rustic wooden bungalows that comprise them. You'll get a rare glimpse of river life by visiting one of these communities, touring a local school, and meeting village elders. You'll eat with the residents, enjoying a traditional local meal of papaya salad (som tum), sticky rice, and grilled fish.
Day 6
Don Khone
The tiny island of Don Khone is your destination today. Measuring only 1.5 by 2.5 miles, this sleepy village sports thatch-roof huts and swaying palms, as well as a collection of old colonial buildings. Take a tour of the colonial holdovers today, visiting old French villas and the narrow gauge railway that was constructed during World War II. Check into the Auberge Sala Don Khone tonight, a beautiful riverfront property that boasts a restored French colonial house and a floating restaurant offering wide views of the Mekong.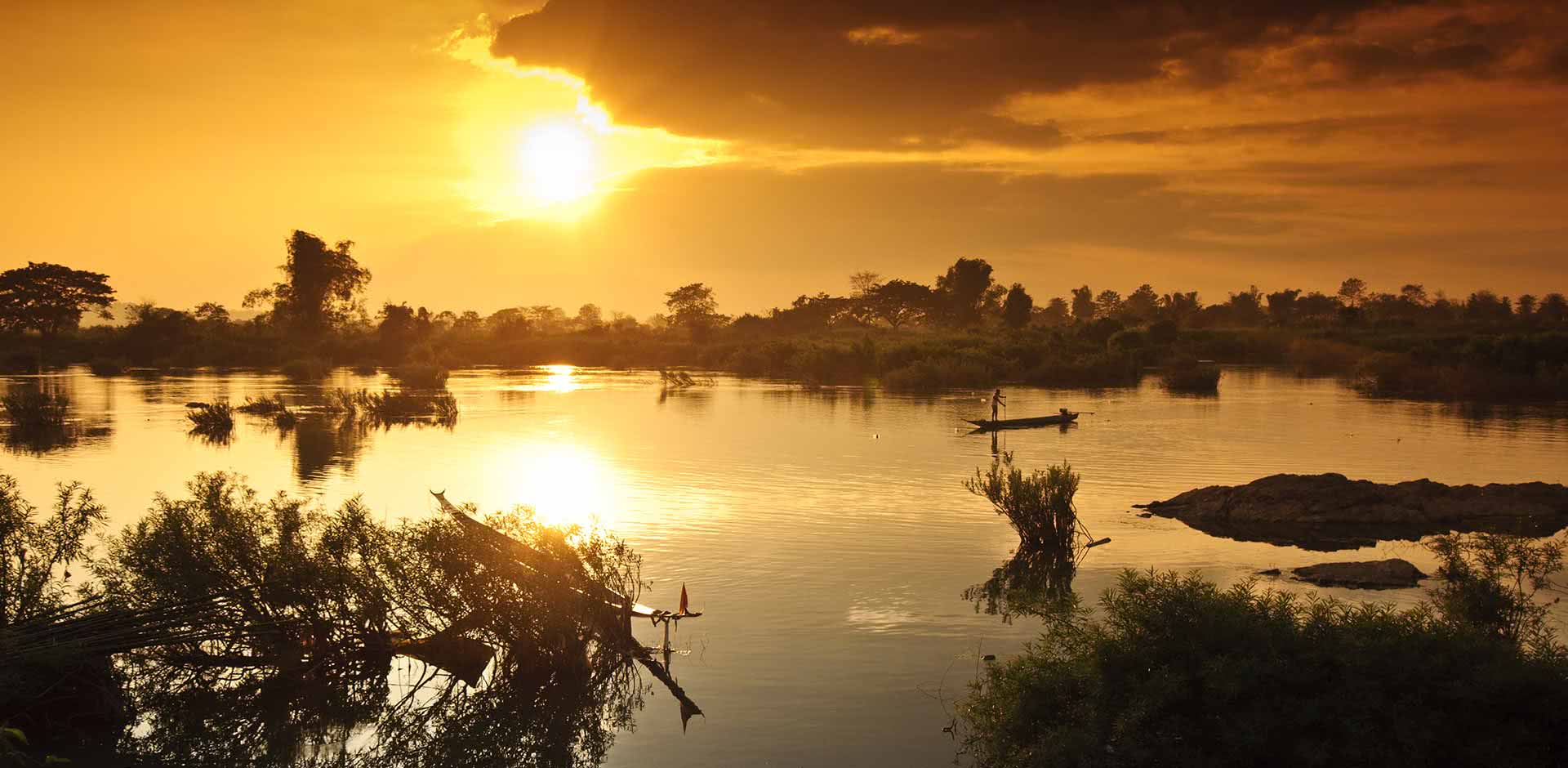 Day 7
Don Khone
There's only one way to really explore the waters surrounding Don Khone and that's by kayak. Today you can do just that with the assistance of a local guide who can show you where the calmest and most picturesque waterways are. Alternatively, you take to the river with an experienced kayaker and tackle some of its more challenging eddies and rapids. In the afternoon, you'll take a local boat ride to spot Irrawaddy dolphins. Numbers of Irrawaddy dolphins in the area are critically low, but tourism drives support to conserve these friendly creatures, who can most typically be seen at the southern tip of the island. Return to your resort in Don Khone tonight.
Day 8
Don Khone
Today you'll visit nearby islands, and take a day-trip to the silk weaving village of Ban Saphai. Ban Saphai is the historic capital of weaving in Champasak and it's here where you'll get a demonstration in "mut mee" weaving from local craftspeople and have the chance to pick up a traditional shoulder sash or skirt. Afterwards, explore the islands at your leisure by bicycle – the islands' most popular form of transport. Return to your resort on the riverside in Don Khone tonight.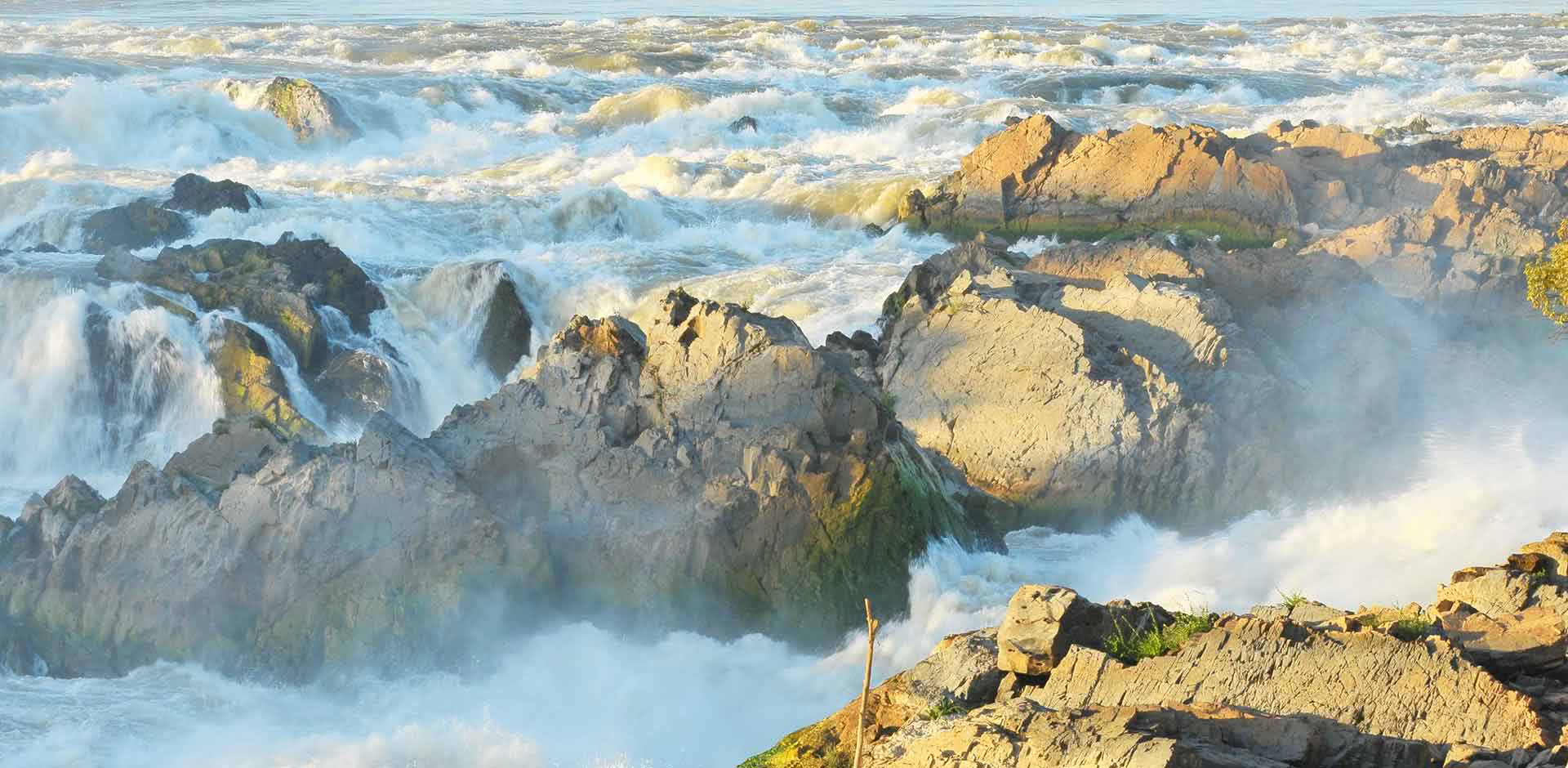 Day 9
Pakse
Today you'll return to Pakse for your international departure flight.
TERMS AND CONDITIONS
Price is based on double or twin hotel room occupancy and includes accommodation, transfers, car/driver, English-speaking guide, activities and entrance fees, breakfasts and some casual lunches while touring. Flights and optional special activities will be quoted separately. Most personal expenses, including dinners, alcoholic beverages, spa treatments and gratuities can be paid on the spot while traveling. Prices may vary depending on season, choice of accommodation and other factors.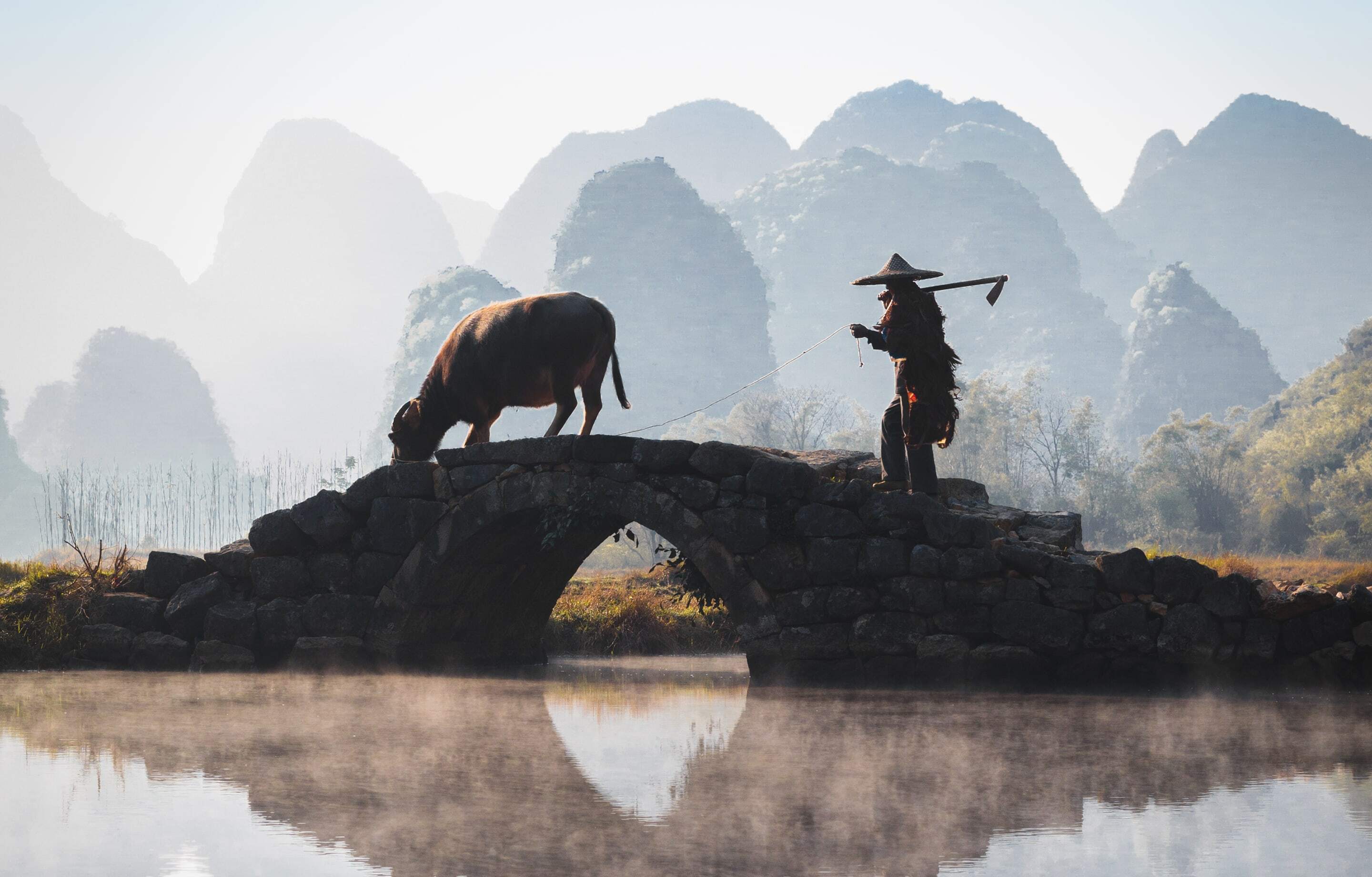 Why Remote Lands?
Exclusively Asia
With Remote Lands you'll travel with people who have made Asia the solitary focus of their own lifelong adventure. As our guest, you'll discover Asia on a journey that is completely, authentically your own, adapted from our own remarkable experiences and adventures over the years.
With Remote Lands you'll travel with people who have made Asia the solitary focus of their own lifelong adventure. As our guest, in the continent that our north American founders Catherine and Jay have adored and explored for decades, you'll discover Asia on a journey that is completely, authentically your own, adapted from our own remarkable experiences and adventures over the years.
Travelogues
An Asia-focused magazine brought to you by Remote Lands – a platform for adventure, luxury, and authenticity from experts and explorers around the continent.
What Others Say
Here is a small selection of the kind words our guests have said about us, as well as features by journalists and travel writers.
From the moment I happened upon the REMOTE LANDS website over a year ago, browsed the options, I knew that this would be well worth it. The entire staff is nothing less than professional with service that made us feel like royals.
This was truly the trip of a lifetime. Magical destinations, the most luxurious hotels in the world, and the most wonderful travel companions we could've wished for. We were treated like family everywhere we went and we have 14 new best friends.
We have used some of the top rated travel specialists all over the world and, without question, Catherine Heald and Remote Lands are at the very top of the list!