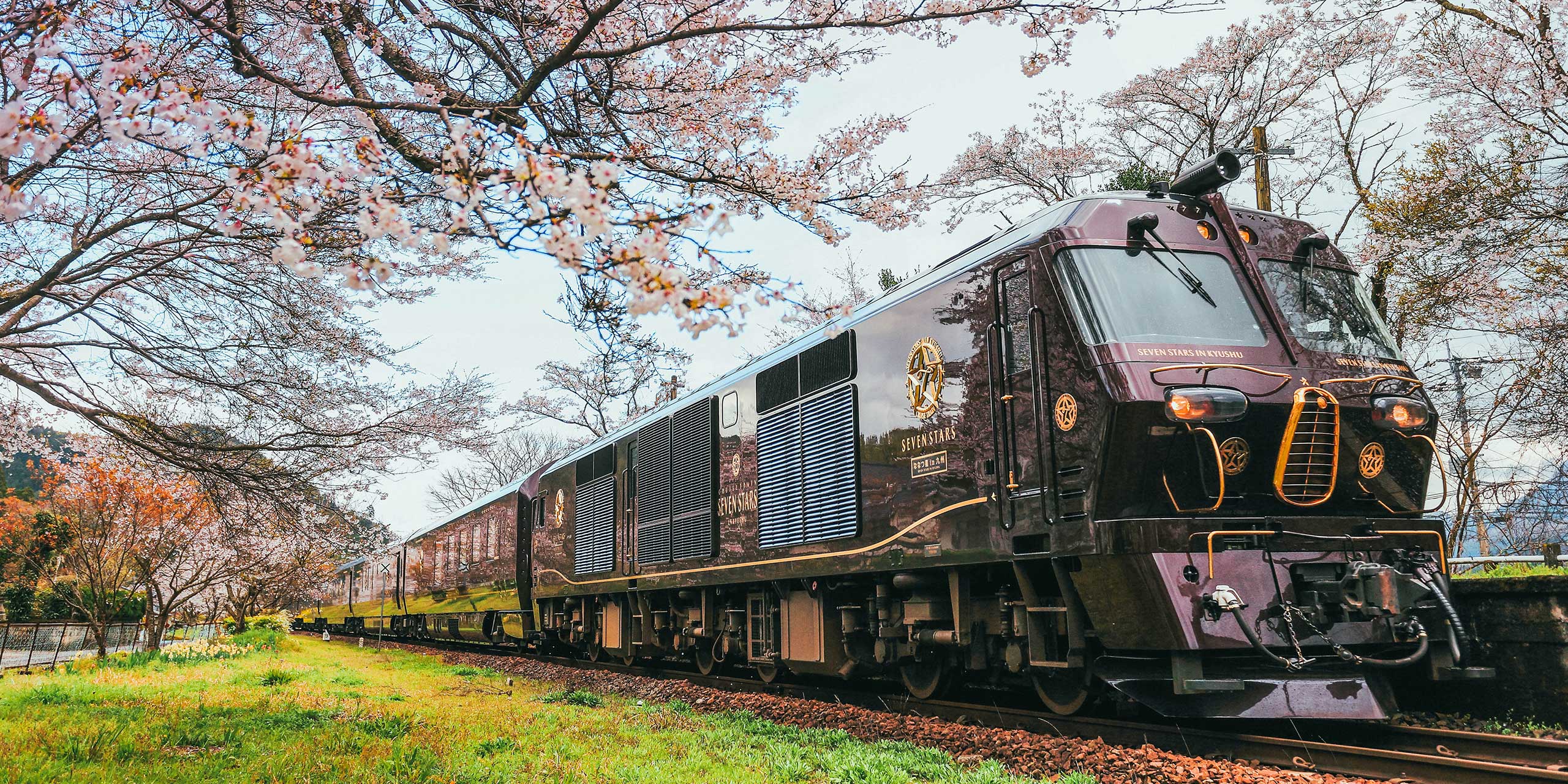 It is an average Saturday morning at Hakata station in Fukuoka and scenes of mania seem highly unlikely. Clutching their expertly packaged bento boxes, travellers form civilized lines at designated queuing spots as trains arrive and depart with millisecond-perfect precision.
Amid this tableau of orderly politesse, however, something out of the ordinary is about to happen.
As a guest on the Seven Stars in Kyushu – Japan's foremost luxury sleeper train – I had spent the fifteen minutes since boarding exploring the plush interiors of the Y3billion iron horse.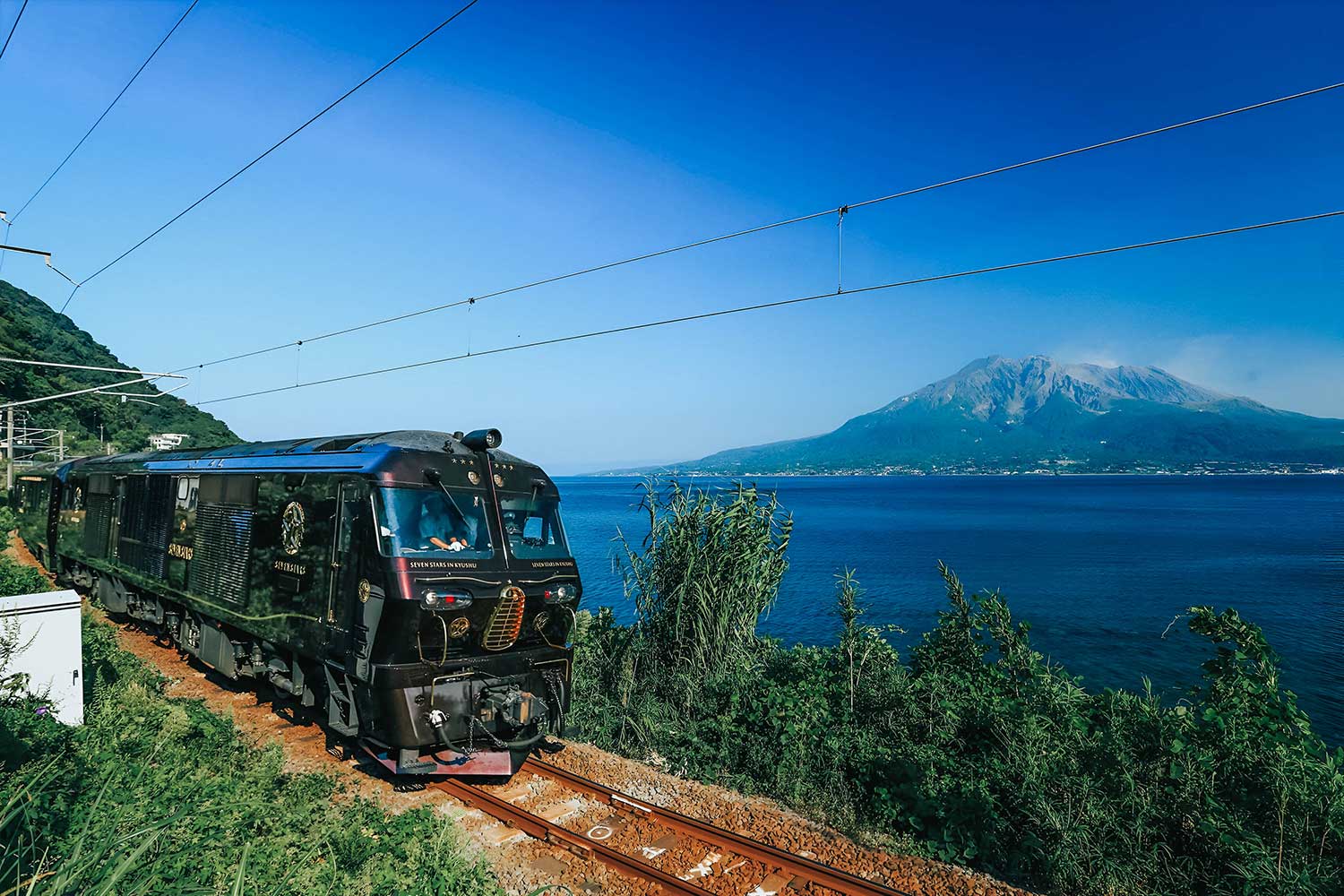 So preoccupied had I been with the wall hangings, paper-panel windows, and hand-crafted furniture in my state-of-the art cabin, I hadn't noticed that our imminent departure had attracted a whooping mass of onlookers to the previously moribund platform.
And as the Seven Stars made its way around Kyushu, the adulation displayed at every stop gave me a taste of the uplifting and seemingly random nature of Japanese fanaticism.
The south westernmost of Japan's main islands, Kyushu is one of the country's most overall appealing areas. Active volcanic peaks such as mighty Mount Aso pour down to rocky, lush and near tropical coastline, steaming onsen punctuate the landscape over almost every mossy hillock, while attractive cities such as Fukuoka and Nagasaki provide cosmopolitan urban edge.
Yet despite these wonders, it has traditionally lagged other areas in Japan when it comes to attracting tourists. What was required — decreed Mr Koji Karaike, president of JR Kyushu, the island's railway company – was a statement train.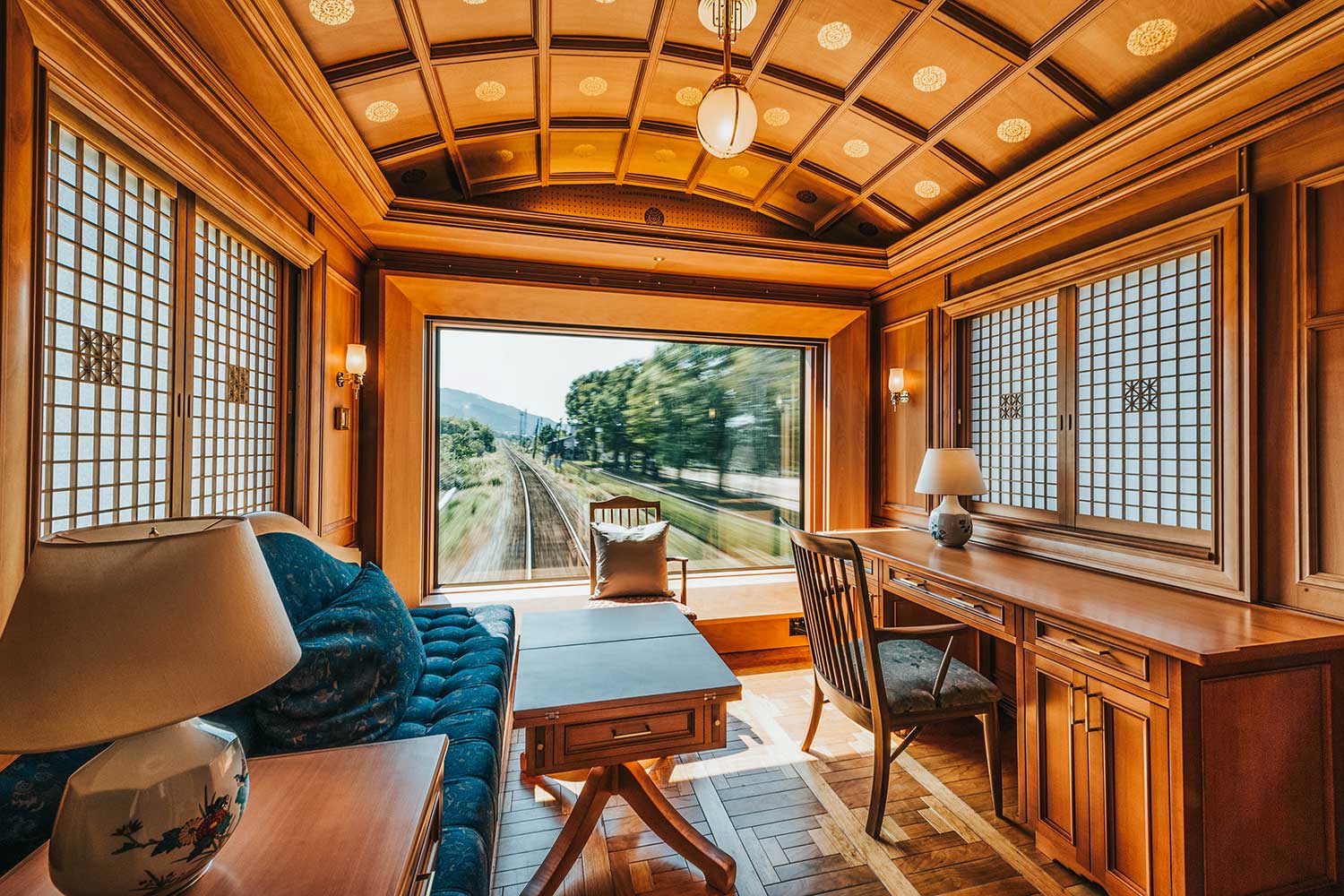 The aim with the Seven Stars was to surpass other luxury train journeys such as the Eastern and Oriental Express between Singapore and Bangkok and The Ghan, the transcontinental train that cuts a swathe through the rugged heart of Australia.
With thoroughness as doggedly Japanese as turning out in droves to wave at total strangers on a train, JR Kyushu threw everything at its baby, which takes its name from Kyushu's seven prefectures.
There's handcrafted woodwork and delicate artwork throughout. There are musicians, magicians and on-board staff who spent up to a year intraining. Ceramic sinks were inspired by Satsuma porcelain; blinds are made from bamboo, while shoji (Japanese paper screens) are a feature throughout the train.
According to Seven Stars insiders, the train's designer Eiji Mitooka, drove his team "mental" by insisting on details such as irregular-sized windows to make each carriage different.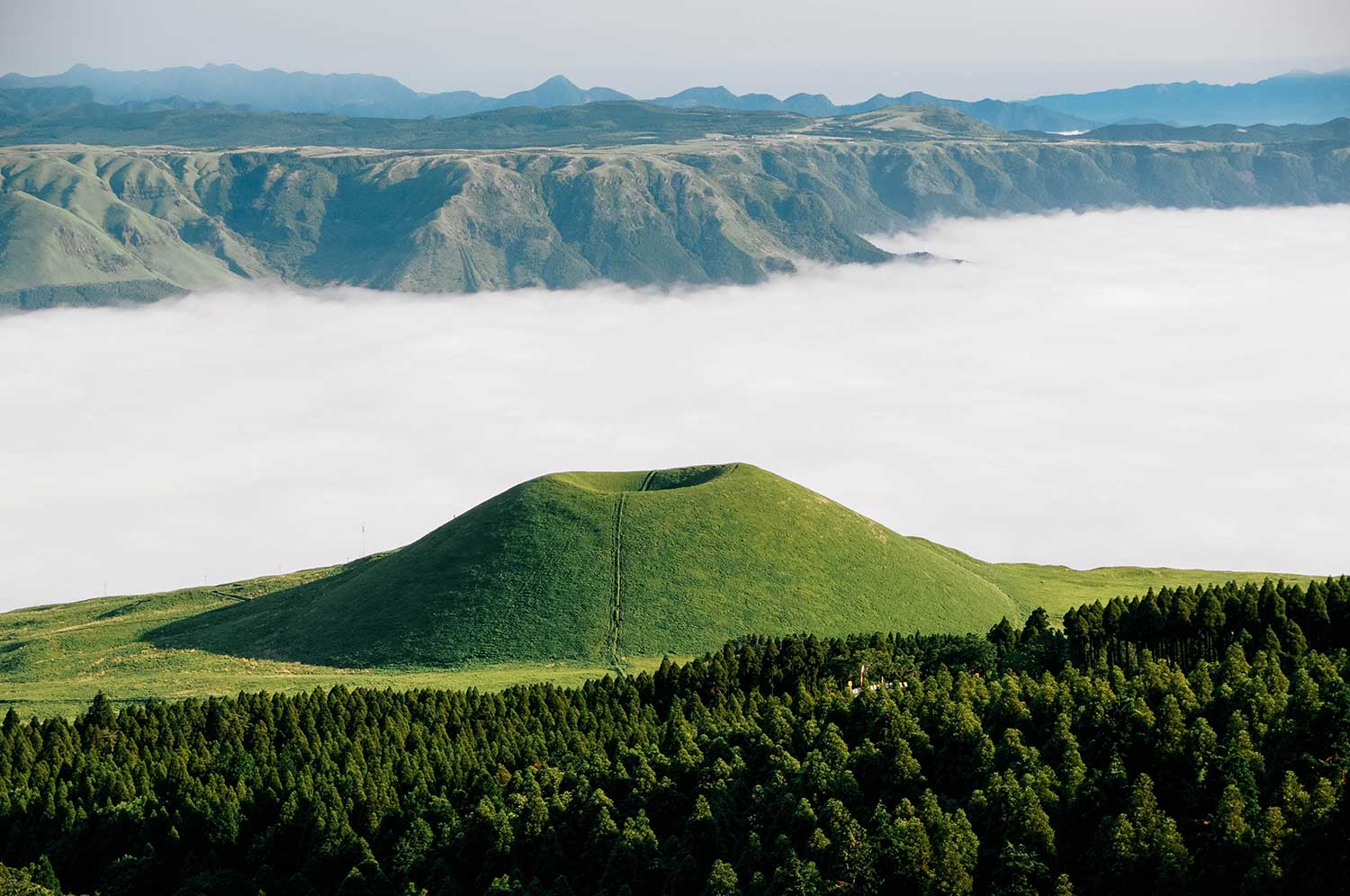 With so much love (and money) having been poured into the train, it is easy to see why one might get a little smitten. And — as the cheering masses prove — it's not just guests that go weak at the knees at the sight of the Seven Stars pulling into platform. The train has a healthy contingent of superfans who follow the train on each journey, driving around Kyushu to ensure they are waiting on the platform wherever the train arrives.
You'd be forgiven for being just a little green-eyed of guests on the Seven Stars even if you weren't veering close to obsession. Journeys are a classic Japanese tale of picture-perfect villages, sunsets over the East China Sea and the occasional perfectly cylindrical volcano crater.
On its travels from Fukuoka, the Seven Stars spears east through pastoral countryside to the hot springs resort of Yuifin, south to the volcanic wonders around Mount Aso and west via a gorgeous coastal route to the attractive and historically compelling port of Nagasaki.
There's a lot of ground to cover, but if you have some time and money to spare, there's no finer way to see the island.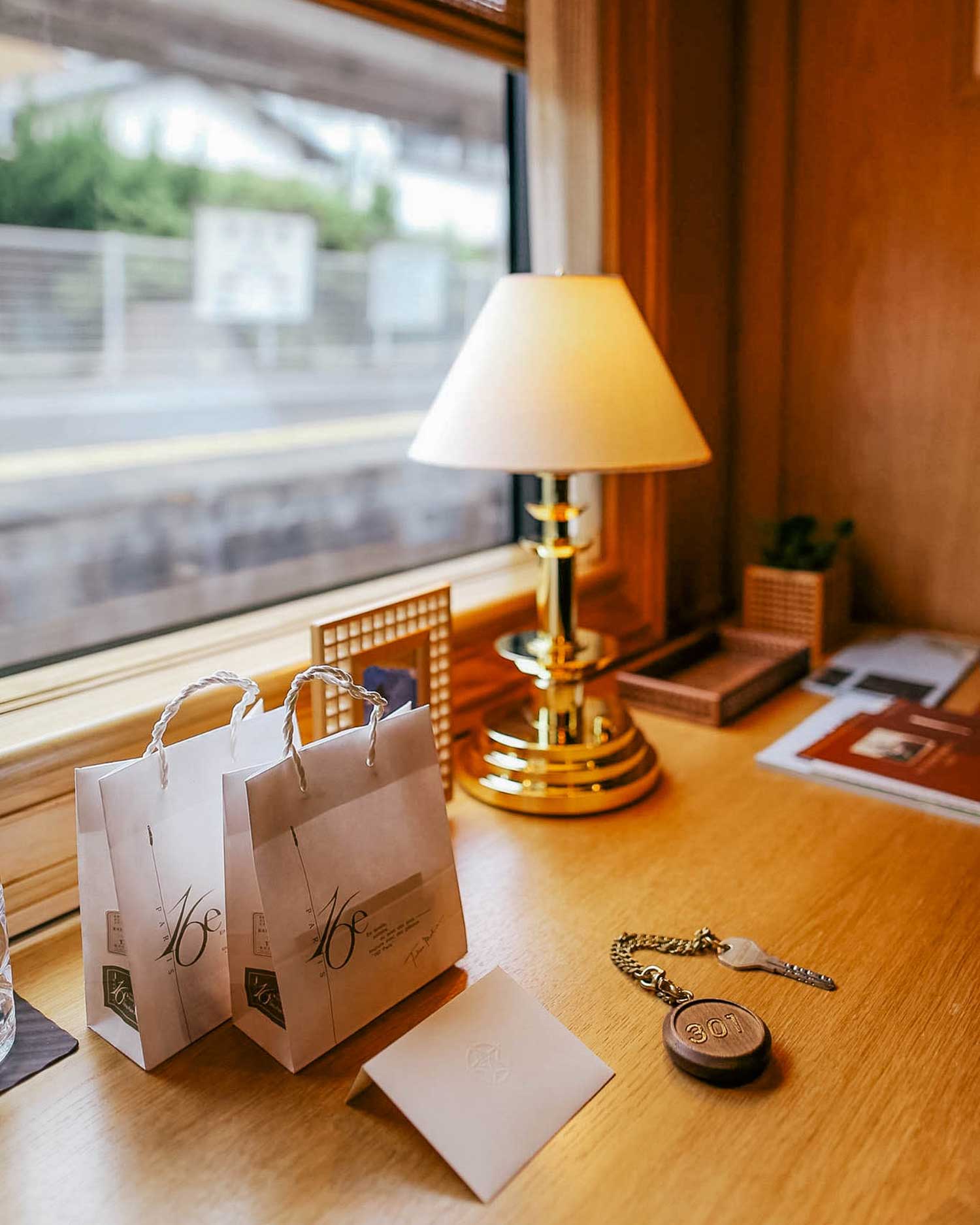 I'm certainly not averse to be experiencing Kyushu in this finery. My last epic train journey speared through the heart of the Indian subcontinent at the height of summer, leaving me with the thirst of a court minstrel and a covering of ingrained dust that took days to remove.
This time I have swapped the cut off shorts and indie-rock T-shirts for smart blazer and trousers — required eveningwear for gentlemen according to the train's strict dress code. There's no need to wash off surface grime by splashing water on my face in a communal toilet this time either. The shower in my suite is kitted out with panelling of aromatic hinoki cypress wood and a basket of specially branded toiletries. I wouldn't swap my experience of crossing the Deccan plateau for anything, but this is another world entirely.
With a comfortable perch to recline in and a selection of chilled beverages in the fridge and it is tempting to hang out in my cabin for a while. My first objective, however, is to reach the bar car and learn more about its extensive inventory of locally produced sake and whisky. I stumble unsteadily along the narrow corridor (mastery of walking on a moving train is not as easy as it sounds), passing the doors of other sleepers as well as the more spacious suites, through the dining car, before finally making it to the Blue Moon bar and its full-sized viewing window. It's the ideal place to watch the scenery zip by with a glass or two of special Seven Stars shochu from Kagoshima prefecture.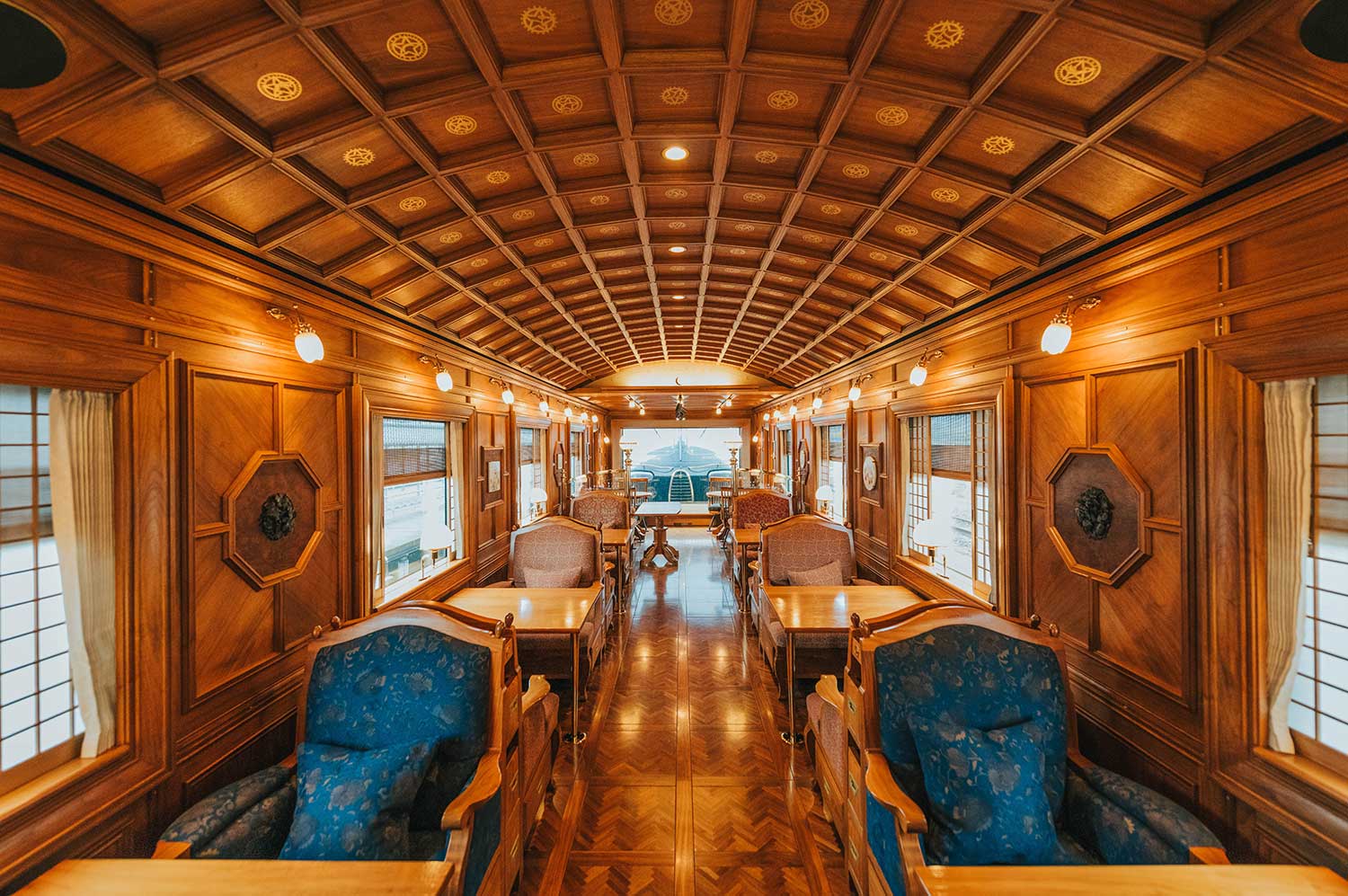 With dinner another couple of hours away, I have plenty of time to stumble back to my cabin to freshen up and make myself look passable. Even with the addition of a jacket and some new brogues, I feel distinctly underdressed compared to my fellow travellers. The tuxedos and ball gowns on show holds with the train's glamorous persona.
Unsurprisingly, the food is worth getting dressed up for. Even on the Seven Stars, where the usual rules of train life don't seem to apply, space is limited. Somehow – magically – a succession of exquisite creations make their way to the dining car. Over the course of a five-course French dinner and two equally epically proportioned Japanese lunches, dishes utilize the very best of Kyushu produce and include treats such as soft simmered Suzuton pork, roast Nagasaki beef tenderloin and red sea bream cured with seasoned kelp.
The companionship on the train is as amenable as the cuisine. Guests are predominantly Japanese, polite but slightly reticent due to the language barrier. There are other international pilgrims to be found. As Owen, an American veteran of other great train journeys such as the Trans-Siberian Express in Russia and the Ghan in Australia, tells me: "Travel today is all about rushing from point to point, airport to airport, airport to hotel, hotel to beach. It can be stressful and not really in keeping with the spirit of travel. If you are looking to take things slower and ease into the journey, nothing beats a train like this."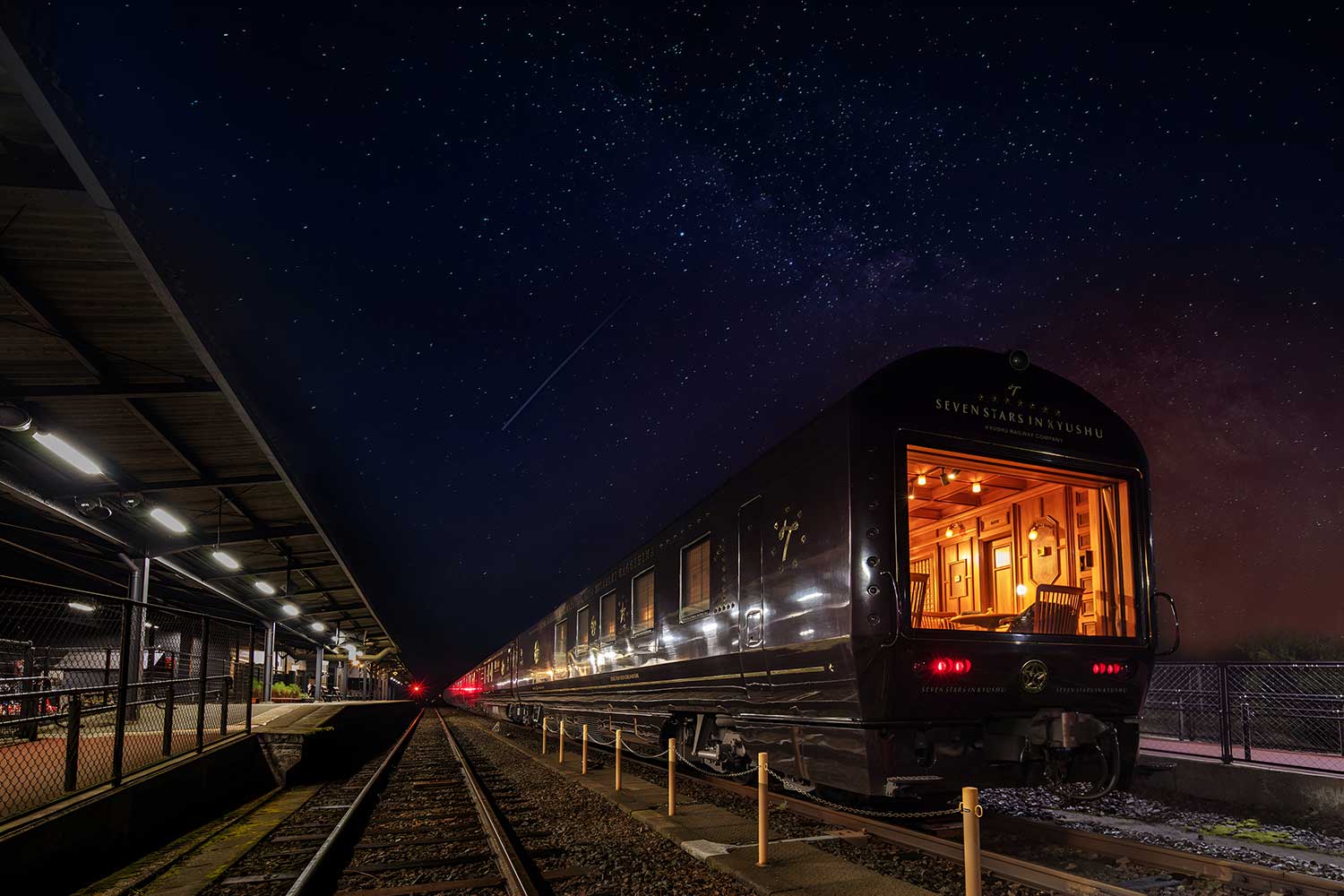 It is a mantra I grow to appreciate in the days ahead. The train stops for three excursions. There's a visit to a famous porcelain kiln at Arita, which makes the exquisite ceramics on show on-board the Seven Stars. There's also an early morning drive to a viewing point on Mount Aso and a stop in the pretty – but tourist-heavy town of Yuifin.
For me it is the rhythm of the ride that exerts the greatest appeal instead. I spend my days in my cabin either catching up on some reading or dozing off as if lulled into slumber by the sleepy villages the train passes through as Kyushu's prefectures merges into one another.
As the curtain comes down on our night on the train, I end up at the main bar, where the resident piano/violin duo is mugging away on everything from Cole Porter standards to a baroque version of Blitzkrieg Bop by The Ramones. The atmosphere in the car is rambunctious but is tinged with a slight melancholia. By tomorrow, we all will have gone our separate ways. For now, the music is playing and the Japanese single malts are beginning to flow. There is always scope to ramp up the volume a little on a rock star train.
Remote Lands is offering guests a special opportunity to experience this ultimate train journey with cabins now available on its 4-Day/3-Night Kirishima itinerary running July 23rd to 26th, 2024.