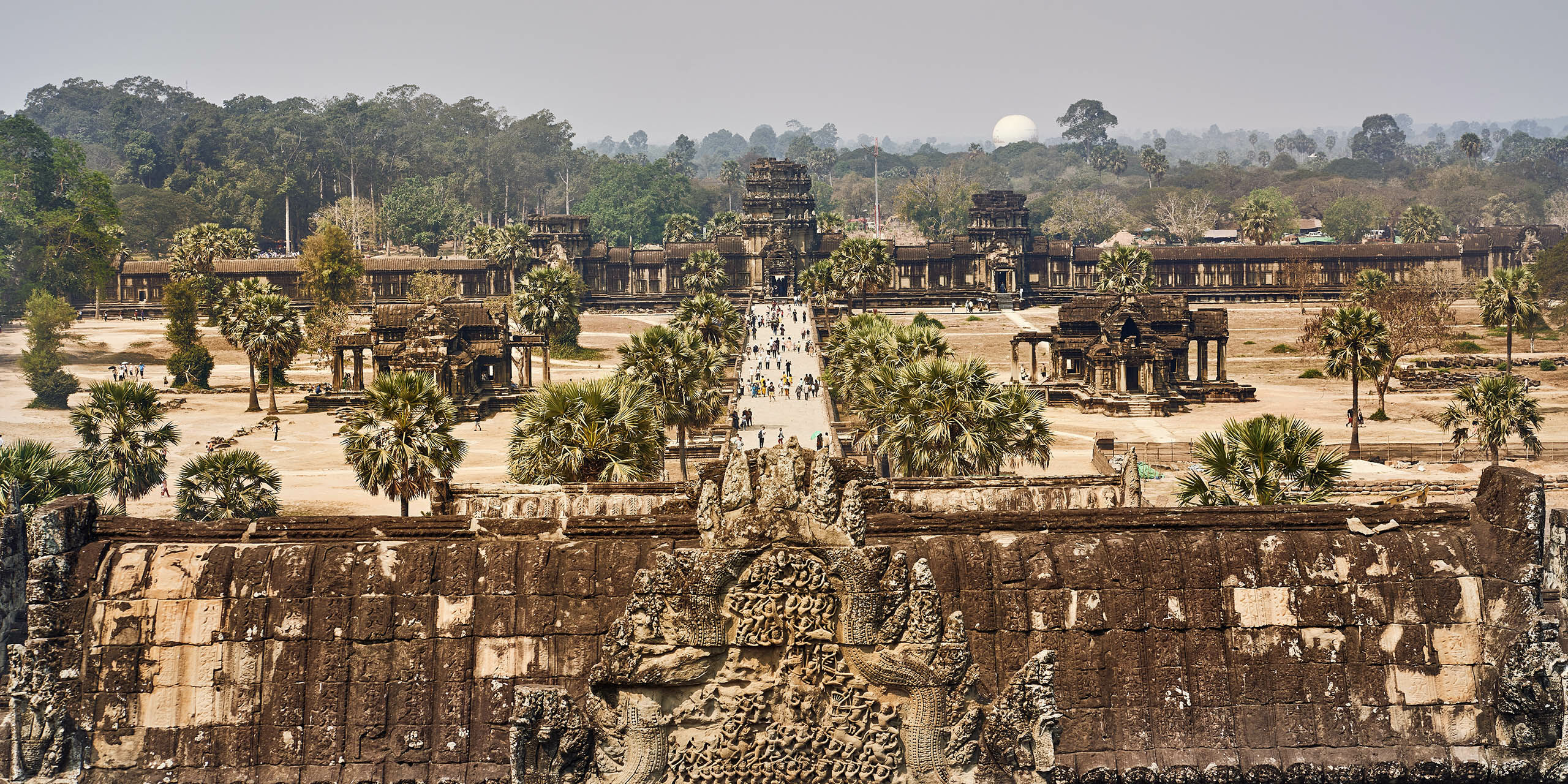 In September 2021, during a shopping expedition, I was in a contemplative mood on a rain-soaked, lockdown afternoon in Siem Reap.
I trudged through sludge, broken roads, rubble, and dirt — byproducts of the monsoon weather and a US$150 million overhaul geared towards upgrading the city — to the apartment I'd taken refuge in during the pandemic. It seemed like a perfect juncture to reflect on how life has been in this torn-down, apocalyptic place during a public-health emergency.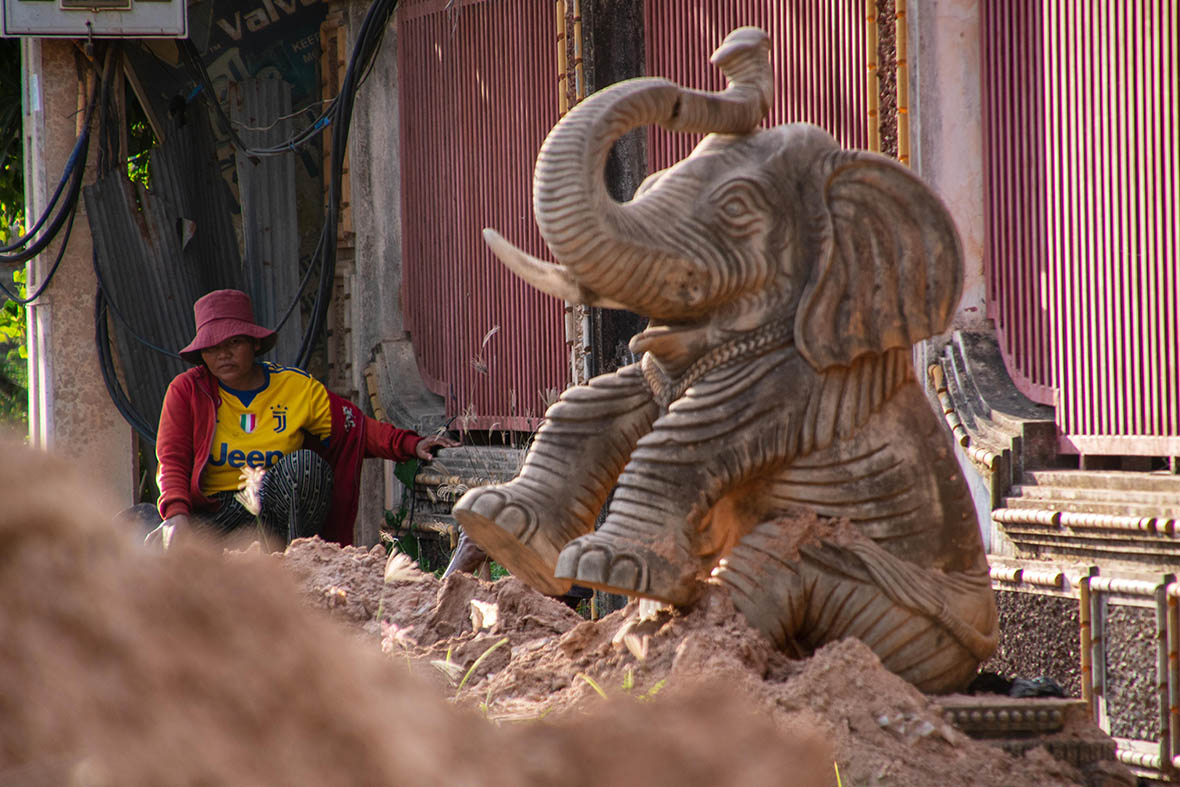 The first time I visited Siem Reap in 2007, it was love at first sight. When I had the opportunity to live there in 2019, the timing seemed perfect. Temple Town had transformed into a pulsating city. The buzz of the place was, in some ways, thrilling. But, in hindsight, I might have foreseen that the rampant expansion would one day reach breaking point, a bubble ready to burst.
After years of relentless growth, it often felt uncomfortably overcrowded for its modest proportions. On rainy days, drains struggled to contain the floodwater. Motorbikes and lumbering 4x4s led to horrible traffic; informal stores and hostels — often merely bolted onto existing homes — crammed central streets, some encroaching on public land. It might have been buzzing, but it was not a serene, small-town experience.
Then came the pandemic. In Siem Reap, whose sole raison d'être and cash cow is the tourist industry, the unstoppable boom turned to chronic bust, the visitors vanishing almost instantly. Sensing an opportunity to fix Siem Reap's infrastructure, the government embarked on the 38 Roads Project: an overhaul unprecedented in its scale.
Areas proposed for a radical makeover included the titular 38 city-center thoroughfares. Also prominent was the creation of 9km of riverside paths, and key nodes of Angkor Archaeological Park, including the entrance to Angkor Wat.
The work was part of a mostly foreign-financed development master plan — including a new airport and a wildlife park/aquarium. We didn't know that the roadworks would define the next year, affecting almost every aspect of our lives.
I got my first true picture of the work during Siem Reap's first lockdown in April 2021. Meditative riverside walks revealed the scale of the upheaval. Giant craters had been dug into roads (often outside homes or businesses), trees had been uprooted, there was rubble on every roadside, and diesel-spewing trucks delivered their overspilling loads. Local children seemed to relish the disruption, frolicking in sandpits leftover from construction, which was now improvised playgrounds.
The roadworks, combined with the pandemic, had a widely destructive on local businesses. Many smaller outfits — tourism-related and F&B outlets, boutique hotels, massage salons — met their inevitable demise as foot traffic slowed to a snail's pace. Even Cuisine Wat Damnak, one of Cambodia's hottest tables, ceased dishing up its Khmer wonders in May. Riverside cafés, by contrast, saw renewed popularity among coffee-lovers yearning for a safe, outdoor location — despite the river being another victim of the roadworks, drained to allow the dredging of sand from the riverbeds.
Surreal visions became everyday occurrences: women, children, and monks joined the titanic construction effort, and bulldozers, backhoes, drills, electric saws, and jackhammers set to work on a cityscape that resembled a war zone rather than a beloved heritage destination.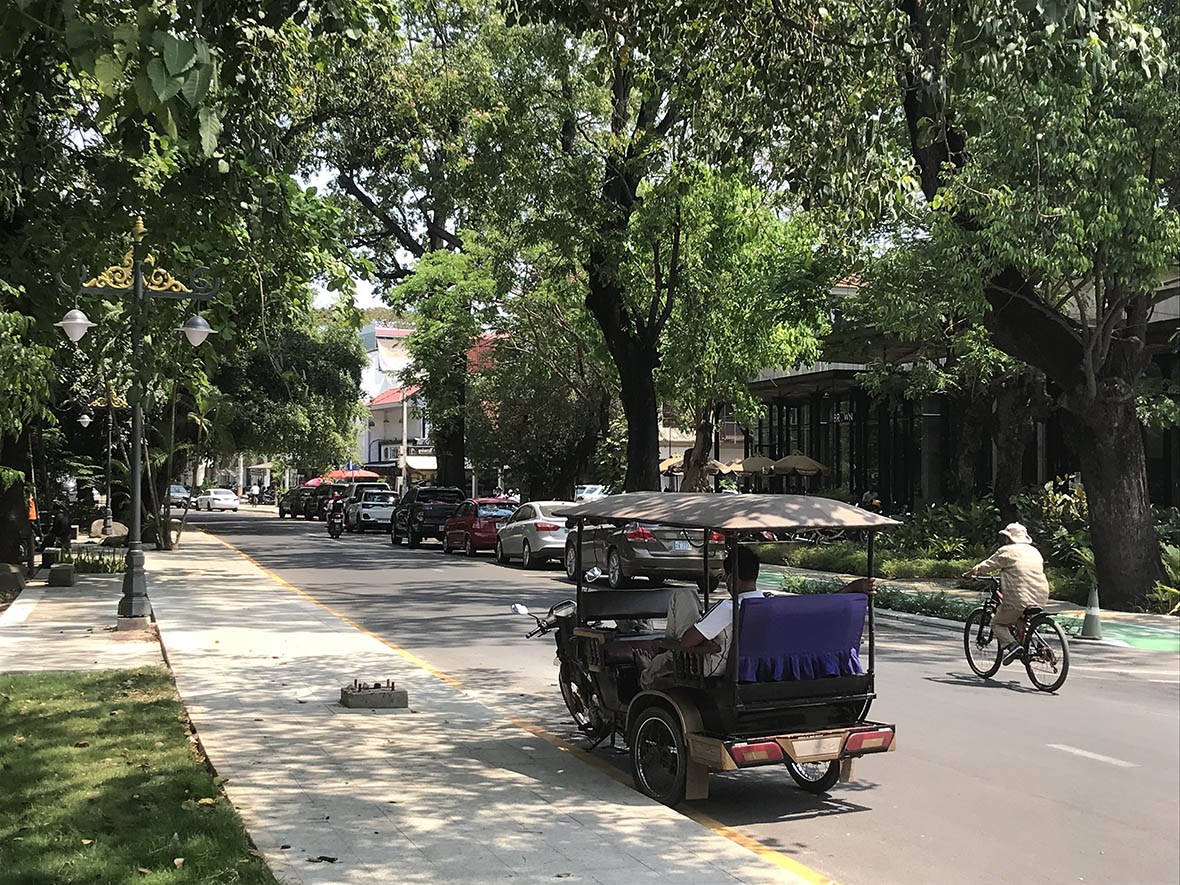 We had become accustomed to daily-changing city scenes by mid-year. The ever-shifting roadworks continuously flitted between areas, blocking passageways seemingly chosen at random like a maddening practical joke. Residents never knew where they could cycle, drive or walk next. Reaper Roadworks, a Facebook group created by Australian resident Tania Palmer to which netizens contributed photos of the carnage, offered essential comic relief. Artistic takes by pro snappers such as Rémi Abad captured the madcap period perfectly.
The December 31 deadline for the roadworks appeared ever more elusive – mirroring the interminable pandemic. But workers took to the streets day and night to finish the job. By November, we witnessed the miraculous sight of laid tarmac. In early December, Siem Reap showed off its smart new clothes, even hosting a large-scale arts event, the Writers and Readers Festival.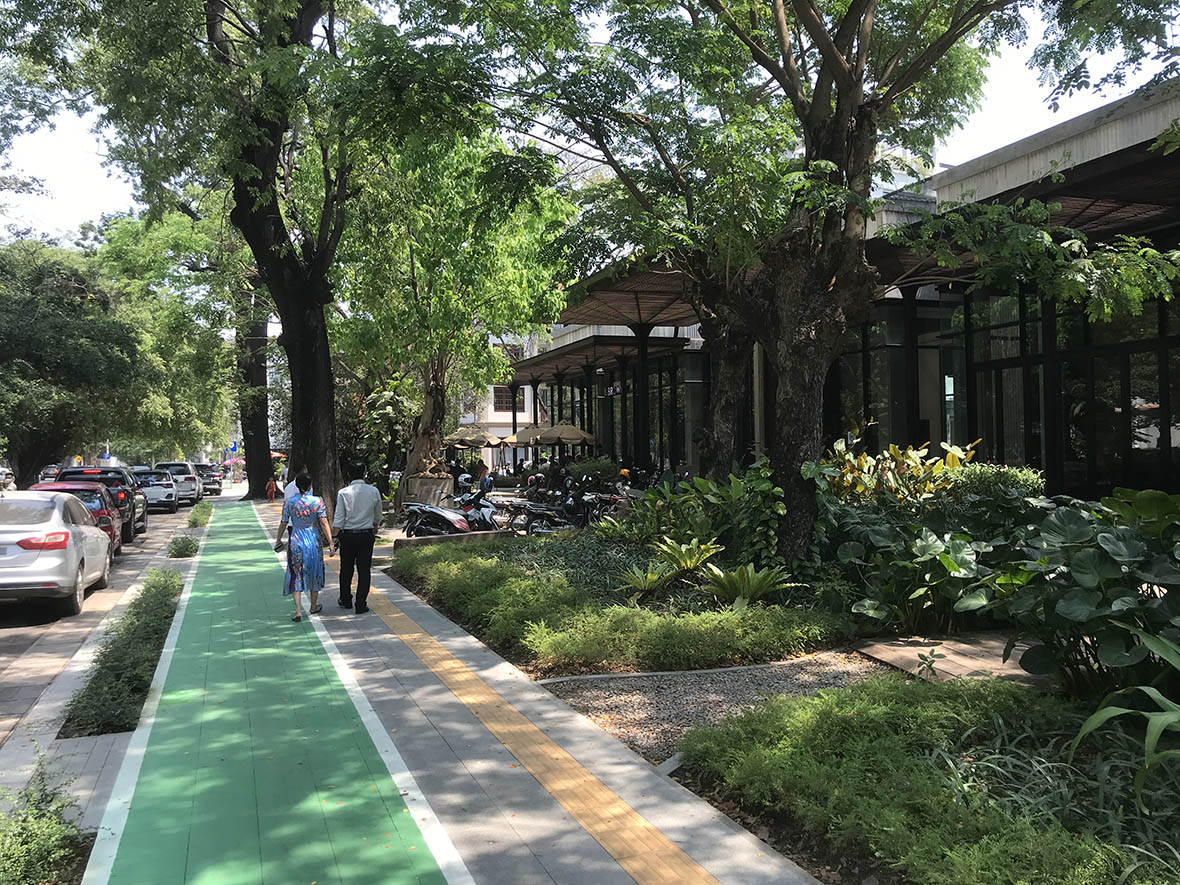 Tired but overjoyed, residents came out to play in a revitalized Wat Bo Village, the city's new center of gravity. Against all the odds, here were street performances and concerts by the long-dormant Phare Circus and musicians; literary talks and workshops; and soirées at the fashionable bars, cafés, and restaurants enlivening Street 26. Instantly dispelling the roadworks-induced PTSD, it all felt wonderfully invigorating: a street party in our sparkling new hometown.
At Christmas, the streets teemed with people admiring bridges with colorful ornaments.
On New Year's Eve, thousands of revelers filled a spruced-up Pub Street — the city's long-standing nightlife hub — to celebrate the end of a long, exhausting, extraordinary year.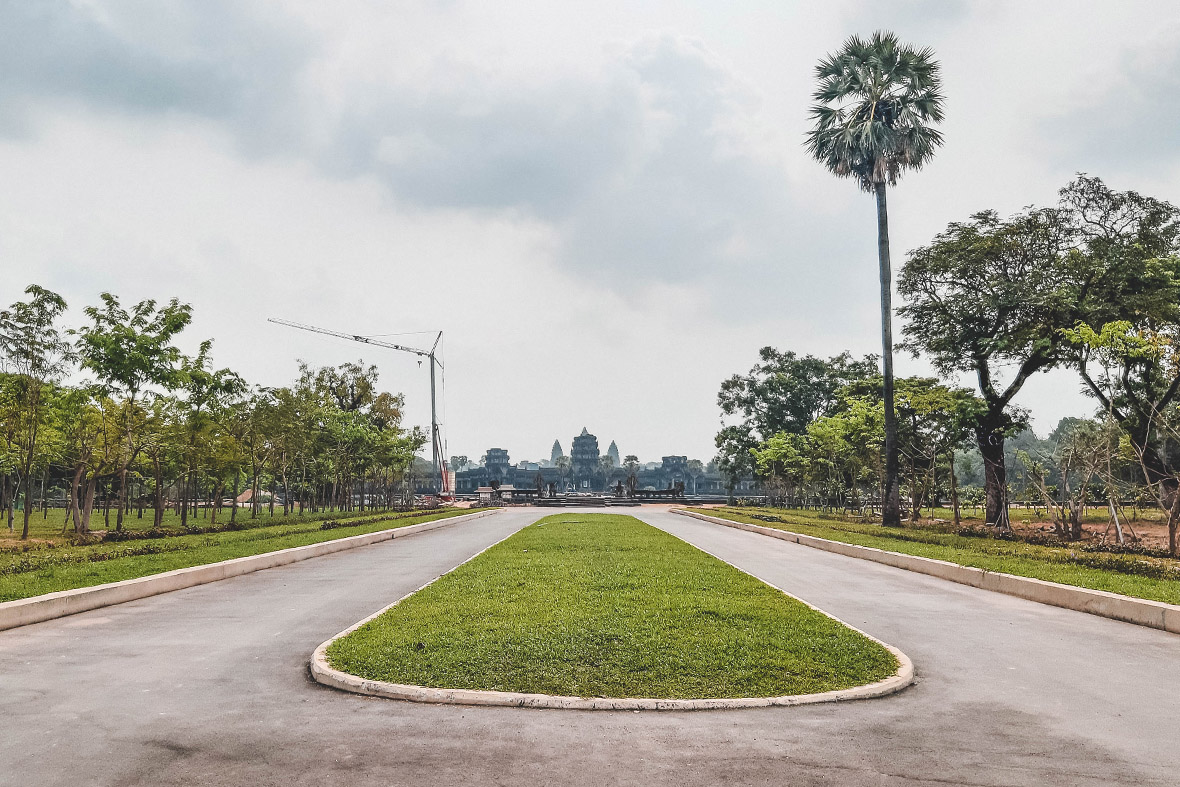 As new footpaths, pedestrian crossings, and lush riverside banks crowned the city's metamorphosis, residents revel in their polished public spaces. Families now enjoy picnics by the river; schoolchildren gaze across its replenished waters, clamber up trees, or pedal along new cycle lanes. The marathon project complete, the result is a city vastly improved — safer, tidier, even more beautiful — but with its undeniable soul still intact. Siem Reap's special feeling of intimacy feels wholly restored.
In February 2022, top-rated restaurant/bar WILD staged an exhibition of highlights from photos displayed throughout 2021 on Reaper Roadworks. Its title? Finding Beauty in Chaos. It was the perfect description of the year's monumental upheavals. And of living in Cambodia during the pandemic.
For more of Remi Abad's photography check out his website: 200asaphotography.com/.