Example Itinerary
Guilin to Guizhou: Mountains and Ethnic Minorities of Southwest China
Travel off the beaten tracks into the real China that is hidden from tourist maps to experience and learn about the true ethnic and cultural diversities that currently exist in some of the most remote parts of the country. Starting from one of the more renowned cities, Guilin, you will be taken on a humble journey through the extreme topography that reaches up to 6000 feet above sea level, through the Yunnan-Guizhou Plateau, located in the Southwest mountainous region of China. Witness the breathtaking views of infinite valleys and engage with the different ethnic groups, including the Miao, Dong, Zhuang, Yi and Zhao, which will give you a truly unique and informative trip into the cultural heritages that make up China.
This itinerary is an example. It's designed to inspire you and provide you with thoughtfully curated ideas. You can choose to do this exact itinerary or completely personalize it. All trips are 100% bespoke.
Highlights
Remote Lands: Travel off the beaten tracks from Guangxi through Guizhou to Guiyang, staying overnight in local guesthouses with plenty of amazing photo opportunities.
Interactions with Minority groups: Encounter the local Zhuang, Dong and Miao minorities who will treat you to traditional meals and dances. You will also be hosted in their villages, a unique experience that reveals their daily lives and homes.
Natural Gems: Explore the wilderness around Anshun which boasts some of China's largest waterfalls and caves.
Day-by-Day
Day 1
Guilin
Arrive in Guilin, on the west bank of China's Li River, where you will be greeted and transferred by your private guide to the Yangshuo Resort. Fully-furnished in an authentic Chinese style, relax from a long flight in the comfort of your room before attending a delicious welcome dinner. Use your first night to get some rest for the eventful few days that lie ahead.
Day 2
Guilin
You'll start your day off with a trip to the Reed Flute Cave, otherwise known as the "Palace of Natural Art", where you'll explore a mystical maze built up of stalactites and stalagmites. Continuing along the west bank of the river, a 20-minute climb will lead you up to the Ripple Riding Hill that provides exquisite views of city, before reaching the symbol of Guilin, known as Elephant Trunk Hill. After a tasty lunch, visit Yao Mountain and the nearby 500-year-old mausoleums of the Ming Dynasty. Your guide will then lead you to the largest park in Guilin where you will encounter the magnificent Seven-Star Cave. Once an underground river channel, the cave emerged through movement with the Earth's crust to form the cavern present today.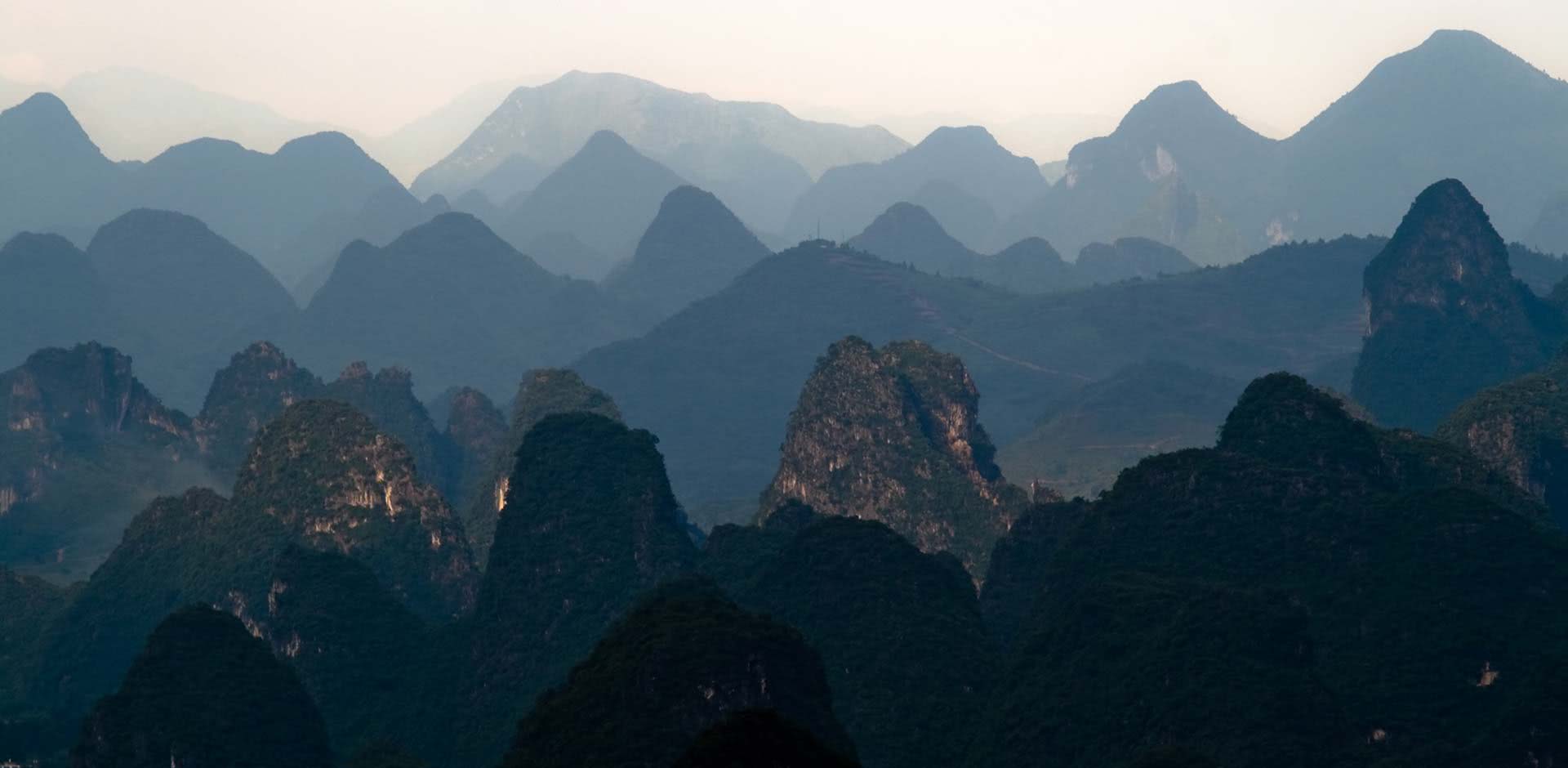 Day 3
Ping An
Wake up and fuel your body for the long, exciting day ahead. You will embark on a four-hour drive to one of China's most iconic sites: the Dragon's Backbone Rice Terraces. Here you will have ample opportunity to take photos of the 700-year-old terraces and immerse yourself in the spectacular views of the mountains. Enjoy a comfortable overnight stay in the Li-An Lodge, nestled in the quaint Zhuang Minority village of Ping An. Small restaurants, serving local Zhuang food, are scattered around the village and will give you an added reason to explore the local culture.
Day 4
Ping An
Today you will have the opportunity to do as you please. Head out on one of many hiking trails with a group of fellow travelers, or take a peaceful solo tour of the terraces and their terrain. If you are not up for walking, take a relaxing tour of the town, interact with the local Zhuang people and learn more about their culture. Souvenirs can be bought from this friendly minority group, which will be a helpful and appreciated contribution to their community.
Day 5
Sanjiang
Having gained a cultural insight into the Zhuang minority and their way of life, open your mind to a new experience offered by the Dong minority, located approximately 12.5 miles away from the Rice Terraces in Sanjiang. The town itself is not as exciting as Ping An, however the Wind & Rain Bridge at Chengyang, the longest of 108 wooden bridges that are over a quarter of a mile long, is a remarkable landmark built by the Dong minority themselves. After a tasty lunch, the Dong minority will entertain you with a traditional open-air performance to demonstrate their local customs.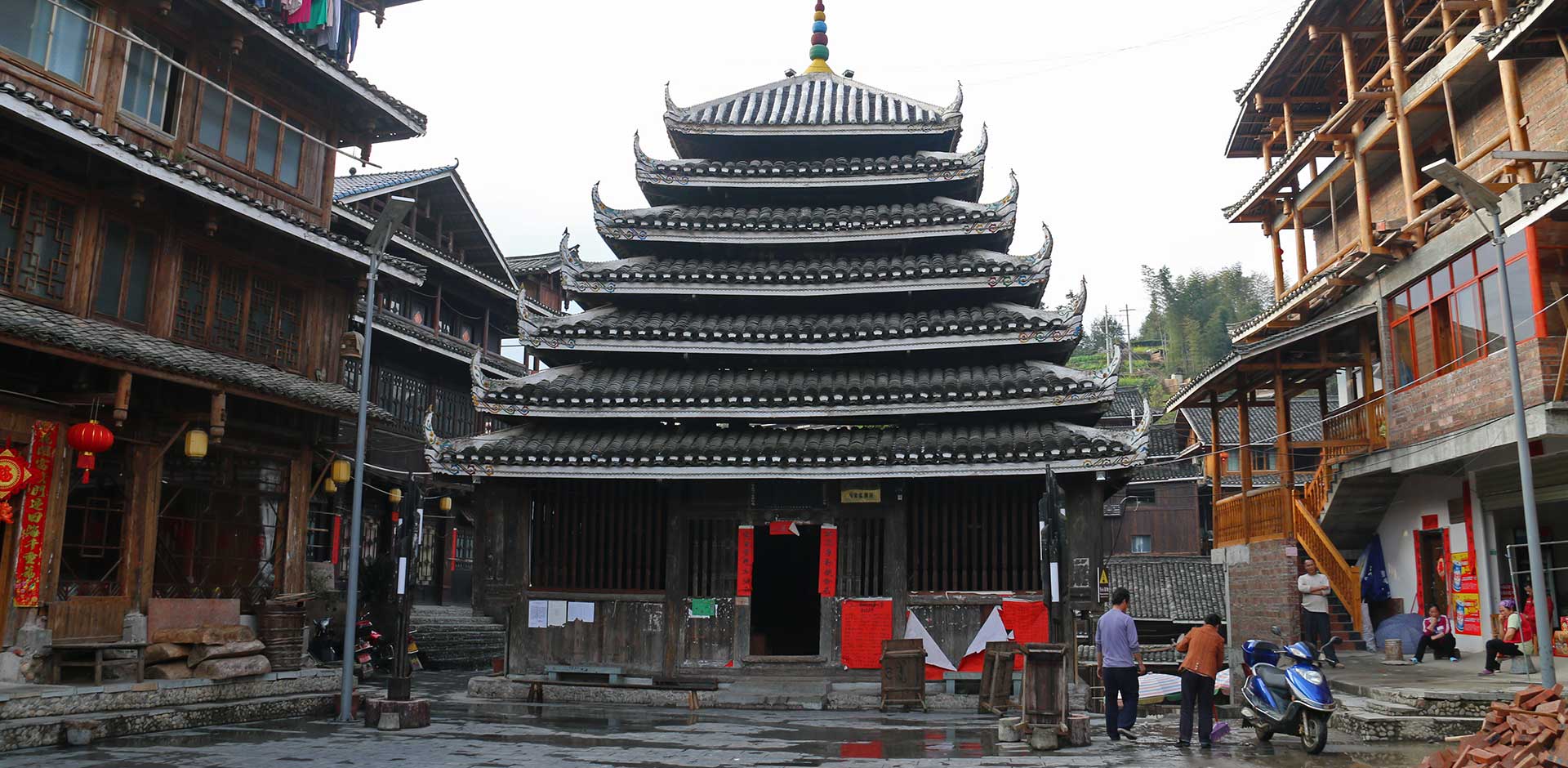 Day 6
Congjiang
After a quick one-night rest in the province of Guangxi, gather your belongings before heading out on the beautiful 4-hour journey towards the remote province of Guizhou. The provinces are separated by long, winding valleys that channel stunning flowing rivers, which will guide you to Congjiang. Here you will spend one night in a local guesthouse and dine with locals, street side.
Day 7
Rongjiang
After a pleasant stay with the local Congjiang community, get ready to be exposed to the daily life of Dong village members in Rongjiang. Here you'll be hosted by local community members, in their basic living conditions, for the night. Local girls, dressed in traditional Chinese dresses, will excitedly congregate in the center of the town to perform several cultural dances. As you snap away with your camera, absorb this unique opportunity to experience a part of China that is completely new to the world of foreign visitors.
Day 8
Xijiang
Allow your local family to treat you to a hearty breakfast as you prepare for the longest leg of your trip. Your guide will transport you from Rongjiang to Xijiang by car, which will be a full day's journey. The long trip will be worthwhile, as you are welcomed in one of the most stunning regions of China by the local Miao minority, renowned for their rebellious independence. Enjoy traditional dances performed in flamboyant costumes, complemented by the famous, oversized silver hats and jewellery.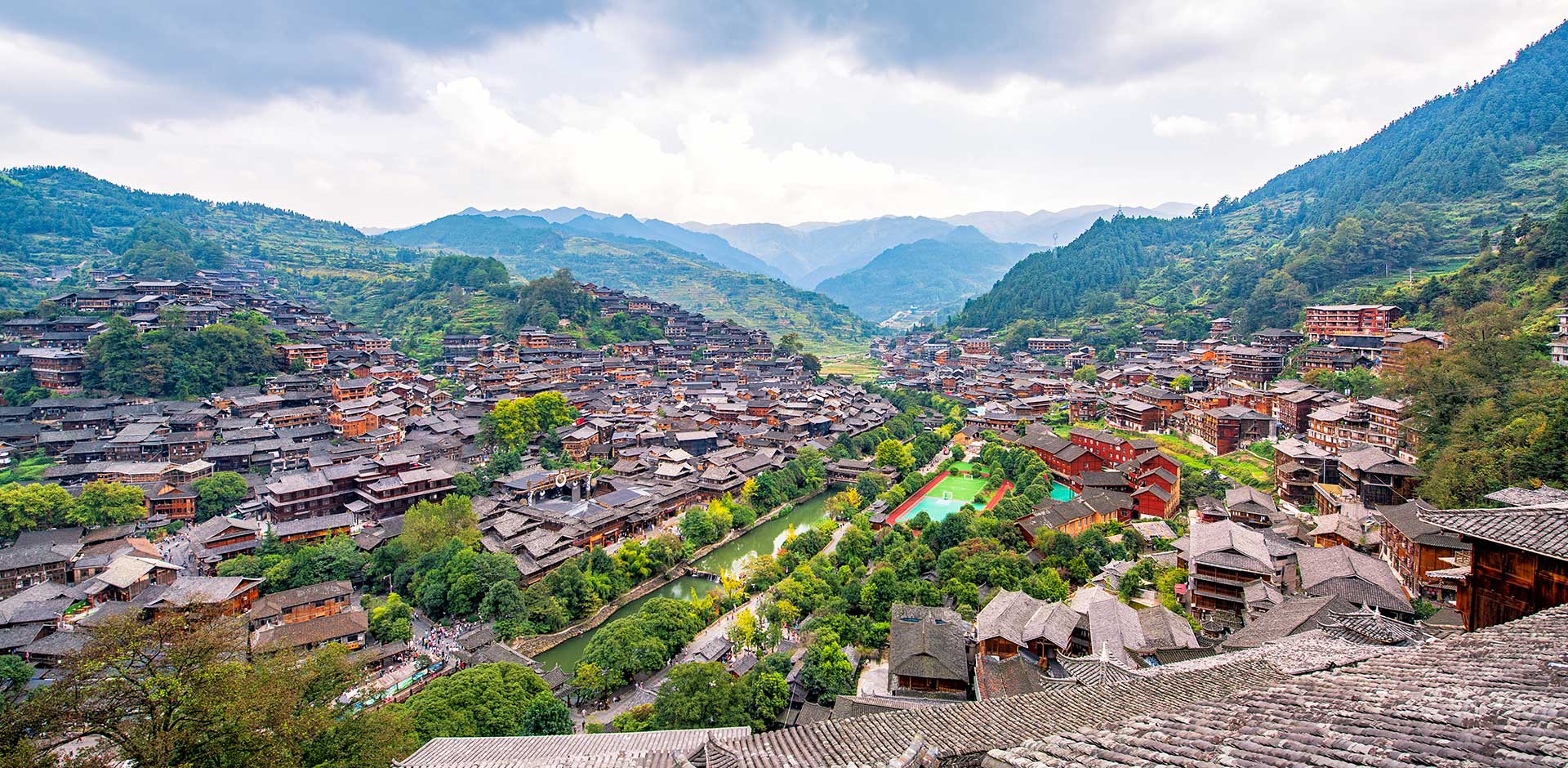 Day 9
Guiyang
Today will be more relaxed, enabling you to absorb the beautiful scenery that surrounds. You will be heading away from the beaten tracks, to more civilized and touristy locations. Enjoy a traditional Chinese lunch in Kaili, before heading to the Capital of Guizhou: Guiyang.
Day 10
Anshun
Wake up early and keep your camera handy as you head on a 2.5-hour journey to Huangguoshu, one of China's largest waterfalls. This incredible mass of overflowing water, most prominent during the rainy season, drops down over 255 feet, providing a magnificent display of natural aquatic beauty and colorful mists. You'll then be taken to the fascinating Tianxing Qiao Nature Park, where you take a two-hour hike deep into China's wilderness. Before dusk, you will depart for Anshun, where you will spend three pleasant nights.
Day 11
Anshun
Having explored rice terraces, waterfalls and natural parks, put on some comfortable shoes as you head on a three-hour journey towards Zhijin Dong, where you can explore China's largest caves. Impressive 600-foot hollow rocks allow enormous stalactites and stalagmites to hang from the ceiling. It's recommended you take a tripod for your camera for this particular part of the journey, which can also be purchased nearby.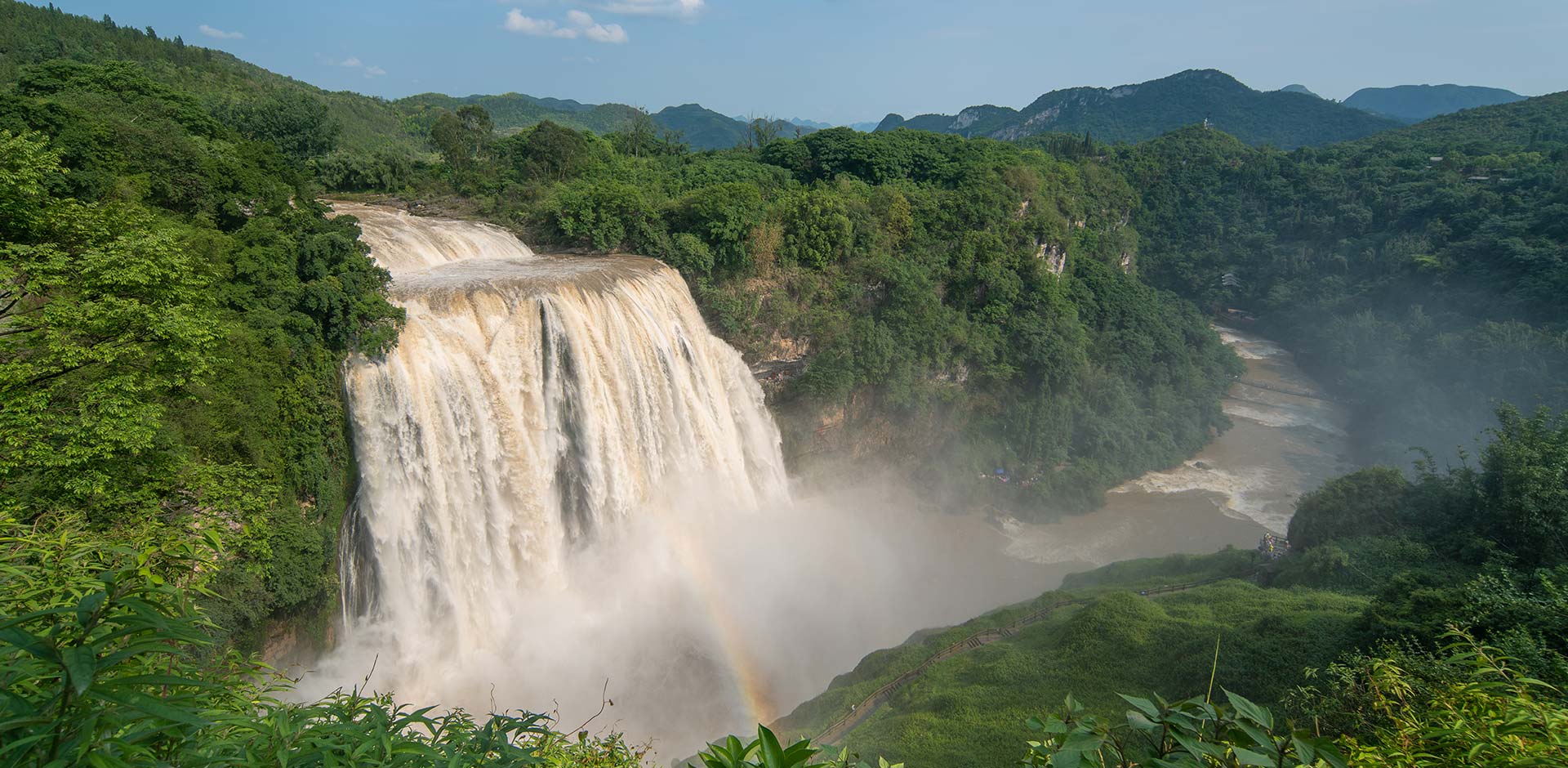 Day 12
Anshun
Your last day will prove to be the icing on the cake as you take a relaxing wander through the amazing Longgong Dong Caves. Located on the outskirts of Anshun, enjoy a unique experience as you float through the watery cavern on a boat. You will glide through the remarkable stone corridors that weave between strong pillars, from one end of the cave to the other. It's the perfect end to an unforgettable exploration into the ethnic minorities of southwest China.
Day 13
Departure
Say goodbye to the China you've uncovered as you are transferred to the airport for your international flight home.
TERMS AND CONDITIONS
Price is based on double or twin hotel room occupancy and includes accommodation, transfers, car/driver, English-speaking guide, activities and entrance fees, breakfasts and some casual lunches while touring. Flights and optional special activities will be quoted separately. Most personal expenses, including dinners, alcoholic beverages, spa treatments and gratuities can be paid on the spot while traveling. Prices may vary depending on season, choice of accommodation and other factors.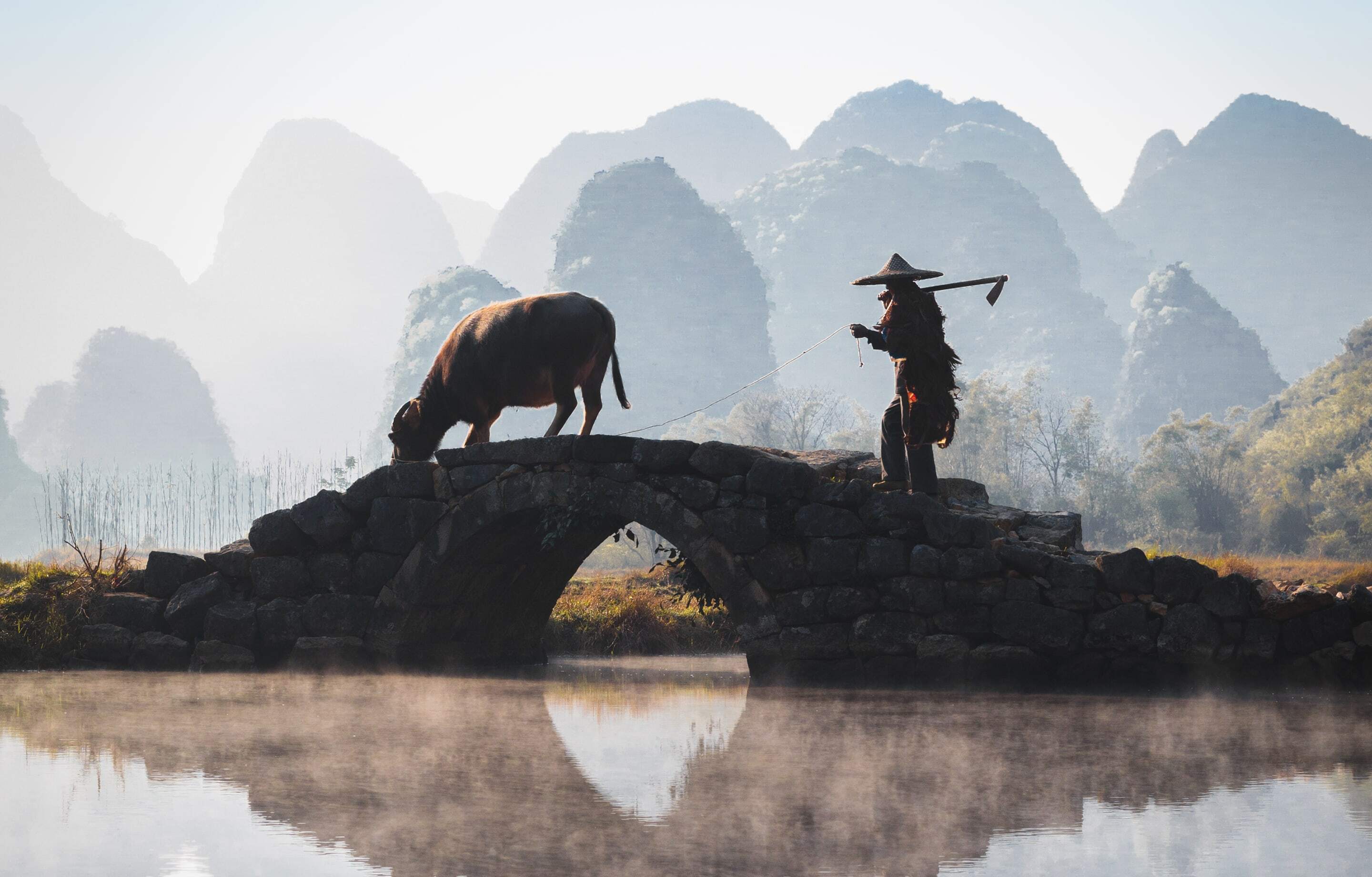 Why Remote Lands?
Exclusively Asia
With Remote Lands you'll travel with people who have made Asia the solitary focus of their own lifelong adventure. As our guest, you'll discover Asia on a journey that is completely, authentically your own, adapted from our own remarkable experiences and adventures over the years.
With Remote Lands you'll travel with people who have made Asia the solitary focus of their own lifelong adventure. As our guest, in the continent that our north American founders Catherine and Jay have adored and explored for decades, you'll discover Asia on a journey that is completely, authentically your own, adapted from our own remarkable experiences and adventures over the years.
Travelogues
An Asia-focused magazine brought to you by Remote Lands – a platform for adventure, luxury, and authenticity from experts and explorers around the continent.
What Others Say
Here is a small selection of the kind words our guests have said about us, as well as features by journalists and travel writers.
From the moment I happened upon the REMOTE LANDS website over a year ago, browsed the options, I knew that this would be well worth it. The entire staff is nothing less than professional with service that made us feel like royals.
This was truly the trip of a lifetime. Magical destinations, the most luxurious hotels in the world, and the most wonderful travel companions we could've wished for. We were treated like family everywhere we went and we have 14 new best friends.
We have used some of the top rated travel specialists all over the world and, without question, Catherine Heald and Remote Lands are at the very top of the list!