Example Itinerary
China's Silk Road
This exciting 10-day itinerary traces ancient Chinese trade routes from Shanghai to the western outpost of Kashgar. Along the way, you'll be immersed in millennia of history, with the chance to see fossils of early man as well as comparatively recent medieval cities, Tang Dynasty relics and fine Chinese art from several eras. Sample the aromatic street foods of Urumqi and ride a camel across the whistling Mingsha dunes of the Gobi in this revealing, culture-rich tour.
This itinerary is an example. It's designed to inspire you and provide you with thoughtfully curated ideas. You can choose to do this exact itinerary or completely personalize it. All trips are 100% bespoke.
Highlights
Buddhist Art: A visit to the awe-inspiring Mogao Caves, which hold ancient Buddhist art and artifacts created by travelers and monks at the crossroads.
Nomadic Homestay: Overnight in desert plains staying in a traditional yurt with a Tajik family.
Desert Flavors: The aromatic street foods is an unmissable part of traveling in this corner of China. Staples of the region's cuisine include pilaf, pulled noodles, spiced lamb kebabs, breads and local fruits like Turpan grapes.
Day-by-Day
Day 1
Shanghai
Your journey begins in the dazzling and sophisticated Shanghai, where you'll check into one of the city's top-notch hotels. For this itinerary, we recommend the Shanghai Peninsula and the Waldorf Astoria on the Bund - both allowing you direct access to the city's best entertainment and dining. You'll also be perfectly-positioned to start the afternoon's tour of the iconic Bund, with its eclectic array of architecture, high-end bars and restaurants, and beautiful river views. Spend the night in your luxury hotel on the Bund.
Day 2
Xian
Today you'll fly to Xian, a UNESCO World Heritage city dating back more than 3,100 years and traditionally the last stop on the famed silk road. Just outside Xian is the site of the Terracotta Warriors, a full-sized army of sculpted soldiers, horses and weapons constructed in the 210 BC tomb of China's first emperor. After exploring the site, you'll return to Xian to navigate its immense walls. The fortifications surrounding the city are up to 50 feet wide in some parts, and you can bicycle or walk around its 7.4-mile perimeter. Check into a luxury Xian hotel for the night - the Shangri-La Hotel Xian is an excellent option.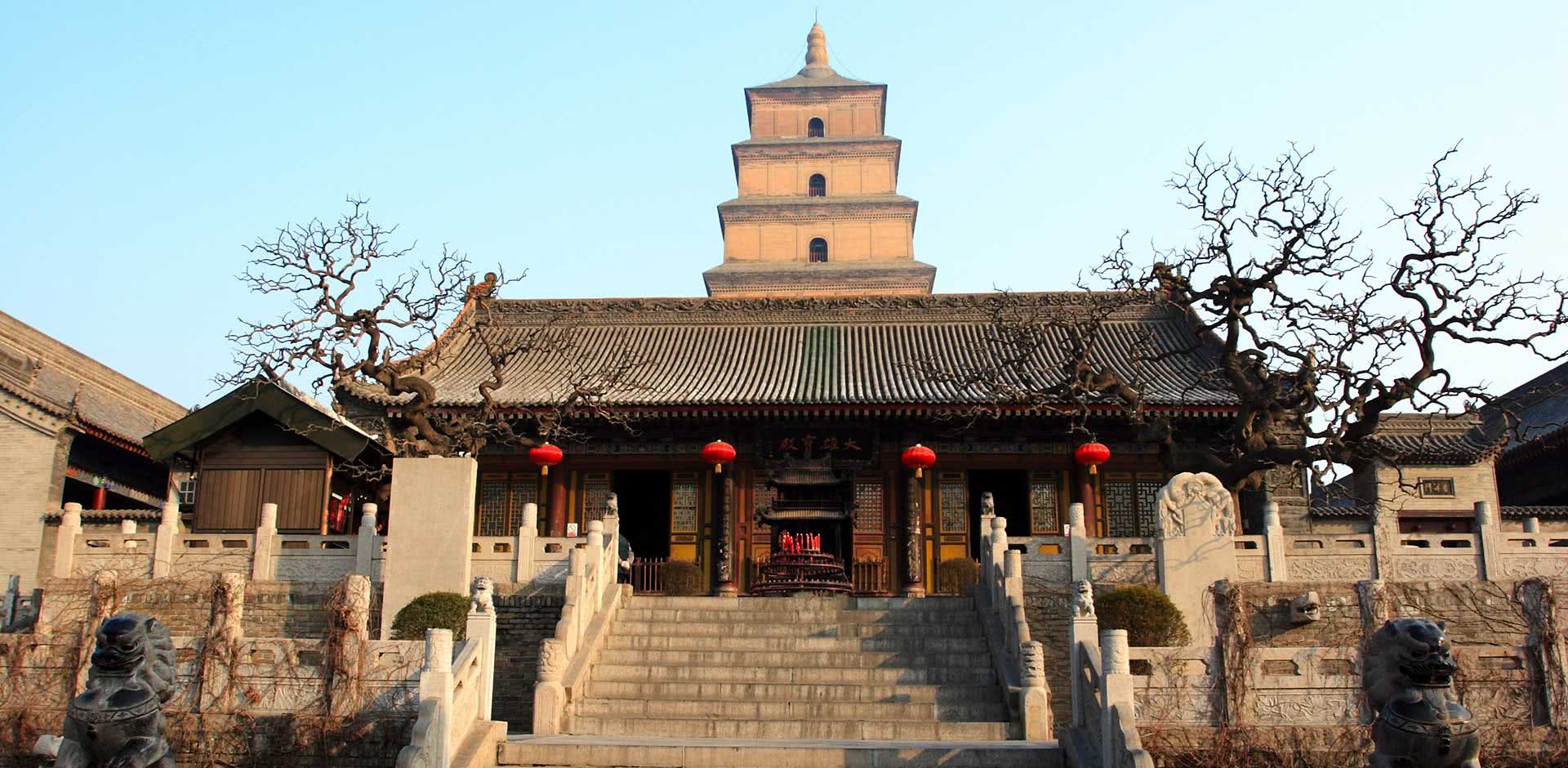 Day 3
Xian
Start the day with a trip to the Shaanxi Museum of History, located in a beautiful Tang Dynasty-styled building. There are more than 300,000 items on display, which range from paintings to ceramics to fossils of Lantian Man, dating back nearly a million years. You'll enjoy more history at the Han Mausoleum, the vast royal tomb of Emperor Han with more than 60,000 burial items shedding light over the complexities of the social hierarchy of the dynasty. In the afternoon, visit the Big Wild Goose Pagoda, a towering structure built in 652 AD, that offers far-reaching city views from its top platform at 610 feet. Enjoy another night in your luxury Xian hotel.
Day 4
Dunhuang
Your next stop on the Silk Road is Dunhuang (a 2.5-hour flight), formerly a major stopping point on the trade route. Here in the "City of Sands" you will discover many historic landmarks, some of which are millennia old. A highlight are the Mogao Grottoes, a network of 735 caves containing Buddhist art and ancient manuscripts - a local expert will guide you through this intriguing historic site. Next, you will enjoy some thrills on the remarkable Mingsha Dunes on the edge of the Gobi desert, where you can sand-toboggan, paraglide or ride a camel. Check into the majestic, traditionally-styled Silk Road Dunhuang Hotel, set against a backdrop of rolling dunes.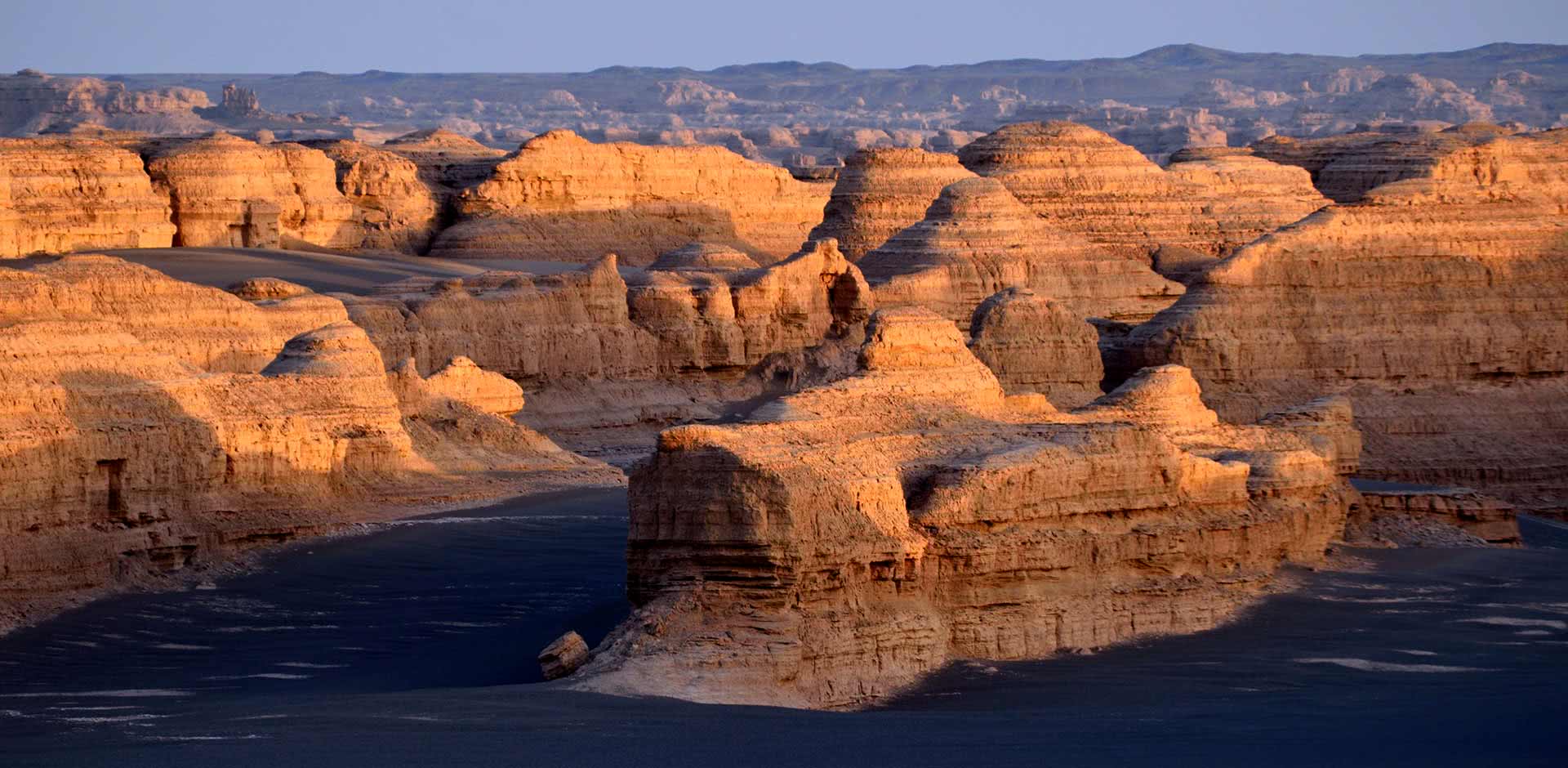 Day 5
Dunhuang
Today, you'll be introduced to another fascinating aspect of Dunhuang - the Huyang Forest. This unusual forest is characterized by its golden poplar trees, many of them hundreds of years old. Next, you'll visit the White Horse Pagoda, dating back to the 4th century. The pagoda was built in tribute to a monk's beloved horse, which died after faithfully carrying his master from faraway Kucha, carrying with him important Buddhist scrolls. The bells atop the monument are said to echo the horse's neigh. In the evening, return to your luxurious hotel in Dunhuang.
Day 6
Urumqi
This morning, it's another flight, to the striking inland city of Urumqi. First, you'll get a feel for Urumqi's heritage at the History Museum, where a curator will take you on a private tour of the complex. You'll gain insight into the history of the Silk Road and see 3,000-year-old mummies and other rare artifacts. In the evening, you'll enjoy the colors and flavors of the night market, with its abundance of aromatic street foods, including Chinese Muslim fare and hand-pulled noodles. You'll also have the chance to see the Grand Bazaar - the largest bazaar in the world, covering more than 44,000-square-feet and housing an open mosque, a viewing tower and more than 3,000 stalls. Settle into a luxury hotel this evening, the Sheraton Urumqi is a great choice.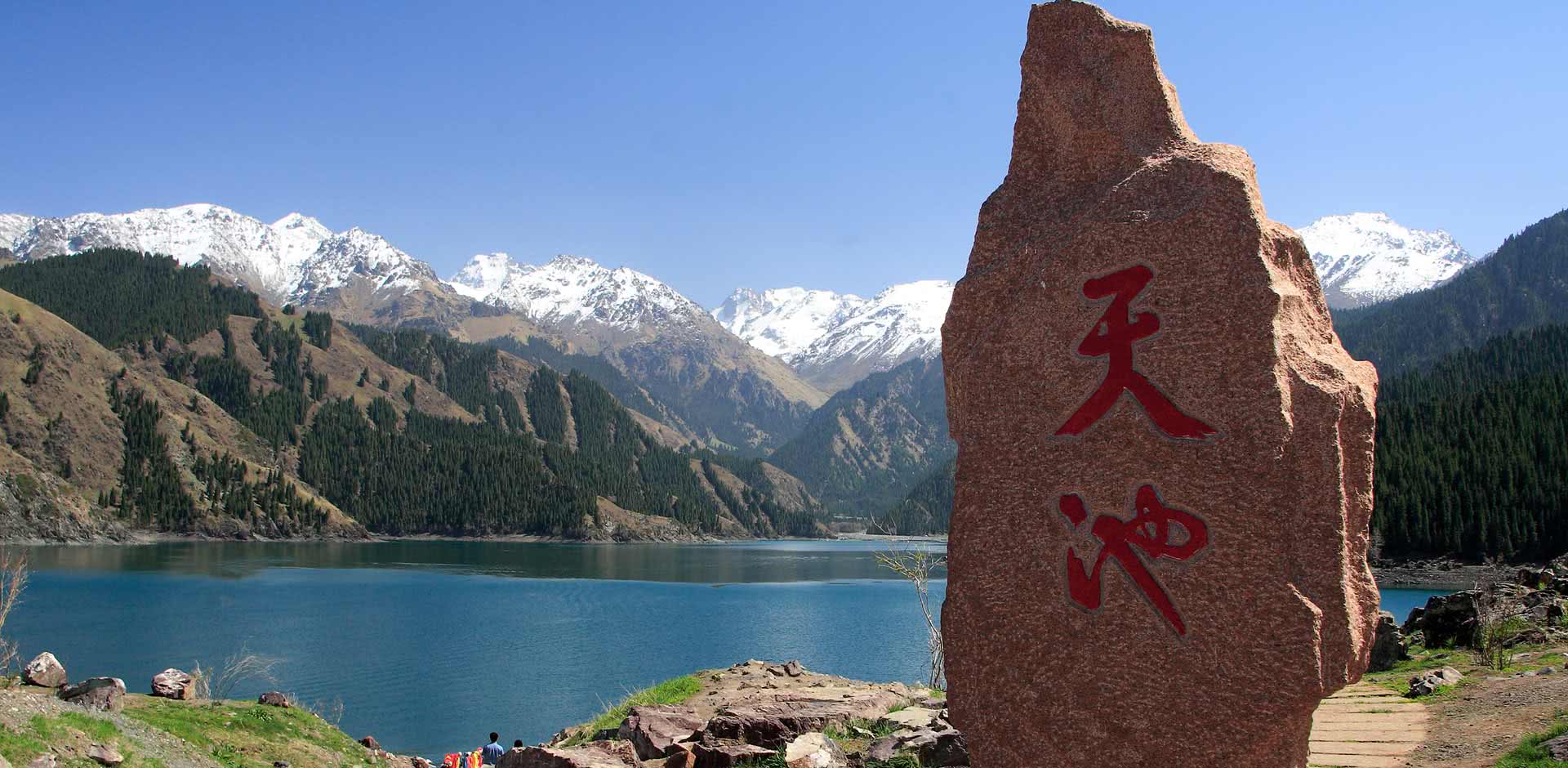 Day 7
Urumqi
Get out into Urumqi's brilliant outdoors today with a trip to the aptly named Heavenly Lake. This stunning alpine lake is 6,600 feet above sea level, covering an area of nearly two square miles. Its turquoise colored waters contrasted against Mount Bogda in the background provide a truly unforgettable sight. Drive to the outskirts of Urumqi next to pay a visit to a Kazak campsite to learn more about the nomadic lifestyle of these agricultural people. Return to your hotel in Urumqi tonight.
Day 8
Kashgar
Today, it's a 2-hour flight to the medieval city of Kashgar, China's westernmost city. This ethnically-rich outpost has long been a center of trade and today boasts a diversity of cultural influences that make it a delight to explore. To see just some of Kashgar's charms, you'll begin your stay here with a walking tour of the city. You'll also visit Yeksjemba Bazaar, with more than 100,000 stalls from international vendors selling everything from livestock to souvenirs to silk. Check into the Radisson Blu tonight.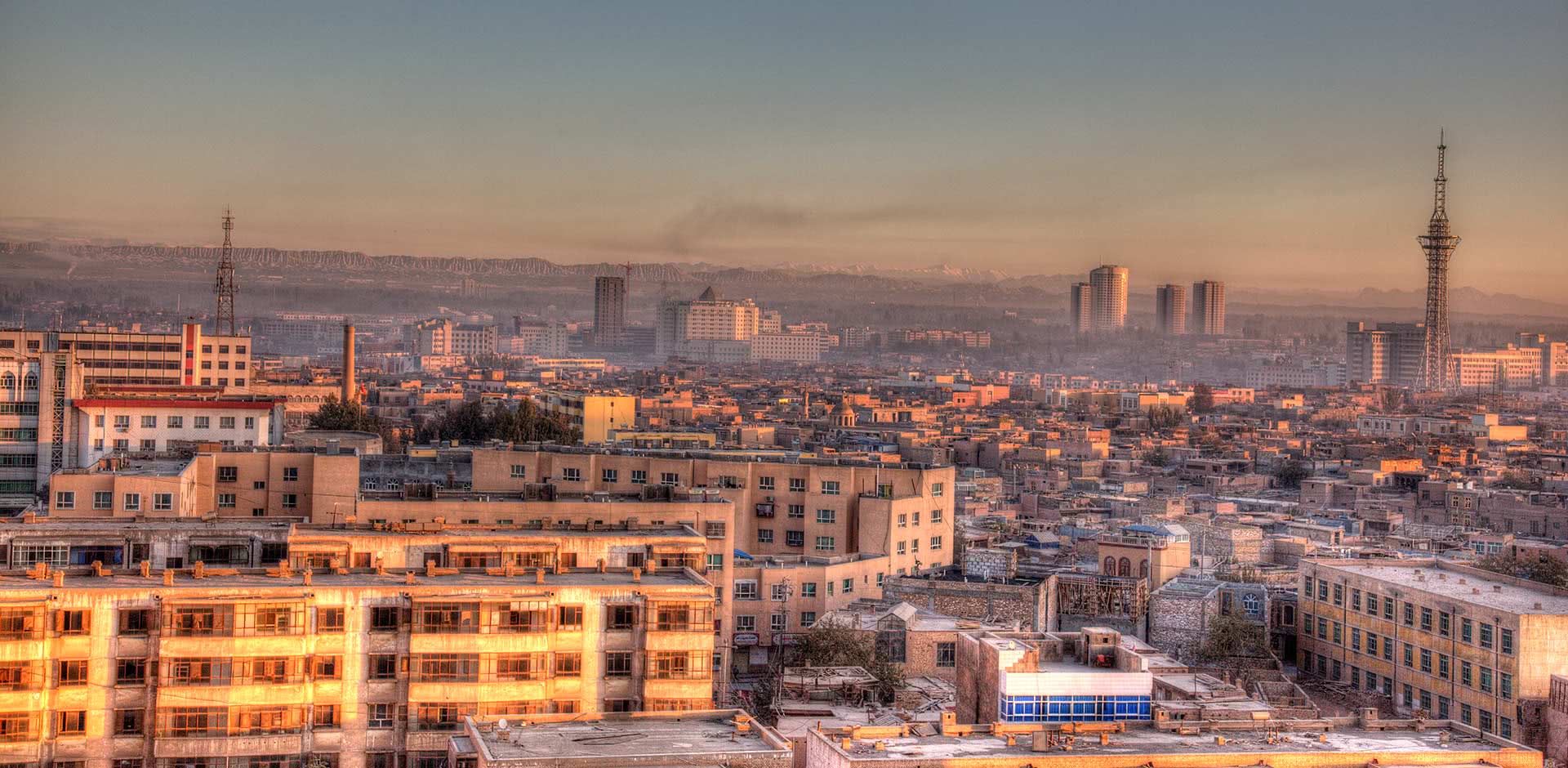 Day 9
Kashgar
Today you will be taken on a guided tour of the Mosques of Kashgar. A local history scholar will be your guide, providing insight into the role of Muslim minorities throughout Kashgar history. To completely immerse yourself in the nomadic culture of the Tajik people, tonight you'll be treated to a homestay in a yurt, a traditional tent dwelling. The yurts are warm and comfortable, and staying overnight on the arid plains of Xinjiang province promotes an unforgettable experience of China's desert wilderness.
Day 10
Departure
Today you conclude your Silk Road itinerary with a flight back to Shanghai to continue your onward travels.
TERMS AND CONDITIONS
Price is based on double or twin hotel room occupancy and includes accommodation, transfers, car/driver, English-speaking guide, activities and entrance fees, breakfasts and some casual lunches while touring. Flights and optional special activities will be quoted separately. Most personal expenses, including dinners, alcoholic beverages, spa treatments and gratuities can be paid on the spot while traveling. Prices may vary depending on season, choice of accommodation and other factors.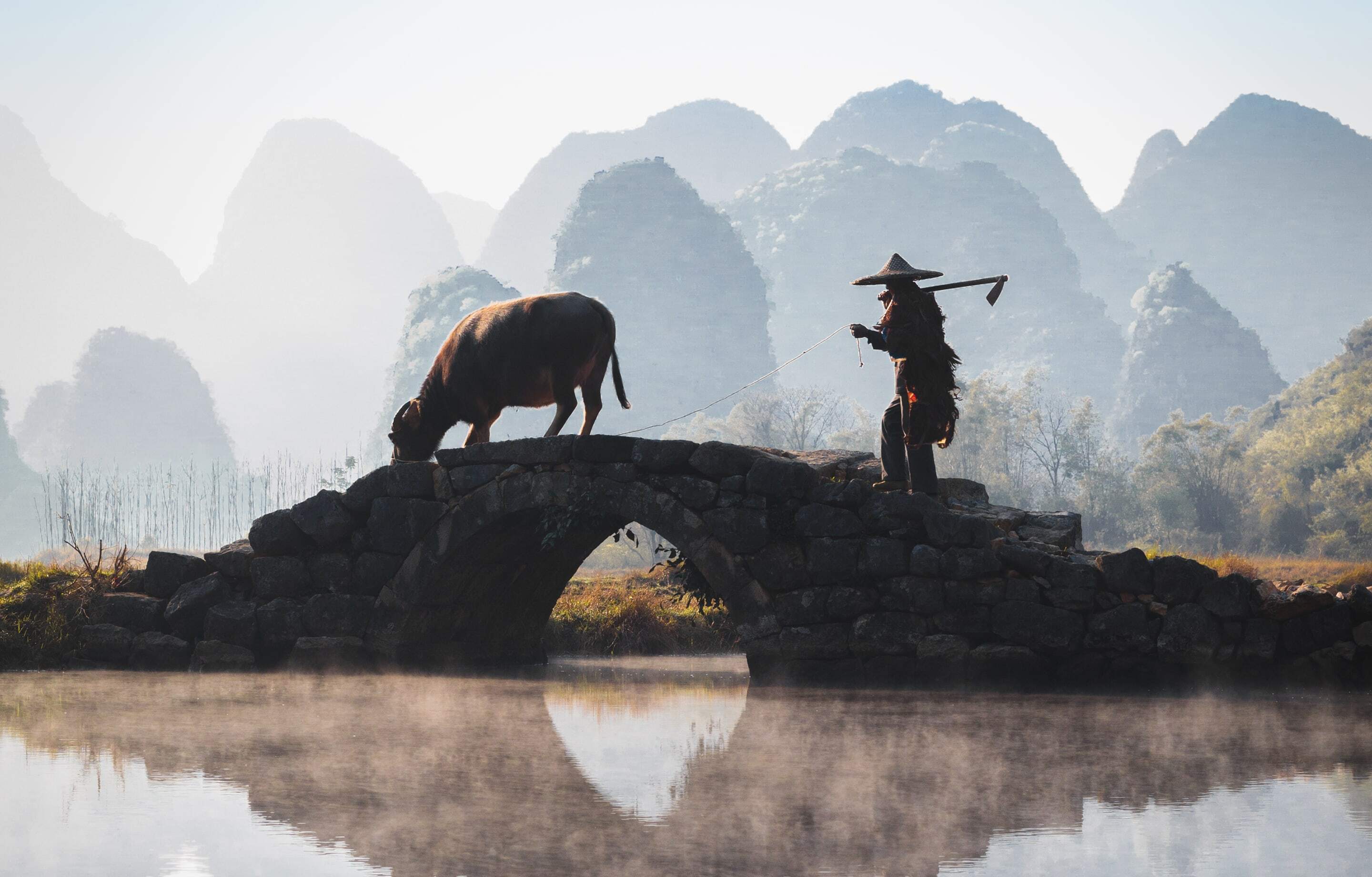 Why Remote Lands?
Exclusively Asia
With Remote Lands you'll travel with people who have made Asia the solitary focus of their own lifelong adventure. As our guest, you'll discover Asia on a journey that is completely, authentically your own, adapted from our own remarkable experiences and adventures over the years.
With Remote Lands you'll travel with people who have made Asia the solitary focus of their own lifelong adventure. As our guest, in the continent that our north American founders Catherine and Jay have adored and explored for decades, you'll discover Asia on a journey that is completely, authentically your own, adapted from our own remarkable experiences and adventures over the years.
Travelogues
An Asia-focused magazine brought to you by Remote Lands – a platform for adventure, luxury, and authenticity from experts and explorers around the continent.
What Others Say
Here is a small selection of the kind words our guests have said about us, as well as features by journalists and travel writers.
From the moment I happened upon the REMOTE LANDS website over a year ago, browsed the options, I knew that this would be well worth it. The entire staff is nothing less than professional with service that made us feel like royals.
This was truly the trip of a lifetime. Magical destinations, the most luxurious hotels in the world, and the most wonderful travel companions we could've wished for. We were treated like family everywhere we went and we have 14 new best friends.
We have used some of the top rated travel specialists all over the world and, without question, Catherine Heald and Remote Lands are at the very top of the list!