Example Itinerary
Riding the Dragon's Back: Adventures in Guilin & Longsheng
The Guilin and Longsheng regions of southern China provide two of the most stunning and iconic landscapes in all of Asia. With this five-day itinerary, you will experience the best that each region has to offer, including the staggering, jagged, and beautiful karst formations of Guilin and the vibrant green, tapered rice terraces of Longsheng. The landscapes are each extraordinarily beautiful, but in very different and unique ways. Spend time with the locals who call these remote places home and learn of the great diversity that exists just in the south of China.
This itinerary is an example. It's designed to inspire you and provide you with thoughtfully curated ideas. You can choose to do this exact itinerary or completely personalize it. All trips are 100% bespoke.
Highlights
Bamboo Raft Cruising: Board a traditional bamboo raft and slowly drift through the beautiful valleys of the Guilin area. Take in the impressive scenery of monolothic karst structures which have been inspiring poets for centuries.
Long-Hair Village: Visit the Xiaozhai village, home to the Yao minority, and find out why the local women cut their hair only twice in their lifetimes.
Dragon's Backbone: The poetic name describes some of the most scenic terraced rice fields in the country, dotted with ancient villages. Enjoy long treks in this magical landscape.
Day-by-Day
Day 1
Yangshuo
After arriving in Guilin, you will be transferred by private vehicle to your hotel in Yangshuo, The Yanghuo Resort. Guilin City and the nearby town of Yangshuo are often said to be two of the most beautiful places in China. You will have the chance to see some stunning scenery, ranging from the Li River to the hundreds of limestone karst formations, all of which have been designated as a UNESCO World Heritage Site. These special rock formations are formed from prehistoric sea floor sediment, which rose up to the surface due to erosion by streams. These unique peaks seen throughout the region were shaped by rainfall eroding away the soft sediment. Experience a local lunch in either town of your choice - your knowledgeable guide will recommend the best spot.
Day 2
Yangshuo
Today will be an exciting day of touring around Yangshuo. Meet your personal tour guide at 9am before driving 30 minutes to the Yulong River, where your private 90-minute bamboo raft cruise will begin. Sit down to lunch with your English speaking guide. Your guide's family will cook using fresh ingredients straight from their garden and host an interactive, hands-on cooking demonstration. After a delicious meal, get back into the countryside. Visit Bilian Peak, which offers panoramic views of the Li River and the Silver Cave. Next, visit Moon Hill, a famous limestone rock formation with a large moon-shaped hole in the middle. Return to the Yangshuo Resort for dinner, or if you're up for some more action, head along to the bustling Xi Jie (West Street), a walking street full of delicious Chinese cuisine.
Day 3
Ping An
Wake up early and make your way to Ping An, a three hour drive. Check in to your accommodation - the charming Li An Lodge, located in the Old Town area. Ping An is set on the famous Dragon's Back Rice Terraces, also known as longji titian, in Longsheng. These gracefully-tiered platforms become narrower the higher they are, giving them the appearance of a huge snail when seen from afar. The village is mostly populated by the Zhuang minority, the largest ethnic minority in China. The Zhuang people are famous for their impressive mural paintings, the most famous of which is 328-feet-long and 131-feet-wide, located in the southwest along the cliff faces of Zuojiang. Spend a relaxing day in the city and experience a local Chinese massage or have a health check by a traditional Chinese medicine practitioner.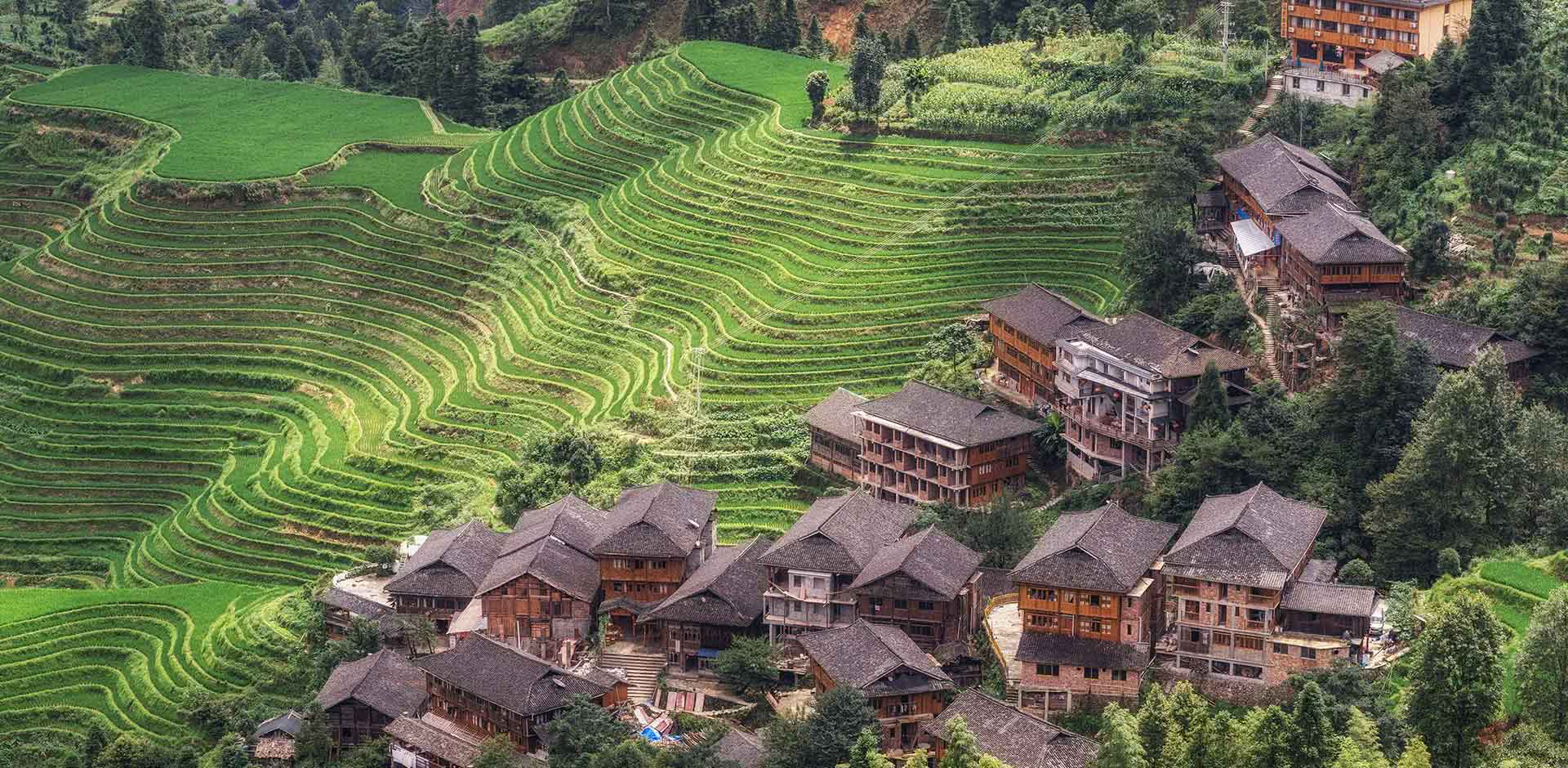 Day 4
Ping An
Day four is another exciting day of touring, starting just after breakfast. Drive approximately one and a half hours on a slightly bumpy road before reaching the Xiaozhai village, home to the Yao minority. Here, you'll be greeted by villagers performing a traditional singing ceremony and find out why Yao women only cut their hair twice in their lives - first as a teenager and again after they marry. Enjoy a packed lunch and walk 15 minutes uphill before arriving at the heart of the village, where you will be met by the remainder of the villagers. Chit-chat over a cup of tea before heading back to Li An Lodge.
Day 5
Departure
Take a refreshing morning hike through the terraces before driving back to Guilin and flying out to your next destination.
TERMS AND CONDITIONS
Price is based on double or twin hotel room occupancy and includes accommodation, transfers, car/driver, English-speaking guide, activities and entrance fees, breakfasts and some casual lunches while touring. Flights and optional special activities will be quoted separately. Most personal expenses, including dinners, alcoholic beverages, spa treatments and gratuities can be paid on the spot while traveling. Prices may vary depending on season, choice of accommodation and other factors.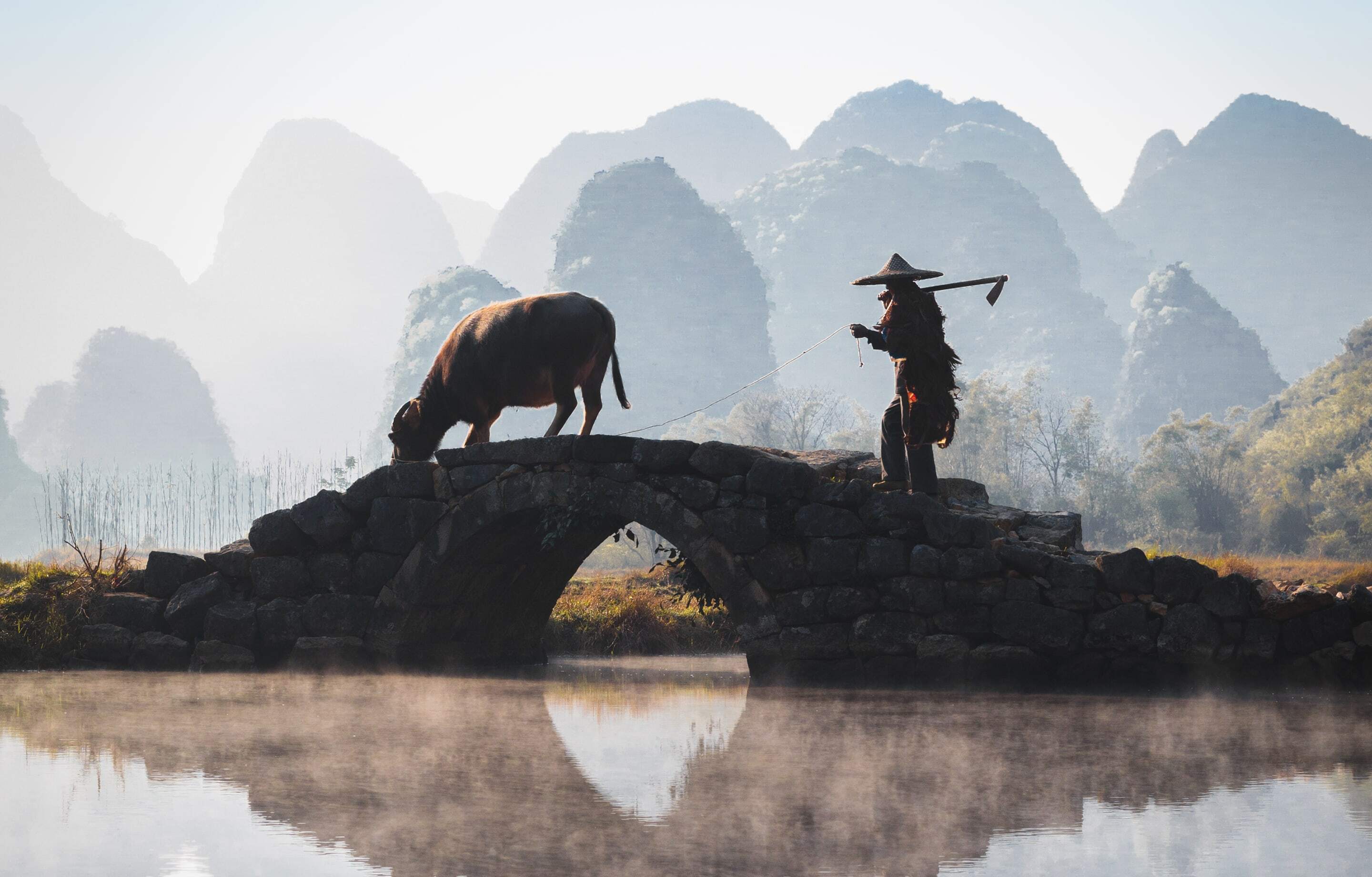 Why Remote Lands?
Exclusively Asia
With Remote Lands you'll travel with people who have made Asia the solitary focus of their own lifelong adventure. As our guest, you'll discover Asia on a journey that is completely, authentically your own, adapted from our own remarkable experiences and adventures over the years.
With Remote Lands you'll travel with people who have made Asia the solitary focus of their own lifelong adventure. As our guest, in the continent that our north American founders Catherine and Jay have adored and explored for decades, you'll discover Asia on a journey that is completely, authentically your own, adapted from our own remarkable experiences and adventures over the years.
Travelogues
An Asia-focused magazine brought to you by Remote Lands – a platform for adventure, luxury, and authenticity from experts and explorers around the continent.
What Others Say
Here is a small selection of the kind words our guests have said about us, as well as features by journalists and travel writers.
From the moment I happened upon the REMOTE LANDS website over a year ago, browsed the options, I knew that this would be well worth it. The entire staff is nothing less than professional with service that made us feel like royals.
This was truly the trip of a lifetime. Magical destinations, the most luxurious hotels in the world, and the most wonderful travel companions we could've wished for. We were treated like family everywhere we went and we have 14 new best friends.
We have used some of the top rated travel specialists all over the world and, without question, Catherine Heald and Remote Lands are at the very top of the list!